Service Details:
Leonard Ashcroft Bancroft Service No 853747 Rank LAC RAF Trade B/OP 919 SQdn.
Notice to join dated 23/8/1939 to attend No 8 Centre, Fazakerley (Near. Liverpool).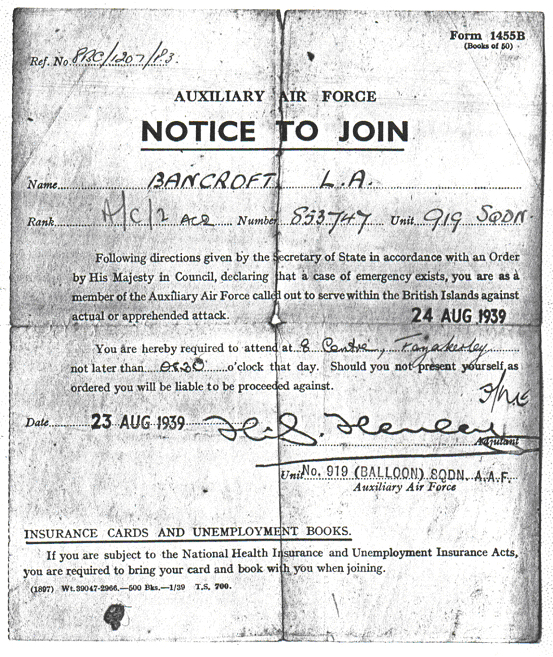 RAF Character V.G. Proficiency A. Supr.
D.O.B. 5/9/1905 Height 5' 6"
Service from 7/3/1939 to 15/8/1945.
Family Details:
My father Leonard Ashcroft Bancroft was born 5 September 1905 Anfield, Liverpool. He was the youngest son of Thomas Wright Bancroft & Margaret Ashcroft. Leonard died 11 April 1978 Walton, Liverpool.
He was employed as a Bookkeeper with Elder Dempster Lines, (One of many Shipping Lines in Liverpool in the last century) before and after his RAF service during WW2.
Leonard Ashcroft Bancroft married Winifred Lucy Jardine on 04 January 1930, Winifred died 10 January 1997 Crosby, Sefton, Liverpool
They had 5 children, their first child Winifred Pauline, sadly died in infancy 1934, their eldest son Leonard Raymond was born before the outbreak of war, the second son George, third son Keith and second daughter Doreen Marie were all born during the war years.
George writes:
For most of his service I think he was stationed in London.
I would love to find out more of his service and I would like to contribute what I know of his service with some photos and documents (attached) that you could make available on the Balloon Barrage Reunion Club Web site.