Be patient there is a lot to download on this page!!
75282 Squadron Leader Robert Wallis Beresford
"D" Flight,974 Squadron and 978 Squadron "B" Flight
11 May 1906 - 2000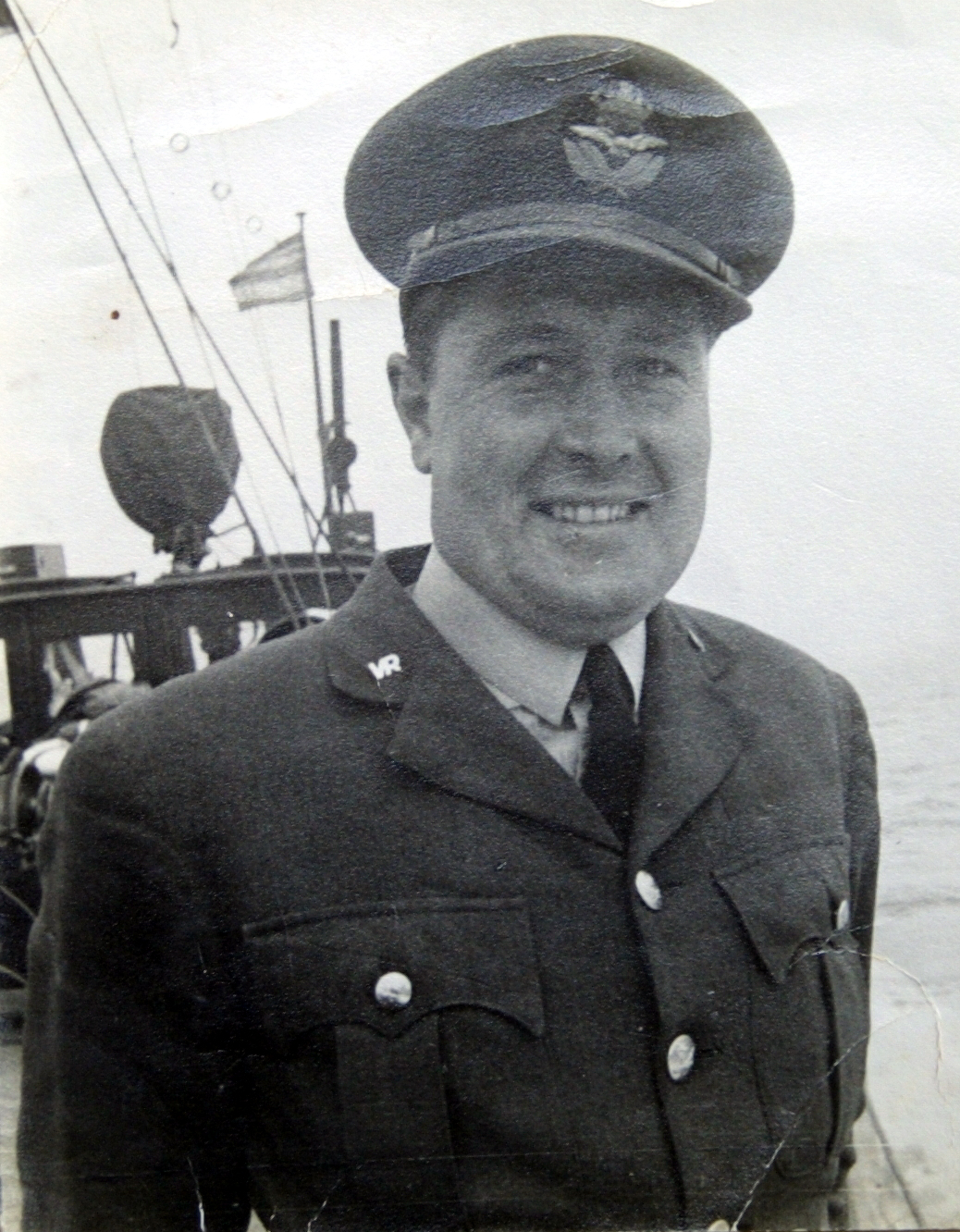 On board a balloon ship at Burma
Robert Wallis Beresford was born on the 11th May 1906 at The Knowle, Arkley, Barnet, Herefordshire. His father was Howard Marshal Beresford an Insurance Accountant at the North British and Mercantile Insurance Company and his mother was Emily Beresford (Formerly Stevens). He had a brother C H Beresford and one sister Joan Beresford.
Beresfords' father had a long record of public service. He had been president of Arkley Golf Club since its formation in 1909, it still exists today, becoming an honorary life member in April 1938.He was involved in forming the Arkley Villagers Golf Club in 1922.He had been a sidesman and churchwarden of the local church St Peters. He was involved with the Arkley entertainment society and Arkley Girls Club. For some years he was manager of Barnet Grouped Schools encompassing Arkley Infants School. He had also sat as a trustee on the Elizabeth Allen Trust as well as the Garret's Almhouse Charity and Barnet Chancel Estate. I get the impression that having been brought up in such a public service household where service was seen as a duty, Squadron leader Beresford absorbed many of the qualities needed to manage men in times of war. His father died in 1946 and his mother sadly died nine days later, Beresford having to fly in from India for the funeral.
I have had some difficulty researching his history but have decided to include what I know on this website so far.
I have acquired a large number of documents about his work with the Barrage Balloon Squadrons and his life in civvy street afterwards
Career Highlights
S/L Beresford joined the RAF pre-war and it is clear that the men under his command thought a great deal of him.
He was clearly an intelligent man and undertook considerable research into barrage balloons and their use in wartime and was based at Cardington Bedfordshire with the Experimental Balloon Section. His RAF pass describes him as six feet tall with dark hair and hazel coloured eyes.
He became a pilot officer on the 5th October 1939 (Gazetted 27 October 1939 Issue 34718)

The following errata was published on the 14th November 1939
The London Gazette shows he was promoted to (temp) Flt. Lt 26th May 1943 (war subs.)

In January 1945 the King ordered he be mentioned in despatches



In October 1945


These were his medals at the end of the war.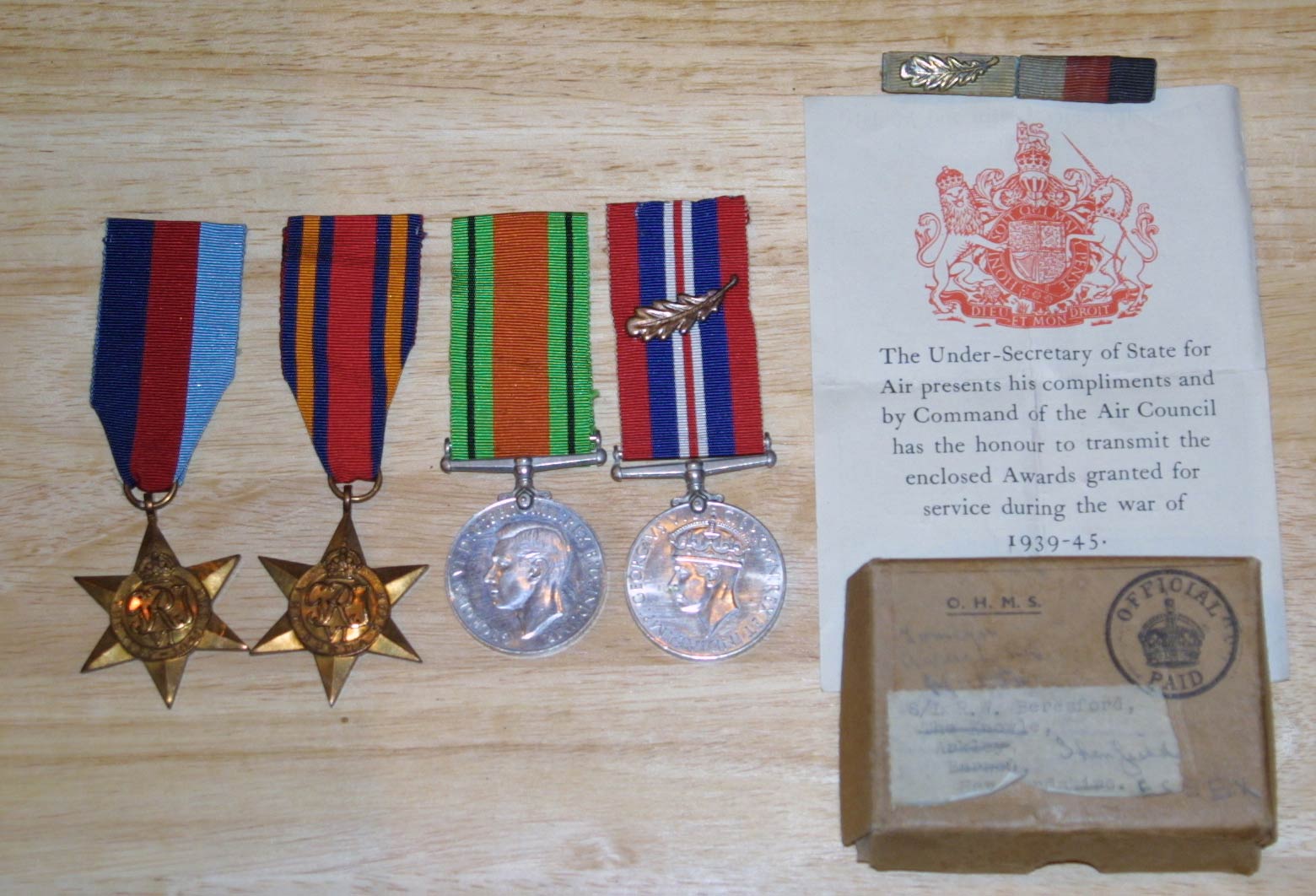 As you can see from his medals and the transcript from the London Gazette of January 1945 above he was Mentioned in Despatches for his work in the second world war. By the end of the war he had become a Squadron Leader
Here is a letter from his men who were with him in 1944/45 when he was in charge of 978 Squadron, they obviously were proud of him and thought a great deal of him as a man.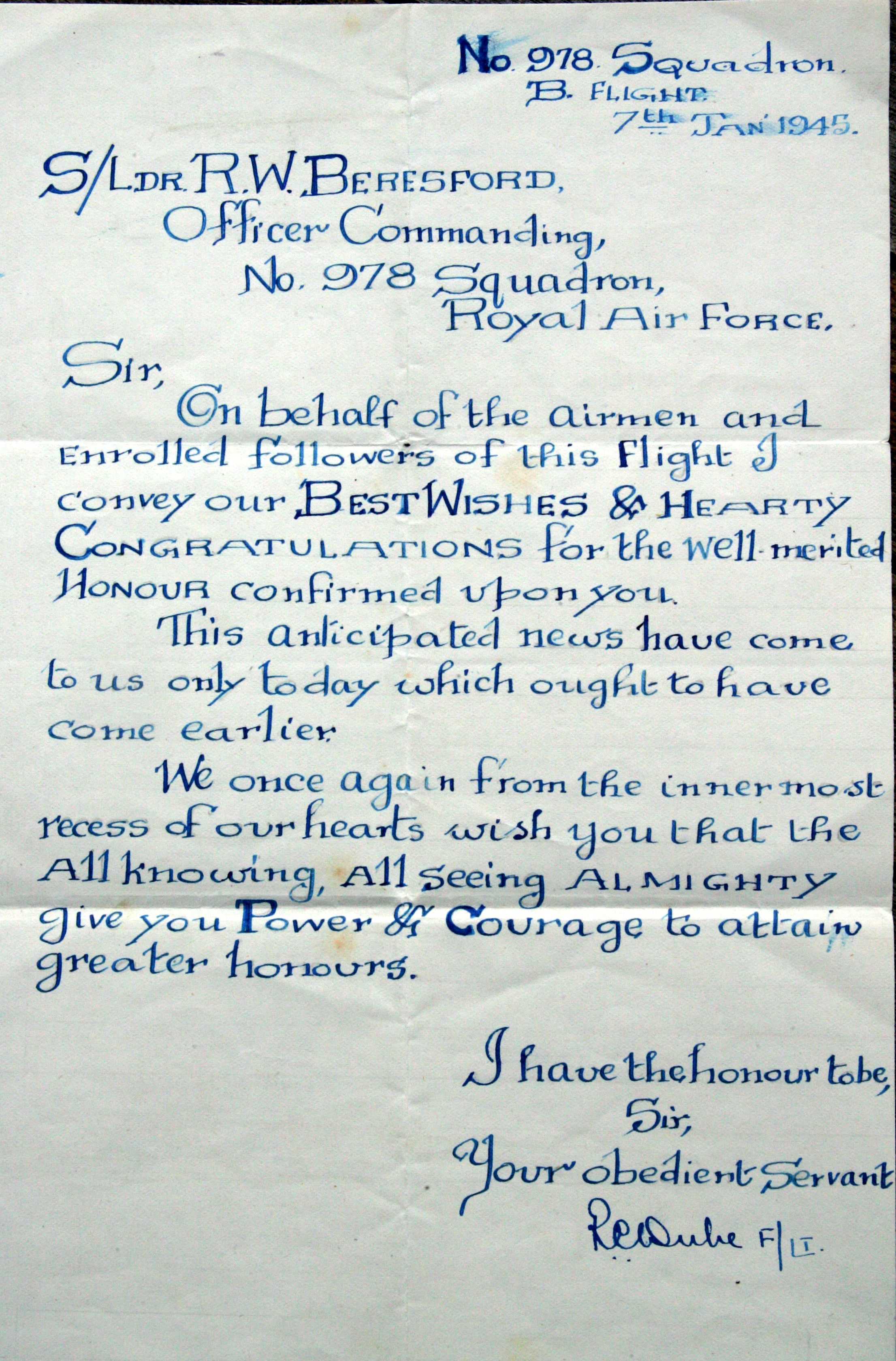 The story of 63741 Corporal Henry Hardy R.A.F. and 978 Squadron, adds more insight into life in 978 squadron.

I was a member of a Balloon Experimental Section of 978 squadron that went to Singapore , under the command of Squadron Leader Beresford,

this comprised of 15 men & 2 officers.

I first met up with Beresford at Cardington. He was putting together a small unit to go overseas to Singapore . We were about 12 men , 1 corporal,

1 sergeant, 2 officers, we left to go to Liverpool to board the Athlone Castle, a big troop ship , and crowded, little did I know that it was to be

my home for the next 9 weeks. I canít remember all the names of the men at this time, Donavan, Jones, Fitzpatrick, Dickeson, Morrison, Snow,

Allan, Evens, Cox, Sergeant Frank Keiranan and some others and a Corporal Cowan.

I believe the other officer was called Flying Officer Rose.

The convoy formed up just north of Ireland , and headed into the Atlantic due west to try and stay away from the U-boats, this we did for many days before

turning south, then later after a few more days east to Freetown for a brief stop.

Many days later we stopped at Durban for a day, it was wonderful, nice weather, no war. Fresh fruit every where, our first time in Africa, We

left the same day, going to Ceylon, more days at sea then after Ceylon our final stop Singapore. We were placed in a transit camp, in a rubber plantation,

very poor conditions, it was adjacent to the air base Seletar, and then we found out that our equipment had been lost at sea (S.S. Bangalore) and the base

had no use for us.

So we put the time in taking weapons training and were formed up into unit called formation X for airbase defence. Some weeks later we back on board a

Dutch ship called Sibajac and going back the way we came out , then arrived back in Ceylon , where we had boiler problems and we taken off the ship

to a racecourse for two days , and then continued on our trip, we were happy that we were going home, but it was not to be, after arriving in Durban,

we had to get off the ship again. The same boiler trouble, this time for 6 weeks, then Rommel made a big push in the Middle East, so everyone was sent

up there , we were now on the Ship Mauritania going to Suez.

This reminds me of accident that almost happened while we were in convoy in the Atlantic . As was the custom when the alarm sounded we all went to our

boat stations, so we were standing there, right at the stern, this was about just after midnight, foggy and we heard heavy swishing sound coming closer and

closer, then the cruiser Ajax or Achilles passed at high speed rushing to the other side of the convoy. The cruiser was so close that we could see the sailors

at the gun mounts with their mouths open with shock, if she had struck us she would have it cut our stern right off, that would have been the end of the

Balloon Experimental Service.

We went up the Red Sea to Suez, and early one morning we saw a ship beached, just before Suez, it had been bombed, and the Captain had beached it to

try and get his passengers to safety, it was on fire and the ships metal plates were glowing red right down to the water line.

When we got ashore, we went to a place called Ismailia to wait for further orders; this place had a high mast for airships to moor. (Built for R101). After a

few days were now under canvas along the canal, crazy weather, ice in the water at , nearly 100F at lunch time.

The orders arrived to board ship again to go down to Aden , by this time we were getting to be good at travelling on ships. We were to put balloons on ships

from there. Aden isnít a very nice place, dry as bone, nothing green, when playing football on a cinder pitch, because of the heat, we played 15 minutes each

half. Lots of sharks were seen here, the fins cruising around out among the ships. So now we had some gear we could start to put some balloons on ships, we

had some huts right down in the dock area, where we slept and worked.

We had not seen Beresford for awhile, as he seemed to come and go again, our good old Sergeant Frank Keiranan, was there for us always. We had an old little

tug that we used to go out to the ships.

Next we had more orders to go from Aden to Rangoon, we were not sorry to leave Aden, no wonder it was a punishing station for the army boys a while back.

This time we had a dirty freighter, must have loaded coal, it was taking Australian troops back home from the desert, real hard nose veterans, we had to sleep

down in the holds, with a big wooden set of stairs going down, at nights we had no lights to see to move around, so one did not get up to go to the lavatory at

night as one might not find the way back.

The ship didnít have many lavatories, so wooden ones were made on each of the forepeak, a bit of a roof, all open to the weather, very friendly!!!

We went across to Bombay and unloaded German Prisoners of War bound for camps in India, then down to Ceylon, for the third time and was on our way to

Rangoon, when the news came that it was about to fall, so we were now going to Calcutta.

It is about 70 miles up the Hoogly river, where we off loaded went to Fort William, it was a very old place, like stepping back in time, it still being used, in the

centre off town. It was an army fort, and full of army guys who had been there for long time, we had our own barracks, and servants would come around

selling lots of things, I used to wake up getting shaved in bed, boots cleaned, etc, all for a pittance!

Then we moved to our own place, down in the dock area, South-east of town, this is where we finally stopped. This was the Headquarters of the Bengal / Nagpur

Railway, known as B.N.R.

Beresford had our headquarters in some of the buildings and we went into tents, till later when we got our own quarters. It took us many miles to arrive with our

gear.

The place we were staying, at the B.N.R., was a big area like a small park along the river; the area was called Garden Reach. It included a football pitch,

bowling green , two small docks on the river; also we had the use of some buildings for cookhouse and dining room.

On one side was a long open shed, which we used for balloon storage, and at the river end we installed our Hydrogen maker, looked after by Aircraftmen

Fitzpatrick and Donavon.

We had 5 barges being installed out on the river, and going to be crewed by two men. We were now getting more men from somewhere, and a Motor

Transport section.

Also about 10 men were sent from here to the dry dock area, as maintenance unit, and billeted out.

We were also sending balloons by our boat to ships in the harbour.

You have seen the picture of the balloon under the netting along side the small bldg, four of us slept in there for awhile. We didnít fly this one it was only for

emergencies.

So we carried on like this, I came down with dengue fever, not good, high temperature, very sick, cramps, so was out for about a week.

We were complaining about not getting any mail it was a long time for us, and no mail since being in England .

A few months later I got my first letter from my sister, it was six months old, telling me that my mother had died.

It was a great shock, Sergeant Frank Keiranan took me in to see Beresford, and he gave me 48 hrs leave.

I was away only 24, and had to get back to be with mates. At about this the area was struck with a great famine, and some of us had to go away to help

with food distribution, not a pretty sight, starving people.

Sergeant Frank Keiranan and nine of us were sent to Jamshedpur with 979 Squadron.

We were sent there for about 1 month, as an advance party to set up a place to receive stores for them. We had a big house with a walled compound, and

two trucks.

Jamshedpur was a small town, but had a very big steel mill, Tara Industries, a very big company. The weather was very hot. We had more orders to return

to Calcutta , we didnít see any others of the other Squadron. After getting back I was asked to take a balloon on a ship down to Ceylon , so I went down

river to the sea and down the coast.

As usual there were D.E.Ms gunners aboard the ship, as we had 6 inch gun on a stern mount. I was helping out as third loader, the monsoon weather was

about so lots thunder and lighting, one night the alarm sounded, and we were away to action stations, and were informed that a u-boat was on the surface

and following the ship, from my station on the Stern I was looking out and in a great flash of light, saw not a U-boat, but my poor Balloon half submerged

and still being towed!!!

So the 1st mate and I realized we had to cut it loose, it could not be saved, also the cable was a danger to the ships aerials, we cut it loose, and then at first light

cut the remaining cable which was draped all across the bridge. The Captain was not pleased. I made a report when arrived in Ceylon , for the fourth time.

I canít remember how I got back to my unit most likely, another ship North.

In Calcutta the Japanese threat seemed to be winding down, no air threat at all, so one day I had to see Beresford and he said that I was to go up into Burma,

to 221 Group Headquarters at Monywa, this was alongside the Chin river, it had a small airfield. I had a problems getting there, train, lorry and plane.

I was working in the Motor Transport section, things were very primitive, and we slept in tents, on the ground, washed in the river. Then after 3 months I was

rotated back to Calcutta to go back to Britain as my 4 years was up. Then with my old buddies we took a five day train journey to Bombay , not a good trip, and

then three weeks waiting for a boat to go home. This time through the Mediterranean , it was a little unreal for us, no war, and just after V.E day.

I returned to Liverpool , had months leave, and had to return to duty, R.A.F. Station Hook. I still had another year to serve on my 7 year enlistment.

My good friend Ken Dickeson, one of the squadron originals, came from Sheernes with Beresford to the Balloon Experimental Station. While we were in Calcutta

he met a Scottish family.

The father worked in ship repairs, for 30 years in India , he had two grown up daughters, so guess Ken courted and married one, Beresford came to the wedding.

I courted the other one; we got married in Leeds when the family returned to Britain in 1946. Ken being a Canadian brought his wife to Vancouver and I came here

with my Olive in 1947. I am happily married, with children and grand-children.

Squadron Leader Beresford was a rather quiet man, not pushy or loud at all. A rather tall man but always well turned out. Speaking for myself, I never heard any

complaints from the men under him. I never heard him raise his voice to anyone. He was a busy man. Sergeant Frank Kierian was a regular who had been with the

Balloon Experimental Station from the beginning. He was also was held in high regard by us, as a no nonsense man who took care of all the little things. When we

used to go on these side trips here and there he was the man in charge. He became a Warrant Officer towards the end. Ken Dickeson told me that Frank was involved

in a car accident, and due to head injury was sent home. He told me that he saw him marching in a parade in Cardington.

If you can add anything to Henry Hardyís story contact me at peter.garwood@bbrclub.org.

More pictures of 978 Squadron below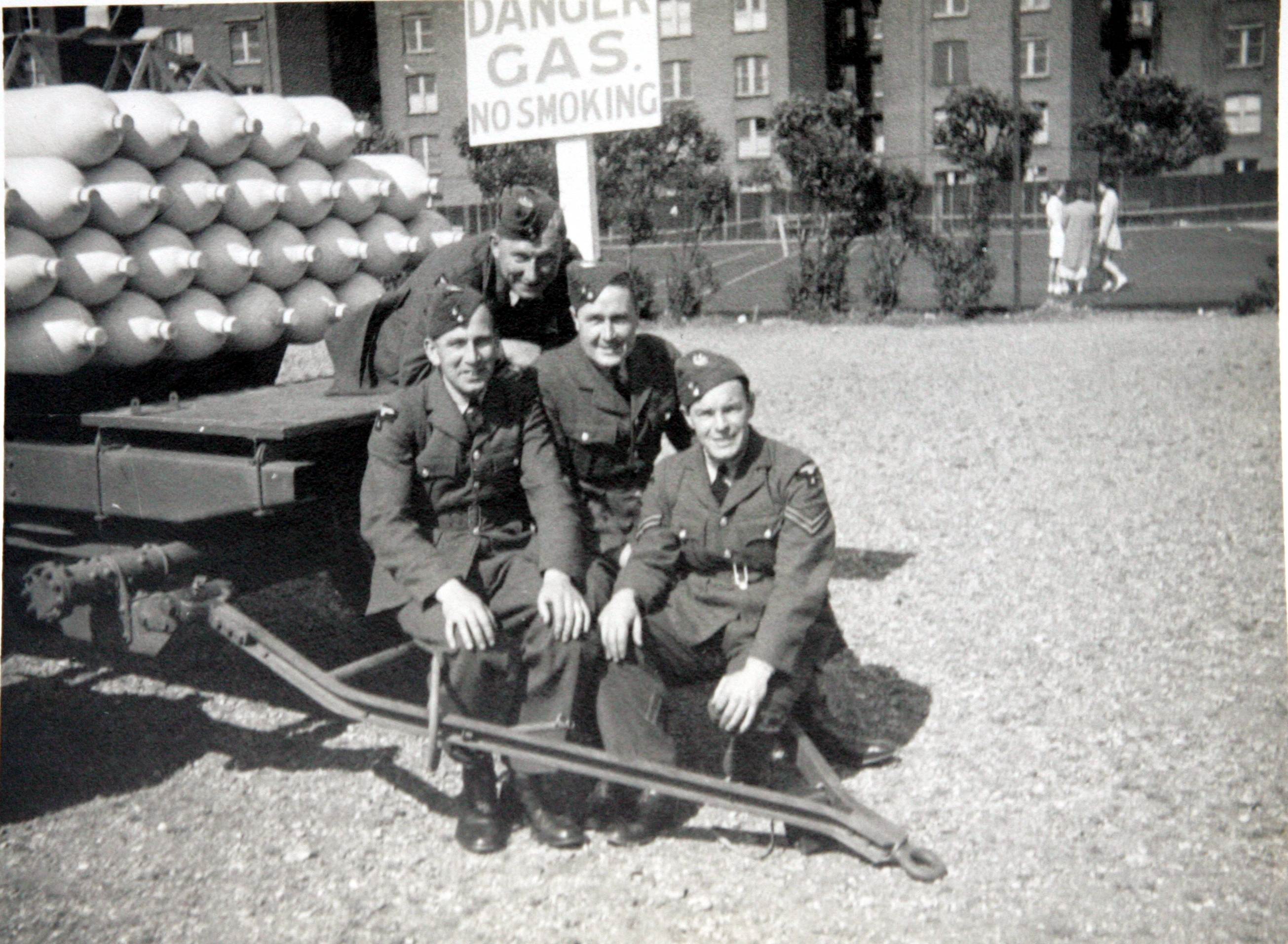 The picture above is obviously taken in England and shows a balloon crew with Beresford and the typical hydrogen gas trailer of the day with its load of 30 cylinders, note the warning notice about smoking!!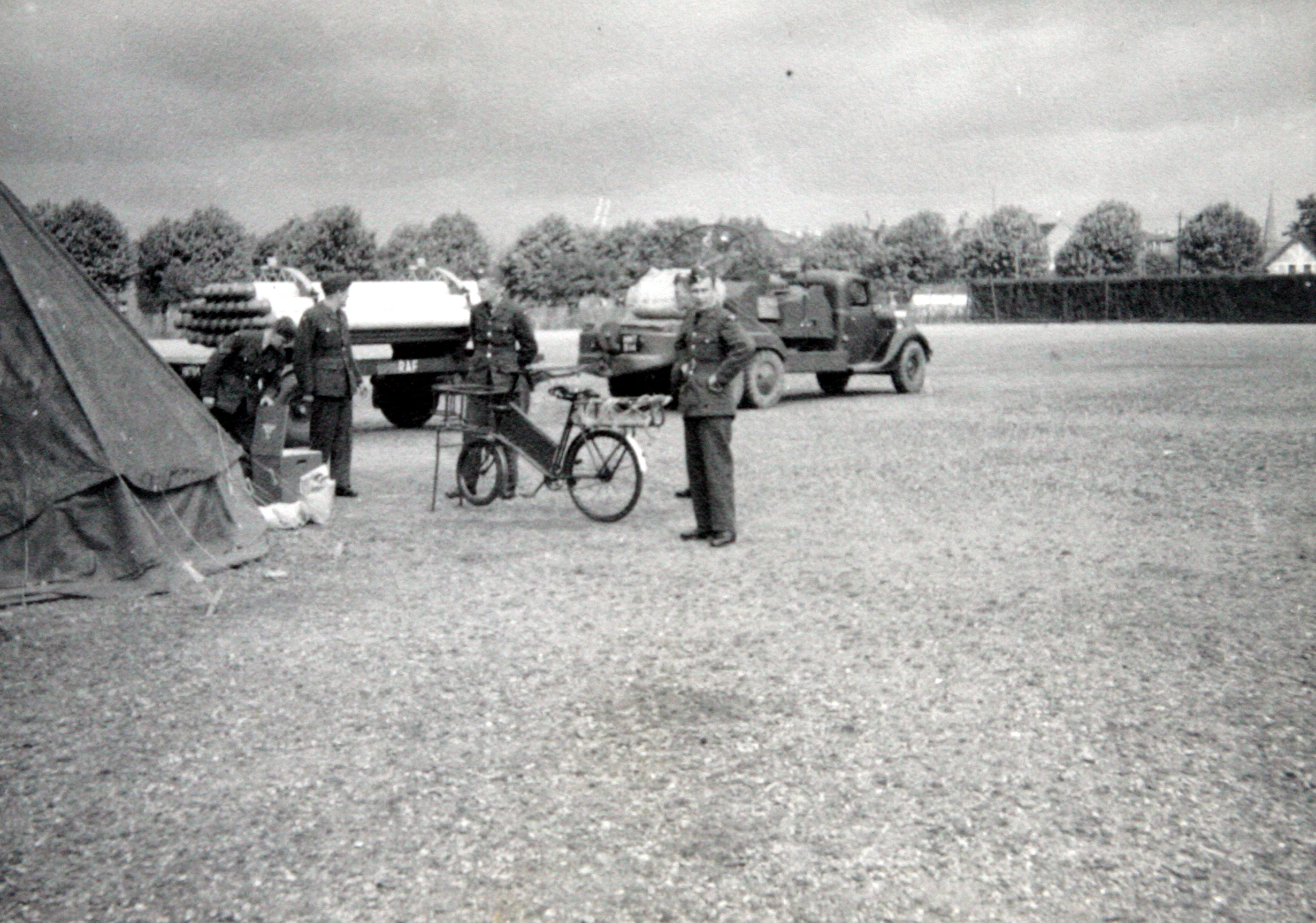 Here they are again with a tent, the proverbial butchers bicycle with front and rear panniers and a typical Fordson Sussex six wheeler winch lorry with hydrogen trailer. I think the man on the left is inspecting a "hay box" with hot food in it.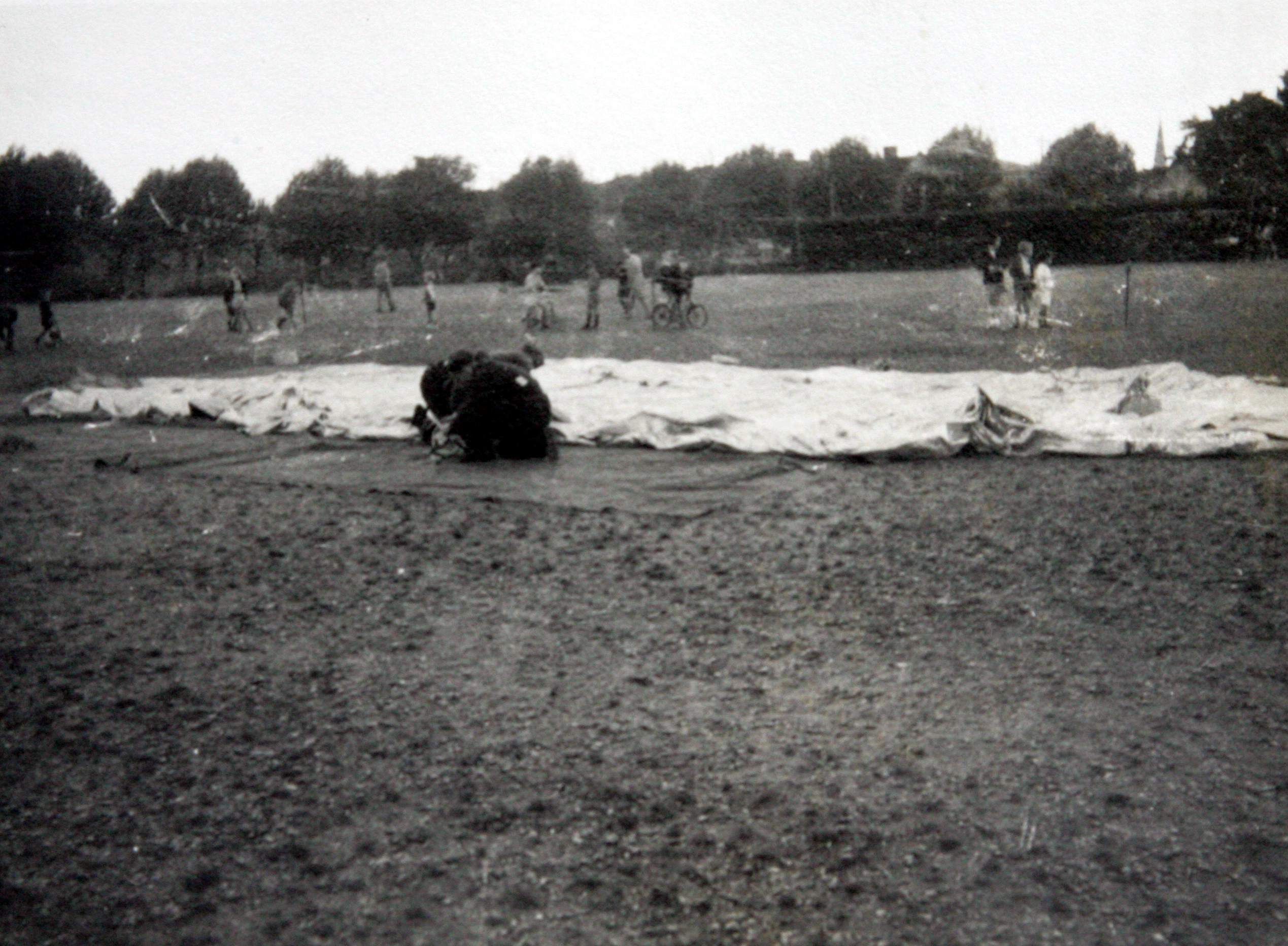 Here are a balloon crew getting ready to inflate a MKVI balloon, you can see the intense interest that this has caused amongst the children and adults in the background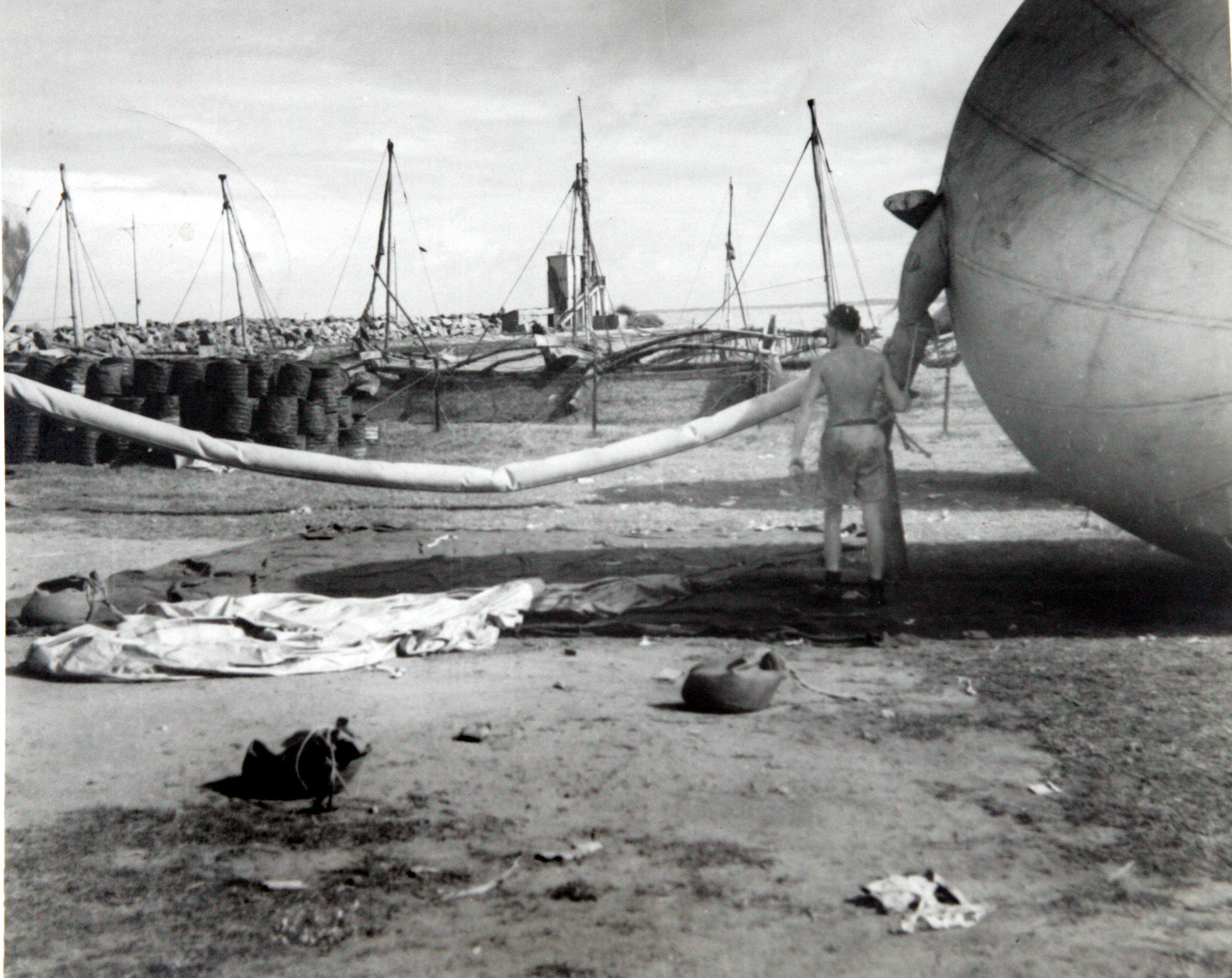 This picture seems to show a balloon being inflated but I am unsure as to what type of balloon (Low Zone Mk IV?) this is and where it took place (I suspect India)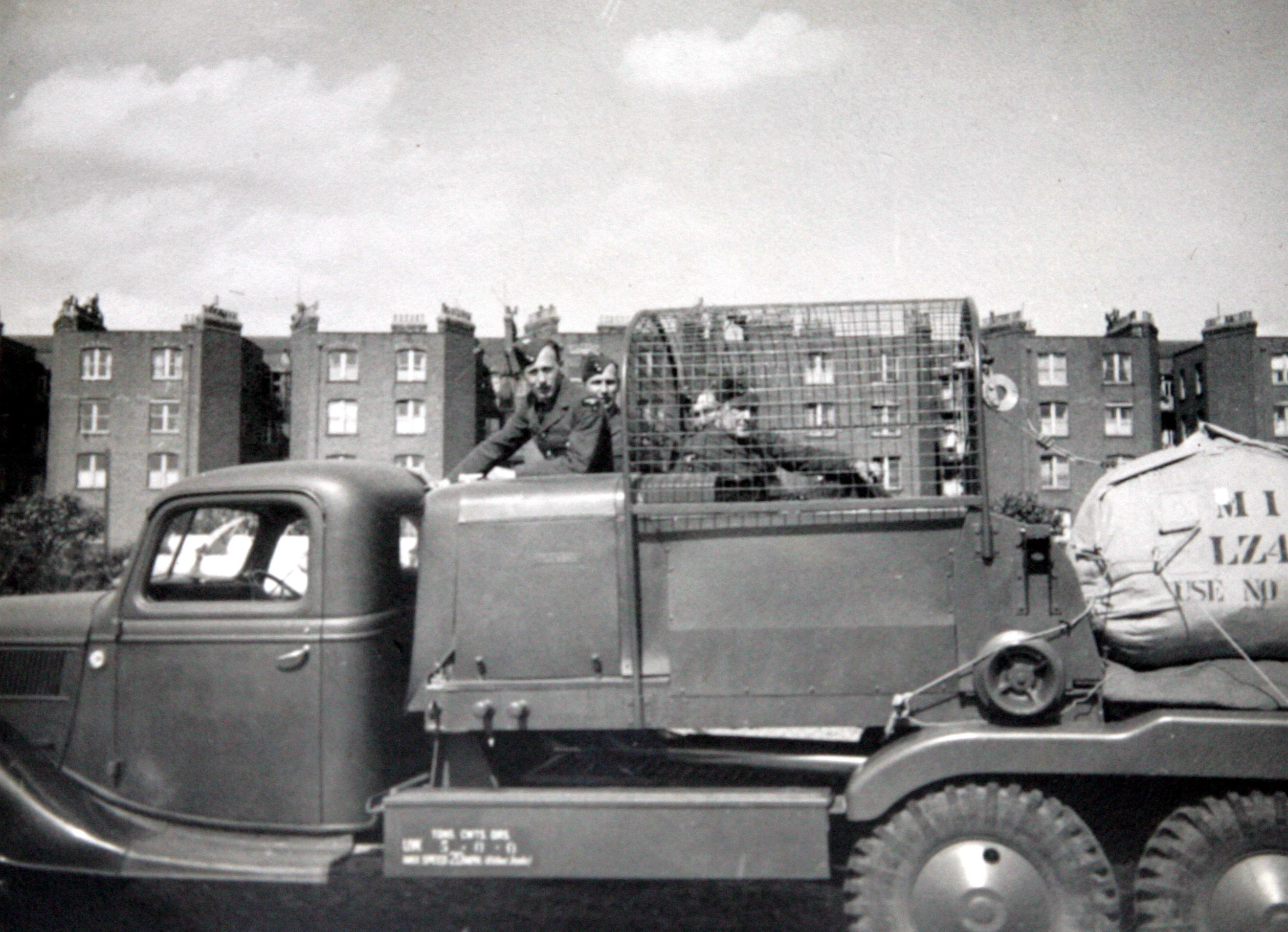 Here is Beresford inside the cage of the six wheel Fordson Sussex Balloon Winch vehicle, note the barrage balloon packed on the back, this appears to be a Low Zone Mk IV balloon, this picture is obviously in Britain during WWII.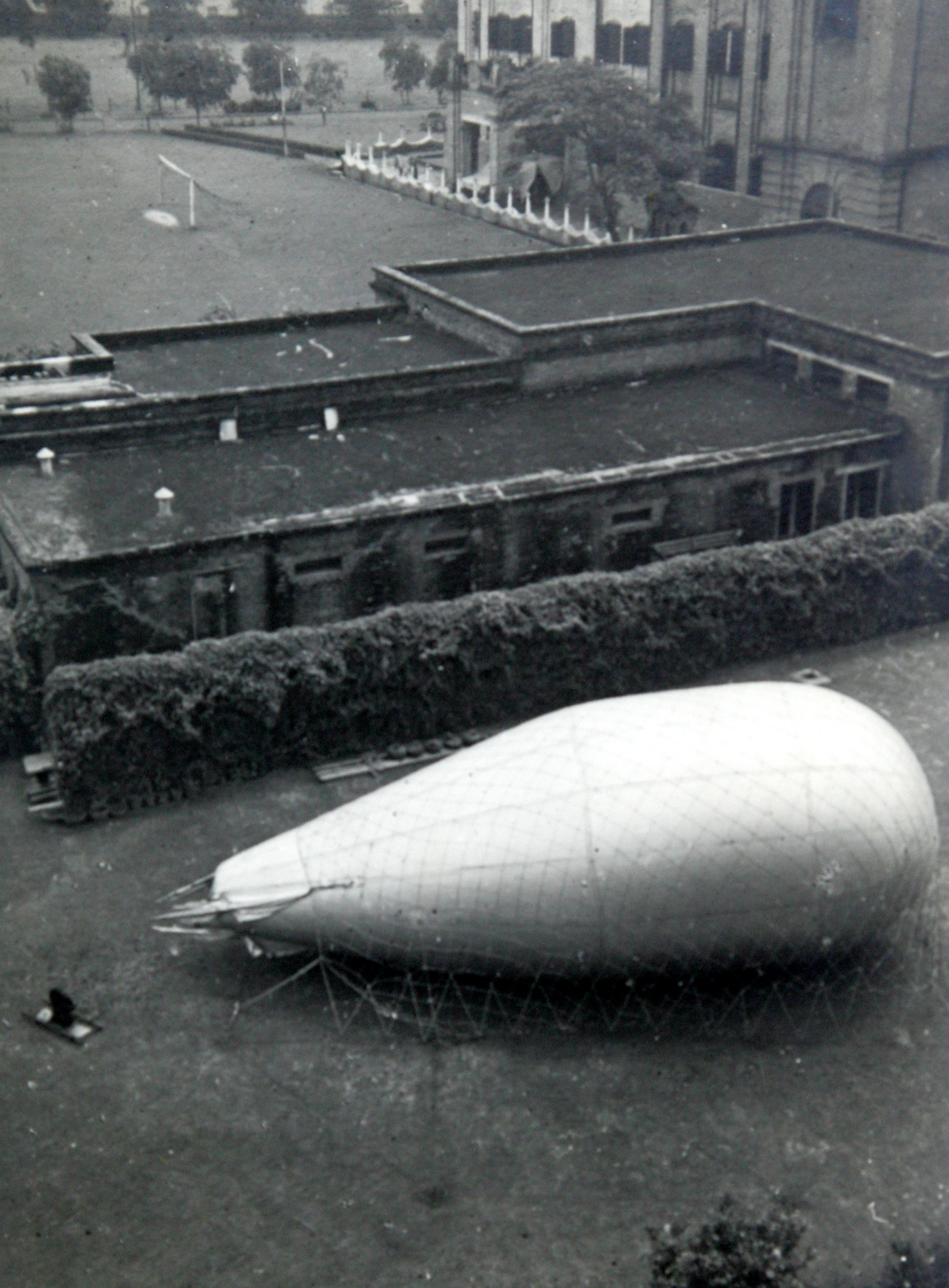 Here is a typical balloon bed with the balloon (Low Zone Mk IV?) placed in a sheltered spot and the building behind acting as a natural windbreak. The balloon is securely picketed down and as an extra precaution a large net is thrown over the whole and similarly picketed down. I think this was taken in India as well, simply because this type of balloon was used in hot climates due to the rapid expansion of the gas with the heat.
He saw service in India and Burma and was asked to determine if Mark VI balloons or indeed spherical balloons could be flown to protect vital targets at Singapore. In documents I have that are marked "Top Secret", Beresford makes a strong argument against using balloons at Singapore due to the climate and in particular the strong likelihood of lightening strikes on the balloons.
Barrage Balloon equipment was sent by sea to Singapore but was lost when SS Bangalore was sunk on the 21 July 1941 after colliding with the Richmond Castle. The Bangalore had to be sunk by gunfire from an escort ship to prevent her becoming a hazard to shipping.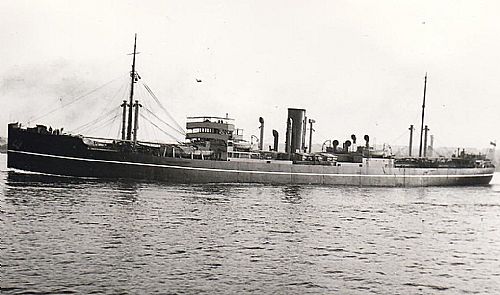 SS Bangalore- Photo supplied by Joe McMillan Collection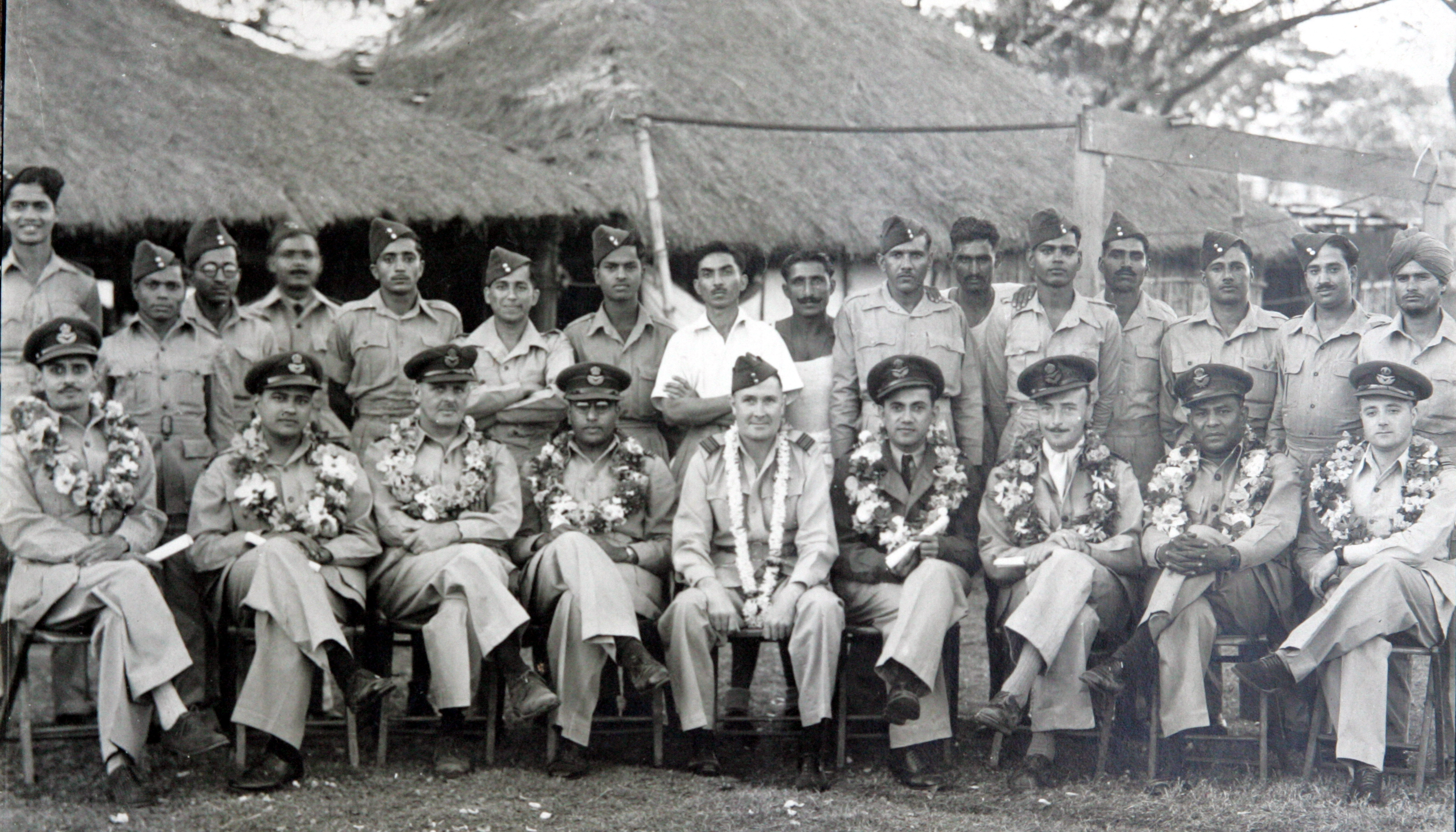 Here he is pictured above with some Indian RAF types - date unknown (1943?)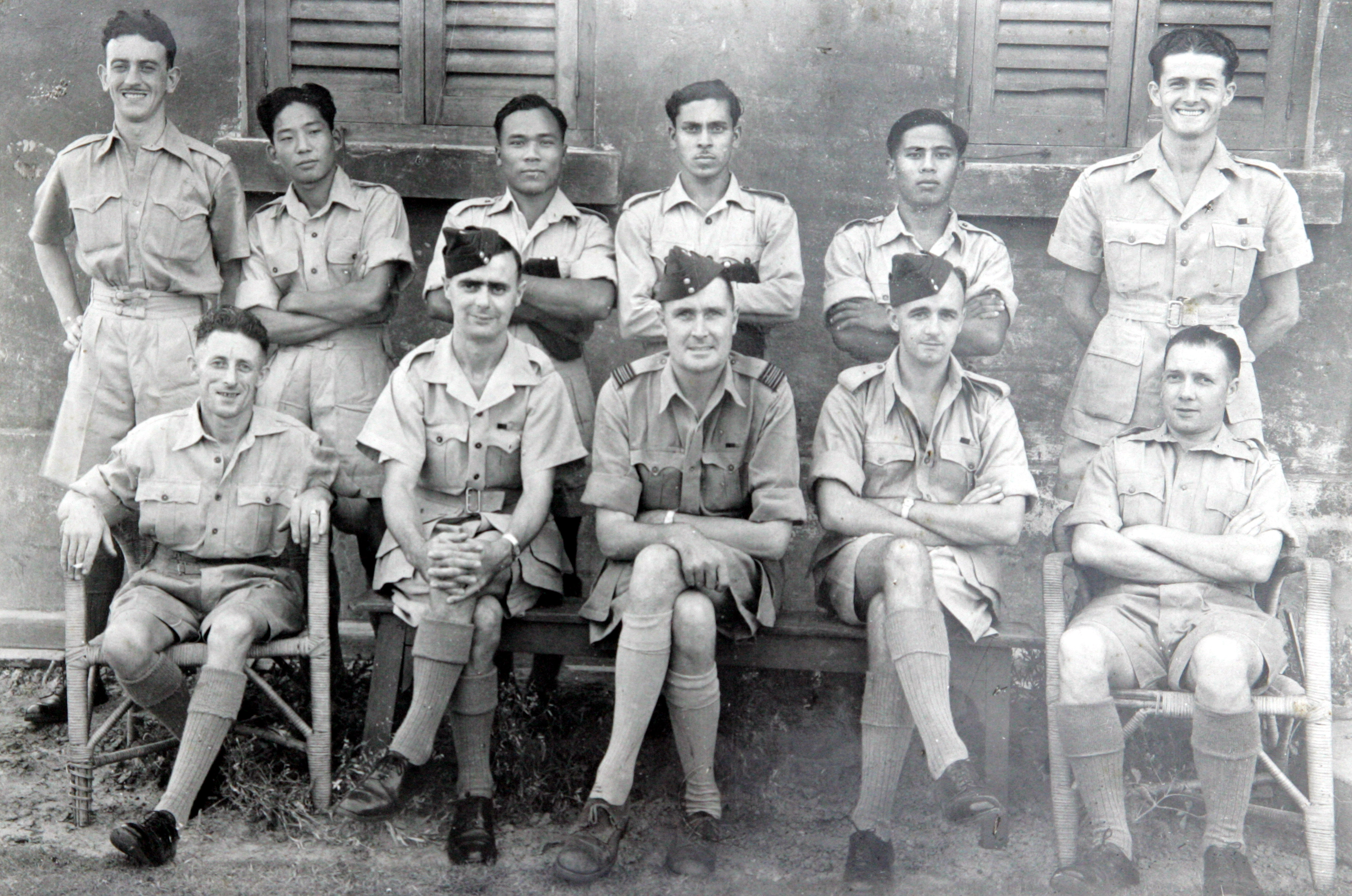 Here he is with 978 squadron members in India -date unknown (1943?)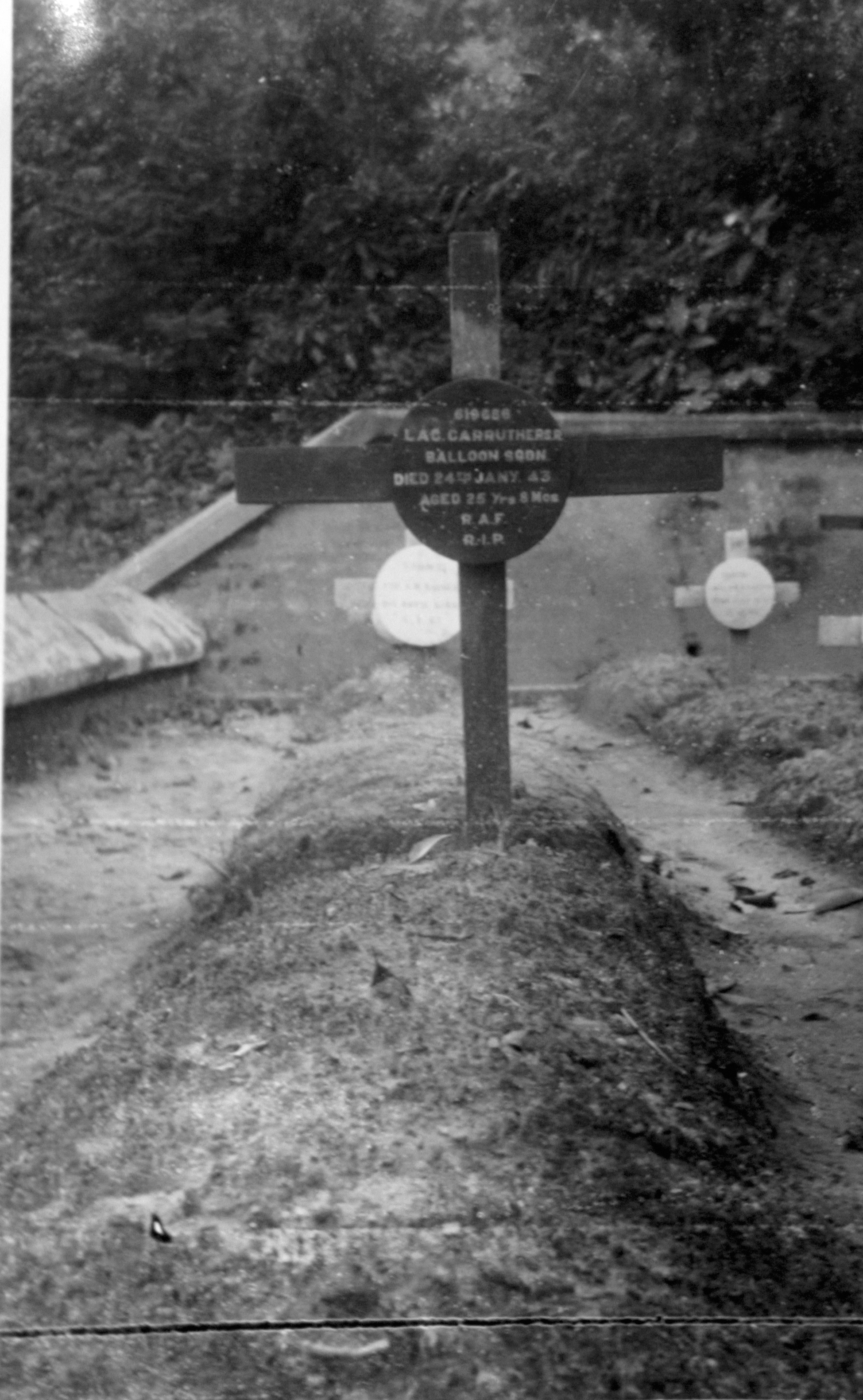 This is the grave of LAC Carruthers 978 Squadron who was killed during an air raid in Calcutta in 1943.
Here (below) is a 1940 but informative press cutting of the war found in Beresford's papers! This relates to Dunkirk.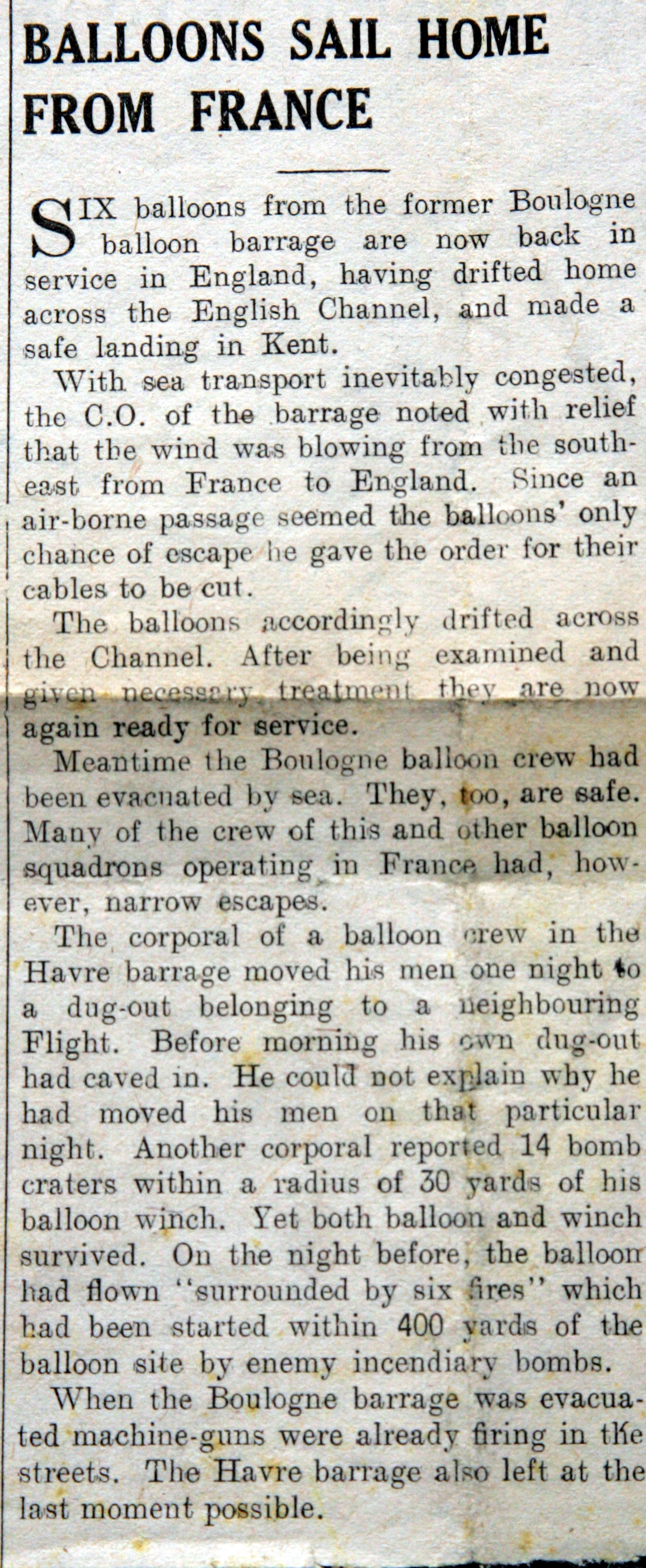 Beresford appears to have been at Southampton on 16th May 1940.I have a pass for Southampton Docks issued by the Assistant Provost Marshall giving him access to the docks and signed by A W N Addison Wing Commander of the Balloon Barrage Southampton. Beresford was at Cardington on the 16th May 1941. Next posting shows he was sent to the British Forces Middle East on 10th December 1941.By the 27th December 1941 he is a Flt Lt and is working the Balloon Shuttle Service with the Sea Transport Office in Aden. On the 23rd January 1941 he gets a letter telling him to proceed at once to Rangoon by air and 974 Sqdn was to be taken over by P O Hoyle..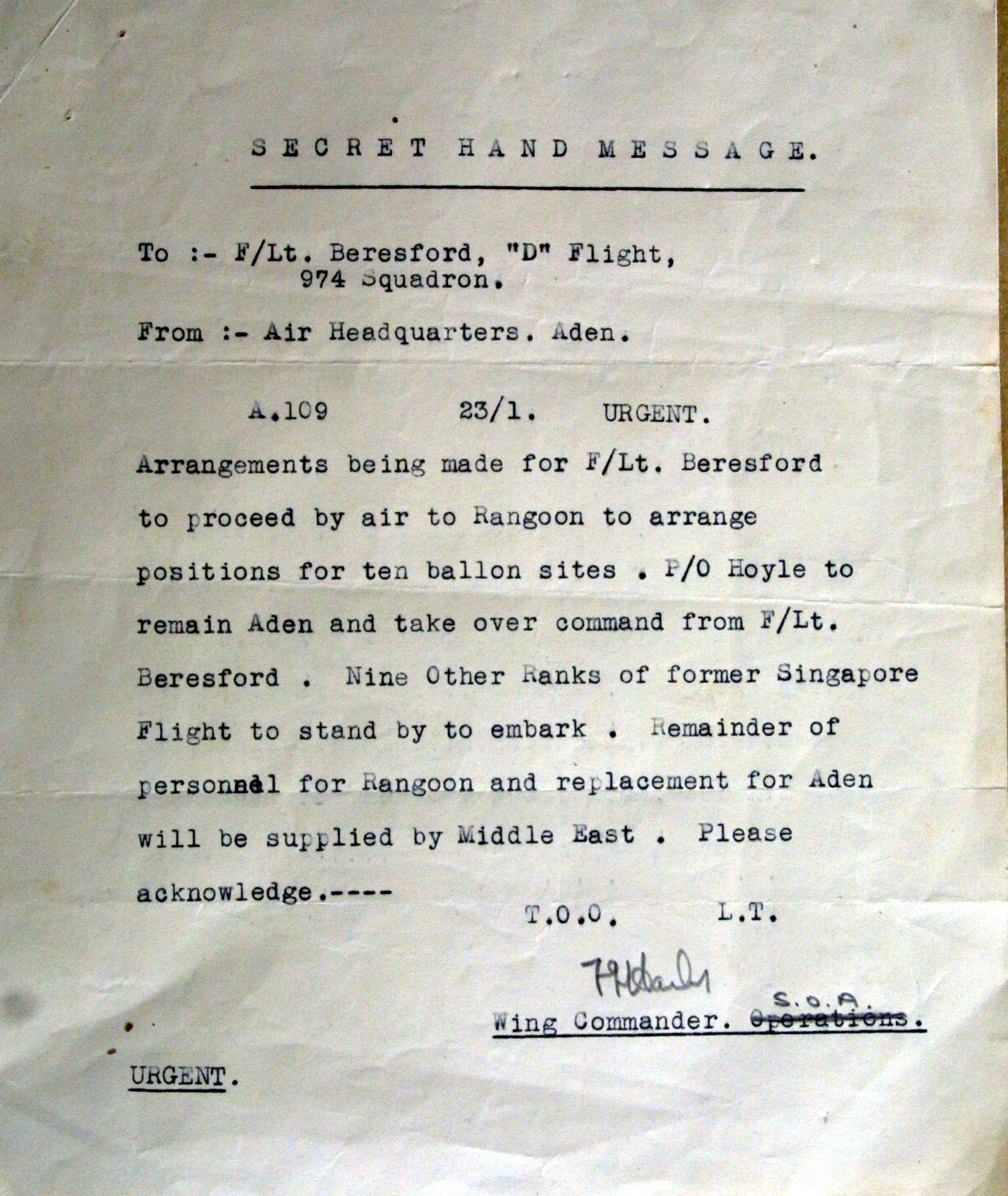 By the 15th February 1942 he is in Burma. His pass for Burma shows he had access to all RAF stations, Special danger areas and Special Prohibited areas around the Rangoon Harbour. By September 1942 he is in Calcutta as shown by this letter from Staff Officer Balloons Walter Summers, Air Headquarters India.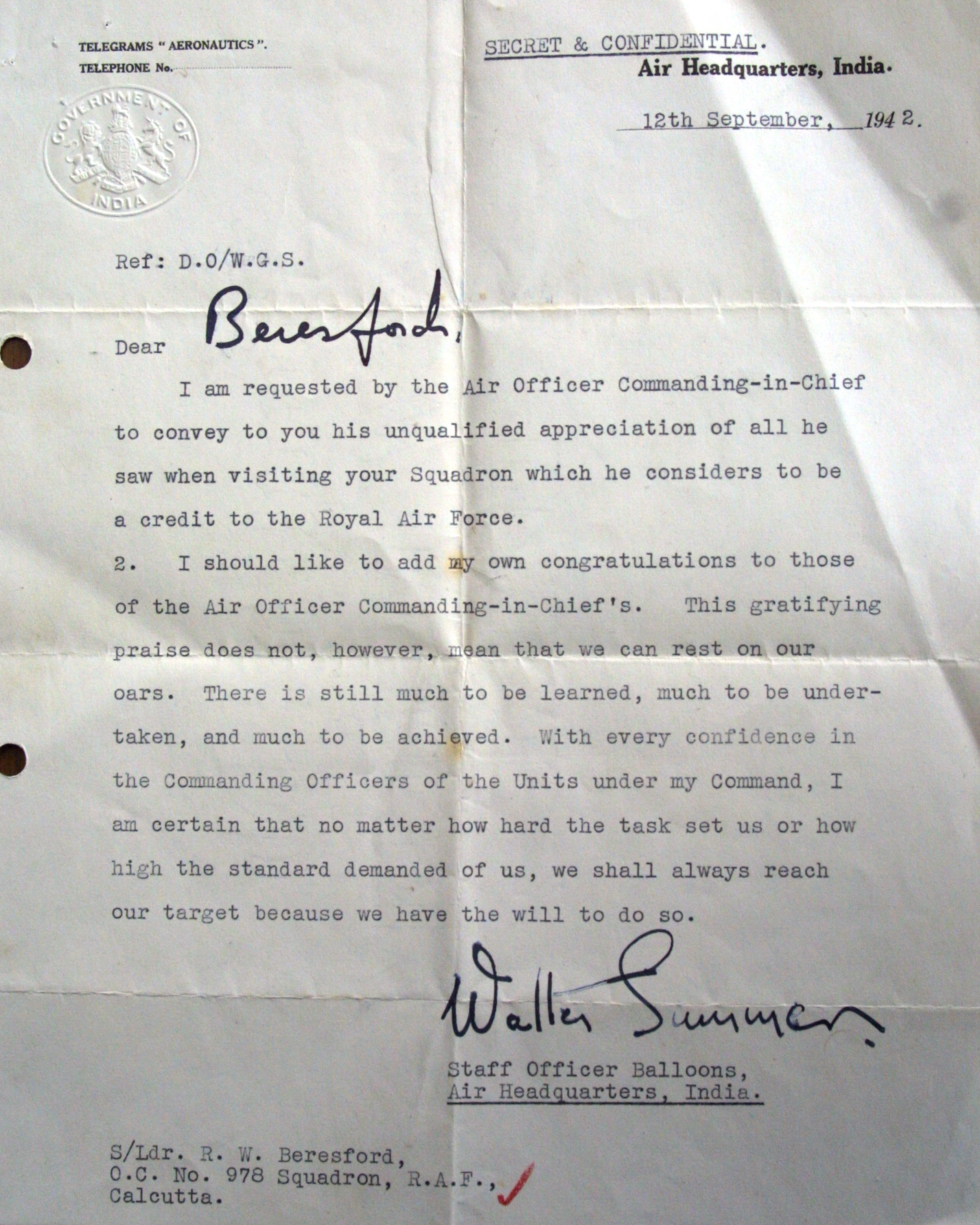 He left the service on 24 April 1948 and was enrolled in the Royal Air Force Supplementary List of Officers, this meant that in the event of an emergency being declared he was on reserve to serve when called up.
Click here for various pictures of Sqdn Ldr Beresford and his Crew