Wing Commander Ralph Risk. C.B.E., M.C & Bar.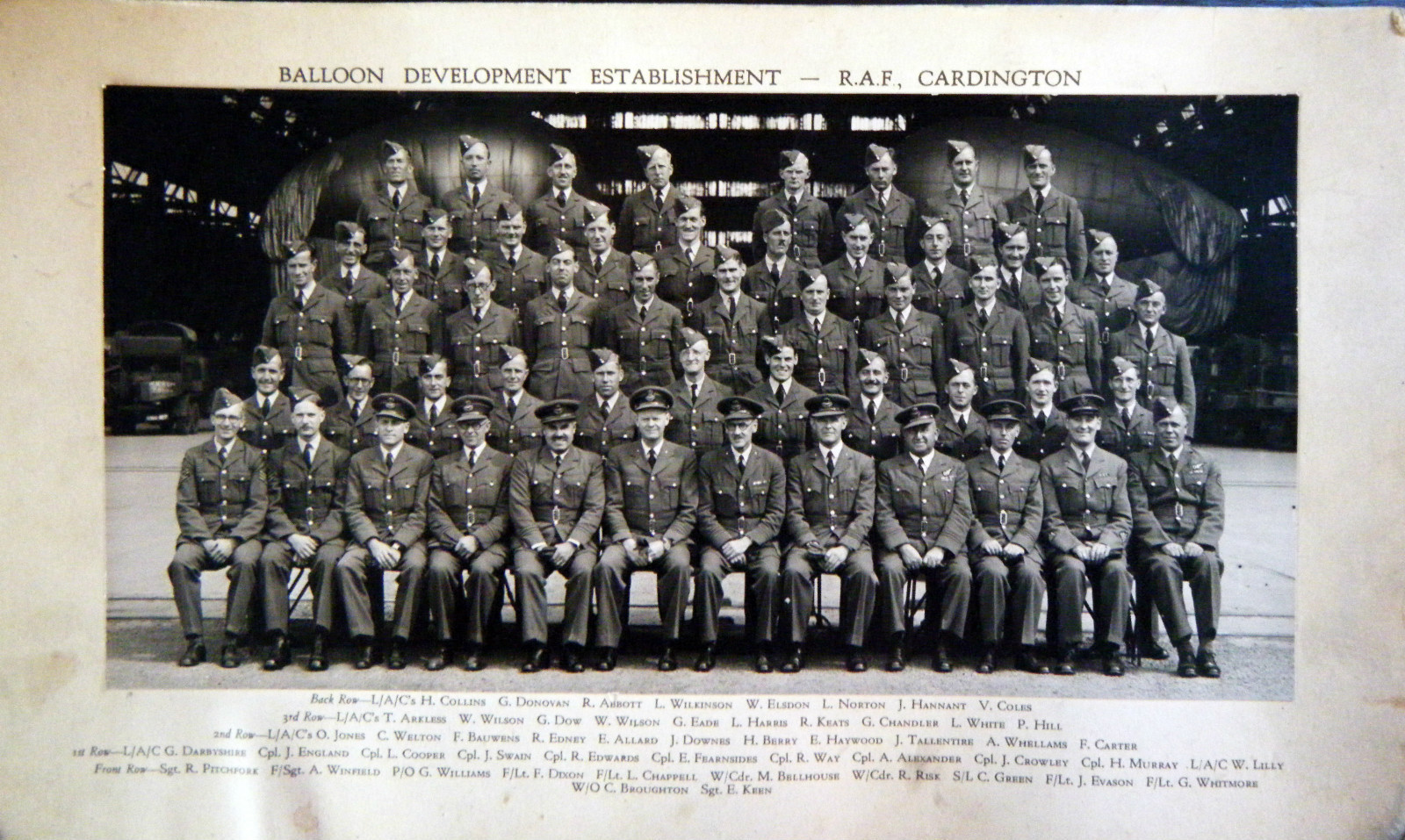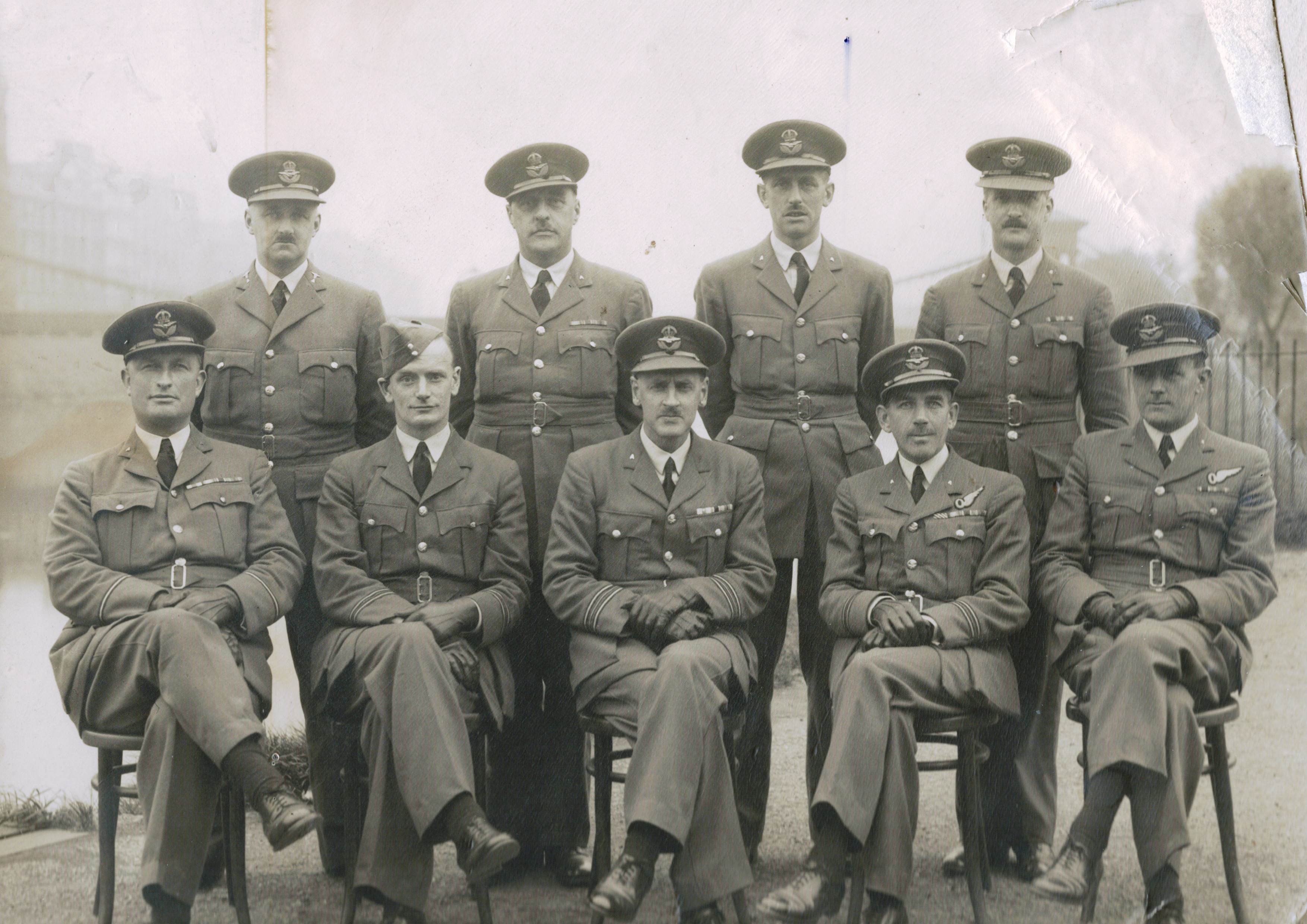 Here is another picture taken at Glasgow.
The names on the back of the picture are are:
Back Row L-R: D. Rennie, Barclay, Pollock and Coghill
Front Row L-R: Reid, Hornsby-Smith, Risk, Annan and Mailley
Annan and Mailley are both wearing their Observer badges on their tunics, having both served in the Great War .
Ralph Risk, M.C., had a considerably interesting career.
He was born in 1891 at Cathcart, Renfrewshire, Scotland. In 1907 he was at Queen's Park Higher Grade School and in June won the competition for throwing a cricket ball. He attended Mount Florida School in Glasgow.
He was a keen footballer and played as an amateur at Queen's Park in 1909.
He was mentioned in the Dundee Courier in 1912 as he was not able to go professional since he was studying law and had processional examinations the
next winter and did not have any spare time for training. He studied Law at Glasgow University
He was mentioned in September 1915 as having played for the first half of Gordon Highlanders versus Aberdeen "A" Team at Pitodrie. In July 1916 the Daily
Record noted that he was a member of the Queen's Park Football Club and had been injured along with two other men from the Club. During the Great War
he was Cadet in the Special Reserve of Officers in the 3rd Battalion Highland Light Infantry and was gazetted to be 2nd Lieutenant on 25th July 1915.
He was sent to the Gordon Highlanders and was on 18th July 1917, was awarded the Military Cross for "conspicuous gallantry and devotion to duty. He led
his platoon, under very heavy machine gun ire, to a position where he established a new post, which he held until ordered to withdraw. His great personal
courage and fine example enabled him to secure his position and keep his men in hand." This related to his actions at Rœux Chemical Works during the Battle
of Arras in spring 1917. On April 23, 1917, the 6th Gordons attacked the Chemical Works. At the outset they had to move over a tract of ground commanded
by enemy machine-gun fire from Greenland Hill. Very heavy casualties were suffered, the Commanding Officer and Adjutant both being wounded.
Small parties, however, continued to press on independently, and, after heavy fighting, succeeded in reaching the Chemical Works and driving out the enemy.
Between April 1917 and September 1918 the Chemical Works changed hands many times, but in September 1918 the Germans were finally ejected, this time
also by the 6th Gordons, in the final great advance to the Canal du Nord.
There is a sketch online showing: Captain Ralph Risk, M.C.; Corporal D. Denoon; Lance-Corporal J. Wright.
http://net.lib.byu.edu/estu/wwi/memoir/docs/51st/images/plate32.jpg
He was also awarded a bar to the Military Cross on 15th October 1918 for, "conspicuous gallantry and devotion to duty during an attack. He several times
went up from battalion headquarters to the front line through heavy shell and machine gun fire, and rendered most valuable service in organising the men
and steadying them when their officers had become casualties. Throughout the battle his keenness and untiring energy were beyond praise". This related to
his actions during the Battle of the Scarpe in August 1918. He was promoted to Captain and left his battalion on special leave to Britain on 25 September
1918 and would see no further action before the Armistice.
He was awarded a bar to the Military Cross by the King at Buckingham Palace on 25th February 1920. His name crops up regularly through 1926
with legal work. He was noted to be a member of the Buchanan Society in 1927. In 1933 he became president of Queens Park Football Club. In November
1933 he was guest speaker at the annual Armistice concert at Coatbridge town hall. He was on the General Council of Solicitors in Scotland between 1933
and 1939. He was a senior partner in Maclay Murray & Spens
In May 1934 he was nominated for Chair of the Scottish Football Association.I
In November 1934 he was best man at the wedding of Colonel Alan Stein, M.C., T.D. at Linlithglow to Dorothea Christian Caddell.
In March 1935 he had lunch with the Duke of York at the City Chambers, Glasgow. In September 1936 he was part of a Committee to organise a Scottish
Ambulance Unit for Spain. This consisted of six ambulances and one supply wagon.
In 1937 he was still President of the of the Queens Park Football Club and was keen to have a sporting event to mark the Coronation. and had offered
Hampden Park to the Corporation. In 1939 he was re-appointed President of the Buchanan Society
He was obviously very aware that the world was heading toward a war.
In March 1939 he was granted a commission as a Auxiliary Air Force Squadron Leader and appointed to command the 947 (City of Glasgow) (Balloon)
Squadron. In may 1939 he appealed to all members of the Football Club to join the Territorials, if enough members came for ward they could form
a 7th Scottish Rifles (Cameronians).
In April 1939 he was speaking at Partick Picture House as Squadron Leader Risk. M.C., during National Service Cinema Sunday, to appeal for
National Service when all proceeds went to charities. In September 1940 he was promoted to the rank of Wing Commander (Temporary). He was given
Service No.90608. In September 1943 he resigned his commission in Balloon Command and retained the rank of Wing Commander. Here is a wartime map of the
balloon sites in the Orkneys from the Adjutant of 950 Squadron. The balloons were introduced in two separate phases over time.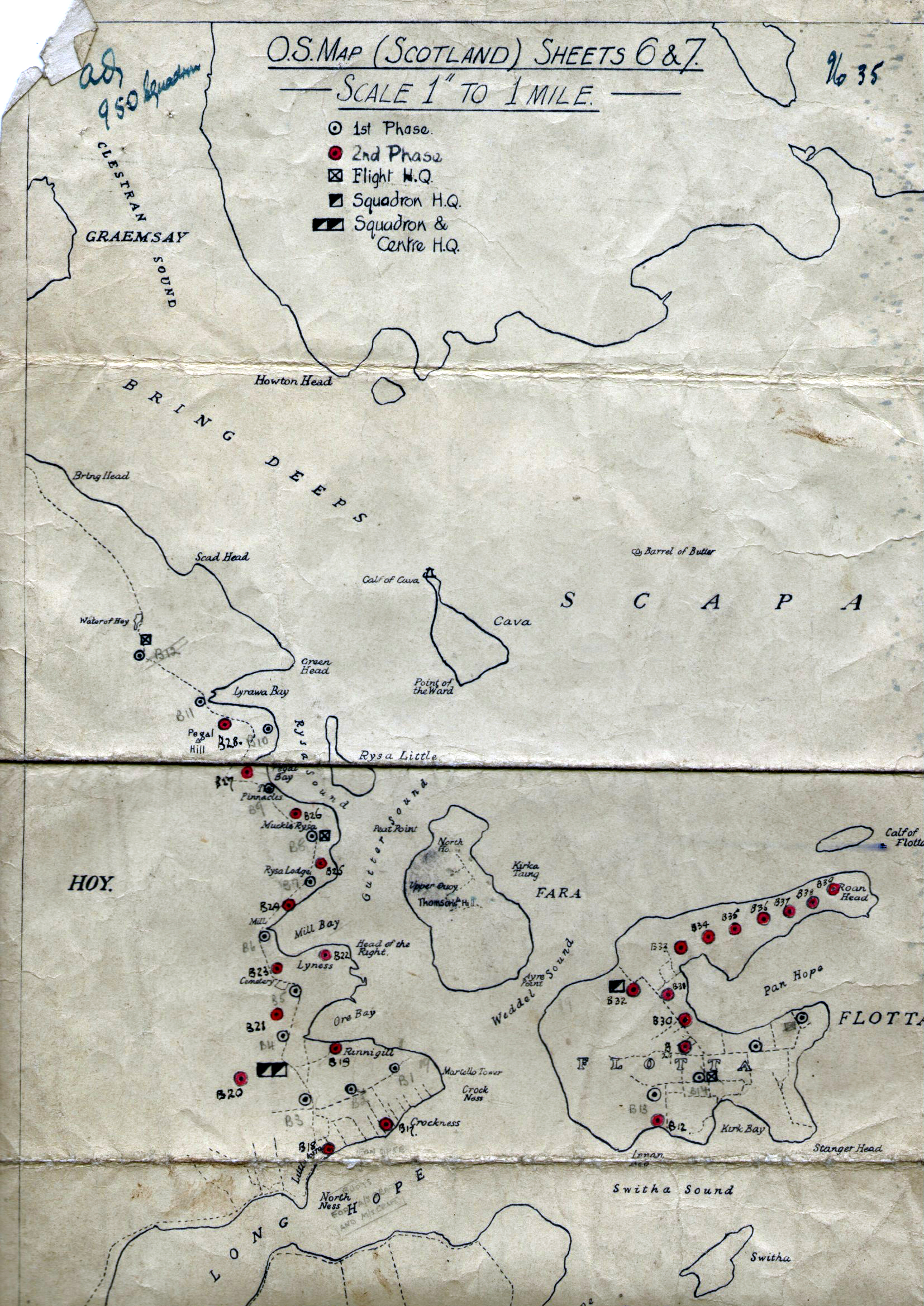 In 1949 he was still involved, as Treasurer, with the Buchanan Society, they were offering scholarships of £15 a year, tenable for two or
three years at any approved school. The competition was confined to boys and girls with the surname, Buchanan, McAuslan,
MacWattie, or Risk, who intended to take the Leaving Certificate of the Scottish Education Department within two or three years.
The Tatler on Wednesday 15 June 1949 announced a wedding between Miss Suzanne Eiloart of Holland Park Mews to Thomas Neilson Risk
eldest son of Mr and Mrs Ralph Risk of Albert Drive, Glasgow.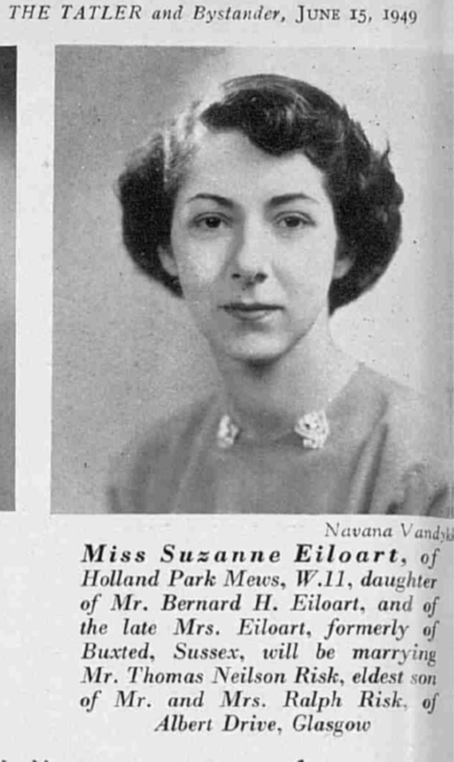 Ralph Risk was appointed Vice-President of the Law Society in 1951 and eventualy was President from 1957 to 1958.
In July 1960 the Daily Mirror reported on the work of the Interdepartmental Committee on Human Artificial Insemination.
Concern had been expressed about the fact that on average the country was producing two "Test-tube Babies" each week and
the Home office had commissioned a report that had run to 52,000 pages. Ralph Risk was on the Committee.
The Committee had two questions to consider:1. How widespread is human artificial insemination in Britain and what are the
legal consequences of it?
2. In the interests of childless couples, doctors, donors, society in general and above all,
- the test-tube babies themselves, should there be any changes in present laws?
After 21 months they had reported and the original report read today shows that most of the committee were not in favour but the
reasoning was in keeping with the moral and social attitudes of the times.
Mr Ralph Risk C.B.E., M.C., died on 24th May 1961.