Wanted: Barrage Balloon or any items associated with Barrage Balloons.
If you have knowledge of the existence of a barrage balloon or sections of one from WWII or even balloon items from
WWI please let me know as I am keen to conserve any item related to barrage balloons, books, manuals,
cable, balloon fabric, rigging, winches or winch parts, photographs, diaries. It is frightening how often this stuff gets thrown away.
I can arrange collection or transportation. Let us conserve our heritage for future generations.
Of all the thousands of barrage balloons made during WWII it does not seem that there are any outside of museums in 2012.
Can anyone out there prove me wrong?
Please contact me at: pgarwood@globalnet.co.uk or 01600-860376.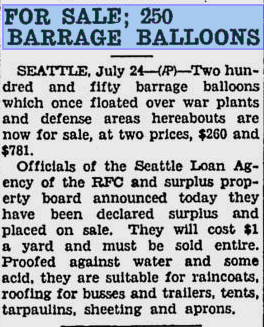 This above and the one below were a typical advert placed in newspapers in the USA in July 1945.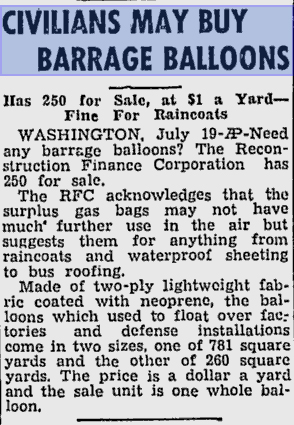 The Anscombes of Harpenden - Past and Present
http://www.harpenden-history.org.uk/page_id__116_path__0p4p61p.aspx
This site shows how an entrepreneur post war was able to cut up surplus barrage balloons and use them for car covers.
"Surplus Barrage Balloons were cut into large pieces to be sold as waterproof car covers and roofing for garden sheds."
The Melbourne Herald ran an article in 1948 about surplus British balloons being sold off!