Press Release
For immediate release from 18 July 2017
==========================
Website launched for WW2 Midhurst Memoirs project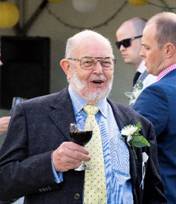 Dr Peter S ydenham, evacuee to Midhurst in WW2
During WW2 Peter Sydenham was a lucky, happy, evacuee to Midhurst. He has always wanted to know more about the back-stories of the life
and times of that short period of excitement and fear. His research interest got going when his kids asked 'What did your Dad do in the war?'
For the Midhurst Rural District area, being as small a 'town' as they come, he expected to find little to write about! Not so! He was overwhelmed
with stories, including many that have been forgotten.
In 2013, he began gathering facts using the Internet, email messaging, interviewing people both in the Midhurst area and oversea, and organising
a reunion, Children of the WW2 Midhurst Rural District in 2015 at the Grange Centre. He has built-up a unique collection of some 300 books and
DVDs related to the Memoirs stories. To record these findings for others to see and use in the years ahead will need 10 volumes: a plan has been
set and the first 3, pre-war period, volumes are nearing release.
On 7 July 2017, the project took the next step. The website www.midhurstmemoirs.com was launched to keep folks informed and up-to-date with
progress. It also supports writers with information on local history writers and outlets for their published work.
He can be contacted on sydenham@senet.com.au