The First Fatalities from a Barrage Balloon Cable.
With war declared and balloons deployed at various sites across Britain there was much belief by many that these devices were not a credible threat to enemy planes. Much of this was caused by the government keeping secret what would happen to an aircraft if it collided with a balloon cable.
Equally problematic was the failure to educate pilots of both civilian and military aircraft about the risk of collision with balloon cables and a failure to provide pilots with the various locations where balloons were flying. This was because it was felt that this information needed to be restricted and kept from the enemy.
Before the outbreak of war on 1 September 1939, the British government had already implemented the Air Navigation (Restriction in Time of War) Order 1939. That ordered military takeover of most civilian airfields in the UK, cessation of all private flying without individual flight permits, and other emergency measures. It was administered by a statutory department of the Air Ministry titled National Air Communications (NAC). By 1 September 1939, the aircraft and administrations of Imperial Airways and British Airways Ltd were physically transferred to Bristol (Whitchurch) Airport, to be operated jointly by NAC.
On Monday 20th November 1939 an Oxford I, G-AFFM took off from Heston Aerodrome, Hounslow, Middlesex flying as British Airways Ltd and was taking part in radio navigation trials and training, at 14.25 hours it hit a barrage balloon cable belonging to LZ C1466 at Balloon Site 33/22 of No.933 Squadron of R.A.F. Gosport, Hampshire and crashed at Cams Hall Farm, Fareham, Hampshire. The balloon broke away and came down trailing 5,000 feet of cable. The balloon was repaired and put back into use on 4th December 1939.
Both men in the Oxford aircraft died in the crash.
The pilot of the Oxford,700161 Sergeant Arthur George Nicholson, Royal Air Force, was 23, born 2nd May 1916 at Uckfield, Sussex. His father was a medical practitioner.
Sergeant Arthur George Nicholson
Arthur was an Aeronautical student and obtained his Aviator's Certificate No. 12952 from the British Royal Aero Club at East Heathly on 10th July 1935 as Royal Air Force pilot on Air Service Training Ltd, Hamble. This organisation provided aviation training for both civil and military pilots. In 1939 Arthur was living with his wife at 29 St. Martin's Road, Bristol and was working as an Airline Pilot and was in the Royal Air Force Reserve. His wife had no listed occupation.
Before the war he flew on the Heston to Warsaw route for British Airways Ltd.
He was the son of William Arthur and Alice Gwendoline Nicholson and had married Mary Evelyn Lorna Leoni, on 23rd August 1939 at Eton, Buckinghamshire. He lived at Croft Mead, Kingsland, Herefordshire. He was buried east of Kingsland (St. Michael) Church, Herefordshire on Friday 1st December 1939. The funeral was very large and over 70 floral tributes were brought to the church on a horse-drawn wagon which accompanied the cortege. The floral tributes were placed in the church and later placed on the grave which had been lined with moss and carnations by Mr Price, Head Gardner the gardener at the family home, Croftmead.
Major McRindle the Managing Director of British Airways had written to Mr Nicholson's parents saying: "At the time of the accident Mr A.G. Nicholson was engaged in important work on behalf of the Air Ministry and was actively serving his country as if he had been called up by the Royal Air Force. He was one of the most promising pilots in the Company and it was a result of the excellent work that he had done for us that he was retained for duty with us and not called up on the outbreak of war. He was popular with all ranks here and his efficiency and conscientiousness were an example to us all."
Mr Nicholson left £4210-13s-0d at probate.
The civilian radio operator, Arthur Edward Eady, was 27, he was born on 12th May 1912, the son of Thomas Arthur Clay Eady, a Diamond Merchant of 32 St. John's Wood Park, London.
He had been a wireless operator with the General Post Office in 1936.
He had married Lucie Eleanora Leoni in September 1937 at Hampstead, Middlesex. In April 1939 she was staying with her father Franco Leoni, a Music Composer at 7 College Court, Belsize Park, Camden, Hampstead.
Before the war Arthur Eady was an Imperial Airways Radio Officer, serving on the Scandinavian and Brussels routes. He was living at 12 College Court, College Green, Fulham, London. He was buried at Fareham Urban Cemetery.
At Probate he left £1941-4s-2d. On 20th November 1940 his wife placed a Memoriam notice which said: "A year ago today my beloved husband Arthur gave his life for his country leaving me desolate but proud."
At the inquest it was explained that the aircraft they were flying was attached to the Royal Air Force. Sergeant Grey, Royal Air Force told the inquest that the Oxford had landed at an Royal Air Force station and one of the three occupants disembarked and the aircraft took off.
Corporal W.J. Edgar Royal Air Force told the inquest that at the time there was good visibility and he saw the aircraft strike the balloon cable. It then crashed vertically onto the ground at Cams Hall Farm, Fareham, Hampshire and burst into flames.
Lieutenant P. E. Musgrave Royal Armoured Service Corps said that he saw the aircraft nosedive vertically and he thought the engines were on full throttle. He ran to the aircraft and in doing so managed to get his face badly burnt. The aircraft had to be levered up before he and Lieutenant Stewart-Rattray could try and get the men out. Police Sergeant Oliver stated that on arriving at the scene the aircraft was still burning. Once the flames had been extinguished both bodies were removed from the aircraft. Flying Officer Whittingham, junior Medical Officer said that in his opinion death was instantaneous and both bodies had been badly burnt. Identification of Nicholson was made by his father who identified the wedding ring his son was wearing and identification of Eade was made by John Vincent Wood, operational superintendent of British Imperial Airways identified Eady the radio operator.
The Coroner, Major G. H. Warner stated that it was almost certain that the men were off their proper course. The collision with the balloon cable was directly the cause of the accident and he gave a verdict of:" Death from injuries received when the plane collided with a cable and crashed".
You would expect this case to have heightened awareness of the risk of balloon cables among pilots and aviation in general. However just three weeks later a second aircraft managed to collide with a balloon cable.
On 12th December 1939 at 14.55 Walrus I K8556 a twin-engine aircraft from 754 Squadron based at Lee-on-Solent was just visible in cloud when it hit a balloon cable of balloon No. LZ959 on Site 31/9 and crashed at Bitterne, Southampton.
The balloon broke away and was blown in a westerly direction trailing 1000 feet of balloon cable. There was no damage to property. Group Captain Curtis Officer Commanding No. 12 Balloon Centre, Titchfield inspected the site where the aircraft had come down. On the 13th Air Officer Commanding R. Drew visited Balloon Site 31/9 and inspected the wreckage at mid-day. On the 13th December at 1700 hours balloon No. LZ959 was salvaged from Wareham, Dorset. On 16th December 1939 balloon No. LZ959 was reinflated and let up at 15.40 hours.
When the Fleet Air Arm aircraft hit the cable a wing was torn off and it went into a spin and stall was falling down to earth it managed to also collide with a car on the road before crashing into the front garden of an empty house.
The car was driven by Mr Harold Mouland, a commercial traveller, of 34 Wimbledon Park Road, Southsea who was working for W.P.& J. Layther, manufacturing confectioners of Devonshire Avenue, Southsea.
When the aircraft struck the car, it caused aviation fuel to land on Mr Mouland and set fire to one leg of his trousers. He leapt from the car and managed to put the flames out by rolling in wet grass on some waste ground at the side of the road. He was taken to hospital suffering with burns and shock and eventually was discharged home by train.
The occupants of the house next to the crash site were very alarmed: Mrs J. Watson, age 81, was in the front room with Miss Betty Powell, the maid. Mrs Watson's niece, Mrs Groves and her daughter, Mrs J. Falconer were in another part of the premises. Miss Powell said that she saw the plane fall. " It burst into flames and there were several large explosions. Flames ran all along the wall of our house. It was a terrible sight. Mrs Falconer was visiting her mother Mrs Watson with her daughter Julia when she was about to leave the house but was called back by her cousin, Mrs Groves. "If my cousin had not called me back to say goodbye I might have been killed. Mrs E. Peterson a resident in the locality described how the driver of the car had put out the flames and had been helped to her front wall where he sat until invited into her house. He laid on her settee and she made him some tea and eventually an ambulance came to take him to hospital.
Petrol from the aircraft ran down the road and firemen prevented it from setting fire to houses.
The intense fire prevented any rescue of the occupants of the aircraft. The fire brigade extinguished the flames and recovered all four bodies which were taken to the mortuary.
The Admiralty announced that a Fleet Air Arm aircraft had collided with a balloon cable near Southampton and the crew of four had lost their lives. The next of kin have been informed.
Richard Herriot Mackay Heriot-Hill
The occupants of the aircraft were:Lieutenant Richard Herriot Mackay Heriot-Hill, Royal Navy, born in June 1915 at Liverpool, age 24, the son of Colonel Eric Heriot-Hill and Winifred Crawhall Heriot-Hill. Colonel Heriot-Hill was a Merseyside Barrister and Conservative Candidate for Leigh. Richard Heriot-Hill was resident at 6, Spring Gardens, London, S.W. and serving on H.M.S. Daedalus. On 18th March 1935 he was appointed Acting Pilot Officer, Royal Air Force. on 12th October 1937 he was appointed Lieutenant (A) in the Royal Navy Lists. He had the rare distinction of having been given a commission in all three services. In 1933 he had been a Captain in the Supplementary Reserve of the Fifth Inniskilling Dragoon Guards. In 1935 he was transferred to the Royal Air Force being promoted to a Flying Officer and in 1938 was given a permanent commission in the Royal Navy. He was buried on 18th December 1939 at Haslar Royal Naval Cemetery.
41278 Pilot Officer Michael Fortnum, Royal Air Force, born in October 1920, age 19, the son of Edwin Walter and Florrie Fortnum, of 12 Grove Road, East Molesey, Surrey. He was buried on 18th December 1939 at Haslar Royal Naval Cemetery.
D/LX 21495 Leading Airman Michael McLoughlin, Royal Navy, born 1914. He was resident at 308, Mersea Road, Colchester, Essex. He was buried on 18th December 1939 at Haslar Royal Naval Cemetery which was attended by his fiancé Miss Betty Maywood. He had planned to be married to the 19-year-old Peterborough girl, four days after he was killed. Miss Maywood was from the Durham Ox, Star Road. Her nephew Peter was to be Page by and was to wear a miniature uniform modelled on that worn by Michael McLoughlin. The wedding cake had been made with a model aeroplane on top.
P/JX. 145121 Air Mechanic (E) 1st Class Louis Moorhead, Royal Navy, born 11th February 1920, at Hartlepool, age 19. he was resident at 37 Malton-street, east Hartlepool, Durham. he was the son of James William and Florence Moorhead of West View, Hartlepool. he was buried at West View cemetery, Hartlepool
The inquest on the four deaths was opened on Thursday 14th December at the Law Courts by the Southampton Borough Coroner, Mr Arthur H. Emanuel. Evidence of identification was given by Lieutenant Eugene Esmonde, Fleet Air Arm who confirmed that he had identified all four men in the Southampton public mortuary.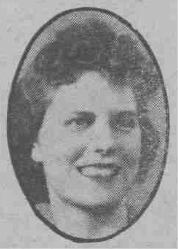 Betty Maywood
Police-surgeon Dr P. M. Roberts said he visited the scene of the crash at 4.30 p.m. and saw the bodies of the four men. The cause of death in each case was shock due to burns and two of the men had each fractured a leg. The coroner adjourned the inquest for a week.
The inquest was closed on 29th December and the coroner recorded a verdict of "accidental death". He further commented: "This accident shows that the balloon barrage is not an idle and ridiculous formality.".
Despite this public statement allied aircraft continued to fly in areas where balloon barrages were flying. Many more allied aircraft became victim to a passive defensive tactic that was designed to thwart the airborne attacks from Germany.
Peter Garwood December 2020