St. Andrew's Church, Park Walk, Chelsea and Barrage Balloon Damage.
Today the spire looks perfect but does have a hidden history from the war in 1940.
On 20th August 1940 at 8.45 p.m. a barrage balloon was being hauled down over Chelsea when it was seen to dip, twist and dive erratically.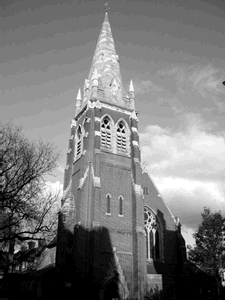 (Picture courtesy of Paul Farmer, CC BY-SA 2.0, https://commons.wikimedia.org/w/index.php?curid=14352752)
Thousands of people watched the balloon as it danced around the sky, some described it like watching a fish being played on a fishing line.
The cable managed to catch on the top of the spire of St. Andrew's Church, Park Walk, Chelsea. Luckily, the church was empty.
The cable broke off the top of the spire and caused some two tons pf masonry to crash through the roof of the church and smashed a hole
through the timber roof and landed on the pews below destroying two of them as well as an ornate chandelier on the way down.
The ancient main roof timbers were left intact. The weathervane was found lying on two of the pews.
A number of roof slates fell into the garden. A number of ornamental carvings on the spire were damaged as well as parts of the fabric of
the church.
An under turret at St Stephen's Hospital, Fulham Road was also damaged by the cable.
Efforts to repair the under turret were began with hours. Despite the blackout men had to use lamps lit in the tower to see what needed repairing.
A number of people who were unaware of the damage caused by the balloon spotted these lights and called the Air Raid Precautions Warden, the
police and the local council to complain of a "flagrant breach of the blackout regulations".
They were quickly reassured that it was vitally necessary to repair the hospital and the repairs were urgently needed and the lights were essential
to get things done.
Services were still being carried out at the church including weddings, but parts of the church were off limits.
© Peter Garwood December 2020