Group Captain John Alexander KENT
DFC and Bar,AFC , Virtuti Militaire (Polish VC)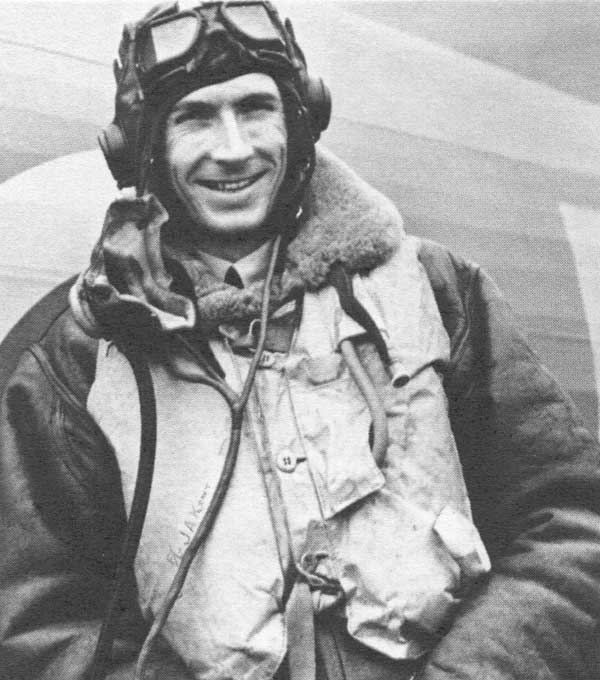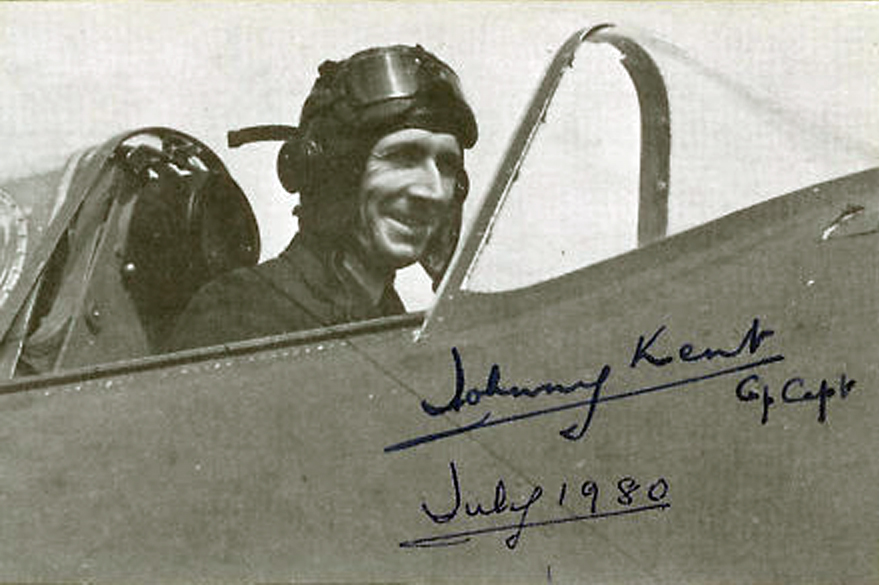 This man was an individual who flew into the cables of barrage balloons so often that he would do it without any cause for concern. He was a famous RAF test pilot and one of his jobs was to see how aircraft behaved on impacting a cable and have the whole event caught on film for scientific analysis.
He was born in Winnipeg on 23 June 1914 and began to fly at 16 years of age and had his own pilots licence at 17. He came to England in February 1935 and joined the Royal Air Force the following month. He was appointed Acting Pilot Officer on Probation on March 15th 1935, he was confirmed as a Pilot Officer in 1936, a Flight Lieutenant in September 1936 and rose to Acting Squadron Leader in October 1940.
He was posted to Royal Aircraft Establishment, Farnborough as a test pilot. It was here that he undertook his research into barrage balloon cables and their effect on aircraft. He had many hair raising experiences during the trials flying into cables with a Fairy P4/34, a Wellesley, and a Battle.

He was specifically listed in AFRO 1292/41 dated 7 November 1941 as a Canadian in the RAF who had been decorated as of that date. Recommendation dated 23 September 1938 (prepared by W/C M. McEntegart, Commanding Officer, Experimental Section, Royal Aeronautical Establishment) in Public Record Office, Air 2/9315:
Flying Officer Kent has, during the last six months, made approximately 60 flights involving collision with a wire cable in connection with the special defence experiments being carried out at this Establishment. The experiment is one which is accompanied by a considerable element of risk to the pilot and calls for determination and a high degree of skill in piloting. Flying Officer Kent has at all times carried out these duties in a most efficient manner. He is fully aware of the nature of the risks he is taking but has never allowed this in any way to diminish the marked willingness and zeal with which he carries out these duties.
Also on 23 September 1938, A.H. Hall (Chief Superintendent, Royal Aeronautical Establishment) supported this with the following remarks:
I endorse the remarks above. As far as comparisons are possible I regard the work done by Flying Officer Kent as being at least as difficult and trying as work done in previous years for which awards have been made.
On 1 November 1938 A/C Roderick Hill (Director of Technical Developments) added:
I fully endorse the recommendation of the Officer Commanding, Experimental Section and the Chief Superintendent, Royal Aeronautical Establishment. I consider Flying Officer Kent has shown gallantry and determination in experimental flying which has not only set a fine example, but has produced very valuable results. I consider him suitable for the award of the Air Force Cross. (Information courtesy of Air Force Association of Canada- an excellent site indeed - http://www.airforce.ca/index.php3)
On 15th September 1939 he was promoted from Flying Officer to Flight Lieutenant.
He flew over 92 different types of aircraft many for their maiden take off and landing. He was able to learn the faults and advantages of different aircraft, how heavy or light they were on controls, rate of climb, speed at different altitudes and oil and petrol consumption.
For each flight he would emerge with all the information clearly recorded on his writing pad.
When asked to deliberately fly into a cable he did not like the idea as this was something specifically designed to cause serious damage to an aircraft, but never the less he still followed orders.
The first time he flew into a cable the boffins chose a very light cable, he got in a Fairey aircraft, attained the required altitude and flew straight at the cable with a camera crew recording every moment. He said afterwards that he did not know he had flown into it as he went straight on. From that moment on he underwent dozens of flights where the cables were increased in weight and he flew all types of British bombers into them.
Clearly each experiment was unique and the outcome unforeseen. It was only because of Sqdn Ldr Kent's superb skill and courage that he was able to pilot the damaged plane back to a safe landing. On on occasion he sheared off three feet from the wing and landed again without any major problem. Cables could whip around on an aircraft and might wrap around the aileron thus stopping control and if the elevator were damaged the pilot had a great deal of work ahead to get back down safely.
One day a cable wrapped around the elevator and the tail plane and on pushing the control column forward to go down it was jammed. Using all his strength he managed to move the column just an inch or two and he gained some control over the aircraft as it descended toward the aerodrome. The bomber crash landed onto the runway.
On another occasion he carried a cable weighing several tons wedged into the wing of his aircraft. This sudden weight change would have sent most bombers to the ground as indeed, this was the intention of the balloon cable. He maintained control and got ready for a landing. He was losing height due to the large drag factor of the cable and as he came into land the dangling cable caught around some high tension electricity wires. The bomber slewed around on one wing and stalled. Sqdn Ldr Kent opened the throttle wide open and using full power managed to pull the bomber around and level. As he did this the aircraft fell onto the runway but the cable became detached from the high tension electricity wires. If this had not happened he would have gone up in flames on landing. He went on to become a highly decorated war ace. Without his expertise, daring and bravery the value of barrage balloons could never have been properly evaluated. We owe him along with many others a great debt of thanks.
Kent was posted to the Photographic Development Unit (PDU) in May 1940 and by early July had converted to Hurricanes while on a posting at RAF Hawarden.
On 2 August 1940, Kent joined the newly formed 303 Squadron as a Flight Commander containing Polish pilots and based at RAF Northolt throughout the Battle of Britain.
His first combat victories came on 9 September 1940 when he shot down a ME 110 and a Ju 88. On 23 September, he destroyed a ME 109 and damaged an Fw 58 reconnaissance aircraft while intercepting a raid over Dungeness. He shot down a Ju 88 after a raid over London on 27 September 1940.
During a dogfight over the south coast of England on October 1, Kent found himself alone with 40 Messerschmitt 109s. During the ensuing engagement, he shot down two of the ME 109s and scored hits on another.
Kent was awarded the D.F.C. on 25 October 1940. The citation in the London Gazette said:
"Early in October 1940, this officer, when entirely alone, attacked 40 Messchersmitt ME109's and shot down two of them. He has personally destroyed four enemy aircraft. Flight Lieutenant Kent has been largely responsible in a large measure for the fighting efficiency of his squadron and has materially contributed to it's successes. He has proved himself a born leader."
Next he was posted to RAF Biggin Hill to take command of 92 Squadron and another highly successful group of pilots. Using the "new broom sweeps clean" , technique, he made sure the pilots were made to follow strict orders. this proved unpopular with the some what casual attitude of the 92 Squadron pilots had at the time. On 1 November, Kent shot down a ME 109 and added two more the following day. On the 10th December 1940 he was promoted to Squadron Leader. On 24 December 1940, Kent was awarded the Polish Virtuti Militari decoration for his achievements with 303 Squadron and the Polish pilots.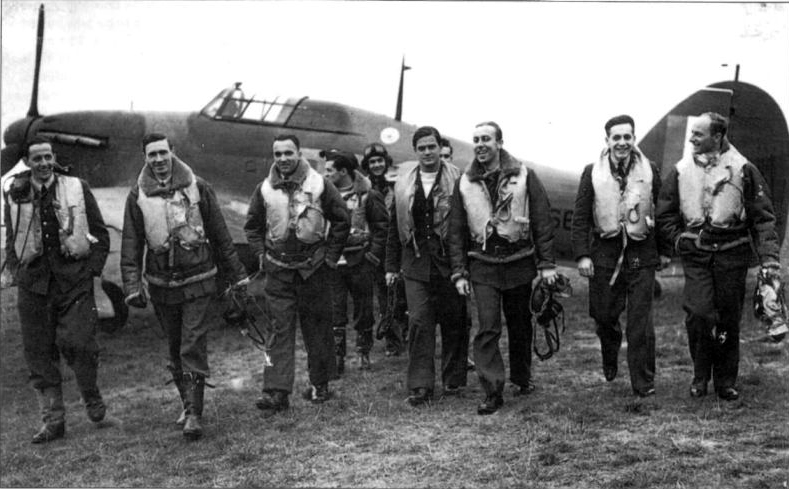 Taken in August 1940, Kent is seen here with Polish pilots from 303 Squadron.
L-R P/O M. Feric, Fl/Lt J.A.Kent, F/O B. Grzeszczak, P/O J. E. L Zumbach, P/O W. Lokuciewski, F/O Z. K. Hennerberg, P/O J. K. M. Daszewski,
and Sgt E. Szaposznikow. All appeared to have survived World War Two.
He was then posted back to Northolt as a Wing Leader in June 1941 to lead the Polish Wing of four squadrons. On 21 June 1941, during an operation escorting Blenheim bombers against enemy positions at Saint-Omer , France , Kent shot down a Bf 109. On 27 June 1941, during another raid over northern France , he destroyed a Bf 109 on the ground.
Over France in the summer of 1941, Kent continued with a destroyed Bf 109 on 3 July 1941, another ME 109 on 20 July 1941before he was then moved again as Wing Leader to command and lead the Kenley Wing in August 1941. His first few operations over northern France with his new squadrons proved successful, claiming ME 109s on 7 August and 16 August 1941.
Kent remained with the Kenley Wing until October 1941, when he was posted back to 53 OTU at RAF Heston and then RAF Llandow before he was sent on a lecture tour of Canada and America late that year.
On the 30th September 1941 he was sent to General duties with a permanent commissioned rank of Flight Lieutenant.On 21 October 1941, Kent was awarded a Bar to his DFC.In June 1942, Kent was Station Commander of RAF Church Stanton where he remained until October 1942, when he was posted to Fighter Command HQ as a Wing Commander of Training. Two months later Kent was posted to the Middle East and took command of 17 Sector in Benghazi , Libya where on 25 January 1943, he damaged a Ju 88 during an engagement near the airfield at Benina.
After a posting to Air HQ as a Command Training Inspector at Air Defences East Mediterranean, he returned to the UK during March 1944 for an instructor's course at the Central Flying School, Upavon. Kent was then posted to Air HQ, British Forces of Occupation and in late 1946 he became the Personal Staff Officer to Sholto Douglas, the Commander-in-Chief, and Military Governor of the British Zone of occupied Germany .
He became a Wing Commander in July 1947. Kent returned to flying duties as Chief Test Pilot at RAE Farnborough in 1948 and was involved until 1952 with many developments of military aviation. In June 1952 he was promoted from Wing Commander to Group Captain. In August 1952 he assumed command of the RAF Station at Odiham, a fighter base operating Gloster Meteors. Subsequently he was posted as Station Commander at RAF Tangmere, and in early 1956 accepted his final posting to RAF Newton as Station Commander.
He went on in post-war Britain to become chief Test Pilot at Farnborough He retired from the RAF on 1 December 1956, Kent retired from the RAF service with the rank of Group Captain. Johnny Kent died on 7 October 1985 at the age of 71 years. He was quite an exceptional individual, definitely lucky, but very skilled and intuitive in his approach to flying aircraft which played a big part in his survival and success. There will never be another pilot quite like him. Kent wrote a fantastic book on his life, "One of The Few", a highly recommended read.