SQUADRON LEADER ARTHUR EGERTON KNIGHT 933 SQUADRON
He was born 7th September 1888. The 1901 census shows him living, age 13, with his parents at 36 Wharf Street , Godalming Surrey.
He was the son of William, age 56, a plumber and painter and Sarah Knight. age 53, There were five other children in the family:
William, age 24, Albert, age 22,Nellie,age 21, a dressmaker, Alfred, age 19, a carpenter, Ethel, age 17, a milliner and May, age 12.
None of the children were married.
The 1911 census shows him residing as a boarder and single at a nine roomed house, 61 Cottage Grove , Southsea.
He is a builders clerk.
He played as an amateur for Portsmouth FC from 1908 until 1922 (with a 4-year break whilst in the army), won 30 caps for England and a gold medal as part of the GB team at the 1912 Olympics in Stockholm. He also turned out a few times as an opening batsman for Hampshire.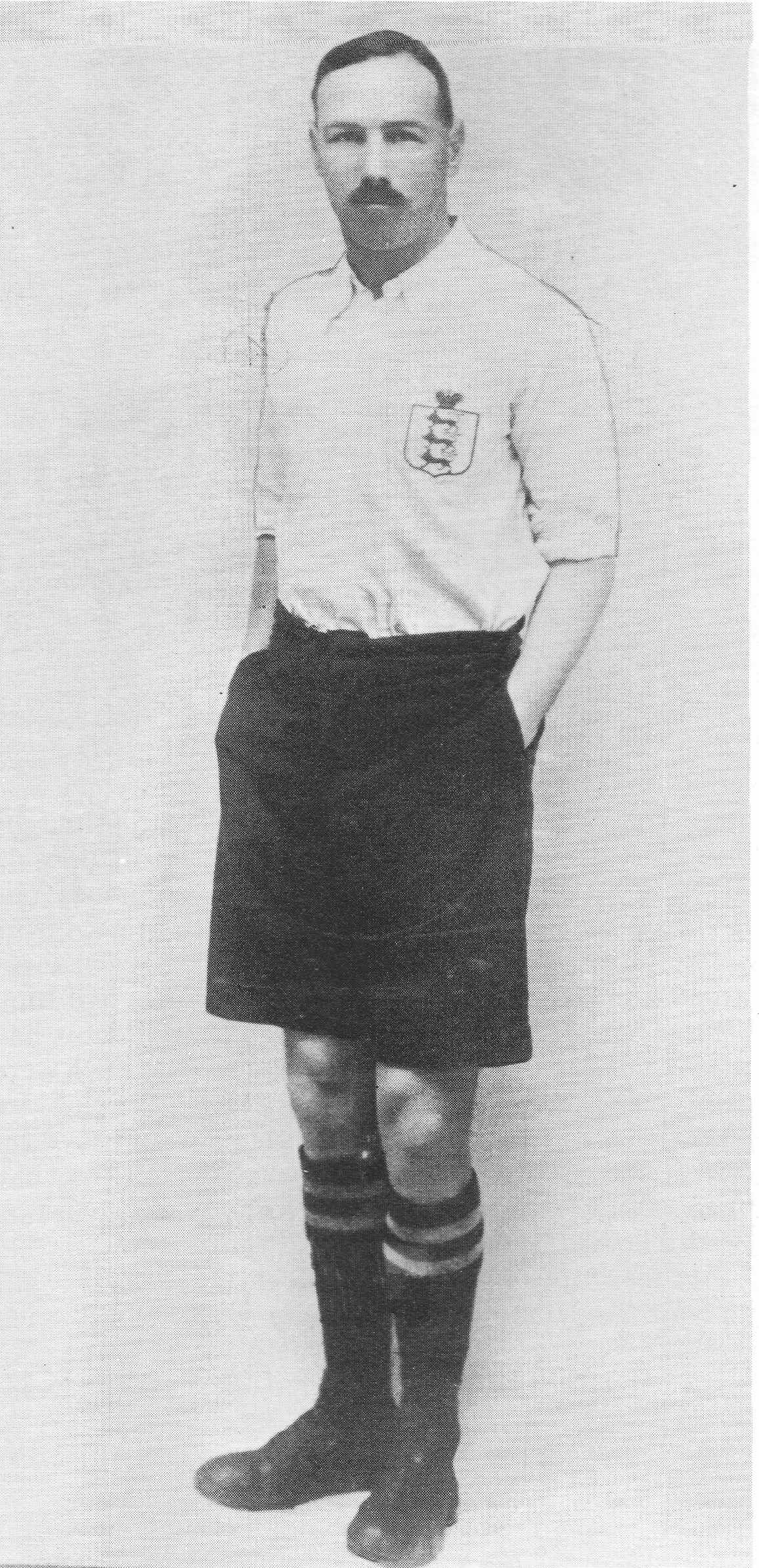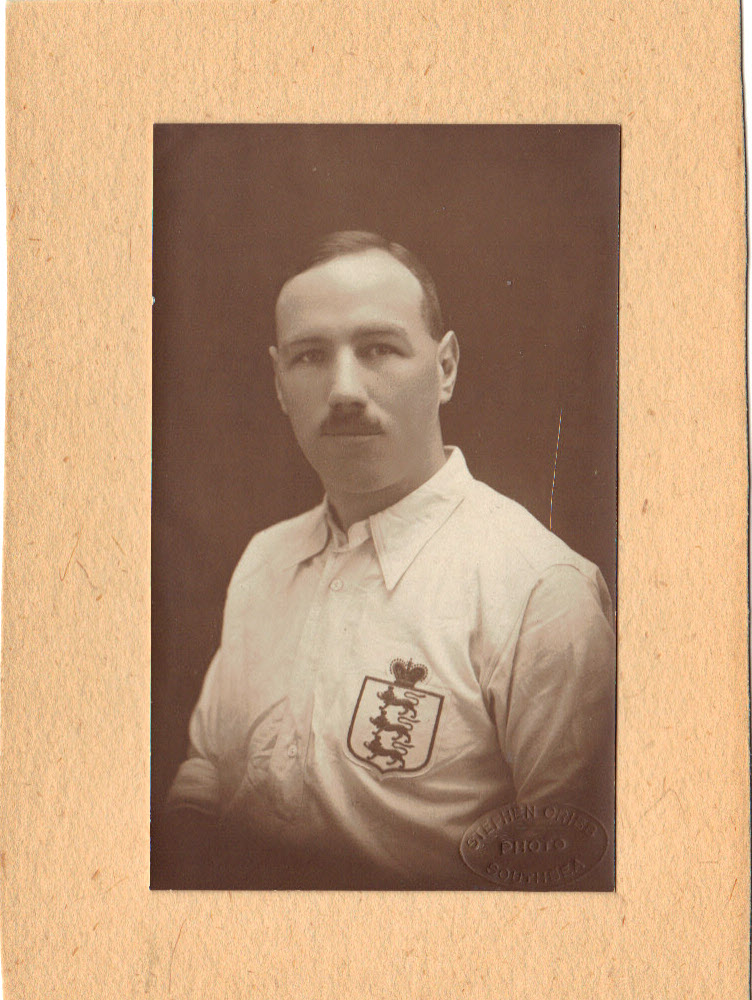 Here he is in his England strip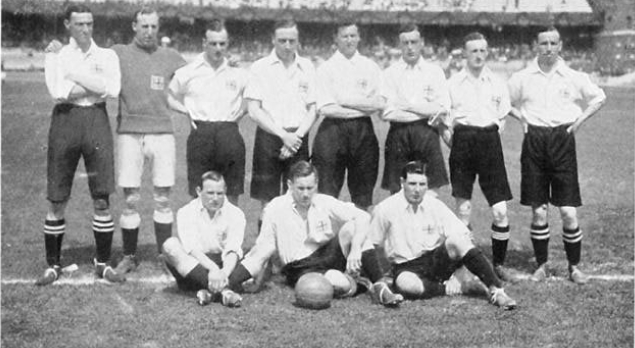 1912 Gold Medal Olympics Team at Stockholm, A.E. Knight on far right
Here is a clip on youtube of the 1912 Olympic Games in Stockholm.
At 1.23 there is a "nanosecond£ of A. E. Knight far right.
http://www.youtube.com/watch?v=CvN6DD8fMJ4&feature=youtu.be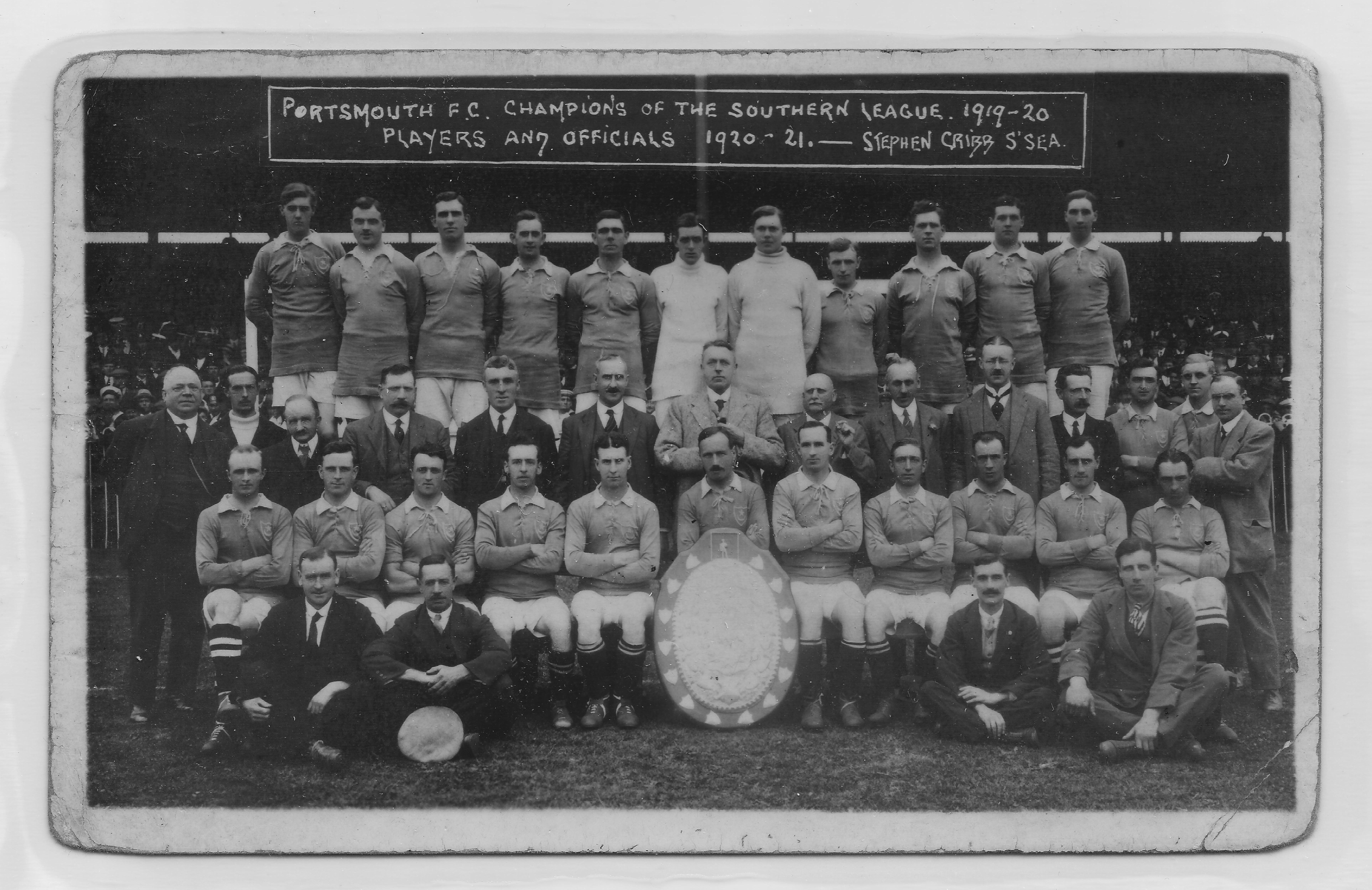 Portsmouth Team 1920-21, A. E. Knight behind shield as Captain.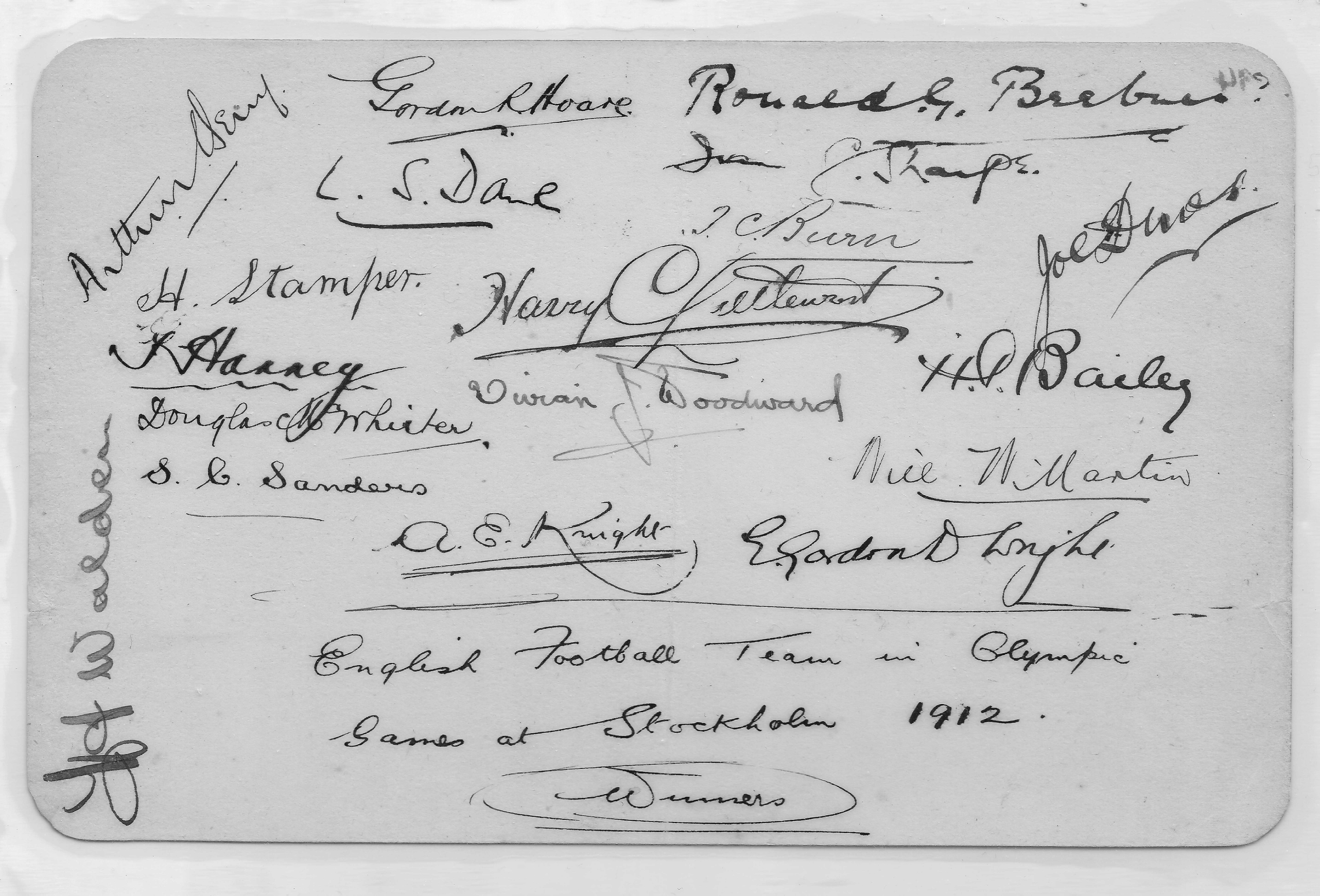 Team signatures
When the Great War began he enlisted with the Hampshire Regiment on the 6th August 1914. He was then self-employed as a Insurance Broker. He joined the14th Battalion on the 6th August 1914. He was appointed a Lance-Corporal on 14th August 1915 and served overseas
in India with the 1/6th Battalion from 9th October 1914 to 18th August 1916. He applies for a Commission in the Indian Army Reserve of Officers. He arrives back home on the 2nd September 1916, granted a months furlough and sent to 12th officer Cadet Unit at Newmarket.
He is discharged on 25th September 1916 having been appointed to a Commission. On 30th September 1916 he becomes a 2nd Lieutenant
(Gazetted 24th February 1917) with the Border Regiment, (seniority from 24th January 1917) and is posted to the 3rd Battalion.
He joins the British Expeditionary Force in France 21st March 1917 and has 10 days leave in England on 3rd July 1917. He is back in the Field and is wounded in action, with surface wounds to the right hand, on 16th August 1917. He was admitted to 33 Field Ambulance, then 61 Casualty Clearing Station, (Based at Lozinghem June 1917 - Jan 1918) and then No.6 British Red Cross Hospital, based at Etaples from July 1915 to June 1918, with 252 beds and known as Liverpool Merchants Mobile Hospital.
He returned to duty on 8th September 1917. He is posted to 25 Infantry Base Depot the next day. He rejoins his unit on 18th September 1917.
He has 14 days leave to England on 8th January 1918 and then joined No3 Entrenching Battalion on 20th February 1918.
He is posted to the 5th Battalion.
He is appointed Acting Captain on 7th September 1918. He ceases to be employed as Assistant Adjutant and relinquishes his appointment on 11th November 1918. He was placed on the unemployed list and released on 12th July 1919. He relinquishes his commission and is granted the honorary rank of Captain on 20th July1920.
He is awarded the Territorial Decoration in the London Gazette on 25th February 1936 his rank is now Major with the
6th Battalion Hampshire Regiment.
In February 1939 the London Gazette announces that Major Arthur Egerton Knight T.D. was granted a commission as Squadron Leader in the Royal Auxiliary Air Force and appointed to command 933 (Hampshire) (Balloon Squadron) from 13th February 1939. This is pre-war, but the War Office had begun moves to provide air defence to the country and had requested for men who had served, usually in an officer capacity, to volunteer for commissions in Balloon Command.
Squadron Leader A. E. Knight getting married.
As war broke out 933 on the south coast was in the line of fire of the Luftwaffe.
On 12th August 1940 the Germans struck at Gosport. 933 Squadron at 13.05 hours Flight Lieutenant Kelly reported a direct hit on balloon site 33/9. Evacuation of the balloon site was in progress and two bodies were recovered with other casualties. The site 33/7 had damaged to its hut, and although habitable, had suffered a caving in of the wooden walls and needed repairing.
At 14.50 hours two craters were discovered and felt to contain delayed action bombs. These were secured and the A.R.P. services informed.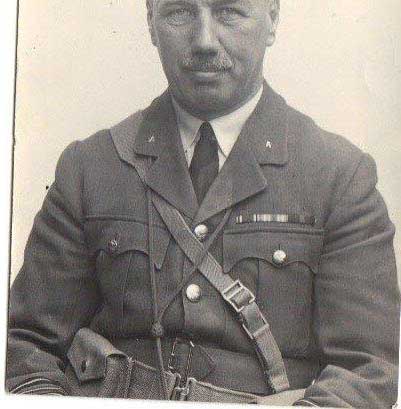 A second raid on the 16th August 1949 at 1300 hours was described as the most determined and intensive raid on R.A.F. Gosport.
German planes dive bombed the aerodrome and dropped a 1000 lb bomb onto the area adjacent to the Headquarters offices wrecking doors, shutters, windows and internal walls and partitions. Much damage was caused to fittings, and furniture. In addition the staff car, ambulance, motorcycles, numerous bicycles and were wrecked.
The Commanding Officer, Squadron Leader A. E. Knight suffered bruises from falling debris and shock, luckily there were no other casualties. The Headquarters were uninhabitable and were immediately evacuated temporarily to "A" flight. Later Flight Lieutenant G . Townsend-Rose secured new accommodation at "Redlands", Redlands Lane, Fareham, and the staff moved in the same day.
On the 30th September 1940 Squadron Leader A. E. Knight was attached to R.A.F Cardington in Bedford, pending posting to 955 Squadron.
955 Squadron was established at Cardington on 12th September 1940, Squadron Leader A. E. Knight was posted to command 955 from that date. On11th October 1940 Squadron Leader A. E. Knight was admitted to Cardington Station Sick Quarters. He was discharged from there on the 15th of October. On the 16th October 1940 he was given 21 days Sick Leave. On 20th October 1940 Squadron Leader C. T. Fitzgerald was posted to command the Squadron. Squadron Leader A. E. Knight was reposted to unit- supernumerary (non-effective-sick) by authority of Air Ministry Postagram A.117031/40/IP2c/4 dated 5th December 1940. On the 28th December Squadron Leader A. E. Knight relinquished his commission on discharge from the R.A.F.
On the 3rd January 1941 the London Gazette announced that Squadron Leader A. E. Knight was relinquishing his commission on account of ill-health.
He was like many of the men appointed to Balloon Command in the early days of the war, experienced at managing men, and quite happy to serve their country and keen to finish the job they had begun in 1914.
He is seen here in 1950.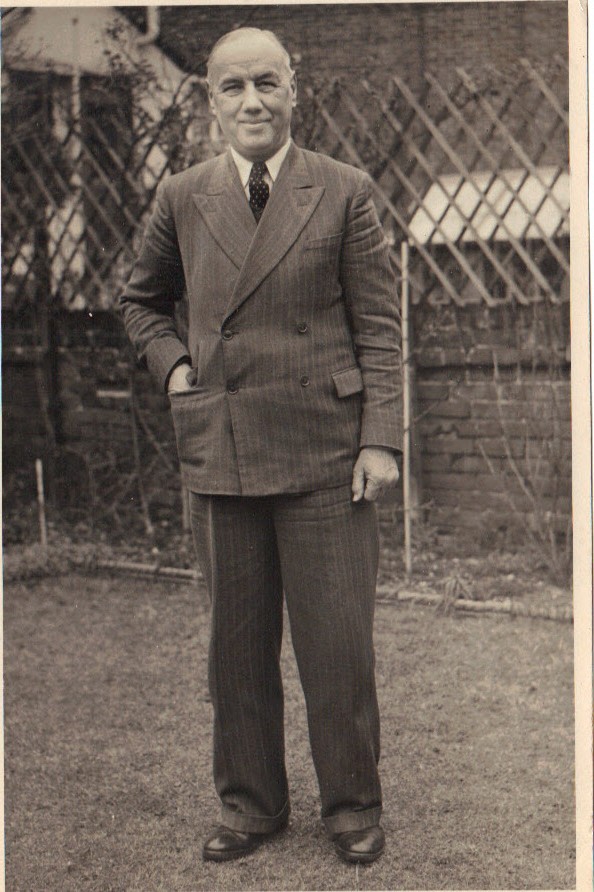 Squadron Leader A. E. Knight died 10th March 1956