Peter - One of the Forgotten Few:
The moving story of a fighter pilot who served in the Battle of France and the Battle of Britain 73 squadron RAF and 302 'City of Poznan' PAF (Paperback, 2020).
I would thoroughly recommend this book!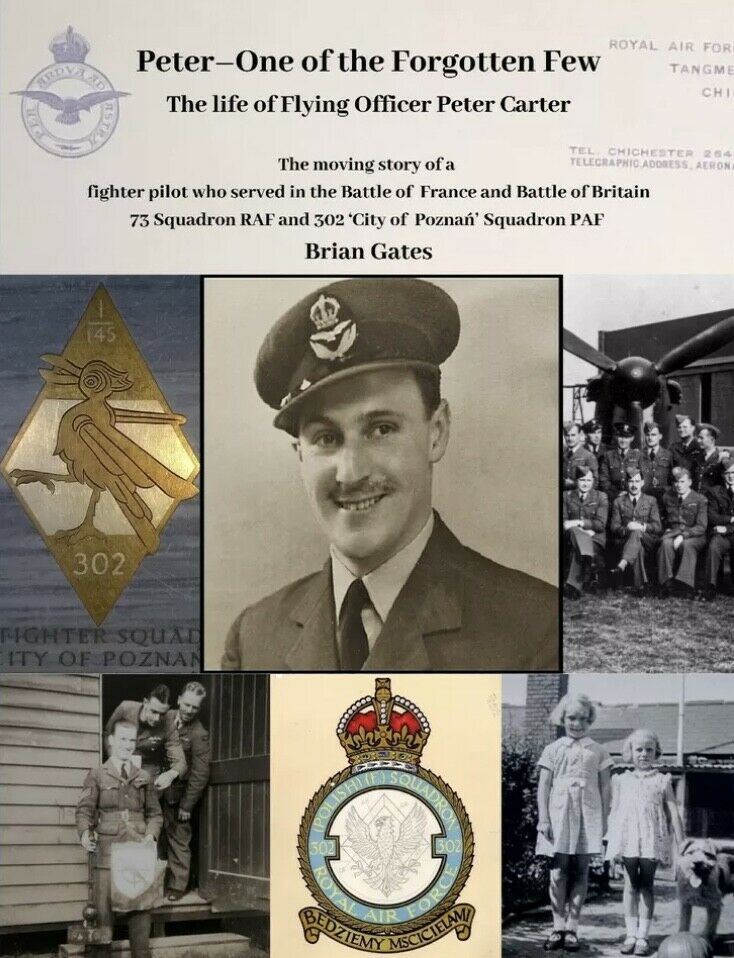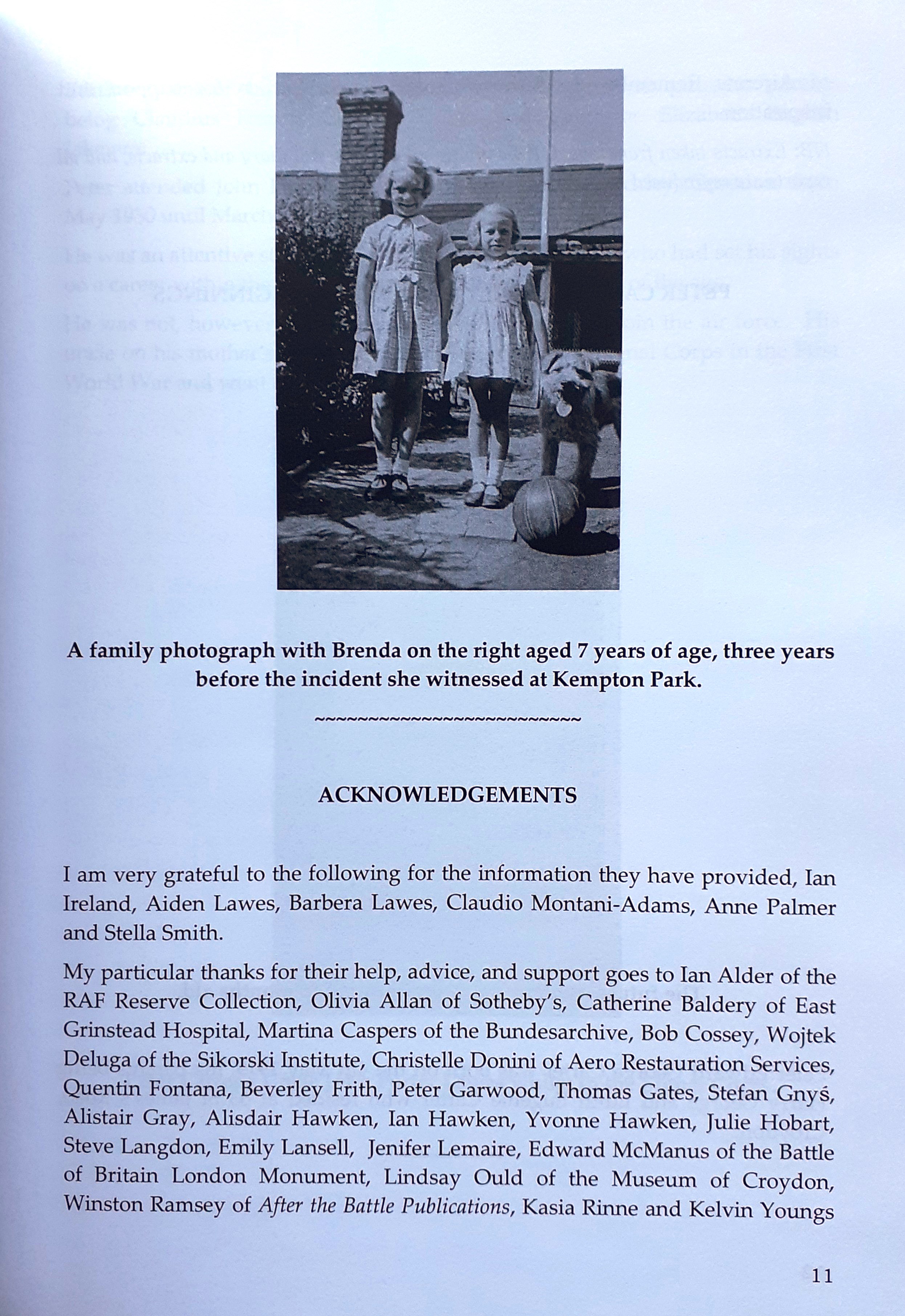 The book tells the human story of close colleagues and comrades in arms, and uniquely, what families had to endure, and the pressures put upon them, in the wait for news of loved ones missing in action. The book uses first-hand witness accounts of events surrounding the incidents that took place during the battles and draws upon previously unreleased information to give a far greater understanding of what actually occurred, and the price these pilots paid against overwhelming odds.
The period of the RAF during the Battle of France is rarely covered in any detail, and this book helps redresses this, giving the experiences of one pilot in considerable detail. Peter Carter's diary, after his death, was one of the first diaries to ever appear in print telling of his experiences in France, but the actual diary in full as it appeared when first printed in December 1940/41 has long since believed to have been lost. Here it appears in full as it was printed in the newspaper of the day for the first time since 1940.
The book also contains a fascinating insight into one of the forgotten squadrons of the era, 302 'City of Poznań' Polish Squadron. Peter was also one of the founding pilots of the squadron in 1940 and helped train his new Polish colleagues in familiarization and conversion to the new Hurricane fighter. The Polish pilot's experiences, and the unfamiliar world they now found themselves in, are also well illustrated in the book.
This book, therefore, covers areas of pivotal RAF history which have often been side-lined (in particular the Battle of France and 302 Polish Squadron) that has long deserved greater acknowledgement and given due recognition.
The book is published in paperback, with black and white interior images and text, of 168 pages.
Reviews and Customer comments
A wonderful book which helps to tell the story of another brave Pilot, and his crucial part in helping the Polish Air Force quickly become the most deadly Squadron and still revered in modern history' - Scott Booth – Łaguna's Spitfire Legacy.
'The culmination of much hard work, fascinating facts which put the story very well into context. Excellent' - Bob Cossey 74(F) Squadron RAF.
'There are some revelations for me (personally) about each of the Battles (France and Britain) as it involves key aspects of several fighter pilots. The book is very well written, being direct, appreciating that this is going to appeal to a person already familiar with the Battle of Britain. This was a book I was really looking forward to being published and I'm happy to report I now know even more about the era of 1940 that has had an invested interest all my life, it is now a welcome addition to my BoF/BoB book collection' - Gray Humphreys - Battle of France (1939-1940) FB.
'It's a great book with fantastic photos. Very useful educational resource for teaching on Battle of Britain. Highly recommended for WW2 history lovers. Congratulations to the author!' - Polska Szkoła im. Ireny Sendlerowej w Hull - Irena Sendlers Polish School.
'A beautiful and well presented book. Fantastic research and well acknowledged' - Kelvin Youngs - Aircrew Remembered.
'I found this book by Brian Gates to be of good quality and meticulously researched. It gives a very good insight into the short life of Battle of Britain pilot Peter Carter and also his good friend Ian Hawken (who flew with him during the Battle of France). It includes many photographs, several that I have not seen before, particularly those from Ian Hawken's collection pertaining to his time with 74 Squadron. I would recommend it to anyone interested in the Battle of Britain or the Battle of France' - Brian Outhwaite - Customer Review.
'A fascinating book with great pictures and fascinating connections with other pilots of that period. There has been a lot of research in achieving this delightful read. I have read a lot of books covering 'the Few' and usually covering the achievements of the most well known 'aces' so it is great to visit the deeds of one of the 'forgotten' few! Well done, a must read!' - Dianne Pearson - Customer Review.
'I've just received this book and read it non stop. Brian Gates has done a great job researching little known Battle of Britain fighter pilots who made up the large majority of young men who gave their all. We've all heard of Bader, Tuck, Johnson, Lacy and many others but I found it quite sobering reading of these young men who never wrote a book or featured in the mainstream narrative of the period. Well done Brian, a great read'
David Short - Customer Review.
Available via this link
https://www.ebay.co.uk/itm/363415892796?epid=24046516930&hash=item549d46733c:g:UNkAAOSw~WpgspAR