Linda Hervieux an American author, freelance journalist and photographer has written a unique book:
"Forgotten" by Linda Hervieux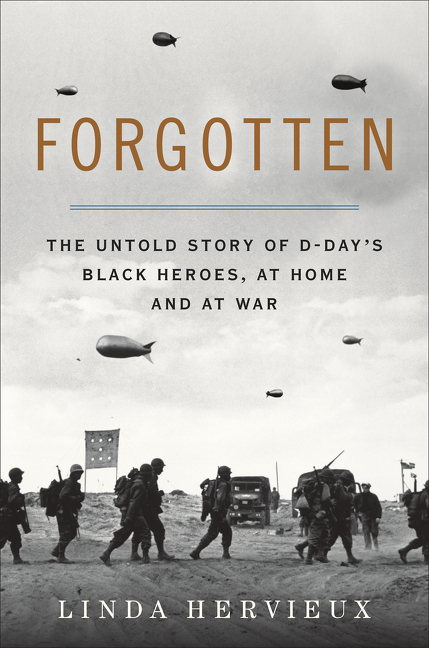 I met the author of this book when she came over to Wales to carry out some research
on this book. I was very impressed by her determination to find out as much as she could
about the arrival, training and role of this unit in Britain. She is an American author who
lives in Paris and became very interested in the story of the African-American soldiers who
were in a American Balloon Barrage Anti-Aircaft Battalion in WWII.
This unit trained in Pontypool and Cardiff , Wales and were some of the first on the beaches
of Normandy at Omaha and Utah arriving at 9.a.m on the 6th of June.
This unit was not unlike the British Air Force equivalents, but part of the American Army, not
the American Air Force.
Painstakingly researched, she highlights the terrible injustices of 1940s Jim Crow America.
This book pays a long overdue tribute to the extreme bravery and valour of an all-black Balloon
Barrage Anti-aircraft Battalion.
This brings recognition to these men who made crucial contributions at D-Day to protect the
beaches from attacking enemy aircraft.
In the early hours of June 6, 1944, the 320th Barrage Balloon Battalion, a unit of
African-American soldiers, landed on the beaches of France . Their orders were to man
a curtain of armed balloons meant to deter enemy aircraft. One member of the 320th would be nominated for the Medal of Honour,
despite the nomination, it was an award he would never receive. It is hard to believe that the highest decoration for military service
by American servicemen was not given to black soldiers in World War II.
Drawing on newly uncovered military records and dozens of original interviews with surviving members of the 320th and their
families, Linda Hervieux tells the story of these heroic men charged with an extraordinary mission, whose contributions to one of the
most celebrated events in modern history have been overlooked.
Members of the 320th—Wilson Monk, a jack-of-all-trades from Atlantic City; Henry Parham, the son of sharecroppers from rural
Virginia; William Dabney, an eager 17-year-old from Roanoke, Virginia; Samuel Mattison, a charming romantic from Columbus, Ohio—and
thousands of other African Americans were sent abroad to fight for liberties denied them at home. In England and Europe, these soldiers
discovered freedom they had not known in a homeland that treated them as second-class citizens—experiences they carried back to America ,
fuelling the budding civil rights movement.
In telling the story of the 320th Barrage Balloon Anti-Aircraft Battalion, Hervieux offers a vivid account of the tension between racial
politics and national service in wartime America , and a moving narrative of human bravery and perseverance in the face of injustice.
This is a book that I would thoroughly recommend for anyone interested in the history of the balloon defence of the D-Day beaches. Linda
has done an excellent piece of research in America and Europe to write the defining story of a unit whose sacrifices and bravery would
have been almost forgotten had she not delved into the archives to reveal a very important story of the war.
It is due out in November and you can place an advance order with Amazon now if you wish. Reviewed by Peter Garwood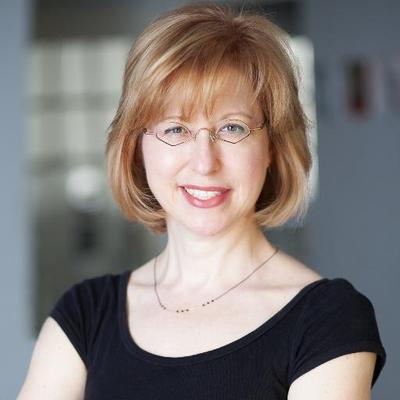 Linda Hervieux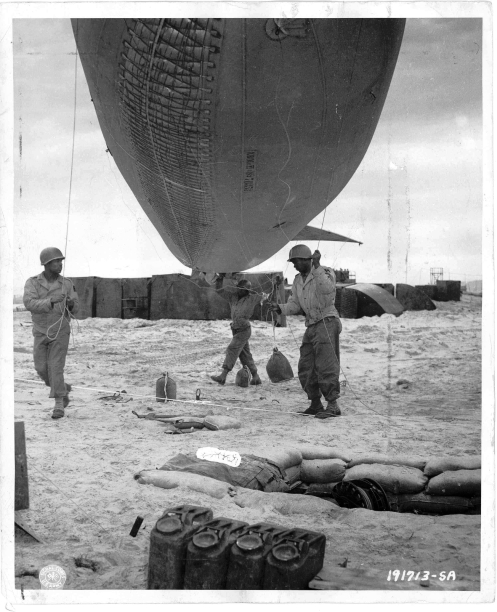 Omaha Beach photo:
Corporal A. Johnson of Houston, Texas, of the 320th Barrage Balloon Battalion walks a Mk VI balloon, No. 70353,
VLA (very low altitude), toward a winch buried in a foxhole, with help from two men in his crew on Omaha Beach.
The VLA balloons flew up to 2,000 feet.
National Archives and Records Administration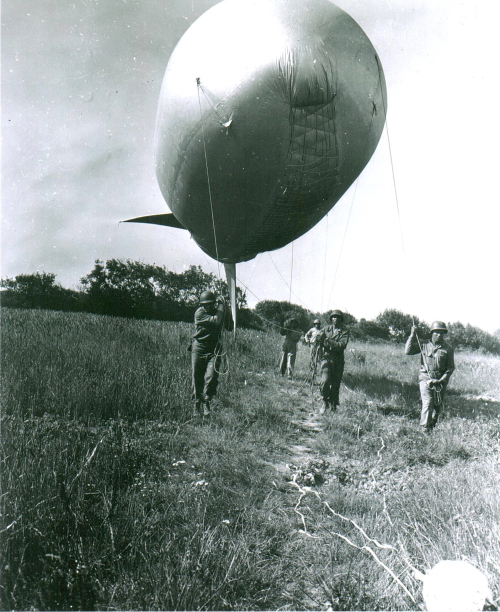 Field photo:
Men of the 320th Barrage Balloon Battalion haul a barrage balloon through what appear to be white tapes in the grass,
indicating a partially cleared minefield, in France on August 14, 1944. This was a typical task to walk the balloon
to a new site as the defensive tactics changed at Normandy.

National Archives and Records Administration