958322 LAC John (Jack) PERKINS 902 and 972 Squadrons
He was born in 1918. He initially attended No.2 Recruiting Centre at Cardington on 27th March 1940 as an Aircraft Charge Hand / Balloon Operator.
Next he was sent to No.7 Recruit Centre at Morecambe on 5th April 1940, and completed his basic training on 26th April 1940. He was the posted to
No 1 Balloon Centre at Kidbrooke for further training. He then served with 902 Squadron from 27th May 1940 and was posted to 972 Squadron
on 1st February 1941, at this time he was an Aircraftman 1st Class and a Balloon Operator.
He left England 5th February 1941 and arrived in Free Town, Sierra Leone 6th March 1941. From there he went to Durban, South Africa arriving on 26th March 1941.
His next stop was in Suez, Egypt on 22nd April 1941 as part of the Middle East Force.

Between April and October 1941 he was based in Egypt, at various bases including Chalon - Cairo, El Kantara, Port Said, Abu-Sueir, Ismailia and Kasfareet.

On 19th December 1941 he was in Palestine before heading onto Haifa on 2nd January 1942.
On 31st December 1941 he was promoted to Leading Aircraftman.
On 17th July 1942 he departed Haifa Port on HMS Cleopatra and was at sea for five days.
During 1942 he typically was moved around quite a bit and was based in:
| | |
| --- | --- |
| Helwan | EGYPT |
| Syria | SYRIA |
| Beirut | LEBANON |
| Damascus | SYRIA |
| Aleppo | SYRIA |
| Abadan | IRAN |
| Baghdad | IRAQ |
| Through Sinai Desert in 18 hours, record time for convoy through desert. Road 425 Miles. | EGYPT |
| El Adem Western Desert | LIBYA |
| Benghazi | LIBYA |
| Left for Brunei | AT SEA |
| Ended up in South Africa instead of Brunei | SOUTH AFRICA |

On 31st December 1942 he was working as a Balloon Rigger, Fabric Worker and Balloon Operator.
In 1943 he was reassigned to Central Mediterranean Forces arriving in Sicily on 05.08.43. During 1943 he was based in Messina, Barcellona,
Reggio, Crotone, Tarato, Bari, Barletta, Foggia, Lucera, Cerignola, Termoli and Vasto.

On 1st October 1943, 972 Squadron was sent to North West African Air Force.
He was in Bari on 26th October 1943 and 4th November 1943, then Termoli from 7th November 1943, and Vasto on 14th November 1943.

He went to Ortona on 01.01.44, then to Naples on 10.04.44. He was re-mustered to Fitter Marine Group. Posted to 252 Air Sea Rescue Unit (A.S.R.U.) and worked on Ischia Island and Ponza Island.

In May/June 1944 he finally returned to England.

He obtained a posting to Home Establishment on 7th June 1944 at R.A.F. Leuchars near Fife in Scotland and then R.A.F. Beccles in Suffolk on 22nd August 1944
and R.A.F. Langham near Norfolk on 8th November 1944 and back to Beccles on 16th November 1944, on 31st December 1944, he was working as an
Aircrafthand / General Duties airman. He attended No.8 School of Technical Training at Weeton, Blackpool, on 11th January 1945 and became a Driver Mechanical
Transport (DMT) and was last classified as this on 26th February 1945. On 8th March 1945 he was posted to R.O Gloucester and on 1st August 1945 he was posted to
R.A.F. Innsworth Gloucester.
On 18th April 1946 he was sent to No.101 Personnel Dispatch Centre at Kirkham for dispersal to civilian life.
It appears he served with 76203 Flight Lieutenant Henry Sutherland while with 972 Squadron.
He was clearly a keen footballer as can be seen from these pictures below and had won several medals during the war for football competitions.
Prior to the war he had been through professional football trials and if the war had not intervened he might have become a professional footballer..who knows?.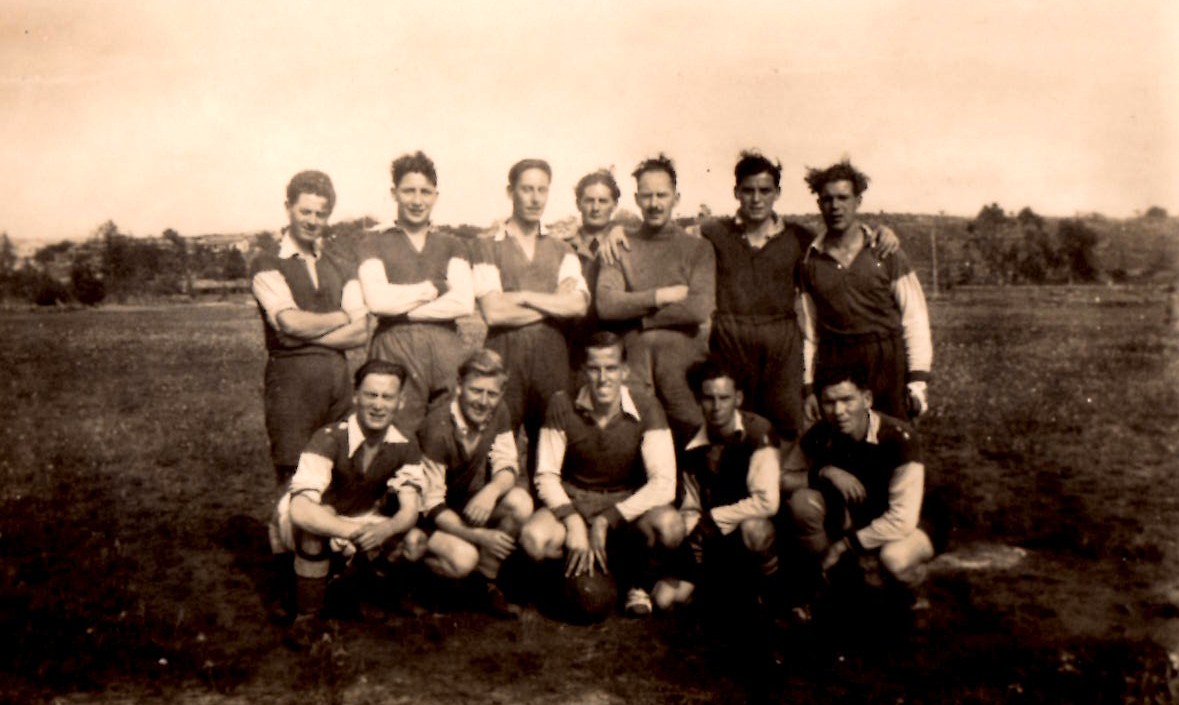 Taken in 1942 presumably in England- he is in the second row and second from the right.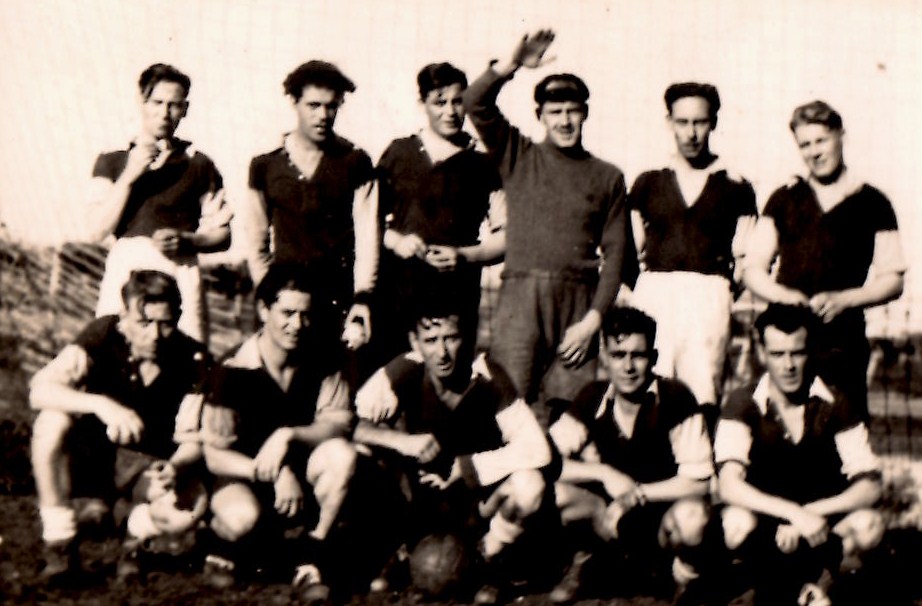 Taken on unknown date presumably in England - he is in the second row third from the left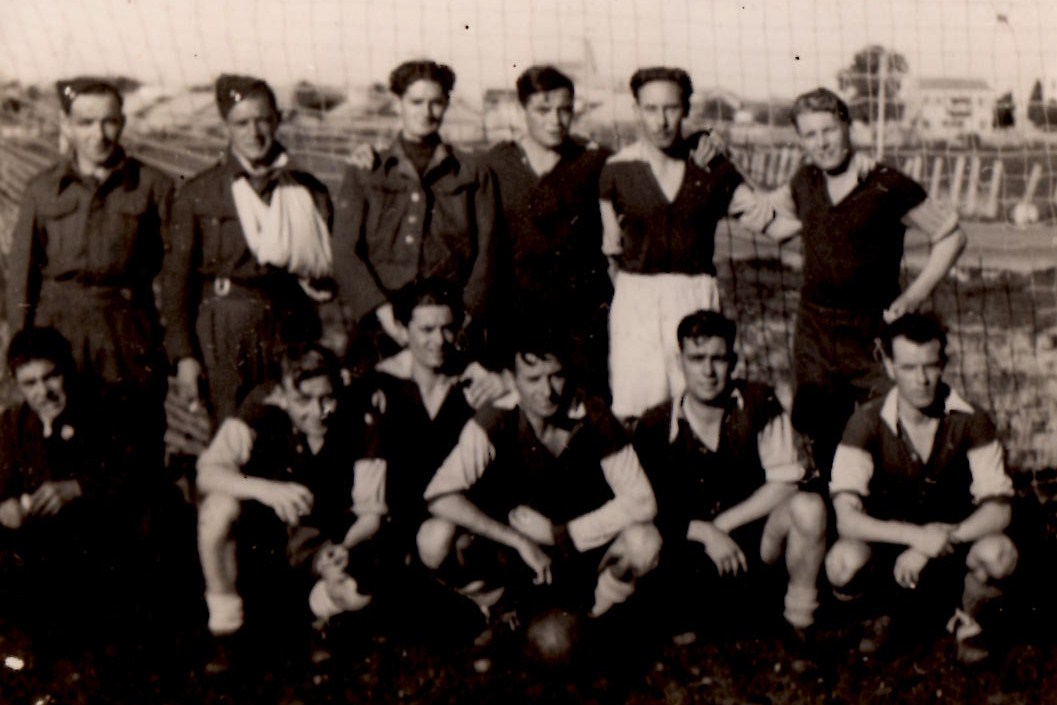 Taken on unknown date presumably in England Jack is second row and fourth from the left.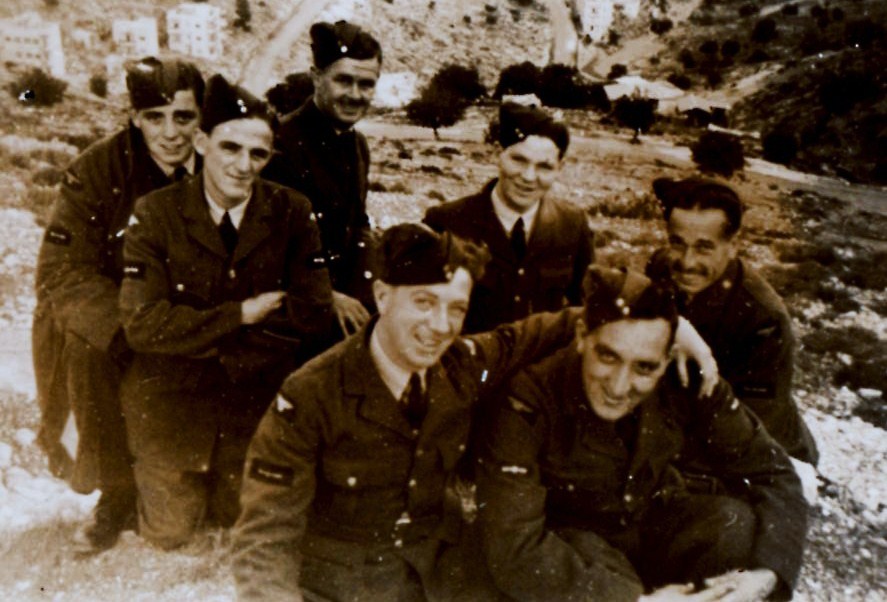 Taken on unknown date looks like Bari- he is on the left of the picture.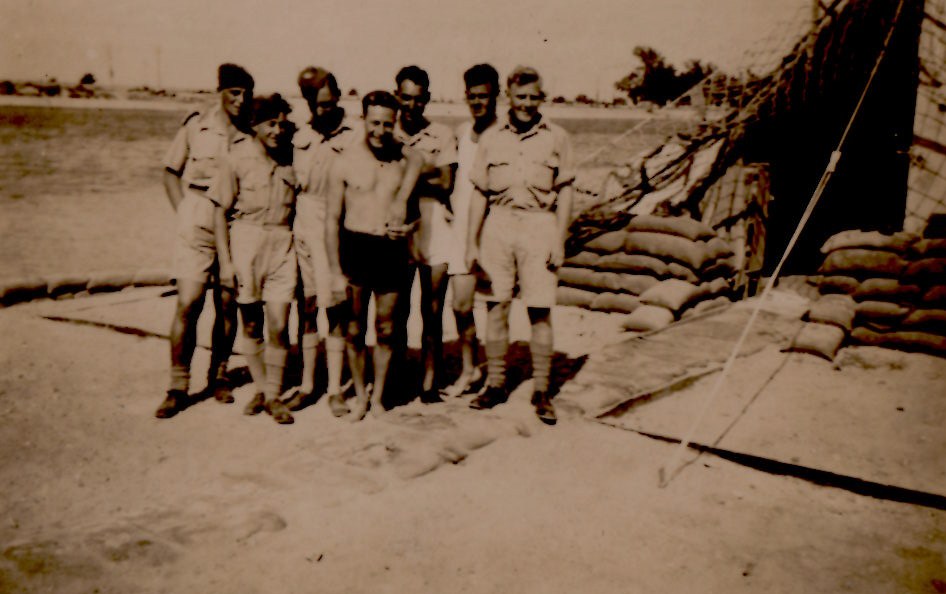 Taken on unknown date presumably in the desert- he is first on the left and the man next to him was known as "Taffy".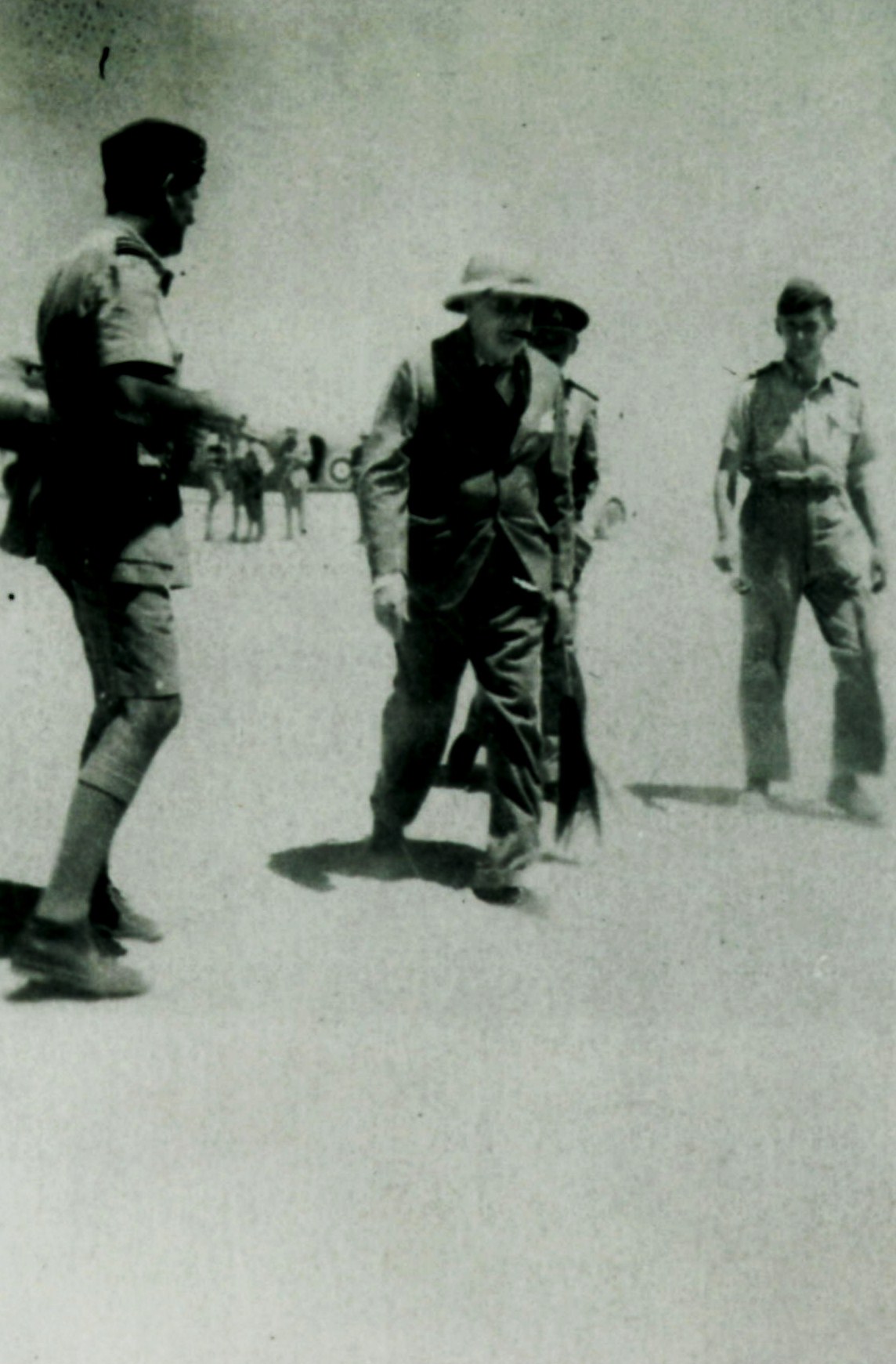 Taken on unknown date but what a classic shot of Winston Churchill with cigar in mouth and topee on his head.
This was taken by LAC John Perkins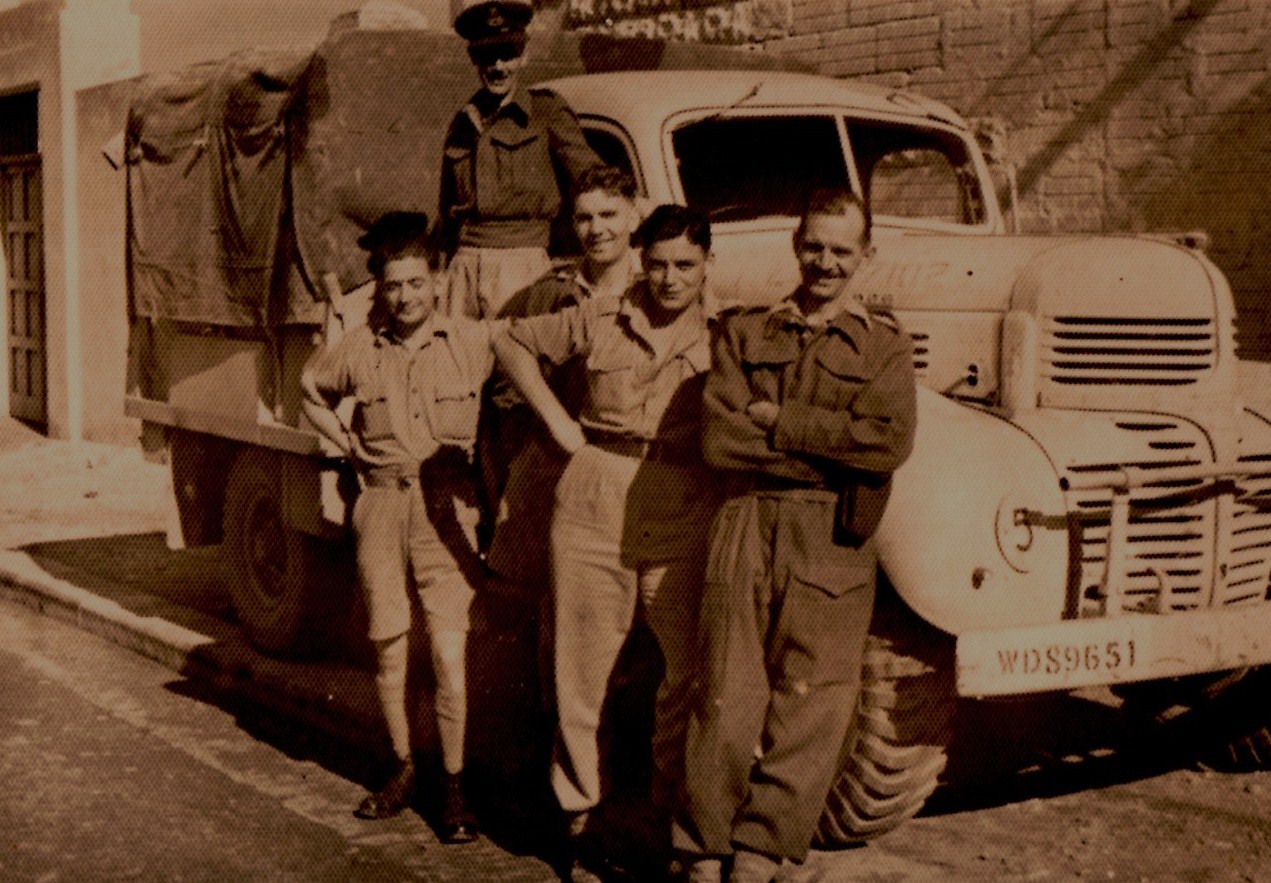 Taken November 4th 1943 at Bari just a few weeks before the disastrous air raid on the docks that released Mustard Gas killing so many
He is in the front row, third from the left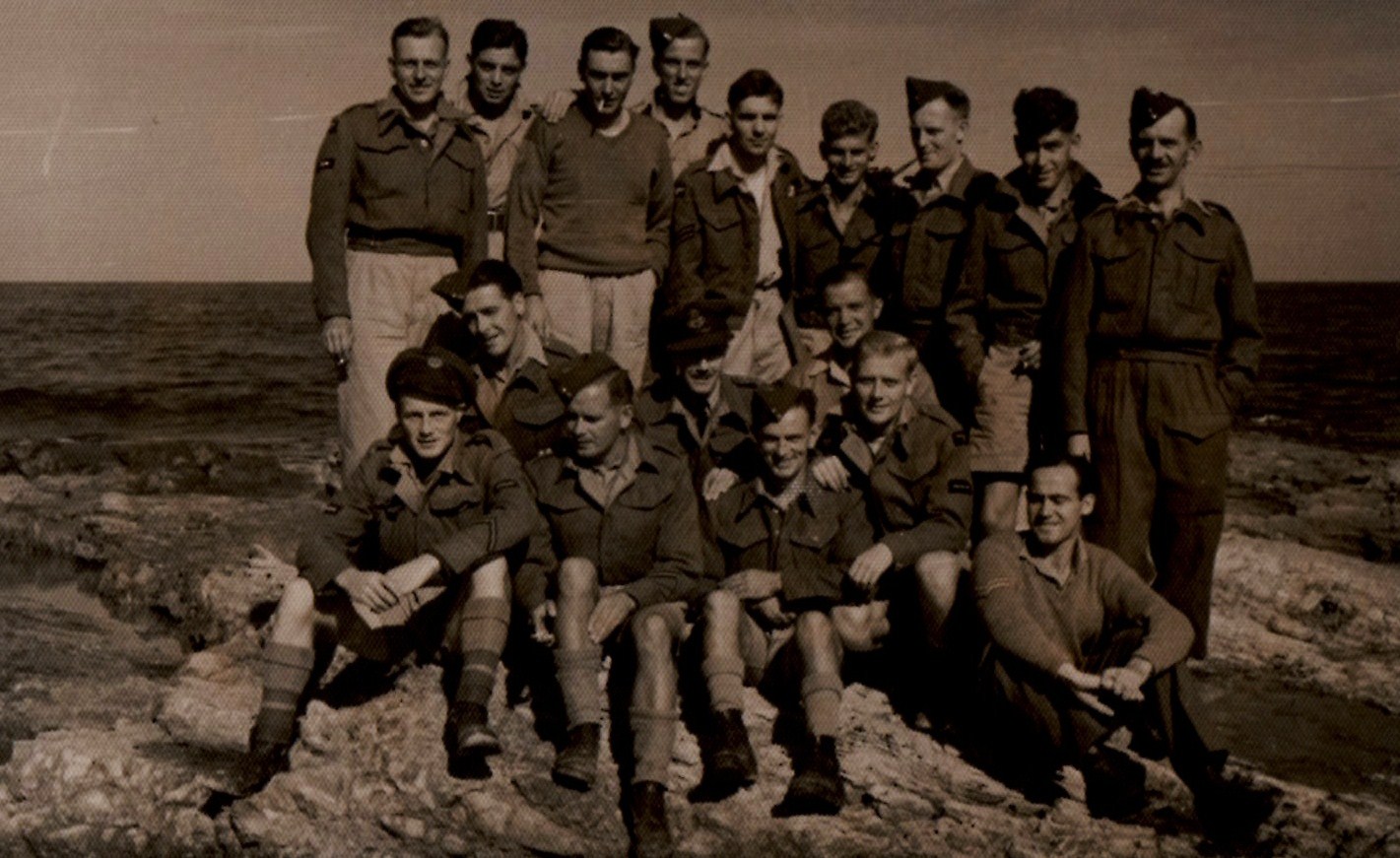 Taken on October 26th 1943 at Bari right on the shore- he is in the back row and second from the left