Incredible But True!(?)
Anti-aircraft Gunner J. Griffiths was in a "West Country" town on 30th December 1942.
He was walking along some waste ground when to his surprise a barrage balloon loomed
up over a ridge directly in front of him. For some reason he assumed it had broken away and without
thinking he rather stupidly firmly grasped on of the trailing guy ropes. He was instantly swept upwards
holding on to the balloon guy rope.
He then realised that this was no runaway balloon but one that was being let up by the barrage balloon crew!!
Somehow he managed to wind the loose rope around his body and cling on. He was reported to have tried using
his teeth to hold on the part of the fabric such was the desperation of his mind.
It seems that the crew letting up only noticed him when the balloon was at some 2,000 feet.
The crew quickly reversed the winch and brought him down as fast as they could.
Miraculously he only had a few grazes and was suffering from a degree of shock!
__________________________________________________________________________________________
On the 11th February 1941 in a "North-East" town two barrage balloon crew had a
frightening experience when during the letting up things got out of hand. As a result the
balloon rose some 20 foot in the air with two airmen clinging to the ropes. They could
not hang on and fell from the balloon and suffered injuries.
They were named as Corporal Christopher Blackett,39, of Wylam, Northumberland and
Balloon Operator Ernest Ridley of Newcastle.
__________________________________________________________________________________
The Manchester Evening News

reported on

Saturday 8th May 1943

that Corporal Sally Booth,
of Westcombe Drive, Brandlesholme Road, Bury, a WAAF had been "stolen" by a barrage balloon!
During the month of April 1943 massive gales swept the country and South Wales was no exception.
The story was reported that as she was helping to let up a barrage balloon in a gale, she became entangled
in the "wires", and was whisked off up into the air. It then reported that as she was swept of her feet she struck
her head and was knocked unconscious and she was carried up to a height of 500 feet. The story then reported
that a nearby searchlight battery heard the screams from the WAAF crew and used their searchlight to the balloon
and illuminated the corporal dangling from the wires. Next the story went on to state that before the balloon could
be hauled down it broke free and was swept out to sea. The balloon and corporal were then reported to have landed
in the Bristol Channel and were rescued by two sailors who dived overboard to rescue her.
The Nottingham Evening Post

on Monday 10th May 1943 reported that an official denial had been
put out by the Air Ministry. A press conference was held and was attended by Corporal Booth who
said she knew of no incident which might have given rise to the story and could give no explanation
as to how the story started.
I have heard several theories about this story and one suggests that two airmen were in a local public
house in Wales and met a reporter there who was obviously searching for a news story and in return
for a few drinks they gave the reporter his story, shooting the reporter a line, making it as sensational
as they could. In a gale the letting up of a balloon was an unlikely event anyway and anyone with even
a small amount of wartime balloon experience would have read the story with a wry smile!
Research using the 1939 Register suggests that this WAAF was Sarah Booth of No. 5 Westcombe Drive
Brandlesholme Road, Bury. She was listed as a single woman, born 3rd August 1909 and working as a
"Sheet Maker Up" in the textile industry. I am unable to trace her service number as there are many WAAF's
with the same name.
Does anyone know what became of her??
--------------------------------------------------------------
The Dundee Courier on
Monday 9th September 1940 reported on the early Battle of Britain 7th September 1940
and ran a story entitled: "Cold Blooded Murder. Nazis Machine-gun Parachutist".
They described an interview with a witness, an unnamed "East End Stevedore", who told the tale of
a Spitfire coming down in flames and the pilot baling out, only to be repeatedly machine gunned by two
German fighters, firing "burst after burst",
as he descended by parachute. The story goes on to report
that the witness saw the pilot "sag in his harness and then fall on top of a barrage balloon". It reports
how the balloon crew hauled down the balloon and rescued the pilot but the witness said that he thought
he had died on the way to the hospital.
According to https://forum.keypublishing.com/archive/index.php/t-31260.html only two pilots died after baling
out and neither mentions landing on a barrage balloon.
a) 1645hrs: Blackheath. Hurricane V7257. 43 Squadron Tangmere
Fl/L R.C.Reynell killed. (Baled out after being shot down by Bf109. Died on landing)
b)1730hrs: Biggin Hill. Spitfire N3198. 602 Squadron Westhampnett
F/O W.H.Coverley died of injuries. (Shot down by E/A and crashed in flames. Pilot baled out with severe burns).
Did this incident take place at all? The witness was not named and the likelihood of a pilot landing on top of a balloon
is very small and if he did what would he hang onto?
Until I get evidence to the contrary I consider this story to be sensational and a story that does not ring true.
--------------------------------------------------------------------------------------------
The Dundee Evening Telegraph on Monday 27 October 1941 reported on the death of a balloon operator 1289704
Aircraftman 1st Class John (Jack) Whitford a 34 year old, of 913 Balloon Squadron. It appears that on 22nd October 1941 he
was helping to bed down a balloon in very gusty conditions when a gust of wind lifted the balloon taking him
with it he died from his injuries. The inquest into his death reported that somehow the cable had become entangled around his legs and neck.
He was buried in St John The Baptist Churchyard at Horrabridge, and was the son of John Whitford, and of Mary Grace Whitford, of Horrabridge.
------------------------------------------------------------------------------------
The Derby Daily Telegraph

on

Friday 11 October 1940 reported on the inquest of the death of a civilian Alfred Radnall who was killed when a
barrage balloon cable from a breakaway balloon snagged him and dragged him through a tree and a pond and he was finally dropped and
died from his injuries.
However, to date, I am unable to find a civilian with that name who died during the war.
----------------------------------------------------------------------------------------------------------------
The Liverpool Daily Post

on

Saturday 20 February 1943 reported on the inquest detailing the bizarre finding of the body of Henry Astbury, aged 35,
of Dawson Road, Altrincham. He had worked as a roundsman. He was found naked inside a rubber bag he had apparently manufactured from
barrage balloon material. The police were unable to discover how he came into possession of the balloon material.
He had climbed inside the bag and twisted the open end shut from the inside thus sealing the air out.
The coroner said that: "had he wanted to try any experiment, which I doubt, there was no necessity for him to strip himself". His wife said her
husband was a part time member of the N.S.F and was very keen on the lectures and that he at some time tried on a N.F.S. (National Fire Service)
breathing apparatus. The verdict was "Suicide while of an unsound mind".
Quite what he was trying to do is still a mystery.
__________________________________________________________________
The Evening Despatch on

Wednesday 09 December 1942 reported on the death of

1253197 Corporal Ernest Manley Baker which
occurred on 4th December 1942. He was buried at St Mary Churchyard in Wythall. The 45 year old man had been a portrait painter in civilian life.
Corporal S. Hobbis told the Birmingham inquest that Baker had come into a hut looking "deadly white". When asked why he looked so white, Baker was
claimed to have said:" You would look bad if you had shot yourself. I did it myself. Leave me alone. I want to die." Hobbis the noticed blood on Baker
and called for help. Hobbis told the inquest he had served with Baker in the Coldstream Guards during the Great War and thus knew Baker well. He told
the inquest that he seemed quite settled in the RAF, but had lost his wife a year previously. Flight Lieutenant Harold Edwards said Baker was employed
as a Clerk and liked to be by himself. He was a quiet man and the incident had taken place in the armoury where Baker slept. A verdict of:
"Suicide while
the balance of the mind was disturbed" was given by the court.
_________________________________________________________________________________
The Portsmouth Evening News

on

Thursday 09 July 1942 reported on the death of

LT/KX125015 Alec Martin Tucker

a Naval Stoker, who was a 29 year old
man from 2 Broad Steps, Devon. Leading Seaman William Charles Stevens told the inquest that as part of the Royal Naval Patrol Service, on 29th June 1942
they hauled a barrage balloon down as something was not right about it. They got it onto the deck of a trawler,
H.M. Trawler Dorinda,
when it suddenly
burst into flames and exploded and Tucker had received the full force of it.

He died from burns and toxaemia on 6th July.

He was buried at St Mary's Churchyard, Brixham. He was the son of Martyn George and Ettie Catherine Tucker, of Brixham

and husband of Florence Margaret Tucker, of Brixham.

_____________________________________________________________________

The Birmingham Daily Post on Friday 21 April 1939 reported on the discovery of a balloon found floating at sea about 3 miles

from Paignton. The balloon was from the National Physical Laboratory Radio Department. It was found by Mr George Lymath,

clerk of works to Paignton Urban Council, and Mr A. Browse, and towed into the harbour at Paignton. In the evening about

30 children were gathered at the dockside to inspect it. It appears one child was actually holding the fabric when it burst into

flames. As a result every available nurse was called into help deal with the casualties. Mr Lymath and four of the children:

Kenneth Squires (8), Ronald Cruise (12), Victor Billings (8), and Donald Tucker (7), all of Paignton, were detained in hospital

due to their injuries. The balloon was hydrogen filed and was designed to fly at altitude and using a radio device the Laboratory

was able to calculate the height and wind speed. The balloon had obviously sprung a gas leak and as the hydrogen leaked out it lost

altitude coming down in the sea. Somehow air must have also entered forming a explosive mixture and all that was needed was a

static spark and an explosion was highly likely. In 1939 the danger from hydrogen filled balloons was relatively unknown. It was a

miracle that nobody was killed.

__________________________________________________________________________________________

The Birmingham Mail on Tuesday 26 October 1943 reported on the Southwark Inquest into the the deaths of Leading Fireman Anthony

Theodore Seurre, age 31, of the National Fire Service, the husband of Ellen May Seurre, of 17 Briarwood Road and on Leading Fireman

Robert Arthur Lewis, age 32 of South Harrow.

He actually died at Dover Castle public house, 170 Westminster Bridge Road and Leading Fireman Robert Arthur Lewis was the husband of Violet Alice

Lewis, of 40 Dudley Court, Lower Road, South Harrow, Middlesex, he was taken from Dover Castle to Lambeth Hospital where he died

from his injuries.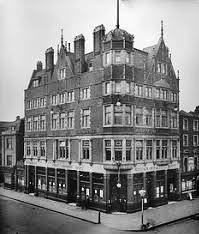 It transpired that on the night of Wednesday 20th October both men were on the flat roof of a Dover Castle, a public house in Westminster
Bridge Road, when a barrage balloon broke away, crossed the railway and alighted on the roof of the pub. The fire the men were fighting
was quickly extinguished. As the balloon cable was dragged across the railway at nearby Waterloo Station a train hit the cable and caused
it to tighten, as a result this caused the cable to sweep across the flat roof and drag both men off the roof to the ground. Mr Keith Simpson
the pathologist indicated that death was due to multiple injuries, with no burns or evidence of electric shock.
______________________________________________________________________________________________
The Evening Despatch on Saturday 23 November 1940 reported on a case of sabotage against barrage balloons in a factory that made them.
The case was very unusual, but the Manchester based factory that made the balloons had sent 16 to the testing facility and al 16 were found to
have been slashed. This had thrown the entire factory out of gear and it was a clear case of sabotage. On the night of November 3rd, three
police officers were tasked to observe the factory floor in secret from the canteen area. During the night, Detective Hallilley, said they
saw Leo A McNeeney, age 18, from Springhill, Waterhead, Oldham, move away from his workplace, with something in his hand, toward
other barrage balloons for no apparent reason.
He was seen to make a swift movement with his right hand underneath the barrage balloon. Two balloons were damaged during the night.
Detective Sergeant Noble on searching McNeeney, asked him if he had a knife to which he replied:"No".
During a search of his clothing a knife dropped from his back pocket and he said nothing.
McNeeney was charged under the Defence Regulations, with impairing the efficiency of an aircraft, a barrage balloon, by slashing it
with a knife. He told the court he did not do it and the knife must have been planted on him by the police. On 25th November the
court found him guilty and the Stipenday Magistrate, Mr J. Wellesley Orr, fined him £100 and sentenced him to two months
imprisonment, the limit on summary proceedings being 3 months.
On January 3rd 1941 McNeeney appealed against his conviction at the Manchester Quarter Session.
The Recorder, Mr N. B. Goldie., K.C., M.P. listened to the appeal and upheld the conviction and dismissed the appeal.
The Recorder said the case was about as serious as could possibly be imagined. "He said: " I trust that the police authorities ,if cases of
this seriousness came before them again, would not take them in the courts below, but that proceedings would take an indictment,
so that an adequate penalty up to fourteen years penal servitude might be inflicted. I do not regard 3 months as anything like a sufficient
penalty. The evidence in support of the charge was too clear for argument and he was entirely satisfied with the evidence of the police.
Research using the 1939 Register showed that the McNeeney Household consisted of 6 people at 5 Spring Hill , Oldham C.B., Lancashire,
England.
Leo McNeeny was born 27th August 1922 and was a single man, working as a General Labourer Heavy Worker.
There was a Arthur McNeeney, born 22nd November 1905, a married man. working as a Gas and Water worker.
There was also a May McNeeney, born 12th May 1900, a married woman working as doing unpaid domestic duties, one other person was
Arthur McNeeney, born 15th November 1924 a single male, working as an apprenticed Electrical Engineer.
________________________________________________________________________________________
The Manchester Guardian reported on 25th June 1940 of the case of 549478 Corporal Joseph Tickle from 937 Barrage Balloon Squadron
who died on 23rd June 1940. Corporal Tickle was the son of John and Sarah E.Tickle of Lower Walton, Warrington, Lancashire. He died
at the infirmary from head wounds caused by a bullet. He was the son of John and Sarah E. Tickle, of Lower Walton, Warrington, Lancashire.
He was buried at St Thomas's Churchyard, Stockton Heath.
Aircraftman Edward Taylor told the inquest court that Tickle was his best friend and that they had been for revolver practice on the Sunday
and had returned to their room at their billet. " I had my revolver and Tickle was swinging his around with his finger on the trigger guard.
We then "broke" our revolvers and practiced loading and unloading. He was showing me how to bring my arm up and aim. I raised my arm
and pointed it in his direction, there was an explosion and he fell over, and I saw that he was wounded. I was dazed at what had happened
and later realised I had fired the gun with a cartridge in the breech. It was the first time I had fired a live cartridge." Several airmen
testified that Taylor and Tickle were the best of friends and there had never been any quarrels. A verdict of misadventure was brought in
by the coroner.