History of No. 924 Balloon Barrage Squadron (East Lancashire) June 1940 to December 1942
June 1940
Having survived their war in France No.924 Barrage Balloon Squadron took five days leave to recover from their ordeal. Many were expecting that they would be
back in Manchester taking over balloon sites from No. 925 Barrage Balloon Squadron. However, the slogan "Defend The Walls of Manchester" meant nothing to the
people planning the Air Defence of Great Britain! With one day of leave left a signal was sent for No. 924 Barrage Balloon Squadron to prepare for a move!
20th May 16.30 hours a rear party of men from No. 924 Barrage Balloon Squadron had arrived at Cardington. Flight Lieutenant Phillips. Pilot Officer Bradshaw, Pilot
Officer Hawkins, Squadron Leader Reverend Reuss with 248 other ranks. They were accommodated in tentage vacated by No.912 Squadron. There was a pay parade
and partial re-kitting and then all had five days leave.
21st 09.40 hours Men left Cardington for Bedford Station and then Manchester.
23.59 hours Men of the first leave party returned from Manchester and were accommodated in the tentage.
22nd 19.00 hours The Commanding Officer returned from leave and the adjutant proceeded on leave.
23rd Re-kitting was completed, and re-equipping began over 24th and 25th June.
25th 09.00 hours Flight Lieutenant Palmer and one other rank proceed to No.12 Balloon Centre to select balloon sites.
10.00 hours Signal received about Squadron movement.
21.00 hours and 15.20 hours A signal was received ordering the Squadron to move to Eastleigh.
16.00 hours The Commanding Officer proceed by road to No.32 Group under orders to go to Portsmouth. When he arrived, he found the Group had moved to
Romsey!
27th The Commanding Officer left for Romsey and then to Titchfield to see No. 12 Balloon Centre.
21.00 hours The Commanding Officer arrived back at Cardington.
28th 11.30 hours The Advance Party left by road under Pilot Officer Neill with Pilot Officer Collins, Pilot Officer Butters, seventeen other ranks and four Fordsons.
14.00 hours Signal received re Squadron move to Eastleigh, Hampshire.
16.10 hours the convoy left under Flight Lieutenant Marshall for Hook, en route for Eastleigh, with Flight Lieutenant Phillips, Pilot Officer Scott and 68 other ranks.
16.30 hours The Commanding Officer left in a Staff Car for Titchfield to report to No.12 Balloon Centre.
29th 08.30 hours Rail Party, under Flight Lieutenant Dehn, left Cardington Station with Flight Lieutenant Pye-Smith, Flight Lieutenant Roff (Medical Officer), Pilot
Officer Taylor, Pilot Officer Ballard, Pilot Officer Aldridge, Pilot Officer de Gruchy and 387 other ranks.
13.10 hours Arrived Eastleigh Station.
13.44 hours Titchfield Party under Pilot Officer Ballard with Pilot Officer de Gruchy and 73 other ranks left Eastleigh for Fareham (Station for Titchfield).
14.10 hours Flights were immediately employed on their sites at Eastleigh, Bitterne and West End. Most sites were in the country around the aerodrome and around
the perimeter of the landing field.
"DW" remembered seeing aircraft landing at R.N.A.S. Raven which was used as a forwarding aerodrome for Naval Seafire aircraft. He also saw Hudsons arrive from
an Atlantic crossing with additional fuel tanks attached. He also saw Airacobra aircraft come and go.
"DW" indicated that initially they were given Bell tents and the balloons were flown from temporary beds. Later "Works" and "Bricks" arrived and constructed
permanent circular beds with a central anchorage with the winch picketed down. Wooden huts were built with the novelty of piped water. Initial feeding of crews
was with hay boxes delivered by van from Central Headquarters. Later the sites were given bicycles with carrier baskets and were expected to cycle to a central
collection point to collect food in hay boxes. Many cyclists had crashes and soon the number of bent bicycles made this mode of feeding crews impossible. The next
option was to have an annex extension to the hut kitted out with a large iron stove with a hot water boiler. "DW" said that they then received dry rations and
cooked their own food. "DW" was appreciative of "Works" and "Bricks" building blast shelters that could hold six men. The balloon crew dug their own slit trench.
22.00 hours the first balloon was inflated and flown to operational height. Digging of Air Raid trenches began. Seven more balloons were flown at Operational
Height. Orders were that balloons were to be flown at 21.50 hours and hauled down by 06.30 hours.
30th Twenty balloons flying on sites 1 to 24.
July 1940
Throughout July there was much routine work flying the balloons with a considerable number of balloons suffering damage with a few balloons breaking away.
Several air raid warnings were given but no enemy aircraft were sighted.
August 1940
Much routine flying took place.
13th 15.40 hours A 40-minute air battle took place in the clouds above the balloon sites. Three aircraft were shot down in the vicinity. Bombs were heard dropping
on Southampton.
14th 16.45 hours Enemy aircraft overhead. A bomb was dropped between "C" 13 and 14 sites, near to the railway line and south-west of the factory. It is evident
that local aerodromes were not fully aware or were not ensuring pilots flying into and out of their air spaces were informed of the presence of the new barrage
balloons.
15th 03.30 hours A Whitley bomber, P5044, struck the cable of site 7 at 4,000 feet and crashed. It caught fire and the crew were killed.
The Whitley had been on a mission to Bordeaux and was flying back to RAF Driffield in Yorkshire. The Botley Observer Corps Log recorded what was described as
"Plane sound plotted UNKNOWN".
It was observed by the Botley Post near Fareham, Hampshire, flying West toward Southampton Water, then turning to fly North-west up Southampton Water, over
Southampton and crashing to the East of the Royal Naval Air Station Eastleigh (H.M.S. Raven) at Allington Lane, West End. The Winchester Centre Log confirms this
British plane was losing height. All this suggests the aircraft was in distress before hitting the balloon cable. The crew were all from No. 77 Squadron:
39904 Flying Officer William Alan Stenhouse, age 26, Captain
41856 Pilot Officer Robert Butler Macgregor, age 19, 2nd Pilot
746840 Sergeant Claude Lionel Geoffrey Hood, age 31, Air Observer
551597 Sergeant John Burrow, Wireless Operator
632374 Sergeant Harold Davies, age 20, Rear Gunner
Later that day another aircraft hit a cable.
17.27 hours A Lockheed Hudson took off from airport and hit the cable of site 23 as it was being paid out to operational height. Aircraft crashed into houses and
killed all the crew and two occupants.
Hudson T9320 from 1 O.T.U. R.A.F. Siloth, Cumbria was sat waiting to take off from RAF Eastleigh, Hampshire on the afternoon of the 15th of August 1940. The
plane with 9 on board 8 of whom RAF and one civilian from the Sperry Company, was to fly back to Siloth via RAF Northolt and return with crew who had been
ferrying another aircraft to Eastleigh.
The pilot, talking with a civilian and the Air Watch Officer was told that it was not advisable to leave as an air raid was expected and a 'Yellow' state of warning
was in effect, the pilot anxious to get away before the raid started decided to go and the Hudson taxied out.
Lifting off the pilot climbed the Hudson to 700ft but tragically ahead the 924th Balloon Squadron had just finished raising the barrage balloons to their operational
height . T9320 struck one of the cables which severely damaged the plane and falling almost immediately, the Hudson impacted No 199 and 197 Nutbeem Road,
Eastleigh destroying both houses and the plane. All on board were lost and sadly a large part of the plane fell onto No. 195 Nutbeem Road, this took the lives of the
two occupants Thomas Craig, age 57 and his wife Ellen Craig, age 55.
The Hudson was flown by 29237 Squadron Leader William Coulson, age 37. The crew were all from No.1 (C) O.T.U.
901973 Sergeant John Barlow, age 19, Wireless Operator.
645452 Sergeant Douglas Borthwick Cowie, age 19, Wireless operator.
41261 Pilot Officer Albert Percival Davis, age 24.
637289 Sergeant Arthur Martin Froud, age 18.
39530 Flying Officer Roy Holle Immelman, age 24.
951883 Aircraftman Second Class Alexander Taylor
40871 Pilot Officer Bernard Whittle and civilian John Scott Whitaker, age 23, , civilian (Sperry Ltd).
Even today there is much debate as to who was to blame for the accident. Some claim the pilot took off with an imminent air raid others claim the balloon barrage
was let up without proper authority.
The funerals of the No.1 O.T.U. Hudson T9320 and Whitley P5044 were paid for by three R.A.F. Stations, R.A.F. Boscombe Down, R.A.F. Driffield and R.A.F. Silloth.
17.40 hours Enemy air raid and six Southampton balloons were shot down. The balloon crews saw three enemy aircraft shot down.
With the Battle of Britain now an everyday occurrence "DW" was briefed on the potential German invasion that was feared. Instructions were given that no man
was to leave his site. If invaded there was to be no relief for two weeks until the army had decided which German invasion area was the main thrust. Crews were
given a air-cooled Lewis Gun from the Great War, reserve food and water rations, extra ammunition and a box of hand grenades. Prisoners were not to be taken and
"DW" was told they had to fire on any troops moving towards them from the coast, even if wearing British uniform as it might be a German in disguise. They were
told that units to the North had similar instructions which gave all and sundry a good reason to stay put. "DW" remembers that they were made to stand in full
battle equipment for three successive days and when finally stood down his feet felt twice the size!
16th 13.43 hours Much aerial combat above the balloon sites. A Hurricane was shot down in West Kightingale Wood three miles West of Squadron Headquarters. The
pilot baled out.
17th 13.02 hours A balloon from site 15 exploded at 4,000 feet when paying out. No obvious explanation.
18th A number of Portsmouth or Gosport balloons were shot down.
19th A bomb was dropped about five miles north of Eastleigh.
21st A salvo of bombs dropped on Titchfield main road near site 12. Three fighters seen pursuing it and was losing height and emitting smoke.
14.50 hours A balloon broke away with two hundred feet of cable. Enemy aircraft dropped bombs over Southampton and as seen crashing into the sea.
17.33 hours A single aircraft dropped two salvos of eight bombs to the East of the airport 400 yards from the factory. No damage and no casualties. The Squadron
Vickers machine gun opened fire on it.
18.35 hours Balloon with shrapnel holes on site 5.
21.10 hours Balloon on site 5 broke away.
22.15 hours Red and green Verey lights seen west of site 15.
22nd 00.01 hours Balloon on site 11 broke away with 1800 feet of cable which cut off telephone line.
23rd Single enemy bomber at 4,000 feet. Heavy Anti-aircraft fire.
25th 11.00 hours Squadron Leader Barnes left squadron on posting to command No. 906 Barrage Balloon Squadron. Squadron Leader Dehn taking over command.
26th 03.13 hours "C" Flight reported that a friendly aircraft had crashed after hitting cable of site 15. On coming down a bomb may have exploded, and the aircraft
caught fire. Three dead.
This was a Blenheim IV bomber, L8870, of No.101 Squadron. The crew were.
745574 Sergeant John Hawes Balmer, age 29.
751198 Sergeant William John Cheshire Corker, age 28.
751398 Sergeant Thomas George James Cranston, age 22.
They had taken off 01.53 hours from West Raynham. On return crashed 04.50 hours after colliding with a barrage balloon cable 1 mile SE of Eastleigh Hampshire. It
is not known why the times of collision differ between the various records.
23.10 hours "C" Flight reported that three bombs dropped near their Headquarters.
23.18 hours "B" Flight reported gun post hit by bomb south-east of aerodrome.
29th 14.30 hours A friendly aircraft hit cable on site 13 and then landed at Royal Naval Air Station. The cable had damaged the Air Screw and the starboard fairing.
They had a lucky escape.
30th to 31st Much enemy activity.
September 1940
1st 22.34 hours Three bombs dropped in Eastleigh. Four civilians killed.
Two of these were – Charles Frederick Gray, age 61, of 221 Chamberlayne Road, Eastleigh and his wife Ellen Louisa Gray, age 69. Both died at 221 Chamberlayne
Road.
3rd New staggered formation of barrage started.
6th 03.55 hours Oil incendiary bomb on site 16. No damage.
8th 01.25 hours A night-time anti-aircraft barrage was put up for the first time.
11th 16.15 hours Some 30 bombs dropped damaging Cunliffe Owen works new extension, aerodrome, and site 8. No R.A.F. casualties. Civilian casualties. Squadron
Medical Officer rendered valuable services and squadron ambulance was first on the scene.
17th 06.30 hours Severe gales caused 12 balloons to break away and damaged two others.
18th Ten balloons for reinflation but due to hydrogen shortage the squadron used a mix of coal gas and hydrogen. 40% of coal gas (7200 cubic feet) equivalent to 12
bottles of High Pressure cylinders and inflation completed with 16 bottles of hydrogen. Balloon rose to 4160 feet.
24th to 26th There was much enemy bomber activity and bombing.
27th 03.00 hours A balloon from site 22 was holed by shrapnel and then as it descended it became entangled in a cable from a balloon of site 21. When daylight
came balloons were untangled.
29th Considerable damage during the month to balloons from shell splinters.
"DW" remembered that American Lease-Lend had begun and his trusty calibre 0.303 Lee-Enfield was spirited away to be replaced by an 0.300 calibre American P.5
rifle. They were only 5 shot magazines and were very different to the rifles they were used to.
October 1940
8th 18.43 hours three enemy aircraft dived on the town and tried a new tactic of diving down with engines off onto the town and dropping bombs as well as
machine gunning streets, gun sites and balloon crews. The balloons were close hauled to allow landings and take-offs at the aerodrome. "DW" saw and heard three
aircraft coming down to the aerodrome in line with wheels down as if they were coming into land. He thought they must be Blenheims. As they reached the
aerodrome they retracted their wheels and began machine gunning the hangars and began dropping bombs. They were in fact Junkers 88's.
They dropped bombs on site 6 and this resulted in two airmen being killed instantly and one dying two days later. Five other men were injured. Airmen of site 8 had
to dig out the buried airmen from the shelter trench into which they had jumped. They had to dig through the demolished Anderson shelters and evacuating the
injured. All this being done while there were three unexploded bombs on the site one of which was buried in the shelter trench. There had been no warning of this
attack and the only defensive action was from a Hispano gun manned by factory personnel.
The balloon crew who died were.
542846 Leading Aircraftman Stanley Blaylock, age 21, a single man of 155 Colne Road, Burnley, Lancashire. He had been a plumber in civilian life. He was buried at
Haggate Baptist Chapelyard, Lancashire. In 1948 a white marble tablet was unveiled at Heponstall Methodist Chapel dedicated to his memory.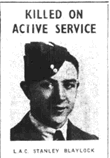 549818 Aircraftman 1st Class Garfield Maurice Pring, age 25, a single man who had lived at 7 Omer Drive, Levenshulme, Manchester.
1260370 Aircraftman 2nd Class Frederick Henry Greening, age 27, a single man, was fatally wounded and died at Royal South Hants hospital, Southampton two days
later on 10th October. Greening had been a Head Wool Trimmer and was also in the Auxiliary Fire Brigade in civilian life.
Greening and Pring were buried alongside each other at North Stoneham (St. Nicholas) Churchyard, Eastleigh.
The Operations Record Book, somewhat surprisingly, does not record the names of the above.
11thand 12th In view of the clear risk of friendly aircraft colliding with balloon cables a new staggered formation of balloons was drawn up. Considering the various
directions of take-off and landing for local aircraft a system of six lanes was created. This meant that there was a means of clearing the air spaces of balloon cables
when notified of take-off and landings.
14th 11.32 hours A British bomber somehow managed to fly between sites 1 and 3 with no collision!
18th 09.09 hours Unidentified aircraft at 200 feet altitude narrowly missed cable on site 1!
20th 17.20 hours A flying boat flew through barrage missing cables on sites 1 and 5.
22nd Aircraft hit cable on site 3 when flying at an altitude of 200 feet. Aircraft did not come down.
23rd 15.38 hours Three bombs dropped about three miles west of Squadron Headquarters.
16.09 hours Blenheim bomber flew through barrage narrowly missing cables and later came down in Southampton.
28th Site 6 reported finding an unexploded bomb in bushes fifty yards from site. It was evident that this was dropped on the 8th October attack.
31st 13.20 hours Severe gales and rain. One balloon broke away and yhree others had to be inflated.
November 1940
1st 14.35 hours An Avro Anson flew through barrage between cables of site 1 and 3 and landed at the aerodrome.
5th It was evident that the "safe lanes" system was not working as expected. It was at this point that a device known as a "Squeaker " was introduced. It emitted a
signal that could be detected by all friendly aircraft and indicated that this was an area of balloon flying. Only when balloons were close-hauled would the Squeaker
signal be turned off.
8th Balloons were now flying at start of control period unless R.N.A.S. have views to the contrary.
14th 20.00 hours Warning given of major bombing attack.
16th 01.59 hours Site 9 reported on large formation of enemy aircraft.
17th 21.08 hours Sites 18 and 25 reported three bombs dropped near Savoy Cinema, Swaythling.
2248 "C" Flight Headquarters reports of Carbide incendiaries being dropped around Headquarters.
2395 "C" Flight Reported incendiary fires put out. A five-hour attack with bombs being dropped on and next to sites.
18th Large High Explosive bomb exploded 300 to 400 yards from site 7.
13.03 hours Land mine exploded beyond site 2 by Fairoak Road., Bishopstoke.
20th 02.11 hours Site 24 balloon and cable came down at Bishopstoke. All cleared by 05.45 hours.
10.42 hours Unexploded bomb in Vickers workshop went through roof and six to eight feet in concrete floor, R.N.A.S. Bomb Disposal Unit dealing with it.
21st 12.26 hours "C" Flight reported aircraft flying through barrage and landed at aerodrome.
23rd "B" Flight report bomb on Eastleigh aerodrome just outside "B" Flight Headquarters.
18.00 hours Bombing attack began. A variety of delayed action and normal bombs dropped on aerodrome and balloon sites.
24th 11.06 hours Site 15 reported bombs on Hatch Farm near Quob Lane.
11.50 hours Site 7 reports delayed action bomb on Monke's Path 100 yards from site.
11.58 hours Site 8 reports slight crater 2 feet across.
14.05 hours Site 3 reports delayed action bomb 250 yards from site.
14.56 hours Southampton Gas Company request cease using coal gas as 50 pipes damaged. Flights not to use coal gas until further orders.
11.44 hours Heavy bombing attack at 18.15 hours preceded by parachute flares. Many incendiary bombs dropped near Squadron headquarters. Fire in North
Stoneham Church. Site 17 reported site covered in many incendiaries, but all extinguished by 19.15 hours.
"DW" remembers that the balloon crews did some basic warming up as exercise but with time the crews were certainly not "battle fit". Every now and then 20 to
30 airmen were drawn off their sites and sent to do a week of field work at an Army Training Camp near the New Forest. The Army Instructors could not believe
their luck at having a bunch of "Brylcream Boys" at their mercy. They were marched and marched until they were ready to drop.
30th Air raid began and lasted past midnight.
December 1940
1st Air raid ended 02.00 hours. Restarted at 18.15 hours. "DW" remembered hearing enemy aircraft overhead and a whistling noise as bombs descended and then it
was as if a "switch had been thrown" as straight lines of parallel rows of lights appeared in the fields and this was due to hundreds of incendiary bombs being
dropped. He noted that the public began to take the air raids seriously and at night many would leave the town to sleep in the fields and then return in the morning
to find whatever was left of their homes or workplaces.
2nd Raid ended 00.45 hours. Many high explosive and incendiary bombs dropped. Damage to Squadron water and telephone supplies. Two delayed action bombs on aerodrome.
3rd Numerous delayed action bombs exploding in area. Telephone again damaged. 17.05 hours aircraft heard taking off from aerodrome and flew through barrage
without incident.
4th No telephones working.
9th Telephone communications repaired.
11th Electricity supplies cut off.
13th "B" Flight headquarters transferred from R.N.A.S. aerodrome to St. Agnes, Bishopstoke.
15th Delayed action bombs in Allington Lane exploded by Royal Engineers.
24th Low temperatures causing balloons to fail to get to operational height of 4,500 feet and at 21.20 hours all balloons hauled down to 1500 feet.
28th 18.00 hours a single enemy aircraft flew over barrage at 6,000 to 7,000 feet. Local anti-aircraft fire was too late and inaccurate, bombs dropped on
Southampton.
Mentioned in Despatches
31st December 1940 the following were Gazetted as being Mentioned in Despatches by the Air Officers Commander -in-Chief.
No.924 Squadron
91095 Pilot Officer E.W. Collins A.A.F
857307 Corporal F. Ashcroft
857559 Corporal C. J. Cuthbert A.A.F.
Since large scale air raids began there have been a number of instances of good work by officers and airmen of No. 32 Group. The following names have been
specially brought to notice.
No.924 Squadron
649537 Aircraftman First Class Dillon
857376 Aircraftman First Class W. Horne
A number of bombs fell upon a baloon site seriously injuring and burying airmen in an Anderson Shelter. These two airmen hurried over from another site, dug out
two of the buried airmen, placed them on the winch platform and rove them to another site. They returned and released the other airmen.
A considerable number of unexploded bombs were in the vicinty and one was protruding only three yards from the Anderson Shelter. A fact which the above airmen
were aware.
SPECIAL ORDER OF THE DAY
The undermentioned airmen of No.924 Squadron are commended for the good work that they have carried out on the occasion of an accident to an aircraft at
Eastleigh on 5th March 1941.
613995 Leading Aircraftman A. Beswick.
921924 Aircraftman First Class R. S. Cobbledick.
1196229 Aircraftman Second Class T.W. Mayou.
857352 Aircraftman Second Class J. Hesketh.
1193118 Aircraftman First Class F. R. Taylor.
1941
January
It was announced that 90875 Wing Commander William Theodore Barnes had been awarded the Order of the British Empire (Military) in the New Year's Honours List.
2nd to 3rd The Squadron has several balloon casualties due to shrapnel. "DW" explained that when the crew noticed the cable had begun to make a 45-degree angle
they knew that meant that shrapnel had punctured the balloon. This meant an immediate and rapid haul down and temporary bedding while a crew member had to
climb the 30-foot stepladder in the dark and try to find the punctured hole. Then they would try and seal it with balloon fabric. All this done with hydrogen
escaping through the hole and trying to locate the hole in the light of fires from incendiaries, reflected searchlights while red hot shrapnel came down around the
site. The risk of explosion was always high.
5th Severe ice forming on rigging and flying cables.
8th Friendly aircraft flew through barrage without incident.
11th Severe ice formation of over one inch was on all sites. Flying at Maximum Operating height was introduced.
19th 19.00 hours Enemy attacked Southampton and District with flares, incendiaries and high explosive bombs were dropped. Bombs fell on Southern Railway Works
at Eastleigh. Five ambulance men at the Railway Works were killed by the bombs. They were.
Leslie Eric Gaiger, age 34 years old, First Aid Party member, of 56 Kipling Road. Husband of Nora Kathleen Gaiger.
Alfred John Godfrey, age 37 years old, First Aid Party member. Son of William John Godfrey, of 46 Hamilton Road, Bishopstoke; husband of Ida May Godfrey, of 2
Spencer Road.
George Wilfred Henbest, age 30 years old, First Aid Party member. Son of William Charles and Martha Sophia Henbest, of 67 High Street.
Reginald Edgar Gillingham, age 44 years old, Air Raid Warden; First Aid Party member. Son of J. Gillingham, of 3 Hillside Close, Chandler's Ford; husband of Ethel
Gillingham, of 31 Ruskin Road.
Francis Edward Ball, age 28 years old, First Aid Party member. From 59 Spring Lane, Bishopstoke. Son of Oliver and Elizabeth Ball, of 49 Peel Road, Wolverton,
Bletchley, Buckinghamshire; husband of Pattie Florence Ball.
20.50 hours He111 crashed half a mile from site 5 which was between Allington Lane and
Horton Heath and parts of the wings came down near site 15. Balloon fabric was near to the crash site but as no local barrage reported a collision the kill credit was
given to anti-aircraft fire. It is possible that the aircraft hit a breakaway balloon, but no proof was forthcoming.
22.30 hours Air Officer Commanding arrived at Squadron and went to site 6 to see Commanding Officer.
23.10 hours Raid ended with no damage to R.A.F. property or personnel. The raid was not as s ever as the December ones.
20th Squadron Ambulance removed bodies of four German airmen from crashed plane. The body of one man who had bailed out was found near the fuselage. Taken
to West End mortuary. A partly burnt-out stick of incendiaries was found near site 20.
The five Germans were eventually buried as a crew at Cannock Chase German Cemetery.
Guenther Lenning, Plot 4 Row 10 Grave 129,
Heinz Schubert, Plot 4 Row 10 Grave 130,
Guenter Janson, Plot 4 Row 10 Grave 131,
Xaver Kroiss, Plot 4 Row 10 Grave 132.
I have not been able to identify the fifth German.
22nd 15.05 hours three aircraft approached R.N.A.S. at between 200 and 300 feet and one of them, a Fairey Fulmar struck and severed a cable of site 6 and made a
pancake landing in a nearby field half a mile east of site 6. The pilot was unhurt.
24th The five German aircraft were buried by personnel at No.12 Balloon Centre at 1805 at South Stoneham Cemetery. Several officers of No.924 Squadron
attended,
February 1941
10th An aircraft took off from R.N.A.S Rave and narowly missed the cable on site 24.
20th 11.59 hours Two Tomahawk aircraft came into land and narrowly missed the cable on site 7.
15.02 hours A Lockheed Hudson took off and narroely missed the cables of the barrge.
26th 19.09 hours Air raid commenced, and a bomb was dropped 25 yards from the hut on site 25.
March 1941
5th 12.12 hours A Westland Lysander hit the cable on site 24. The wing was severed and fell in Eastleigh Railway Station. The plane crashed and burnt out in the
Timber Yard near to the station. Two crew were killed.
43545 Pilot Officer Basil Aubrey Ronald Deall, No.26 Squadron R.A.F., age 22 years old. Son of Ronald Edward Gustave and Iris Geraldine May Deall, of Tooting,
Surrey; husband of Edith Mary Deall, of Tooting.
514156 Sergeant Patrick George Durham, No.26 Squadron R.A.F., age 30 years old. Son of John and Sarah Durham, of Napton; husband of Mary Durham, of Napton.
8th Avro Anson flew over barrage and landed safely at aerodrome.
11th 21.19 hours Incendiaries dropped on Chandler's Ford
2125 Incendiaries dropped on Peacefield Avenue and Derby Road, Eastleigh.
12th 04.00 hours Balloon cable damaged chimney in Chestnut Avenue.
21.56 hours Bomb dropped near site 19. No damage to R.A.F. personnel. One airman from No.924 Squadron Operations Room sent to Cunliffe Owen Aircraft control
room to relay plots to Barrage Control at Southampton.
13th 20.35 hours Bomb dropped between site 7 and 14-no explosion.
21.53 hours Bomb dropped on Stoneham Golf Links.
14th 11.38 hours Blenheim bomber flew through sites 23 and 24.Landed safely on field adjoining aerodrome and site 24. No damage.
16.30 hours Two Spitfires and a Fulmar took off and flew between sites 23 and 24.
20.45 hours Several unexploded bombs dropped between site 24 and aerodrome.
20.47 hours .Incendiaries in Thornhill area.
22.07 hours Incendiaries Northwest of Eastleigh.
22.37 hours Four bombs dropped and exploded near site 15, Quob Lane Anti-aircraft battery. A bomb exploded near site 4.
23.45 hours Bomb in Mansbridge area.
18th 01.45 hours Flashing lights seen on Aerodrome Proved to be Sergeant major moving Gun position.
20.15 hours Bombs dropped East of Aerodrome. No damage.
21st 17.22 hours Fairey Fulmar missed cable on site 25 by 20 yards, landed safely at aerodrome.
23rd 15.59 hours Hawker Osprey K.6790, narrowly missed cable on site 19.
17.25 hours A Walrus attempted landing and was given two red Verey lights by aerodrome, so it flew off.
26TH A plane came out of the mist and flew through barrage at 300 feet but landed safely.
12.32 hours Four bombs dropped at Totton.
13.31 hours Possible hostile aircraft passed over barrage in cloud.
13.54 hours Squeaker warning system tested
20.50 hours Fire at Pirelli's Eastleigh.
21.36 hours Fire extinguished.
29th 18.11 hours Hostile Plane at 100 feet over barrage chased by two friendly planes at 1818.
31st 17.09 hours A Seaplane flew over below barrage height.
April 1941
1st 09.25 hours Low flying aircraft overhead. Crews stood ready to fire on hostile aircraft flying below 1,000 feet.
12.50 hours Warning to crews about low-flying attacks.
6th 21.30 hours Aircraft justa bove barrage flew over area. Squeakers operational. Balloon adrift trailing cable. Avro Anson hit cable on site 30.
8th April Incendiaries dropped on Chandler's Ford.
9th 01.05 hours Site 11 and 15 reported balloon adrift.
14.14 hours Plane landed on Lane B at aerodrome, a second attempted to land but flew away.
15.02 hours Sites 22 and 17 reported Spitfire at 700 feet missing cable on site 22, and 9.
10th 01.33 hours Site 25 reported plane flying toward Southampton well below barrage height.
11th 03.00 hours Bombs dropped on site 9 and 12 (Woodmill Lane).
12th 09.40 hours Avro Anson, piloted by Captain Wickner from Hamble flew through barrage sites 15 and 3 at 150 feet. Landed safely at Aerodrome.
13th 13.26 hours Albacore N4389, Pilot Thompson flew nears sites 23 and 24 at 1,000 feet.
14th 10.45 hours Defence positions manned for low flying aircraft.
15th 04.00 hours Plane hit cable on site 15 at 2,000 feet. Flew on undamaged, balloon broke away and fell near No.12 Balloon centre.
02.25 hours Crews to look out for enemy airmen. Four baled out and one man captured.
08.10 hours All enemy airmen now captured.
18th 02.14 hours Four High Explosive bombs dropped near site 19.
03.22 hours sites 6,7 and 8 reported fire east of aerodrome..
03.42 hours all incendiaries extinguished.
07.00 hours Four High Explosive bomb craters near site 9. Nearest crater was 100 yards away.
10.50 hours Unusual hole like a well shaft found 300 yards from site 9. Thought to be landmine.
R.N.A.S. sent for Royal Engineers Bomb Disposal unit. Area evacuated.
11.49 hours Bomber flew through barrage near site 6.
19th Bomb exploded near site 9. No damage.
23rd Tomahawk aircraft flying below barrage height narrowly missed cable on site 17 by 10-15 feet, followed by a second plane a few minutes later. These were AH
793 flown by Air Transport Auxiliary Officer Annibal and A.H. 794 flown by Air Transport Auxiliary Officer Cragg.
26th 12.48 hours Hudson N.7220 took off and flew between site 1 and 2. Piot was Squadron Leader Stewart of the Gunnery Research Unit, Howley, Exeter.
28th Possible Hurricane flew near site 16 at 2,000 feet.
May 1941
1st May 01.03 hours Whitley Bomber flying around at 3,000 feet in distress. All balloons hauled down and this took until 01.47 hours However plane flew off and
landed at Abingdon.
2nd 17.55 hours Balloon struck by lightning, fabric scorched.
7th 09.50 hours Ice formation on balloons at 3,000 feet.
12th 02.27 hours Enemy plane shot down off Cowes.
14th 15.29 hours Blenheim flew through barrage between sites 17 and 18. Later passed site 20. Plane returned and flew back through sites 17 and 20, at 200 feet.
Landed at aerodrome and overran runway. Blenheim No.3528 piloted by Sergeant Chandler.
20th 09.55 hours Plane flew through barrage of sites 19 and 20. R.N.A.S. had no idea who or what the plane was.
11.27 hours Westland Lysander No. T1455 flew between sites 6 and 7 at 1,500 feet. Landed safely at 11.30 hours.R.N.A.S. said that Pilot Officer Goodchild No.614
Squadron had "lost his way". The plane took off from Lane B.
20th 14.48 hours Spitfire flew through barrage of site 25 by about 5 yards and missed cable of site 5 by 50 yards. Plane turned around and flew towards Portsmouth.
R.N.A.S. had no idea about the plane.
15.53 hours Leopard Moth AX865 piloted by Wing Commander Crummy from Boscombe Down flew through barrage Pilot had lost his way.
22nd 15.19 hours R.N.A.S. reported Lysander flew through barrage and landed on aerodrome.
18.56 hours Machine guns manned as hostile aircraft in area.
19.15 hours Machine guns stood down.
31st May 00.17 hours Sites manned enemy aircraft in area.
11.34 hours Two Spitfires, W3264 flown by Mr Wedgewood and W3265 flown by Mr Quill took off from aerodrome. Flew through barrage between sites 1 and 2 at
1,000 feet.
June 1941
11th 11.41 hours Spitfire flew through barrage over site 1 at 1500 feet, landed on aerodrome 100 yards from the cable of site 4. R.N.A.S. had no knowledge of a
Spitfire but had an Albacore take off instead with Test Pilot Mr Wilson.
19th 11.25 hours Blenheim flew through barrage area between site 5 and 2, at 3,000 feet.
1939 Swordfish landed at aerodrome after flying through barrage between sites 1, 23 and 24. R.N.A.S. deny any knowledge of the plane.
25th 19.12 hours Avro Anson flew through barrage between sites 1, and 24. Landed at aerodrome, R.N.A.S. reported that this was followed by six Spitfires. The
Spitfire pilots were picked up by the Avro Anson and took off.
26th 01.11 hours Two landmines dropped at Doncaster Grove, near the Bofors Site between Squadron Headquarters and airport.
July 1941
5th 11.43 hours Lockheed Hudson flew through barrage between cables of site 6 and 8, within 100 feet of the cable. Landed on aerodrome. Piloted by A.R. Holmes
from Bricham Newton.
17.09 hours Between sites 23 and 21 a parachute was found and it contained three valve radio sets.
8th 01.15 hours Attack on Southampton. Bomb dropped on site 5 and two other bombs feel in nearby field. Damaged telephone lines.
16.23 hours It was reported that two enemy planes shot down, later only one confirmed "kill" was agreed.
9th 11.01 hours Albacore flew through barrage over site 25 at 1,000 feet.
11.17 hours Blenheim flew through barrage between sites 25 and 5 at 1,000 feet.
12.03 hours second Albacore flew through the cables of sites 25 and 5 at 300 feet. Did not land.
12th 08.03 hours Plane flew through barrage between sites 1 and 24.
08.13 hours Tomtit piloted by Mr Quill of Vickers Armstrong took off and flew between cables of sites 1 and 24 at 700 feet.
14th 03.40 hours Balloon struck by lightning.
15th 10.14 hours Swordfish or Albacore flew through barrage between sites 5 and 25, landed at aerodrome.
00.12 hours Plane flew through barrage at 1,000 feet.
07.41 hours Plane took off and flew through barrage between sites 1 and 24, at 1,000 feet.
08.10 hours Plane flew through barrage between sites 1 and 24, along railway lines.
27th 12.22 hours Perimeter sites came into operation
August 1941
2nd 14.58 hours Swordfish took off and flew through barrage between sites 25 and 5.
3rd 09.30 hours Breakaway balloon at 400 feet at Upper Owlesbury, cable caught in trees.
5th 15.21 hours to 15.26 hours three balloons struck by lightning.
8th 17.35 hours "De Havilland" Dragon piloted by Mr Quill of Vickers Armstrong flew through barrage between cables on sites 9, 15 and 16, at 1,000 feet and landed
at aerodrome.
18th 15.40 hours Lockheed Hudson took off and missed cable of site 24 by 100 feet.
20th 18.29 hours Breakaway balloon over Southampton at 7,000 feet.
22nd 11.45 hours Lysander piloted by Squadron leader Eyres, circled inside the barrage before landing at aerodrome narrowly missing cable on site 17.
25th 11.29 hours Plane flew low flew through barrage between sites 3 and 4, at 300 feet.
28th 16.12 hours Ten Albino Sites were supplied with mobile winches as opposed to trailer winches.
September 1941
4th 20.50 hours Hawker Tomtit piloted by Flight Lieutenant Barclay flew through barrage between sites 5 and 25, narrowly missing cable of site 5. Landed at
aerodrome.
9th 11.00 hours Albino practice inflations took place.
10th 10.37 hours Tomahawk flew through barrage cables between sites 19 and 20, at 300 feet.
12.10 hours Spitfire Pilot Mr Pickering of Vickers Armstrong took off before his lane was properly opened.
12.14 hours Second Spitfire pilot, Mr Wedgwood took off luckily neither of these aircraft came near cables.
11th 08.30 hours A hurricane dived down out of the clouds and came within fifty feet of the ground missing the cable on site 10 by 100 feet.
09.55 hours Blenheim flew through barrage cables between sites 24 and 23.
20th 21.55 hours Enemy activity. Bombs dropped on Southampton and Portsmouth. No local damage.
21st 18.33 hours A Falcon flown by Flight Lieutenant Barclay flew through barrage cables between sites 5 and 3, at 150 feet and then landed at aerodrome.
3rd 22.55 hours Balloon broke away and was found at Stockbridge, Wiltshire.
25th 17.33 hours A Spitfire approached from Portsmouth at 500 feet made a circle 200 yards from cable on site 25 and then flew back toward Portsmouth.
October 1941
12th 12.20 hours Unknown Spitfire flew through barrage cables of sites 2, at 1000 feet missed cable by feet and then landed at aerodrome.
14th 09.58 hours Two unknown Blenheims flew through barrage cables between sites 25, 10, 15 and 3, at 1500 feet, narrowly missing cable by feet. Flew off.
15th 17.53 hours A Falcon monoplane took off and was flown by Mr Quill of Vickers Armstrong flew through barrage cables between sites 23, 4, 24, and 1, at 500
feet.
17th 15.37 hours A Tomahawk flown by Flight Lieutenant Pellott of No.241 Squadron, Bottisham flew at 100 feet directly over a balloon as it was being let up.
18th 09.31 hours A Falcon monoplane flown by Mr Quill of Vickers Armstrong, who seemed to have more lives than the proverbial cat, flew through barrage missing
cable of sites 4 by 500 feet and landed at aerodrome.
28th 09.22 hours Balloon broke away.
November 1941
7th 09.05 hours A Hawker Tomtit piloted by Mr Quill flew through barrage at 150 feet, missing cable of site 4 by 200 yards.
23rd 17.55 hours A Hampden Bomber flew through barrage cables between sites 17, 21, 4, and 5, at 3000 feet, narrowly missing cable of site 25.
December 1941
It would appear that a new diarist was brought in to keep the Operations Record Book as there had not been much detail in the Record Book over the last few
months. It is interesting to note that mentions of near misses with cables were now not mentioned. I was told by "DW" this was because it was felt that these close
calls were a bad reflection on the airmen in the air and on the ground.
1st to 31st Much routine balloon flying took place. With no particular issues.
During the month a number of sites went on to begin onsite cooking. Hut annexes were being extended to accommodate a cooking area.
Between 29th to 30th a Group Trade Test Board was held in the Parish Hall, Stoneham Lane, Nort Stoneham. Sites 8, 10, 17, 21, 22 all commenced Light Machine
Gun training.
1942
January 1st to 31st much routine balloon flying took place.
February 1st to 28th much routine balloon flying took place.
March 1st to 31st much routine balloon flying took place.
April 1st to 30th much routine balloon flying took place.
May 1st to 31st much routine balloon flying took place.
June 1st to 30th much routine balloon flying took place.
During the month there was a raid on Southampton and a near miss by a bomb caused damage to the Headquarters and demolished the huts on site 14, 16 and 4.
534522 Sergeant E. Welsh was Mentioned in Dispatches.
July 2nd 00.01 hours No.924 Squadron was amalgamated with No.930 Squadron under the command of Wing Commander H. W. Hall, M.C., The Squadron then moved
to Southampton.
At this point another diarist was brought in and had no typewriter.
The Record Book recorded much routine balloon flying.
25th 23.57 hours The A.R.P. reported that up to this point the city of Southampton had issued 1034 Air Raid alerts since the war had begun.
August
1st 22.52 hours 30 Group gave the "Albino" stand by order. Each Squadron was to report the first and last balloon release when all were ready for release. The
barrage was to remain at present flying height and to take operational precedence over Albino. The Albino was an attempt to seed the skies with small balloons
carrying explosive charges that would be carried by the wind into the path of enemy bombers. The concept was to have a free-flowing number of aerial mines in
the airspace through which the enemy bombers would travel. It had somewhat dubious results before being abandoned. There was much routine flying but very
little interaction with the enemy.
28th Squadron Leader Botham proceeded to British Broadcasting Centre , London to take part in "Ack-Ack Beer-Beer".
September
There was much routine flying of balloons during the month.
14th 10.35 hours A Liberator flew over the barrage at 1500 feet but did not strike a cable.
October 1942
12th The Squadron Band took part in an episode of "Ack-Ack Beer-Beer".
Squadron Leader Botham assisted in the production of a Broadcast from Southampton - "Ack-Ack Beer-Beer" program.
31st Squadron Leader Bradshaw visited the Squadron with two representatives from the United States Army for Balloon Handling demonstration.
November
13th 15.35 hours Two Hurricanes flew through barrage between 500 and 1,000 feet.
December
7th 14.18 hours Site 14 reported a Campor Swift aeroplane had landed in a nearby field after flying from France. The pilot was a French civilian and was unhurt, but
the aircraft was damaged. He had taken off from Normandy at 11.20 hours and was looking for an airfield when he saw the balloons and landed. He was held under
Close Arrest until Wing Commander Hall arrived who escorted the pilot to Station Headquarters. At 17.45 he was handed over to Major St. George, Field Security
Police.
29th 11.35 hours A black twin-engine bomber flew over the barrage.
What was obvious was that during the last 12 months of 1942 the incidence of enemy attacks over the balloon barrage was much reduced. This may have been due
to the enemy being more aware of the area protected by the barrage or may be due to a reduction in raids in that particular target area. The number of
infringements by friendly aircraft was less but this was probably under-reported.
Copyright Peter Garwood 2023