Henry Benjamin BANKS 901 Squadron
Felicia RILEY is researching her father who clearly served in the Barrage Balloon units.
She has sent me a series of superb photographs showing men in the service.
If anyone can help please contact me so I can pass any information on.
She writes:
"For some time I have been trying to find out some information about my
father's service with balloon command. RAF Innsworth cannot trace him.
At the outbreak of war we were living in Cumberland Avenue, Welling and
although my father was 42 he was called up immediately.
I believe he first went to Kidbrooke and then was based at Blackheath.
I visited him at Blackheath Balloon Barrage site on several occasions.
I used to get off at "Sun in Sands" pub and walking on to the heath .
He was probably know as Ben Banks although I believe he was nicknamed Monty.
After 2 or 3 years he was invalided out - I think through ear damage when a
bomb fell close to site. I imagine he would probably have driven one of
the lorries.
He was born 28 October 1897, his name as Henry Benjamin Banks
He also served in army WW1.
So if anyone can help please contact Peter Garwood : peter.garwood@bbrclub.org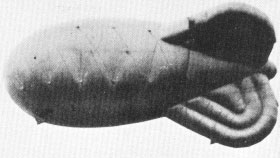 CLICK HERE FOR HENRY BENJAMIN BANKS PHOTO ARCHIVE