The Frank Verney Archive - courtesy of Peter Verney
Frank was a veteran of 1914-1920 and also 1939-1945.
Frank Verney born 1897, lived in Elham Kent, a small village about 7-8 miles from Dover. Apprenticed to the village tailor when leaving school at 12 and, enlisting in The Buffs 1916, was sent to India for training and transferred to the Machine Gun Corps. His unit went to Mesopotamia and took part in the final push against the Turks and then was engaged in a decisive engagement with the Kurds about 1919. The guns and ammunition were carried on mules and he told the story of a mule, loaded with ammo falling off a narrow mountain track and rolling down into the valley below, where it had to be abandoned. He was demobbed in 1920 and went back to tailoring.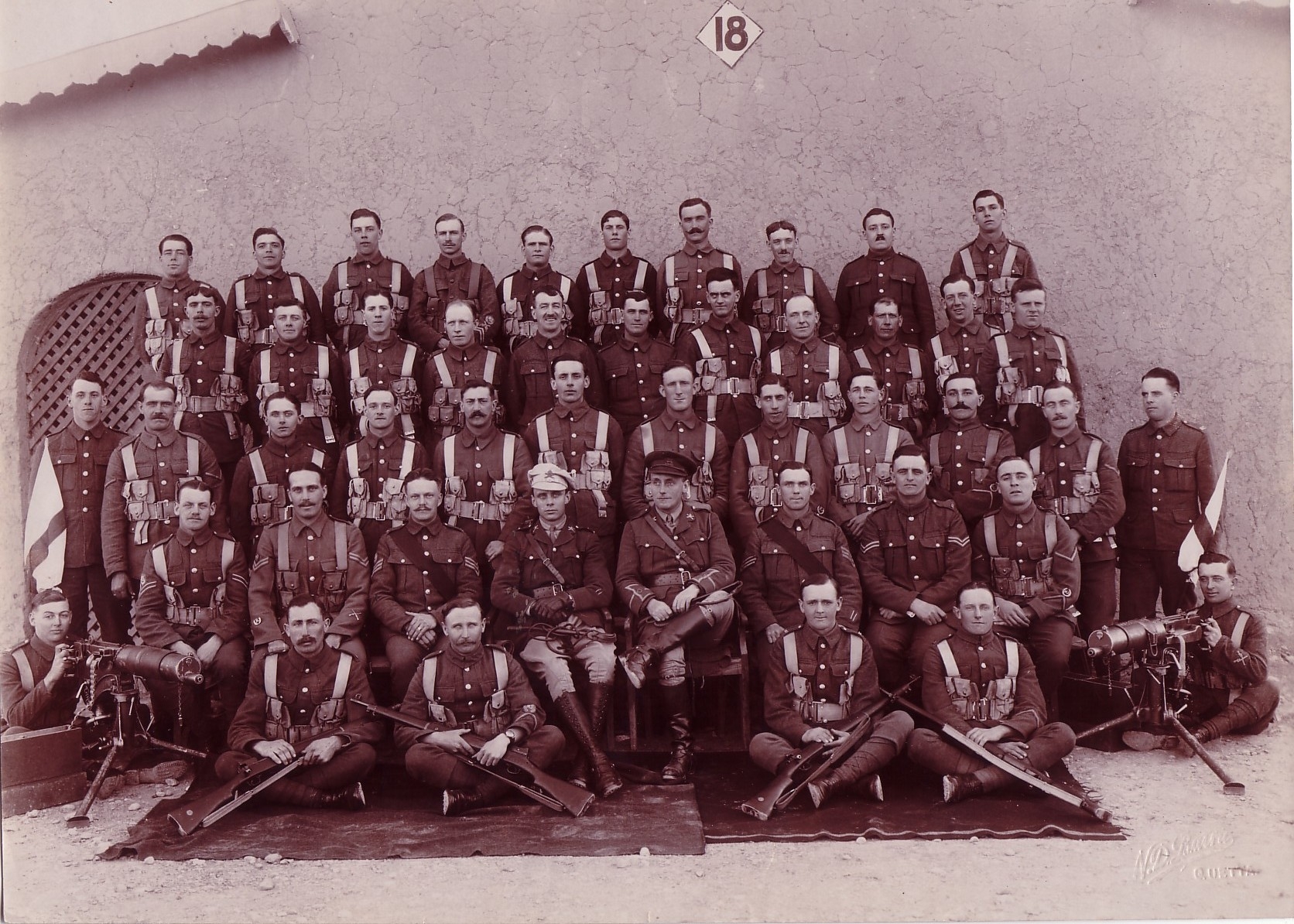 Frank is expertly aligning the machine gun bottom row extreme left taken in India circa 1916-17
He enlisted into the Balloon Barrage in 1940 in the misguided belief that they would need tailors to sew them up !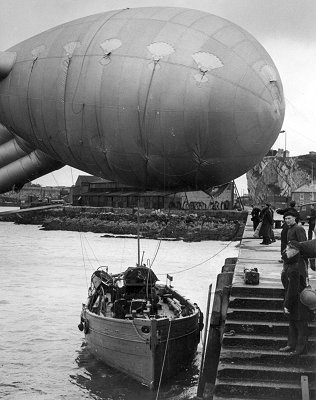 Barge with Balloon at Dover
He was trained possibly at Cardington or Newport and spent a little while at Newport before being transferred to Dover.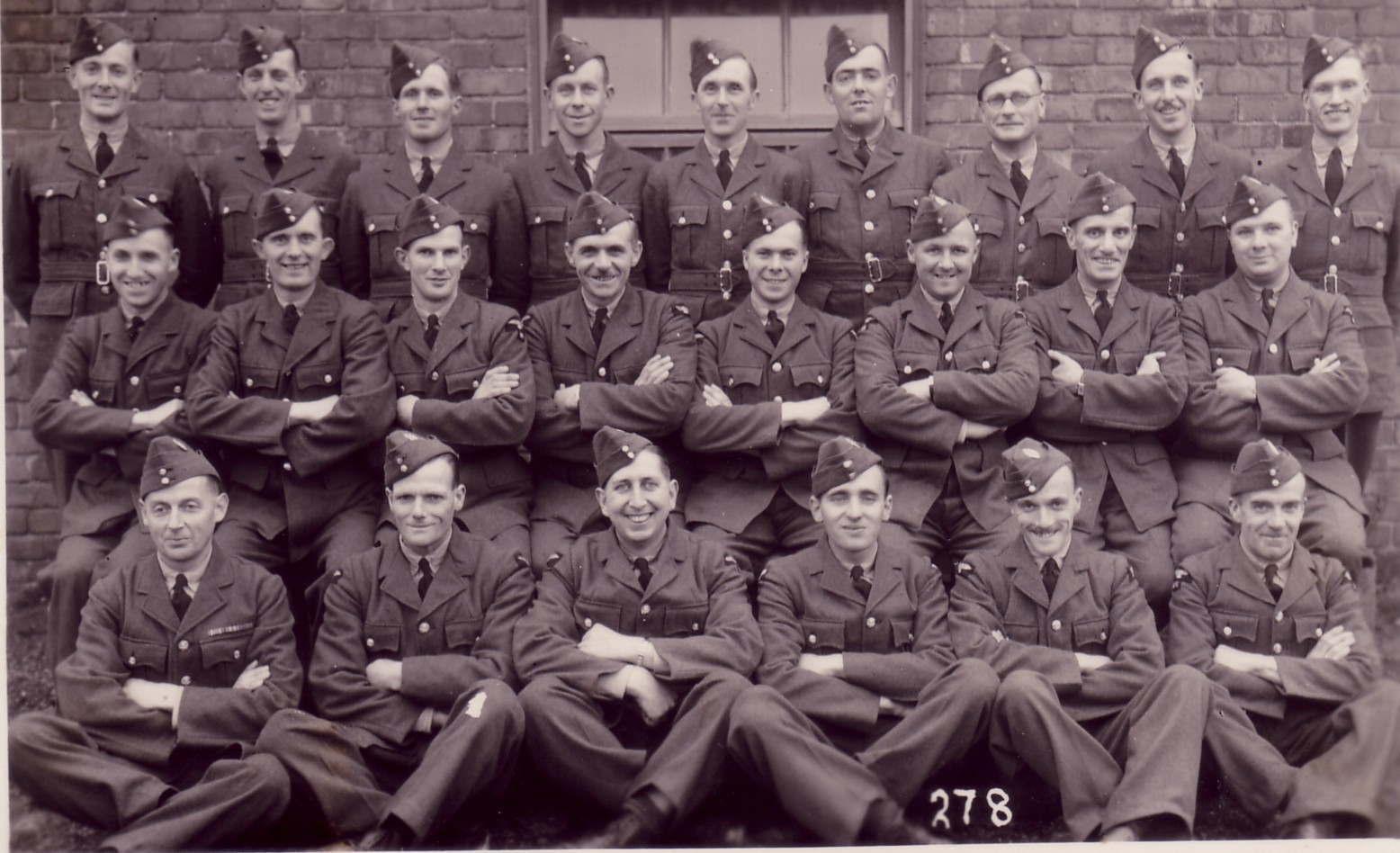 Frank is on the extreme left, front row and is the only one with his medal ribbons up
Any faces recognised here?
He told his son the story of having 3 balloons shot off his barge in one day at the height of the
Battle of Britain. Of course Dover took a terrible pasting from long range guns and the Luftwaffe
during this time . These could be seen these balloons from their house and his son remembers seeing
German fighters shooting them down, it must have been great sport for them, as they could no
doubt see them from their airfields just across the Channel. Frank was made garrison tailor at Dover
when they discovered that he was a tailor. He was later posted to the Bomber Command stations
of Binbrook and Little Waltham in Lincolnshire, where he served until demob in 1945.
POSTSCRIPT: Peter Verney has added this additional information on his father in later life
As for my father, his father worked for the East Kent Hunt which was based in the village, and was killed in a riding accident in 1905. He left 5 children with number 6 on the way, so I don't think life was exactly a bed of roses. The only time my father left the tailors shop was during his two periods of service. The shop belonged to my mothers uncle and when the old boy died in 1944 my father bought the house and shop and we moved down there, the business was of course defunct.
When he came out of the RAF in 1945 he had quite a struggle to get a business up and running and worked 6 days a week often till late at night and did his books on Sunday evening. However he made a go of it and made clothes for the local gentry, his speciality was hunting clothes and he made the pink and black coats for the Hunt right up until the late 70's. In later years he was one of only a few tailors who knew how to lay out and make the ladies habit for riding side-saddle. He only gave up when the Hunt wanted him to make another set of black coats, sewn of course with black thread, and his eyes were failing as he was in his late 70's, so he had over 60 years as a tailor.
He was also Captain of the bells at the church (Elham St Mary the Virgin) for over 50 years and had a bell named for him when they were recast. He was a churchwarden also for many years and treasurer for the parish council. He died 1988 age 91.
This picture of him in the shop was taken sometime late 70's.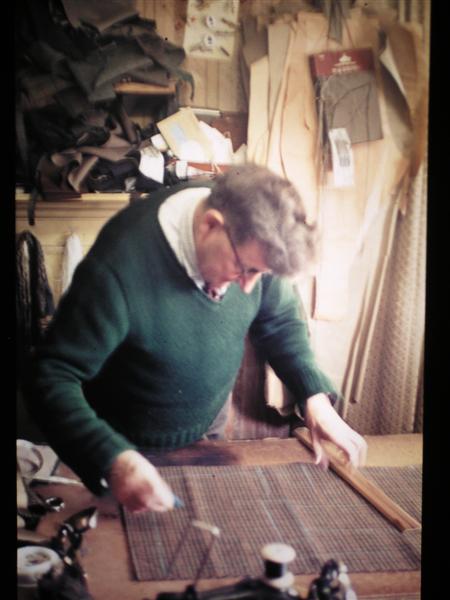 Frank Verney at work around the late 1970's.....very much the Master Tailor