Defence of Trains by Barrage Balloons
One area of vulnerability was that trains in Iran and Iraq were open to bombing and strafing attacks by enemy aircraft. Trains were relatively unarmed
and because they tended to travel in a relatively straight line were much easier to target from the air. In May 1942 it was recorded that enemy attacks
on trains were regularly made by Me 109's, Me 110's and Ju 88. Often these attacks were made when the train was stationary. In one case two Ju. 88's
attacked from 50 feet dropping 4 bombs and then strafing the train. The 8th Amy had experimented with 20 mm Breda guns on trains, but these were not
found successful. Bofors guns were problematic due to the fact that mounting them was difficult.
Each day some twenty trains used the line between Daba and Semilla at 30 m.p.h. and the line between Semilla, Iraq and the Railhead at 12 m.p.h.
It was decreed that trains in Iraq and Persia were to be protected by V.L.A. balloons and by quadruple Browning Machine Guns. Gunners were to be taken
from Bofors gun crews protecting the potential landing grounds and this weakened the protection forces on the landing grounds.
Provided the Nazis had no landing grounds south of the line Ardebil to Tabriz, the extreme limit of Nazi attack would be:
a)Tehran exclusive on the Persian railway
b)Shah Naban exclusive on the railway Baghdad to Khanaqin and Baghdad to Kirkuk
c)Samara on the railway Baghdad to Mosul
Due to obstructions on the various lines, such as cables, and bridges, the only line that was balloon defensible was the line from Tehran to Mianeh.
Forty balloons were allocated for the defence, twenty-six in use and fourteen spares.
The first trial took place on 17th May 1942 on the Misheifa to Capuzzo train. The Officer Commanding 971 Squadron went on the train and reported that
he considered that the balloon cable angle was sufficient to give 75% protection to the train. 155 miles down the track, a few miles east of Capuzzo, the
balloon cable hit unexpected telephone lines and caused the inertia link to fire and the balloon broke away. Even though the Officer Commanding had
seen the cable and alerted the driver, it was impossible to pull the train up in time, as it was pulling over 1000 tons!
Consideration was given to protecting trains by use of mounted guns and by towing a barrage balloon over the train. On 4th September 1942 Flight Lieutenant
Carter, the Commander of 275 Wing R.A.F. travelled from Abadan to Baghdad via Margil by both river travel and rail. He arrived on 5th September 1942.
He met with Colonel Nash who was the Mechanical Engineer for the Transport Branch of the Railway Directorate and with Major Topham the Deputy Assistant
Director Transportation Liaison Officer.
It was clear from the outset that towing a barrage balloon behind a train was problematical because of the numbers of telephone and power lines that crossed
the railway lines. In addition, any tunnels and bridges also created problems.
The Baghdad to Basrah line was one that had been analysed and it was found that the railway stations were not always on the same side of the track and were
somewhat staggered. This meant that the communication lines were carried overhead across the track at three points, with the junction at Al-Massyeb being typical.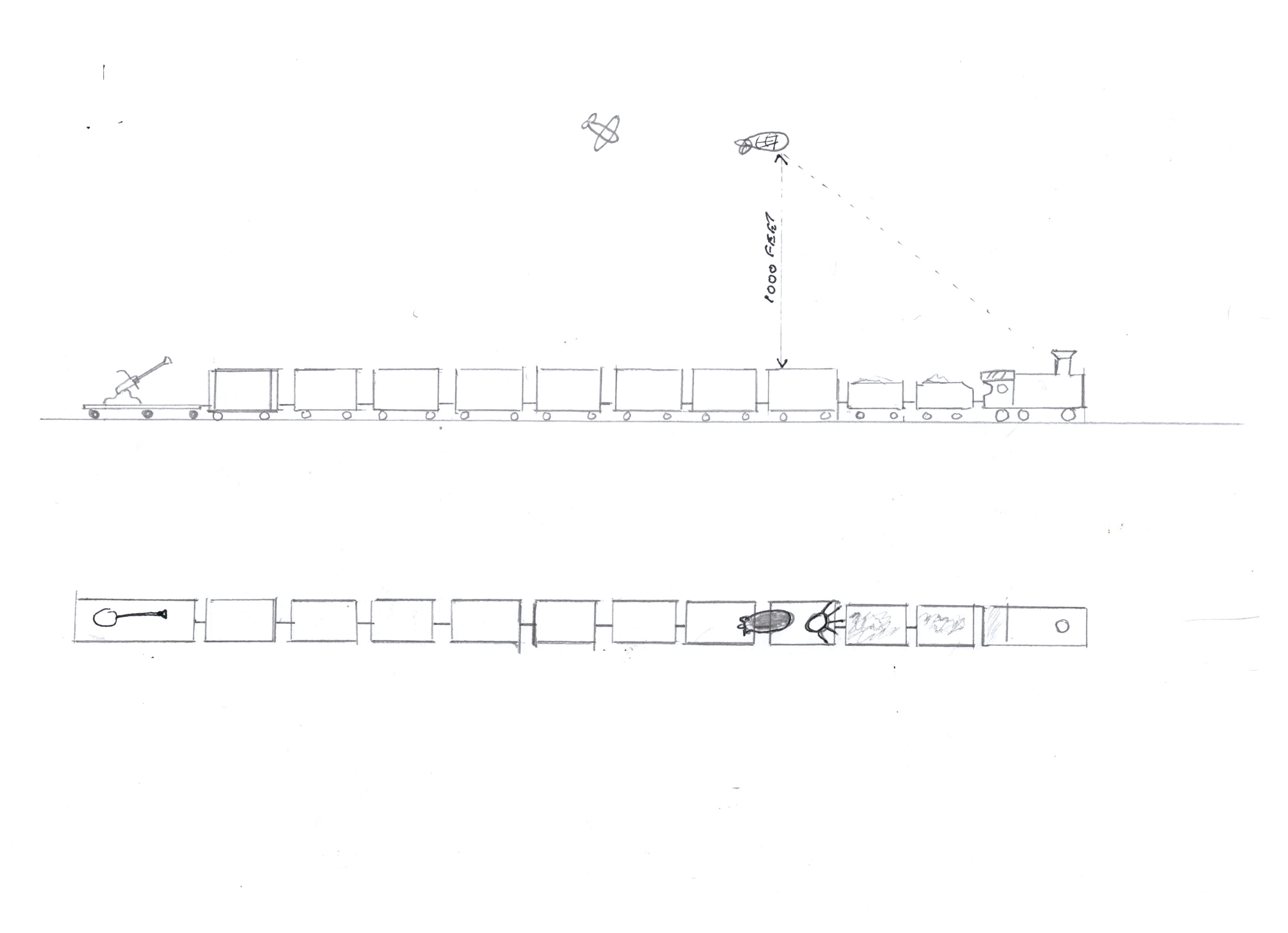 Carter met with Colonel Nash, Mr Cotching (Chief Mechanical Officer of the Iraq State Railways) and Mr Hollick ( Salachiyah Railway WorkShop Superintendent)
at the Salachiyah railway workshops, some 4 miles north-west of Baghdad.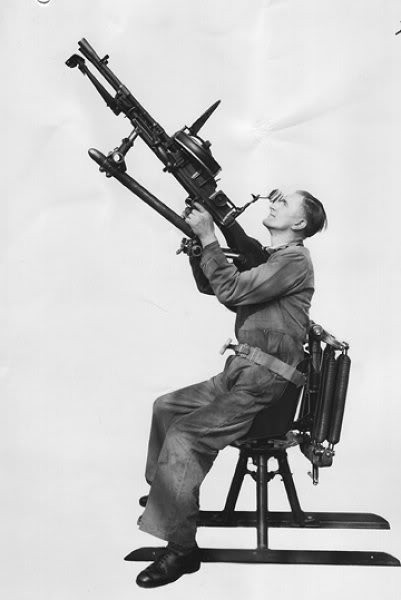 There Carter saw a railway truck that had been modified to take two, of what were known as "Motley mountings" on which a gun could be fixed.
Colonel Nash requested drawings of the winch that would be needed to fly a balloon, so he could devise a mounting on a truck for it. In addition, Mr Hollick
had designed an ingenious trigger device that meant that two guns could be mounted as a pair and fired by one trigger. Carter returned to Abadan on 8th September 1942.
Carter surveyed the railway and found a number of overhead obstructions:
Baghdad to Basra - Khirr Bridge
Baghdad to Jaloula – Tunnel
Jaloula to Kirkuk – Two aqueducts over railway
Baiji to Tel Kotchet- Femaf Bridge, Wadi-Quarab Bridge and the Mosul Tunnel.
In addition, Carter stood on the footplate of the Tehran to Rag-Guard train for the entire journey and monitored any overhead wires. He found 32
telephone wires and 2 electrical cables crossed the line. He also noted that there were over 100 tunnels close together. These meant that the
tunnel area precluded the flying of balloons. Further surveys of other railway routes showed many obstructions.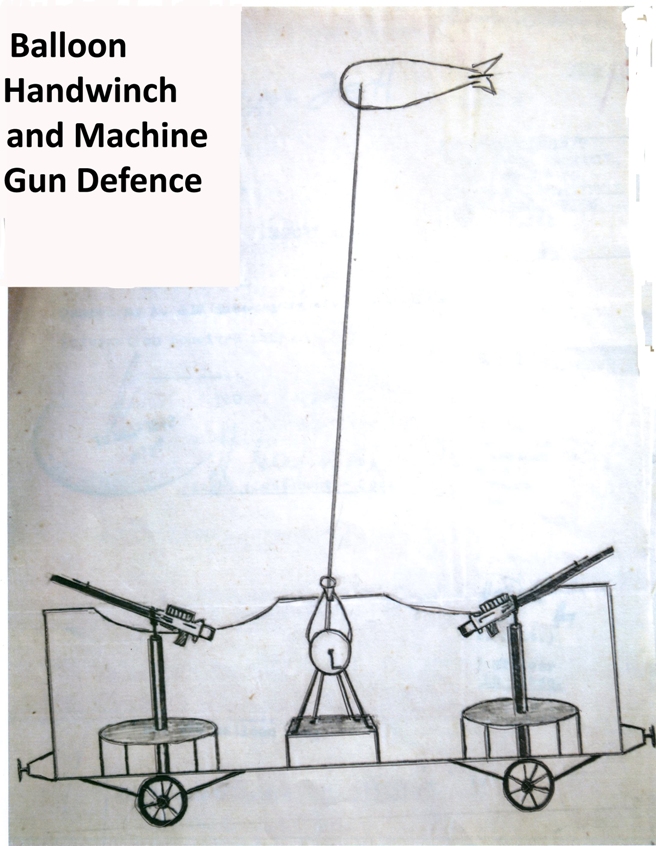 On 9th September men from a flight of 971 Squadron R.A.F., M.E. were selected to trial train protection. They were sent to Misheifa.
Eventually the initial selection of one officer and 36 men was upgrade to 66 N.C.O's and men. The balloon operation and anti-aircraft
gunner duties were to be carried out by a crew of two but was upgraded to three men.
An "A" type hydrogen plant was set up in Misheifa marshalling yard where all balloon inflations were carried out. Hydrogen cylinders
were delivered to Capuzzo and Bel Hamid for on route topping up.
Trucks were modified at Gabbari, machine gun mountings were placed at each end of a truck and an Admiralty type winch mounted in
the centre but raised so the leading off gear was clear of the roof. Holes in the truck roof were some 8 foot in diameter and due to this
were found to limit the protection for the gunners so a cupola was added. Plastic armour was added as a concrete pill box design was
tried and was deemed a failure. Several types of guns were trialled, Browning, Lewis, Hotchkiss, Vickers, and Bren. The twin Lewis 0.303
was deemed the best of the guns. A quadruple Browning and a mounting were in production.
Each train was made up of Engine, Tender, Water Tank, Anti-aircraft truck, General Trucks, and at the end of the train was an Anti-aircraft
truck and a Guard's / Brake Van.
Two bases were set up on the Western Desert Railway: Caruzzo and Mishiefa some 70 miles apart. Each base had a Wickham Winch installed.
From this winch the balloon was armed and let up to 1000 feet altitude and then using rope legs was transferred to the train winch.
At the end of each journey the balloon was taken off and affixed to "dead men" to form part off the static balloon barrage. As the train
moved a good cable angle was formed and an optimum speed of 24-28 m.p.h was best. Over this speed and the balloon flew too far off to protect
the train.
Balloon protection was used for three daily trains from Misheifa and Capuzzo and back. Balloons only flew from the forward truck as it was felt
the regular stopping and starting might fire off the inertia links.
Balloon protected trains operated for many months along the dangerous stretches of the Western Desert. No Nazi attack was ever made and
as a result the balloon defence of trains was never tested. As a result, the powers that be decreed that "there is no advantage to be gained
by continuing with this project".
It was unfortunate that this form of defence was never tested, and it is unfortunate that nobody in authority considered trying a series of
mock attacks using R.A.F. planes.
Balloons towed by ships at sea were clearly successful in thwarting enemy attacks and reduced losses at sea and because the balloons used on
trains were never proved as being effective at reducing attacks. One possibility to consider is that trains moved in a straight line and ships at sea
tended to zig and zag and that would have potentially made ships more successful at being protected by balloons.
© Peter Garwood April 2019