Barrage Balloons Protecting Sheffield Before and During The War.
In 1939 Sheffield was one of the best steel production centres with a large number of other essential manufacturing companies spread around. All these were essential to the war effort. If they were put out of action then the supply of vital items of equipment would be compromised. The history of barrage balloons in Sheffield goes back to pre-war auxiliary squadrons: It was decided that these new ideas for balloon protection would be manned by men in a similar way to the existing County Territorial's had enlisted men into the army. Each Squadron was given a county name. Since men living in in a county tended to join a County Territorial Association there was considered very little need to have a barracks for them, they were part-timers and could live at home each night and even have their meals at home, so the Ministry of War along with the Royal Air Force saw these as a very low cost group of reservists, initially weekend airmen who might do a short weeks camp and practice and drill then.
Once the decision was made to start raising these squadrons, commanders were selected from many of the men who had shown their mettle in the Great War. So ex-army and navy types would volunteer to accept a commission and help out with the training, organising and setting up of this new defensive force. No. 33 Group Royal Air Force decided to set up No.!6 Balloon Centre in Sheffield.
On 8th March 1939 Captain R. Caley M.C. accepted a commission as a Squadron Leader and was put in command of of 939 Squadron (West Riding) and was the very first Royal Auxiliary Air Force officer to serve in Sheffield- 90652 Squadron Leader Caley. He must have found commanding airmen quite different to the style of army command he had been used to! He may have been a prisoner of war in the Great War as a man of the same name and rank is listed as such.
Borrowing whatever accommodation he could he set to work ably assisted by 74862 Flight-Lieutenant Edward Osmond Whitamore (later Squadron Leader) whose son, William Michael Whitamore, was killed in 1941, while serving with 81 Squadron. A small staff of regular Royal Air Force men were assigned to help with the setting up at the centres across the country.
The government had decided at a conference at Cardington in March 1936 that in terms of the men they wanted for the balloon work they were to be men of a lower medical grade that would have rejected them for normal service and an age limit for Airmen of 32 to 50, with N.C.O.'s to be age 55. Officers to be age 32 to 50 years of age. This meant that the majority of the intake would have at least been born before the Great War and many would have served in it.
This age range and medical group would ensure that the younger and fitter men were to be used in the event of war for regular service, while the older men would be good material for the territorial services. The threat of war was clearly imminent and the men turned out in droves to enlist in this auxiliary service. Some had served in balloons during the war, mainly with observation balloons, a few with the balloon aprons around London that had constituted the earliest air defence using balloons in the country. Between March and August around 1,000 men had joined up. The Air Ministry chose 192466 Wing Commander Ralph Eric Maxwell Cherry M.C to become Commanding Officer of No.16 Balloon Centre and the three Auxiliary Air Force various squadrons in it.
Wing Commander Cherry had served with the 2nd Battalion West Yorkshire Regiment in the Great War and winning his Military Cross in 1917 and marrying one Marie Polita Dulin in Switzerland in 1927.
In February 1939, No.16 Balloon Centre took over a very small office at No. 641 Attercliffe Road and began enlisting men for the Royal Auxiliary Air Force.
If you click on this link it takes you to a picture of 641 Attercliffe Street in 1937- you can even buy a 10 x 8 picture of it!
http://www.culturegrid.org.uk/static/showResource/2786363
Today it appears to have been demolished and is a car/van hire yard.
This office was only big enough to use as an administrative building and more floor space was sought elsewhere. By September this provided almost 1,000 men who undertook initial barrage balloon training at an old empty sweet factory on Bridge street, this had to serve as Squadron Headquarters, but was still too small to permit demonstrations of balloon inflation and deflation inside. A balloon hangar was needed. It was not until 24th August 1939 that the three constituent squadrons were embodied and mobilised at Bridge Street. Despite the lack or adequate practice and training the squadrons began to fly balloons in Sheffield on the 26th August 1939.
The RAF then acquired a site at Lightwood, began constructing buildings, and in June 1939 moved from the temporary offices at Attercliffe to the new No. 16 Balloon Centre at Lightwood. Much training and setting up of new balloon sites around Sheffield took place. The Auxiliary men were aided by regular airmen making up around 10% of each crew. This addition of regular hands made the initial inflation, letting up and hauling down a smoother experience for all.
It was planned that each site would have a telephone through which the order to deploy was to be given. This was not possible and various means of getting the information out to the crews was used, cars, dispatch rider and even the local policeman on his bike made their way rapidly to give the order. With time telephones were installed to speed up the deployment.

No.16 Balloon Centre had three squadrons: 939 Squadron (West Riding) with 40 balloons at Sheffield, commanded by S/Ldr R. Caley M.C., and their flight commanders: Fl/Lts. W.M. Gibson, S.D. Dickinson and F. Fulford with headquarters at Broomgrove Road and 940 Squadron (West Riding), commanded by S/Ldr H. Hall, and their flight commanders: Fl/Lts. A.S. Furniss, O.S. Holmes, and W.S. Pattison, with headquarters at the Station Hotel, Rotherham with 32 balloons at Rotherham. Wing Commander Cherry resigned his commission, at the end of 1939 as the Ministry of War had other uses for him and Squadron Leader Caley took over becoming Wing Commander.
It also encompassed 941 Squadron (Central) as well, commanded by S/Ldr R. E. Wilson M.C., and their flight commanders: Fl/Lts. N. Harland, A.L. Baker, and R.G.A. Colley, with headquarters at Scott Road, Osgathorpe.- disbanded in 1941. The two remaining squadrons were re-organised by transfer of two flights from 941 Squadron to 939 Squadron and the remaining flight from 941 squadron was sent to 940 Squadron. Squadron Leader Hall in charge of 939 Squadron was promoted to Wing Commander. In the spring of 1941 Fl/Lt Fulford became a Squadron Leader in command of 940 Squadron and S/Ldr Wilson was promoted to Wing Commander in charge of 939 Squadron.
In June 1939 women learnt of the Royal Air Forces plans to have a Women's Auxiliary Air Force reformed after it was disbanded in 1920 and were recruited in large numbers for a number of duties, but not initially to fly balloons. They were commanded by 113 Flight Officer Clara Milnes Spafford who was a formidable officer, originally joining in October 1938, and promoted the W.A.A.F. in so many ways. She was one of the early officer entrants into the W.A.A.F as is shown by her low number (113).
It is no doubt due to the efforts of Fl/O Spafford, and Air Chief Commandant Jane Trefusis-Forbes (later Dame Jane Trefusis-Forbes) that the famous experiment to see if women crews could "man" balloons successfully was carried out at No.16 Balloon Centre. 939 Squadron was chosen for the trial and "D" Flight was used to see what they could do. In July 1941, 8 W.A.A.F crews, (324 women at least), began to fly balloons and showed that with the right training and encouragement, with 16 women instead of 11 men they could adequately fly a balloon. This marked the start of Norton along with Cardington becoming a centre of excellence for the training of women in balloons and allowed men to be sent elsewhere for other vital tasks, thus helping the war effort enormously. This was seen in some areas as a humiliation to men who had served in balloons but in other areas women considered it very empowering. In order to fly balloons women had to understand that they were going to be using lethal force and their actions could kill any aircrew who struck the cable. As a result all women in Balloon Command had to volunteer for the duty and sign a document in which they agreed that they fully understood what the work entailed and the possible lethal consequences it might mean for aircrews. There was no shortage of volunteers!!!! It was hard, dirty and dangerous work. Often the only accommodation in the early days was a wooden hut. If the balloon on your site need to be attended to everyone was hauled out of bed even if it was 2.00 a.m.
There were newspaper articles giving information out that women were to do balloon work :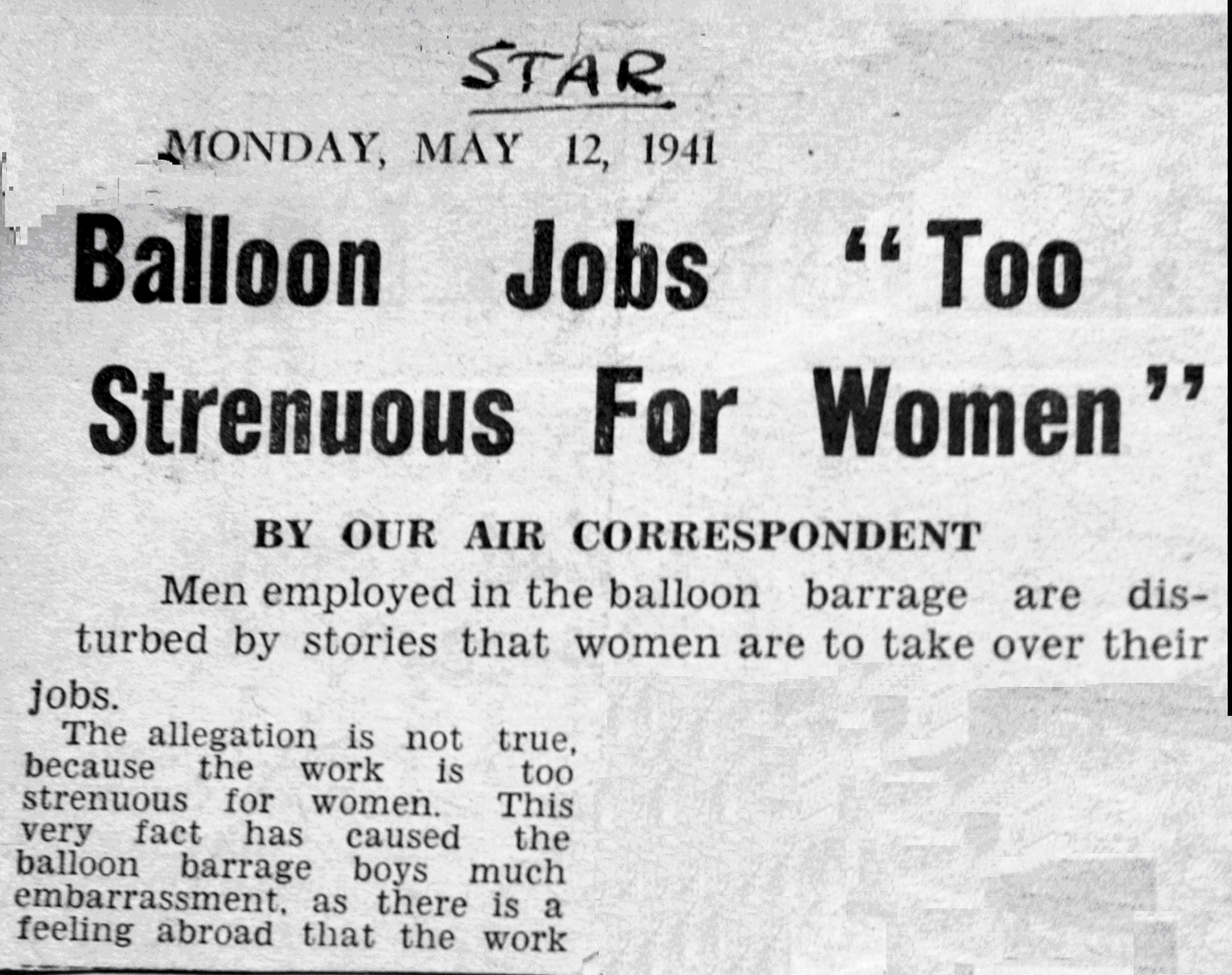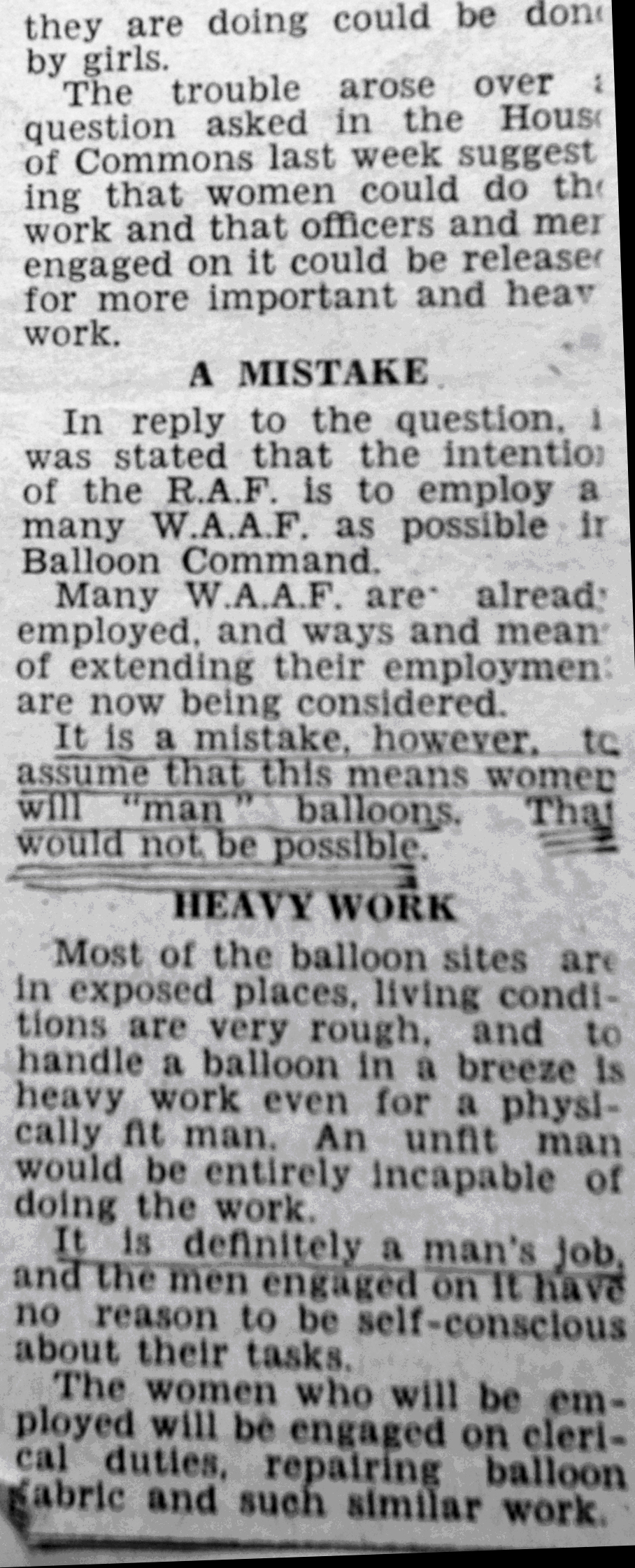 During the war a film documentary crew were filming many aspects of Sheffield and at some point they managed to film
a barrage balloon crew letting up a balloon, with an all female crew.
The film is very long and has no sound but is very good indeed. The balloon crew are not in it until later, it is at Yorkshire
Film Archives Film Sheffield at War No. 2881. 940 Squadron was given more balloons to protect the eastern area of Sheffield
and its commanding officer, Squadron Leader Fulford, was promoted to the rank of Wing Commander.
Wing Commander R. Caley M.C. was promoted Group Captain, and departed Sheffield to run Birmingham barrage, which
was at one point the biggest balloon barrage centre in the country.
Group Captain N. W. R. Mawle, D.F.C. arrived at Norton.
The raids by German aircraft reduced considerably and eventually due to lack of enemy action the barrage at Sheffled was reduced.
Wing Commander Wilson was posted to Liverpool, to begin a new adventure with coastal command, and the Sheffield barrage was
shrunk to just one Squadron under Wing Commander Fulford.
When Group Captain Mawle relinquished the Sheffield Area Command, he was succeeded by Wing Commander R. B. Dowling, who
remained until the balloons were all deflated, packed up and sent to defend the country from the flying bomb attacks.
The R.A.F. Station at Norton was equipped with a fantastic hospital run by the Senior Medical Officer, S/L. J. Connell.
On the outbreak of war the squadrons were ready to go into action as described lower down by Mr Jowle.
I am trying to gather some information on these two sites shown below in Sheffield.
This first one was a site for Barrage Balloon activities in WWII. It is at Mount Pleasant, Sharrow Lane, Highfields, Sheffield S11 8AE.
The building has had many uses over the years and is owned by Sheffield Council.
These sites were part of No. 16 Balloon Centre, Norton, Sheffield.
I am listing below four documents given to me about the history of the balloon site at Norton that appear to have been
put together by Paul Allenby a local aviation historian in Sheffield.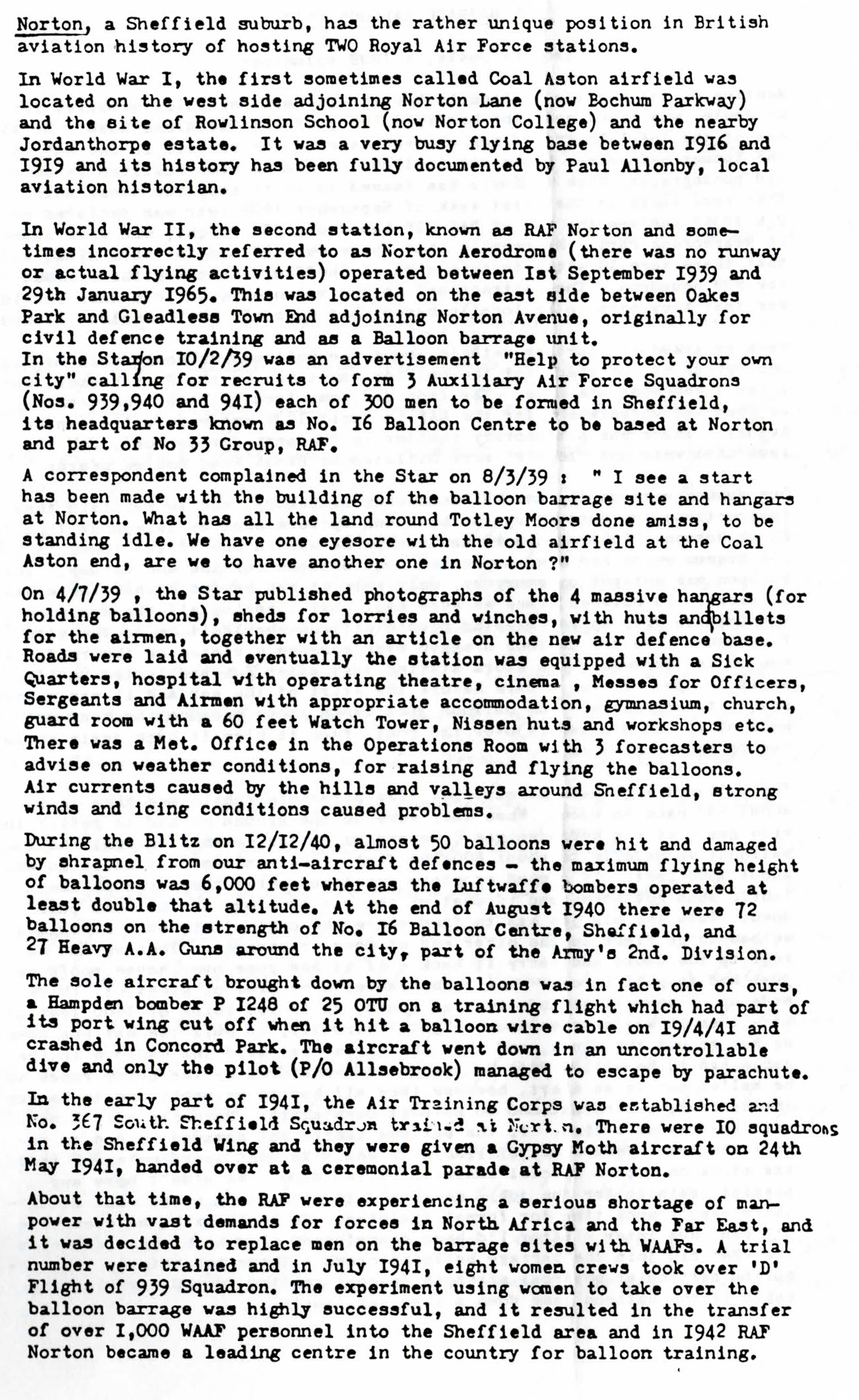 The man who died when the Hampden struck a balloon cable was: 61957 Pilot Officer (Observer)
JEFFERY BOHUN RANSON , age 26. Son of Ernest and Florence Ranson, of East Hanningfield , Essex.
Buried at SHEFFIELD ( CITY ROAD ) CEMETERY, Sec. H. Grave 994.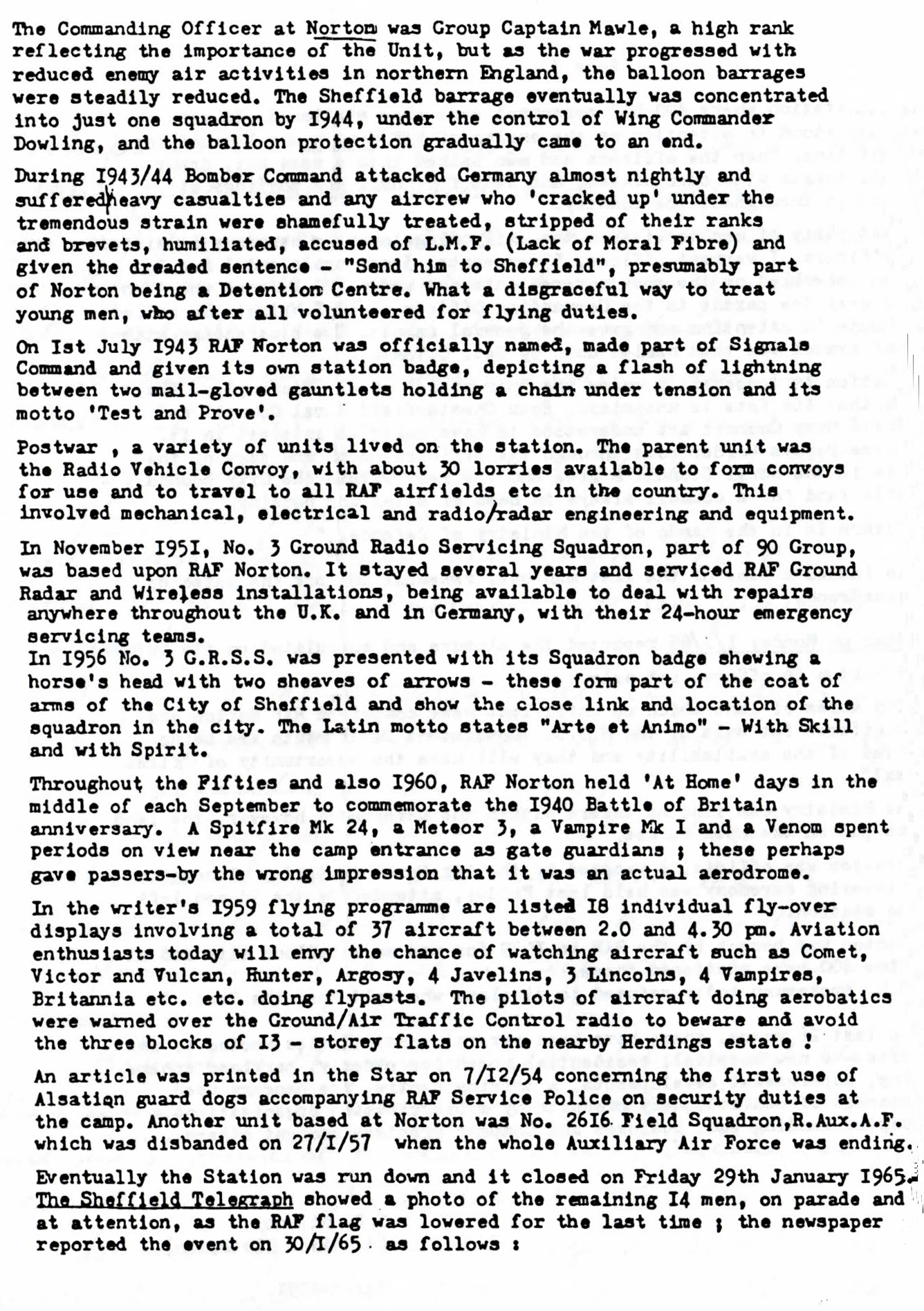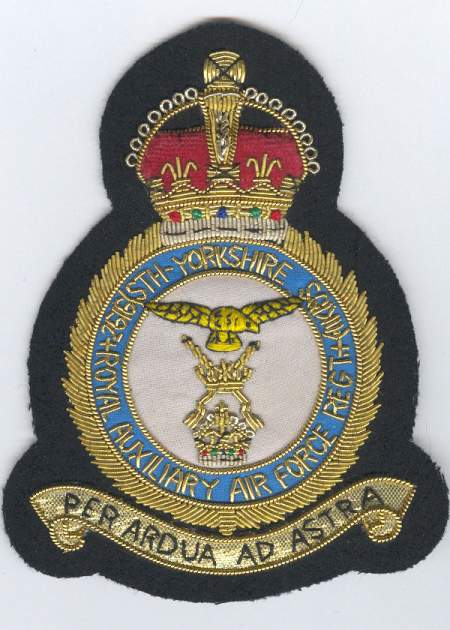 2616 Squadron Royal Auxiliary Air Force Regiment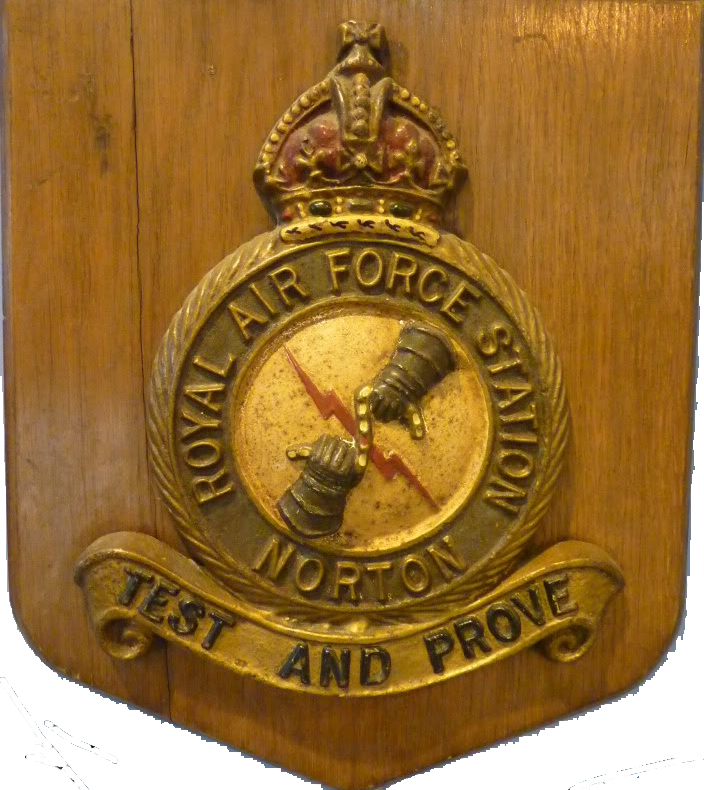 Royal Air Force Station Norton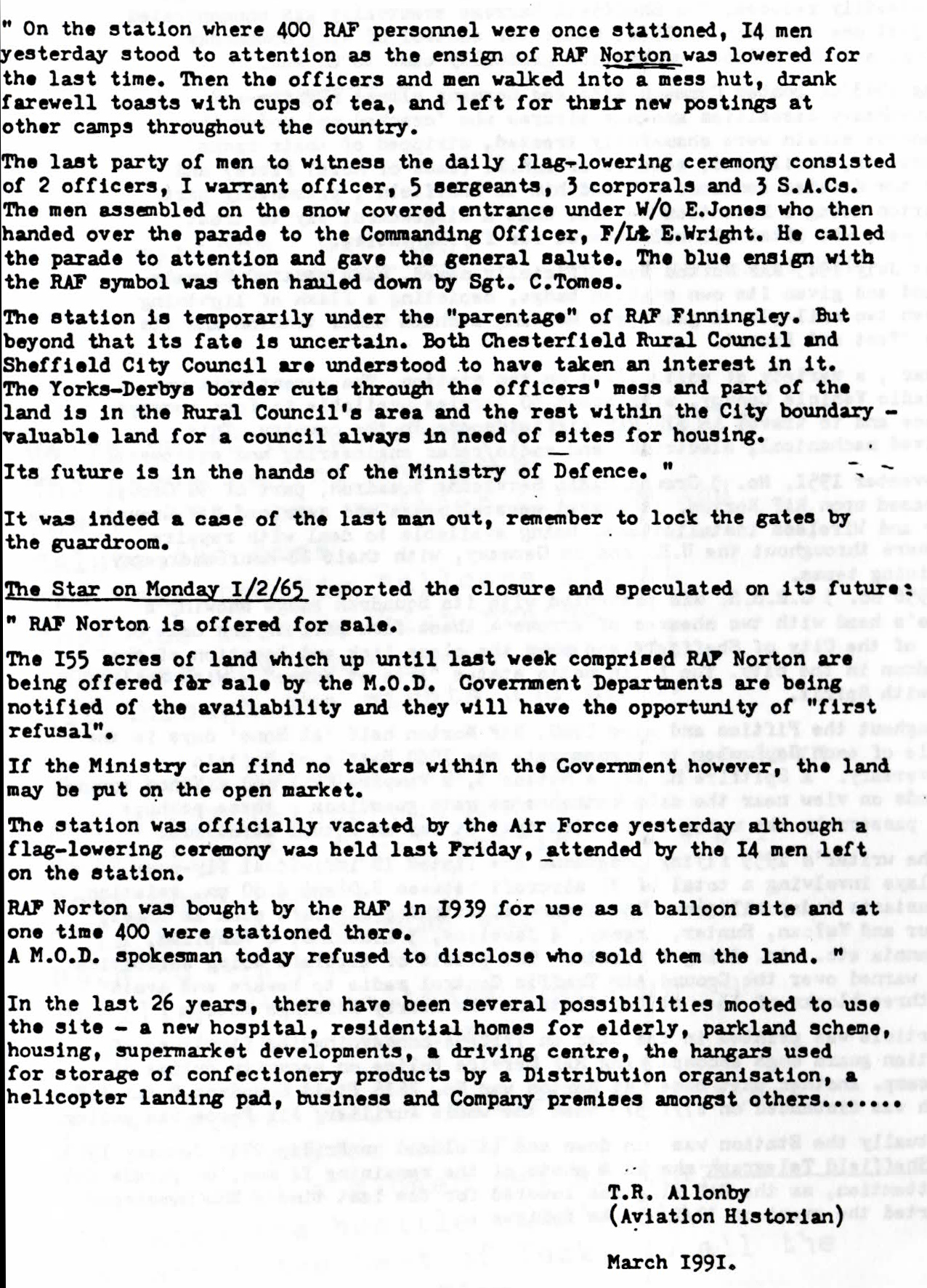 Group Captain Mawle D.F.C. was originally a Lieutenant in World War I and had been a flying ace with 12 aerial
victories to his name. Post WWI he worked in civvy street and when it was realised that men of his calibre who
could command men were needed- he joined up again. He began life in the Auxiliary Air Force as a Squadron Leader
with 913 Squadron (County of Warwick) and then commanded 911 Squadron (County of Warwick) throughout few
months before the outbreak of war. He had shot down a number of enemy observation balloons in WWI and obviously
knew the weak points of balloons. He was then promoted to Wing Commander in September and sent to command
the balloons at Norton.
And now one of those unique little gems about a man, Mr Jowle, a pre-war auxiliary airman, who served there
and described some of the balloon activities in his own words.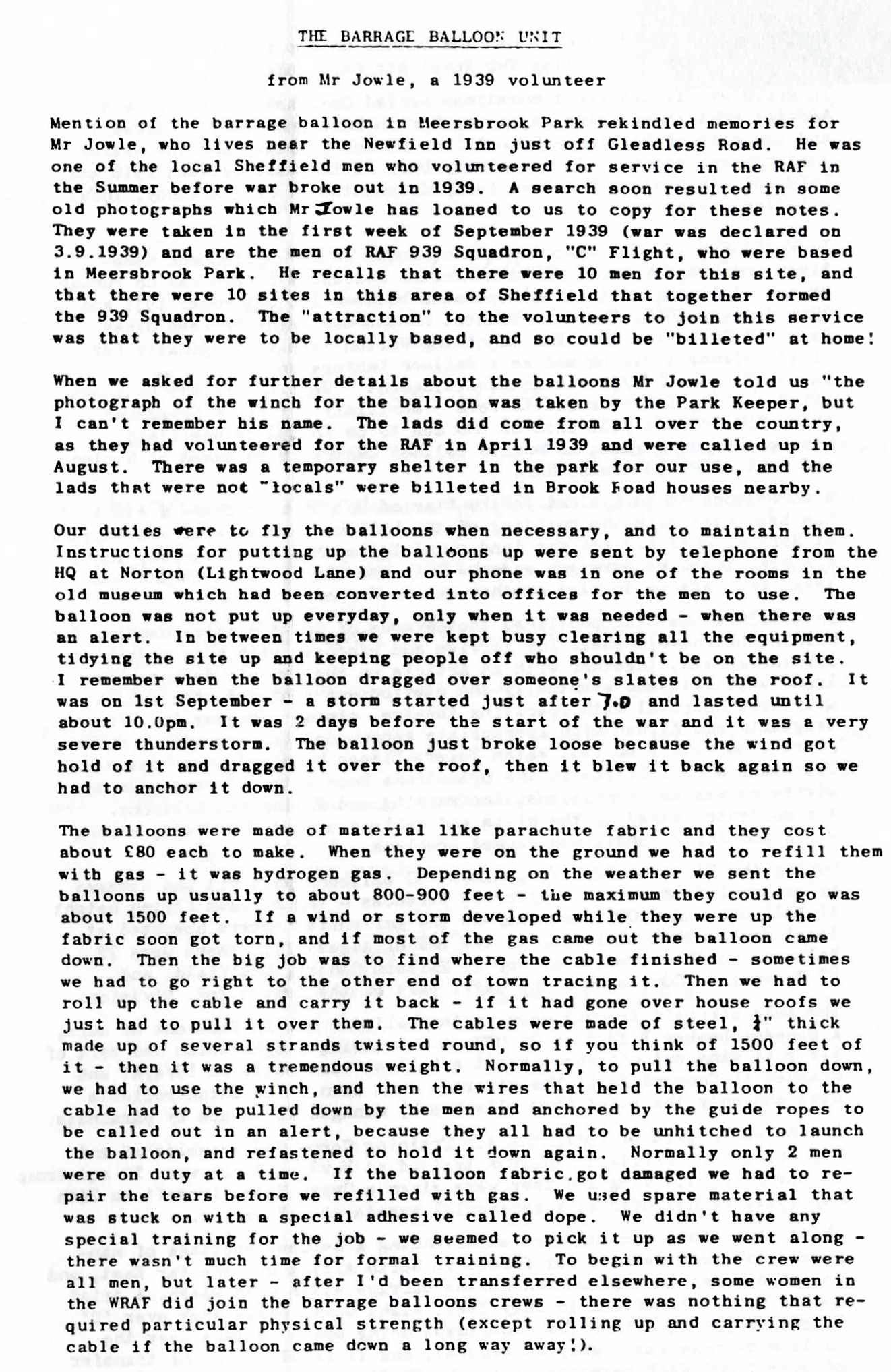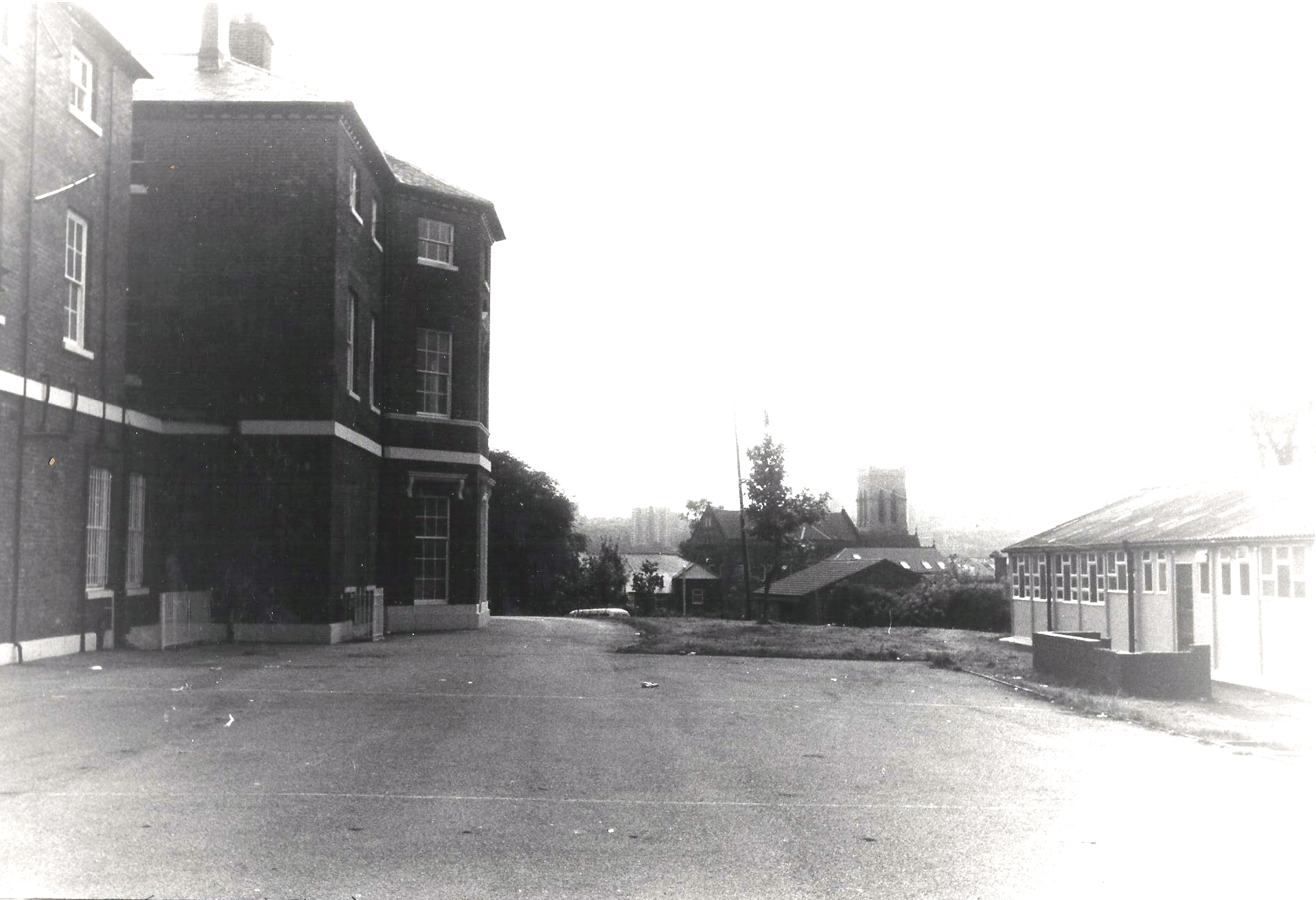 Mount Pleasant, Sharrow Lane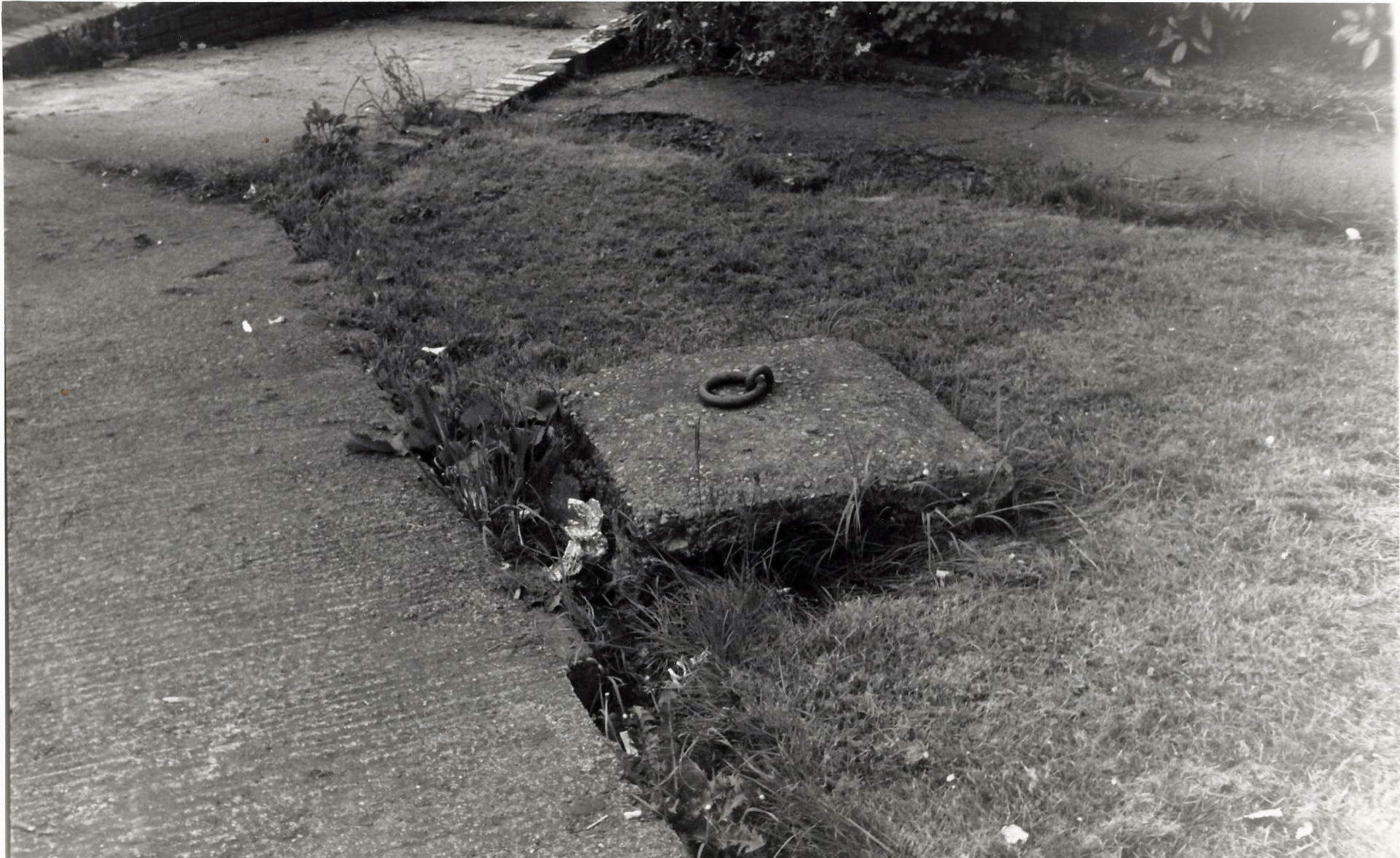 Mount Pleasant, Sharrow Lane Behind the house is this classic WWII mooring block. If anyone can give any further
information or may have served at this site please contact me at: peter.garwood@bbrclub.org.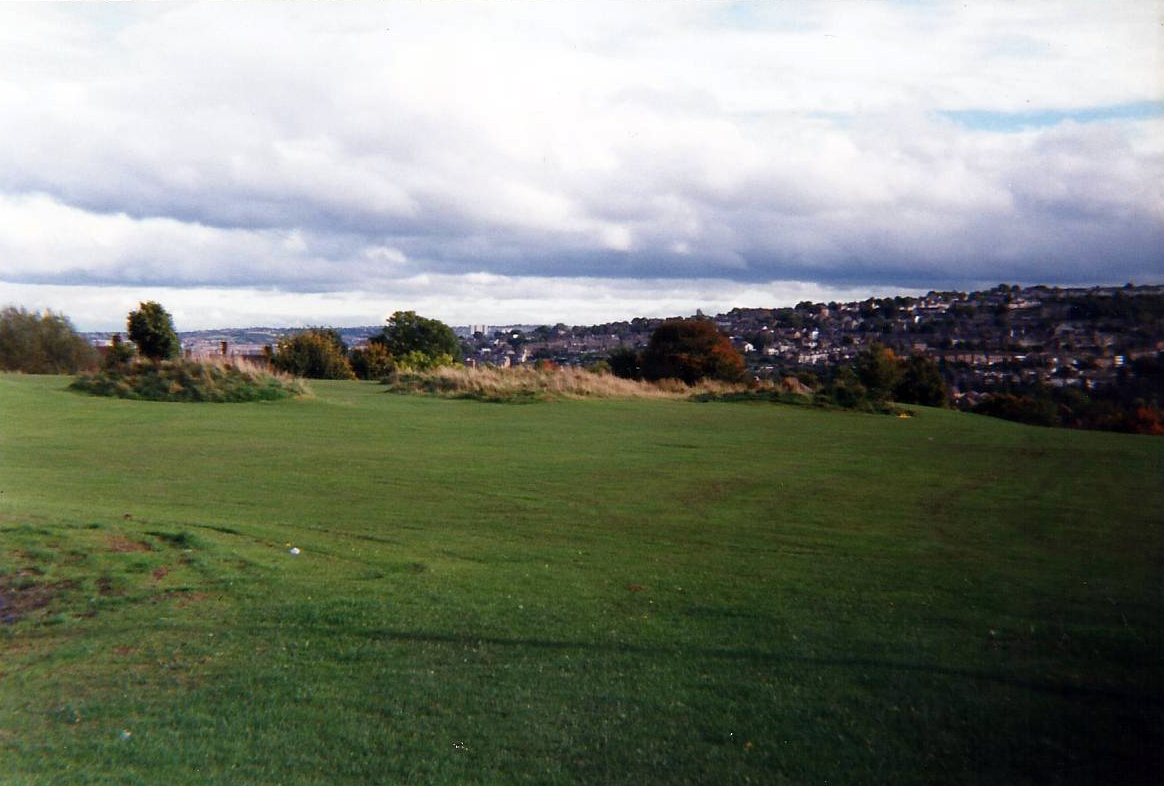 This area was also a WWII barrage balloon site. If anyone can give any further information
or may have served at this site please contact me at: peter.garwood@bbrclub.org.