Balwnau Amddiffyn (Balloon Defence)- Barrage Balloons at Pembroke Dock in WWII.
A plaque is to be found in Pennar, Pembrokeshire that shows a barrage balloon that has broken away from it's mooring at St. Patricks Church
and then drifted over Bufferland cutting off the chimneys and slates of the local houses.
It is remembered for the damage it caused rather than the protection it gave the inhabitants!!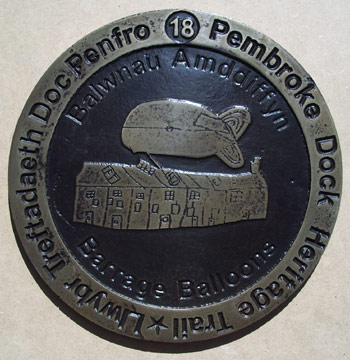 This is to be seen at the Llwybr Treftadaeth Doc Penfro – Pembroke Dock Heritage Trail
Robert James Sculptor made these as part of the Heritage Lottery Funded project working with children in the six local schools; Bush Comprehensive School, the Pembroke Dock Community School, St Marys RC School, Albion Square Infants School and Pennar Infants and Junior Schools.

Inspired by old photographic images showing the rich history of the Town , the children created designs that form a Town Trail. A map and anthology of children's writings will guide people around the Town.

The cast bronze plaques are designed to be 'brass-rubbed' so the 39 different images can be 'collected'.
To see the whole collection online visit: http://www.robertjakes.co.uk/enl_RP_PD_trail.htm