983 Squadron - Balloon Barrages in Malta, Corsica and Elba- 1943 to 1944
983 Squadron had a very short existence and although set up to defend Malta it ended up being dragged into defending the beach landings at Elba.
The decision was made to have a Balloon Barrage to defend the Grand Harbour, Malta in February 1943. Reconnaissance showed that it was possible
to fly the smaller Mk VI balloons on the island. Due to the aerodrome at Luqa having the runways in the direction of the harbour it was realised that
when the barrage was in operation it was imperative that the letting up or hauling down of balloons was a process that needed to be accomplished
faster than any other barrage had ever achieved in the Middle East. On February 1st, 1944 there was a complete Balloon Squadron in transit from
Persia. This was a Squadron from the Persia and Iraq forces (PAIFORCE) and is incorrectly named as 983 Squadron in official records. It may well
have been 973 Squadron.
The best and most efficient balloon operators of the Mk VI balloons were vital, and these were drawn from 974, 975 and 971 Squadrons in the Middle
East. On 1st February 1943 and the deficiencies in these Squadrons were made up from the Squadron in transit (presumably 973 Squadron).
The balloon Squadron en route to Malta was named "983 Squadron Detachment", they were at No. 24 Personnel Transit Centre, Aboukir under the
command of Flight Lieutenant E. Rankin. Equipment and clothing were checked, pay books verified and inoculations given. Three pack-ups were being
shipped in secret to Malta, code-named BEEFY I, BEEFY II and BEEFY III. One set of balloon equipment was in BEEFY I and was designed to last 8 weeks
and a second reserve set was in BEEFY III and was designed to last 3 months. BEEFY II was a pack of barrack equipment. In addition, an Orderly Room
pack-up was organised to supply a typewriter, all stationery and copies of Air Publications.
Flight Lieutenant E. Rankin flew out to Malta on the 14th February 1943 and arrived on the 15th. Flying Officer R. H. Chambers oversaw the 983 Squadron
Detachment. On 16th February 983 was at Alexandria Docks and embarked on 3 Cargo vessels. They had to sleep on the decks and in the cabs of vehicles
on the deck. They had 7 days rations and left on the 17th February. The convoy was made up of thirty ships, a mixture of Merchantmen, tankers and the
troopship, "Princess Kathleen", escorted by Destroyers. Just off Triploi the convoy broke up and five ships sailed for Malta, arriving on the 22nd February.
Flight Lieutenant E. Rankin had organised accommodation and bus transport from the docks to the billets.
Between 23rd February and 2nd March 1943 land and billets were requisitioned for 21 balloon sites. Equipment requests were ignored. Squadron
Headquarters were at Marsa Pavilion which was shared with an anti-aircraft gun crew from 223rd Light Anti-Aircraft Regiment. There was to be no
Flight Headquarters. Some of the Squadron were given he task of cleaning up and readying the Pavilion and the remainder were sent to help the Air
Ministry War Department to build aircraft pens at Luqa.
Equipment began arriving between 3rd March 1943 and 23rd March 1943. The BEEFY II barrack equipment appeared to have gone astray, but luckily,143
Maintenance Unit made up most deficiencies which meant that sites could now begin to be established on 14th March 1943. In desperation Flight Lieutenant
E. Rankin flew out to the Middle East to see why the equipment was, typically while he was away there was a sudden arrival of equipment! This was unpacked
at the Pavilion. men were recalled from the aerodrome into the Squadron Headquarters and began setting up balloon sites with tentage. Construction of concrete
central anchorages and winch blocks was carried out and by 23rd March 1943 twelve balloons were ready to fly.
Air formation signals laid telephone lines and a 30-line switchboard with a broadcast apparatus. Flight Lieutenant E. Rankin returned to Malta on 22nd March
1943. Senior Air Staff Officer Riley met with Flight Lieutenant E. Rankin and operational orders were drawn.
It was planned to have 15 balloons around Valletta Grand harbour and later six balloons would be placed around the Lazarette Submarine Base. The minimum
number of operatives for a Mk VI balloon was four and to enhance good operational control one Maltese Airman per balloon crew made a great asset to the
Squadron. As the Maltese Airmen were being trained in balloon operation their skill and ability would have improved considerably and it was planned that
the crews at Lazarette could be all drawn from Valetta. All the balloon sites were accessible by road and no Marine craft were needed in servicing them.
The balloons were to be flown at 500 feet by day and night and when an Air raid Warning was given they were to be flown at 2000/2500 feet. All balloons
were under direct control of Senior Control Officer through Flight Headquarters.
The Headquarters were to have 2 x Three-ton trucks, 1 x Light Van, 1x Motor Cycle, 1 x Bicycle, all with a range of likely spares. 15 miles of telephone wire
were needed with 25 telephone sets and three hand/breast sets.
Initial Balloon sites were at:
No.1 Balloon Site was at Pin Point 485 267 on the roof of K.C.M.R. Barracks, lower St. Elmo Fort, St. Elmo. It is War Department property. Crew to be
accommodated in two rooms on west side of the building on the roof. Crew rations were to be drawn by or from the Bofors crew in the Fort.
No.2 Balloon Site was at Pin Point 486 261 on the bastion of the East side of Imgerbeb Gardens, this was War Department property. The Bofors crew here
would move and be replaced by the balloon crew. On the edge of the bastion facing the harbour was a 12-pounder gun. Water was available, but rations
were to be drawn from Headquarters.
No.3 Balloon Site was at Pin Point 479 256 this was a band stand area in the Prince of Wales Gardens surrounded by railings about 2 feet No.2 Balloon Site
was at Pin Point 6 inches high. The area was about 60 feet by 50 feet and was a civilian property. Nearby were two arches under which was tentage occupied
by the Smoke Screen Defence unit. This unit was about to leave, and the balloon crew would take this area over. Water was available, and rations were to be
drawn from Headquarters, the balloon site was accessed by a road leading through the gardens.
No.4 Balloon Site was at Pin Point 474 249 this was an open space on top of the bastions at Gun Wharf Point? Water was available, and rations were to be drawn
from Headquarters.
No.5 Balloon Site was at Pin Point 468 247 Spencer's Monument an open space at the left-hand side of the road leading to the water, between Government houses
and the Flour Mill some 200 yards from the Monument. It was civilian property. Water was obtained from the houses and rations were to be drawn from Headquarters.
No.6 Balloon Site was at Pin Point 464 242, this was just off the road from Floriana to Marsa where a path led to the top of Jesuit's Hill and there were some ruined
houses. The site was on an open site between the path and Flour Hill. It was civilian property. Water was obtained from wall by the houses and would need boiling,
rations were to be drawn from Headquarters.
No.7 Balloon Site was at Pin Point 462 235, this was outside the Marsa Sports Pavilion. It was War Department property. Accommodation was in the Pavilion.
No.8 Balloon Site was at Pin Point 462 235, this was on open ground behind and to the east of the Cold Stores at Marsa. It was civilian property. Water was obtained
from one of the "Bars" on the front, rations were to be drawn from Headquarters.
No.9 Balloon Site was at Pin Point 475 243, this was at Oil tanks on Corradino Heights on the east of the bastion running North-West to South-East. It was Naval property.
Water was obtained on site, rations were to be drawn from Headquarters.
No.10 Balloon Site was at Pin Point 401 239, this was at the Hockey Ground, Corradino. It was Naval property. The site was between the Hockey pitches opposite the
Pavilion on the other side of the ground, accommodation was in the Pavilion. Water was obtained on site, rations were to be drawn from Headquarters.
No.11 Balloon Site was at Pin Point 484 247, this was at the end of No.2 Dock entrance and was Naval property. Water was obtained on site, rations were to be drawn
from Headquarters.
No.12 Balloon Site was at Pin Point 482 543, this was on top of Isola (nowadays known as Senglea) Point in the Gardens. A number of trees were removed to make the
site. It was civilian property. A Pom-Pom gun was previously on the site. Accommodation was the second house in Two Street. Water was obtained on site, rations
were to be drawn from Headquarters.
No.13 Balloon Site was at Pin Point 492 245, this was an open asphalt Square, St Margherita Square Cospicua. It was civilian property. Accommodation was in a damaged
house named "The Rest". At the back of the house was large room 50 feet by 22 feet by 18 feet. This was used for servicing balloons. Water was obtained on site,
rations were to be drawn from Headquarters.
No.14 Balloon Site was at Pin Point 495 251, this was in Kalkara village. The site was in an open space between the houses on the west side of the road. It was civilian
property. Accommodation was in a requisitioned house. Water was obtained on site, rations were to be drawn from Headquarters.
No.15 Balloon Site was at Pin Point 491 261, this was in Fort Ricasoli. Ii was on the north-East side of the Fort and between the old BAC gun emplacements. It was War
Department property. Accommodation was in the old Magazines. Water was obtained on site, rations were to be drawn from the nearby Bofors crew.
No.16 Balloon Site was at Pin Point 474 20, this was a rubble tip close to the Military Police Barracks. It was civilian property. Full Barack equipment was needed as no
accommodation was to be had. Water and rations were obtained by sharing with the Military Police.
No.17 Balloon Site was at Pin Point 464 258, this was at the west of the Civil Hospital Gwardamangia on an area marked out as foundation for another building. There
was a Bofors gun 100 yards away. It was civilian property. Accommodation was in a new empty building some 50 yards north-east of the site. Water and rations were
to be drawn from Bofors crew.
No.18 Balloon Site was at Pin Point 462 266, this was at a grass plot behind No.1 St Augustus Bartolo Street, Gzira (this street now forms part of Ta; Xbiex). It was civilian
property. Accommodation was with Royal Engineers Mechanical Engineers at house Nos. 4-5. Water and rations were to be drawn from the Royal Engineers Mechanical
Engineers.
No.19 Balloon Site was at Pin Point 468 274, this was at Sliema Creek, in front of the High-Speed Launch billets at Sliema, within a walled in space. It was War Department
property. Accommodation was with Barrack Equipment.
No.20 Balloon Site was at Pin Point 479 273, this was at Fort Tigne on the concrete cricket pitch between the football and hockey fields. It was War Department property.
Accommodation was within the Fort.
No.21 Balloon Site was at Pin Point 472 269, this was at Fort Manoel, Manoel Island. It was on a concrete square in front of the bridge over the Mont to the Fort. It was
Naval property. Accommodation was in a concrete building on the edge of the site. Water and rations were to be drawn from the fort.
In addition, there was a Balloon Repair Station at Pin Point 486 263. This was at the northern end of the Command Hall, St. Elmo. It had been blitzed and was not in use.
Six fully inflated balloons could easily be held at any one time. It was 120 feet by 36 feet by 40 feet high.
Flight Headquarters were at Pin Point 462 235. This was at Marsa Sports Pavilion. This was War Department property and had been used as a detention room for 40
personnel. It had running water, showers, and lavatories. On the other side of the road was a brook which was used to take the waste from the hydrogen plant.
The personnel involved in balloon operations were made up as: One Flight Lieutenant, one Flight Officer, one Flight Sergeant, two Sergeants, thirteen Corporals, and
119 Aircraftmen. This included a number of Maltese men.
On 23d February it was found that 5 of the 12 operational sites were too close to the aerodrome and re-sited. Eventually 21 sites were established. It was shown that
once the message was received from Fighter Control the balloon sites were operational within 18 minutes. A policy was agreed for the complete replacement of the
barrage if needed. The compressor for the Hydrogen Plant had arrived and was being commissioned. Each balloon site had an immediate reserve balloon to replace
any balloons lost or damaged. This meant replacements were not drawn from the stores. In practice, despite the weather it was never needed to replace the barrage.
Weather forecasts were reliable. Between April-June 1943the Vice-Admiral of Malta sked for five extra balloons to protect Sliema Harbour. These were quickly brought
from the Middle East and when the King George VI visited Malta 26 balloons were flying.
Flying Officer Peachey arrived with 19 Balloon Operators who were a Beach Landing Party. They set up their equipment prior to "D" day of the Sicilian Invasion.
Malta suffered a heavy air -raid and even though the barrage was bedded 90% of the barrage was damaged from falling shrapnel which was also added to by shrapnel
from Naval guns that fell on 4 square miles of the barrage area.
After the Sicilian Invasion life for 983 Squadron was routine and raids on the harbour area stopped. Billet building was carried out and a flourishing garden plot was
also established. Cricket became a regular event along with football when the cricket season ended. Friendly matches with the Navy were popular and a regular event.
Squadron Headquarters were moved to more suitable accommodation. Use of a tennis court was also obtained.
The barrage was very static and as a result surplus equipment was withdrawn. Flying hours were reduced considerably. Some Small Arms Training took place. On January
21st, 1944 orders were sent for 983 to move to Corsica. This began on 8th February 1944.
At 1930 hours the order to move was given and stores were moved from the Headquarters to decks of an LST. This was completed at 1400 hours on 9th February 1944.
At 1730 hours LST8 sailed with Flight Lieutenant Rankin, Flying Officer Chambers and 89 other ranks. They arrived at Bizerte on 12th February. Equipment was unloaded,
and all accommodated in Texas Transit Camp, Bizerte. The Squadron remained in Camp until 24th February. Movement orders were given, and everything was reloaded
onto L.S.T. 402. They sailed for Corsica on 25th February 1944, reaching Maddalena 1000 hours, 28th February. At 0630 hours on 29th February 1944 they sailed for
Ajjacio and arrived at 1700 hours. After disembarking on 1st March 1944, they were in transit at 33 Air Stores Park (A.S.P.), Ajjacio. On the 9th March 1944 the new
Headquarters was at Porte Vecchio and by 18th March the move was complete with preparations for balloon flying being made. On 27th March 983 Squadron took over
commitments of some of 982 Squadron, namely: A Flight at Bastia, with 8 balloons and C Flight at Maddalena with 11 balloons. Notification to fly was given on 30th March
1944 and 983 flew 6 balloons. On 31st March 1944 at 0900 hours all 12 balloons were flying at Maximum Operating height at Porto Vecchio. There were 6 officers and
205 other ranks.

The three flights included men from 982 Squadron and were at Bastia, Maddelelina and the Malta section was at Porto Vecchio.
In April, 11 balloons were lost from lightning and wind. 653977 L.A.C. J. Edwards was punished for being out of bounds on 24th April 1944 in N0.5 Des Ancions Fosse,
Ajaccio. Sentenced to loss of 7 days pay and confined to Camp for 7 days.
In May "C" Flight obtained a motor launch from Royal Navy for servicing and inspection of waterborne sites. 7 balloons lost on 22nd May due to storms. Throughout May,
29 balloons were lost. "A" Flight at Bastia had 12 balloons, "B" Flight at Porto Vecchio had 16 balloons, and "C" Flight had 17 balloons at Maddalena. Several enemy
aircraft were seen but no incidents were reported.
In June 1944, Special Investigations Branch investigated loss of Welfare Goods at "B" Flight. French Army given Balloon demonstration by 983 Squadron in readiness
for the Elba invasion. ENSA gave a Concert Party, "Merry Go Round" at Porto Vecchio, attended by Navy and American Units. At "B" Flight, Porto Vecchio a house to
house search was made by British and French Intelligence Sections. A Local Trade Test Board was held at Port Vecchio to reclassify Maltese Balloon Operators. Operation
Brassard was discussed. The plans to take balloons to Elba on the invasion were put into effect, the second phase of the operation did not go according to plan, the sending
of balloons in ships to Elba which having discharged at Elba were meant to Bastia for other supplies. Some of these ships did not return to Basta and consequently the full
commitment from Bastia never materialised.
Flight Lieutenant D. S. Wolf wrote a report on the led up to Operation Brassard. On the 12th May 1944 he was verbally instructed to go to Porto Vecchico to take Command
of a Beach Balloon Detachment that was to be used in the beach landings at Elba. It was made up of 24 airmen and two N.C.O.'s., all volunteers. Transport was a Jeep and a
Trailer. All equipment was to be supplied by M.A.C.A.F. and was to arrive at Porto Vecchio on 14th May. The equipment was to be distributed to allow for 12 inflations at
Porto Vecchio and 12 inflations at Bastia. Twelve Landing Craft, Tanks (L.C.T.) were to come from Porto Vecchio and be fitted with hand winches and the beach was to be
manned by two balloon operators. The balloons to be landed on Elba beachhead and were to be flown at 100 feet until ordered to fly higher. 12 airmen and two N.C.O.'s to
be used for servicing balloons. They would have 7 days rations. Personnel and equipment were to assemble at the latest date possible. Wolf told Squadron Leader Rankin
that he wanted to assemble the men as none had any beach landing training and he wanted to become familiar with them. Squadron Leader Rankin disagreed with his view.
He was allowed to assemble sixteen L.A.C.'s and two A.C.2'S with one Corporal. Wolf also asked Rankin to get the numbers of the L.C.T.'s as he could the begin fitting them
with winches. Wolf considered that as these were not Admiralty winches, they would need leadoffs and be bolted to the decks of the L.C.T.'s. Rankin dismissed his idea
insisting that the winches could be "lashed to the decks at the last minute". Wolf knew this was an impossibility so obtained the necessary bolts and cutting equipment in
readiness. On 19th May 1944 the operation was postponed which allowed Wolf to set up a training programme for the mission. He was told to keep in daily contact with
Captain Norris R.N., and Colonel Commanding the French Anti-aircraft unit. No information was available on a daily basis. He had set up his tented accommodation at the
Loading Hard at Port Vecchio and by 10t June activity in the local area had increased telling Wolf that the operation for Elba was imminent. He had no staging or Operational
Orders but decided to assemble the remaining six men with his Transport arriving on 12th June 1944.
On 13th June (D-4) he had an interview with the Royal Navy Staff Officer Plans and requested orders. Incredibly the Navy had no orders for him! He was then given a full
picture of the intended operation and was invited by Royal Navy Staff Officer Plans to take whatever action he saw fit.
Consultations with the Gunnery Officer led to Wolf planning the Beach Landing as follows:
One Balloon on L.C.T. 160, repair ship. This craft was expected to go into the pier at the West of Kodak Red soon aft H hour, or if not required to lie off the beachhead.
One Balloon on L.C.T. 9, Supply Smoke Craft which was to take up station at the mouth of the bay soon after H hour.
Five Balloons on L.C.T.'s beaching at H plus 90 minutes on Kodak Red with first transport and guns.
Three balloons beaching from L.C.T.'s landing mules and troops at H plus 120 minutes on Kodak Amber. (After the mule landing it was intended to move the balloons to
the rear of Kodak Red because Kodak Amber would no longer be required, and dumps would be forming in the area indicated.
The two remaining Balloons were to be placed on L.C.T.'S beaching at H plus 180 minutes and H plus 280 minutes on Kodak Red. These balloons to be used as the situation
required such as replacements for Red or Amber or waterborne sites.
Winch fitting began on the afternoon of D-4, but access to the L.C.T.'s was not easy. Winches were fitted, and the loading of balloons, troops and equipment took place almost
simultaneously. When some of the L.C.T.'s could not get in to the Loading Hard the men simply waded out to the crafts with oxygen and hydrogen cylinders together with
cutting torches. Winches and drums were all affixed by 1900 hours on D-2 and the last balloon in position by 1100 hours on D-1. The convoy sailed at 1200 hours on D-1.
No space had been allocated for the jeep and trailer so the load on L.C.T 554 had to be re-planned to accommodate it.
Previous to embarkation the Beach Landing Party and other balloon personnel were briefed on the operation using a map and a sand model of the beachhead. H hour, D day
and destination were kept secret. The Captains of the L.C.T.'s were requested to give H hour at which balloons would be launched, D day and destination after they had sailed.
Balloon on L.C.T. 180 was to anchor on the pier if the L.C.T. moved into that position but failing that it was to fly off the craft unless otherwise ordered. If the crew had no
orders by the evening od D-day +1 they were to land and report to Wolf.
Balloon on L.C.T. 9 was to fly off craft until receipt of orders and if no orders were received, they were to land and report to Wolf or the Beach Master on the evening of D plus 1.
Balloons landing at H plus 90 Kodak red. If balloons on L.C.T. 160 did not land on pier the first balloons ashore were to take that position. Balloons landing after this were to fill
in barrage, working from left to right, using pier balloon as a marker.
Balloons landing at H plus 120 Kodak Amber required first balloons landed to anchor 100 yards off to the left of L.C.T.'s on Amber Beach and the other two balloons to follow the
method to be used on Red Beach and using the first balloon on Amber as the left marker.
All balloons were to fly at 100 feet approx. with the flexible strop has at least two turns on the drum. (All cables were provided with 180 feet of top strops to allow for extra yawing.
The bomb was fitted below this in the usual manner.) All balloons to be flown at H hour D day and to be armed. Balloon anchoring was with sandbags, each man carrying three empty
bags to their helmet straps.
When an anchorage was made member 2 of the crew pair was to return to the ship immediately. Number 1 was to dig a foxhole and to remain there until ordered otherwise. Number
2 to take over from number 1 if number 1 became a casualty.
One N.C.O. was placed on L.C.T. 559 landing H plus 90 Kodak Red, and the other on L.C.T. 356 landing H plus 10 on Kodak Amber. Wolf was on L.C.T. 557, timed to be the first L.C.T.
of the H plus 90 group to beach.
It was necessary to use a third beach, Kodak Green and the craft did not beach at the time planned. Balloons intended for Amber were used for duties on Green to cover the landing
of mules. Kodak Green received balloon cover t H plus 300 minutes approx. Amber was not used. L.C.T. 160 did not move into the pier and the balloon was landed on D day plus 1.
Landings on Red were as planned. Balloon cover was provided by H plus 600 minutes.
Green Kodak was a emergency beach and not used after Kodak Red had opened, balloon cover was maintained until D plus 3 as many troop casualties were sustained adjacent to
the beach and the Dressing Station could not be evacuated immediately.
Prior to the landing on D day and afterwards on d day plus 1, shell and mortar fire was in force. This caused personnel to carry out a range of extra duties such as mine watching
for the convoy, wounded assistance, disembarkation of vehicles and equipment and police duties when dark.
At 1430 hours on D plus 1, Leading Aircraftman Kent performed a very brave act to the left of the Kodak Red beach. Three Naval personnel were injured by an "S" mine and
Leading Aircraftman Kent heard the explosion and with a Naval officer went into the minefield to help. The Naval Officer unfortunately stepped on a mine and was injured.
Leading Aircraftman Kent used his own clothing for bandages and rendered First Aid as best he could and remained in the minefield and assisted in evacuating the wounded
with a total disregard for his own safety.
At 1500 hours on D day plus 1, (18th June) Wolf was informed by Leading Aircraftman Major that 100475 Leading Aircraftman William Withnell had been injured by an
anti-personnel mine and lay in the minefield at the end of Kodak Red. Leading Aircraftman Major and Leading Aircraftman Collie along with Wolf moved him out of the mined area
and to the Field Hospital where he subsequently died.
He was born on 18th July 1908 and in the 1911 census he is listed as living at a 5 roomed house, 52 Anderton Street, Chorley with his parents, Edward and Martha Withnell.
His parents had been married for 5 years and had 3 children, only one of whom, William, survived. His father was a carpenter and joiner. In 1938 he was living at 20 Egerton Grove,
Chorley M.B., Lancashire, England and in 1933 had married his wife Emily. His civilian work at that time was a shop assistant in a Grocery shop.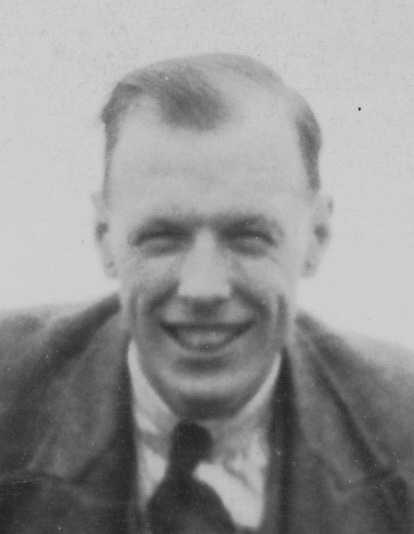 His headstone reads:
"Lead kindly light
Those we have loved
Long since
And lost awhile"
On the evening of D plus 2, Flying Officer Jones arrived from Bastia, and reported that due to weather conditions it was impractical to ferry over the Bastia inflations as expected.
At the same time the Officer Commanding "N" Force requested that the balloon barrage fly for a further 3 weeks. Wolf sent a signal to Bastia to stop further inflations and requested
all unused equipment be sent to Elba. This was done, and the barrage stabilised at 8 balloons. Topping up gas was obtained from inflated balloons sent from Bastia and 100% equipment
reserve was held at Marino di Campo to help with balloon losses. Every third day a balloon was sent from Bastia to provide a source of topping up gas. A reserve of balloons, gas and
equipment was sent from Bastia to Elba on 21st June 1944
On D day plus 2, Leading Aircraftman Withnel was buried with Military Honours at Grave Number 2, British War Cemetery, Marino di Campo. He was reburied at Bolsena cemetery,
Lazio sometime after November 1944.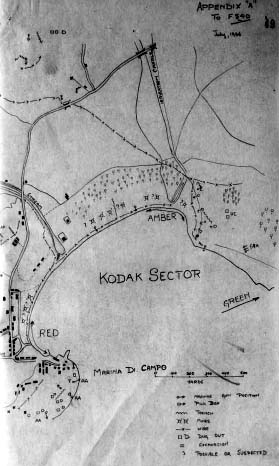 Elba Landing Map
On 28th June Squadron Leader Beardsley arrived to take over command of 983 Squadron. A reserve of balloons was ordered to remain at Elba. The Porto Vecchio barrage was closed down.
On July 18 balloons were lost due to weather. In July "B" Flight was set up in Camp at Cisco. On 7th July the Elba barrage was deflated and packed up. An explosion damaged two balloons
at Maddalena. Five balloons flew at Bastia. Sergeant Arnull and 7 other ranks arrived from Malta due to closure of Hydrogen Section and Shore Servicing Party there. On 15th July a party of
24 tour expired balloon operators left for Algiers en route to UK.
The Balloon Repair Station was continuously busy as many balloons on air filling showed leaks and this was due to the fact that many of these balloons had been flown and deflated and
packed and repacked so many times that weaknesses in the folds along the seams had become a problem.
All balloons were deflated with the agreement of the Beachmaster on 6th July 1944.
On D day plus 14 Command of the detachment was handed over to Flying Officer Jones.
The Detachment along with equipment returned to Bastia on 7th July 1944.
On 1st August 1944 Wolf returned to Maddalena, Corsica and Squadron Leader Beardsley arrived from Ajjacio. On 1st September 1944 the signal was received to disband the Squadron
at the disposal of No.1 Base Area. By 29th September the Squadron was closed down and the men from "A" Flight were accommodated in a valley 5 miles North of Bastia, "C" Flight at
Maddalena disposed of their equipment to 33 A.S.P. South. When all was despatched, the men were sent hy Ferry to Bonifacio and then by road over to Bastia.
The domestic trades were posted to" X" Group, B.A.F. at very short notice and proceeded by air. The Balloon Operators and Hydrogen personnel were posted to various Squadrons,
Wings and Groups, to be employed as far as possible in their civilian trades. The officers were posted as supernumerary and 935 Squadron ceased to exist.
One strange event that has not been explained is the punishment meted out to three Maltese airmen who were Balloon Operators:
795341 Aircraftman 1st Class S. Penech
795344 Aircraftman 2nd Class A. Zarb
795369 Aircraftman 2nd Class L. Debono
795494 Aircraftman 2nd Class A. Micallef
It would appear that: "While on Active Service they behaved with conduct to the prejudice of good order & Military discipline by fouling their sleeping quarters by defecation
on 24th February 1944."
They were awarded Penal forfeiture of 3 days pay under King's Regulations 1138 (2) (C) (11) by Captain W. C. Dooker, Officer Commanding. The reason for this behaviour
is not obvious but is the only time I have ever found a balloon crew charged and sentenced for such behaviour.