938 Squadron Becomes the First English Squadron to Down a German Bomber
Despite the vast numbers of balloons distributed across the British Isles at the beginning of the 1939-45 war, the ability to bring down a German aircraft was down to probability. Much thought had gone into where the Germans would choose to bomb and as a result this led to decsion as to exactly where to situate of each balloon.
The balloon barrage was designed to deter enemy aircraft from bombing certain areas that were vital to the war effort.
The balloons were a definite deterrent for the Luftwaffe but despite this they continued to try to bomb targets.
It was a matter of time before an aircraft would strike a balloon cable. Balloon crews across Britain waited day after day, night after night every single one hoping that they would be the first crew to bring down a German aircraft with a balloon. No.938 Squadron had been operational for exactly nine months and all the crews had mastered the art of flying a balloon barrage in defence of the Billingham area.
Between the night of 19th June and early hours of 20th June 1940 between 15 to 20 German planes raided the area that night looking for the armament production units in Billingham and dropped at least:
25 High Explosive bombs: -
4 on South Durham Steel Works, Stockton,
1 on Stockton Town,
3 on High Grange Farm, Woolviston,
2 in Greenwood Road, Billingham,
3 on Billingham Bottoms,
3 on I.C.I., South Site,
1 on Cowper Bewley Road,
4 on I.C.I. Laboratories,
4 on Hartley Pool town.
The flames were visible for 30 miles which attracted more Nazi aircraft.
Francis Patrick Parkin was one of the balloon crew on duty overnight at Balloon Site No.2 near to the river and opposite where Simcox Court is today. German aircraft could be heard but not seen and explosions from bombs could be heard with regularity. Bursts of anti-aircraft fire were heard some miles away. A searchlight picked out a German aircraft above them and it tried to escape the searchlight by diving down to within 1000 feet of the ground.
Suddenly the cable on their winch began to reel out up into the sky and then hundreds of feet of balloon cable began to fall across the grass. This could only mean one thing as the crew strained their eyes against the dark in an attempt to see if there was an aircraft in trouble above them. Without doubt the aircraft had struck their cable. They could hear the engine spluttering somewhere above them and the aircraft seemed to turn away.
The Heinkel bomber above them had struck a cable which caused the aircraft to almost stop dead in its flight and was now in a deadly stall. The German crew panicked as the plane began to fall out of the sky and descended to the unwelcoming sea.
At 15 minutes to 1 a.m., Balloon Site 33 reported seeing a German Heinkel crash into the sea at 15 minutes to 1 a.m. This was also supported by a local anti-aircraft gun site.
On 23rd June, a congratulatory telegram was received from Air Vice Marshal Boyd and Area Officer Commanding No. 33 group to No. 938 Squadron on being the first balloon crew to have succeeded in having caused a German aircraft brought down by a balloon in England. It was the first balloon unit in England to bring down a German aircraft which crashed into the sea. It was not until 13th September 1940 that No.966 Squadron in Newport brought down a German aircraft which crashed onto land in Wales.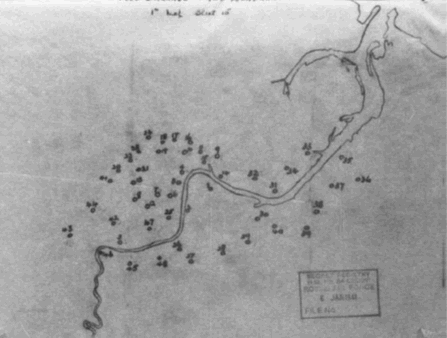 This map shows the balloon sites used by No. 938 Squadron in 1939 at Billingham
On a modern map the black spot shows you where Site No.2 used to be in 1939.
The balloon crew were featured in a number of national newspapers as their story was reported across the country.
Peter Garwood August 2020