852019 Leading Aircraftman William Aitken Osborne B.E.M., 917 Barrage Balloon Squadron
On 14th November 1940 there was an intense bombing attack on Coventry from 7.10 p.m. and this continued into the 15th
November 1940 until 6 p.m. The raids left chaos in their wake.
The attack caused considerable damage to the balloon sites and Electricity, Gas, Water and Telephone services were all
inoperable. In addition, the main roads were impassable causing considerable disruption. 917 Barrage Balloon Squadron Station
Headquarters and "A" Flight Headquarters were damaged along with the huts on sites 17/25 and 17/37. The balloon on site 17/37
was cut adrift and the winch burnt out due to enemy bombs. The Station Sick Quarters had to be evacuated because of unexploded
bombs. It was during this chaos that Leading Aircraftman William Aitken Osborne led from the front.
He was born in Coventry in 1901 and enlisted in Balloon Command in March 1939.
On 14th November 1940 he was on duty when his crew were subjected to an enemy air attack. He ordered his crew to the shelters as
several high explosive bombs fell on and around the balloon site. His balloon was punctured by shrapnel and began to lose gas
and lift. He rallied his crew to haul it down.
Later he along with three others realised that a nearby house had collapsed from the bombing and that civilians were trapped.
He took charge and ordered all three to help the trapped civilians. A German bomb fell and rendered him unconscious and killed:
852043 Leading Aircraftman Thomas Roberts and 1164531 Aircraftman 2nd Class Sidney Frank Garraway.
852019 Leading Aircraftman William Aitken Osborne was awarded the British Empire Medal for his actions that night.
His two deceased comrades were commended for brave conduct by the King on 1st July 1941 in the London Gazette.
(Page 3752-3 Supplement to the London Gazette, 1st July 1941)
852043 Aircraftman 1st Class Thomas Roberts was born in 1910 at 13 Stanley Place, Chelmsford, Lincoln. He was the son of Thomas
and Harriet Roberts.
The Lincolnshire Echo reported on his death on Thursday 21 November 1940:
"LINCOLN AIRMAN KILLED Aircraftman Thomas Roberts, eldest son Mr, and Mrs. T. Roberts, of Cromwell street, Lincoln, has been killed
while serving with the Royal Air Force. He was a single man and 30 years of age and for few years before the war had been working as
a salesman with firm of tailors in the Midlands having formerly followed a similar occupation in Lincoln. While working in the Midlands
he joined an Auxiliary Air Force squadron and had served with the R.A.F. since the outbreak of war." He was buried at Lincoln
(Canwick Road) cemetery, section, A, grave 1710.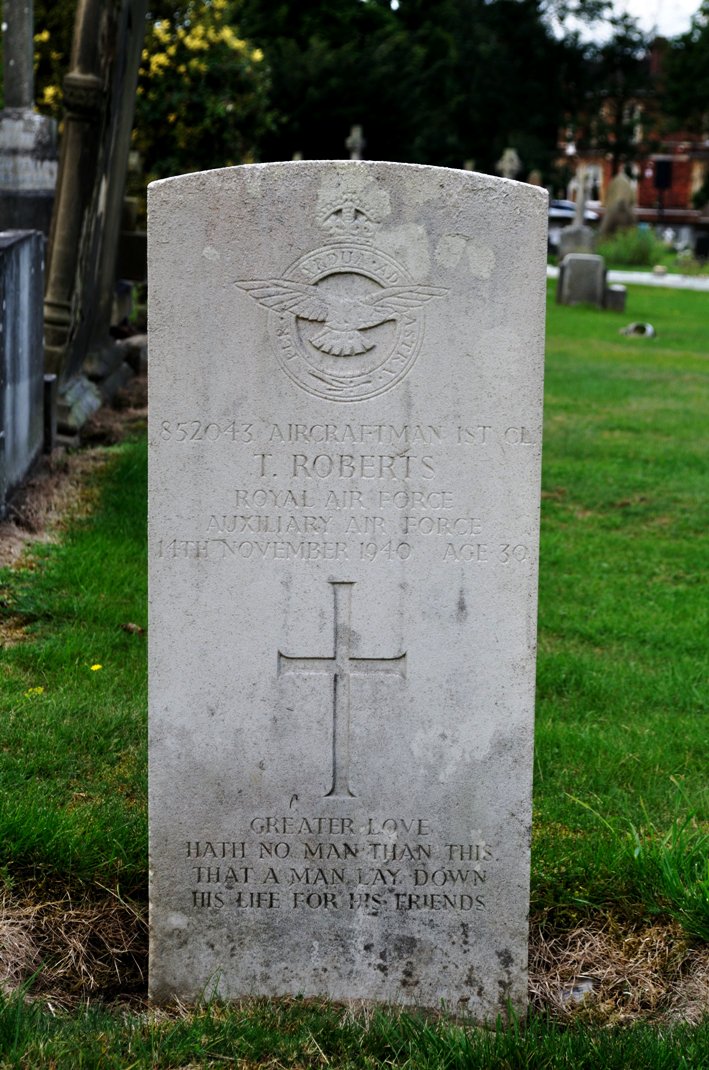 The C.W.G.C. Headstone for Thomas Roberts.
1164531 Aircraftman 2nd Class Sidney Frank Garraway was born on 3rd June 1913 at Swindon the son of George Edward and Emily Beatrice
Garraway (Nee Strickland). He worked for the Great Western Railway as a Messenger from 21st March 1938 to 1939. In 1939 he lived at 19 Taunton Street,
Swindon with his wife Hilda May Garraway. He was buried at Swindon (Christchurch) burial ground, Extn. Grave 85.
In June 2019 it was noticed that his entry on the Commonwealth War Graves Commission website (cwgc.org) did not list the commendation
for brave conduct but the listing for his equally brave comrade, 852043 Leading Aircraftman Thomas Roberts, who also died did.
I contacted the C.W.G.C. and explained that somehow he had not been listed correctly. The C.W.G.C. investigated and examined the evidence
I sent them and on 15th July 2019 they amended his listing to include his posthumous award for bravery.
Page 3752-3 Supplement to the London Gazette, 1st July 1941 announced the award of the M.B.E.
"CENTRAL CHANCERY OF THE ORDERS OF KNIGHTHOOD. St. James's Palace, S.W.1. 5th August 1941. The KING has been graciously pleased
to approve the award of the British Empire Medal (Military Division) to: —
852019 Leading Aircraftman William Aitkin Osborne, Auxiliary Air Force. This airman was in charge of a balloon site one night in November
1940. Several high explosive bombs had exploded on and around the site and he had ordered his crew to shelters. He observed his balloon
dropping, due to shell splintered punctures, and led his crew to haul it in. This was successfully carried out during the attack. He later led
three of his crew to the assistance of civilians who were trapped in a neighbouring demolished house, but on his way, he was rendered
unconscious by a bomb explosion which killed two of his companions. Leading Aircraftman Osborne had, during a previous raid, led a relief
party from his crew to trapped civilians. He has displayed gallantry and devotion to duty in keeping with the high tradition of the service"
These awards and commendations were also recorded In the Operational records of 917 Squadron."
Peter Garwood June 2019