840931 Cpl Henry Sydenham RAF
No. 1 Balloon Centre (901, 902 Squadrons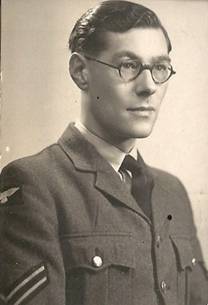 Henry was born in 64 Great Bland Street Walworth, London , on 23 January 1909. His father, Charles Sydenham, was a Carter by trade but he hardly knew him for he died early.
He married Violet Grace Belcher in St Peter's Church, Liverpool Street , Walworth, London , on 28 September 1935. They lived in Thurleston Road, West Norwood .
Henry's job then was quite lowly – a messenger for an insurance company in the City of London . It is said he wore a colourful top hat and tails as he hand delivered confidential messages within the City of London banking system.
He was tall (5 ft 10 in), slim (32 inch chest) and handsome with well groomed copious brown hair. He had grey eyes and a fair complexion. There were no hi-fis then so Harry, being an amazing entirely by ear piano player, was popular at parties. But that did not earn income. When Peter (the author), their only to be child, was born in February 1937 it was clear that the job had no prospects. Harry boldly asked for a rise in pay only to be told 'no' or 'go elsewhere'.
As suggested by the insurance company Harry left them. The war effort was already rolling on so he voluntarily joined the RAAF on 17 October 1938 under a 4 year engagement contract ending on 16 October 1942: but that did not count in the end. He was then 29 years old.
Barrage balloons were making headlines and in September 1938 the barrage was only 142 balloons. Much was made of them and much mystery surrounded them but they dominated the London skyline. At this time no London squadron had enough men to work independently. The balloons were divided up into 3 groups:
60 balloons extending from Plumstead Marshes along the south of the River Thames up to King's Cross were based on No.2 Balloon Centre, Kidbrooke.
51 balloons extending from Dagenham along the north of the River Thames to King's Cross were based on No.4 Balloon Centre at Chigwell .
31 balloons in an area from King's Cross to Clapham Common and Wandsworth were based on No.2 Balloon Centre, Hook, Surrey . Only 16% of the men were trained balloon operators. In September 1938 huge recruiting drives began and at that point there was 550 balloon operators trained and in service. 160 of these were used for recruiting purposes. The squadrons for the London area were later organised into five flights of 9 balloons each. No1 Balloon Centre, Kidbrooke S.E.3 had 901, 902 and 903 Squadrons.
This change of job for Harry meant living away from home, Patching Rectory, Worthing Sussex . - but that became many people's situation within the year. He was mainly stationed at RAF Kidbrooke, not that far away in Kidbrooke, London . His rank was Aircraftman Charge Hand on 17 October 1938. We have no idea of his aspirations in the RAF. He had a weak chest and suffered badly from asthma. He had not had an easy childhood. When his father had died early it left his mother, who had already lost one husband before, again needing to look after five children with no government support. Harry had no experience in 'aeronautical' things, little proven handcraft skills (apart from being a gifted pianist!) and a low level of school education. His only work experience was running messages.
He was first assigned to 902 Squadron of No 1 Balloon Centre part of No, 30 Group . As a basic grade Aircraftman he learned to drive trucks and articulated units. He was situated at RAF Kidbrooke. Virtually all trace of the complex has gone. Does anyone have photos?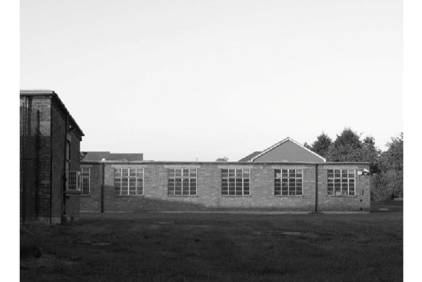 One of the few remaining areas of R.A.F. Kidbrooke.
Harry was an early member of the balloon squadrons. Harry was to move between 901 and 902 for. On 17th November 1938 his rank was Balloon Rigger under training.
Harry did not talk much about his war years as was the case with most people who served. They just wanted to forget it all. In his case it may well have been because of his own, not brilliant, experiences… as will be explained later.
On 3rd July 1939 No.30 (Balloon Barrage) Group was Commanded by Air Commodore B.H.C. Drew with 135 balloons, 901 Squadron, 902 Squadron and 903 Squadron had 45 balloons each.
One event, however, was easy to talk about. Driving was a new thing to him; few working class people then had a car. There is a great story about his driving experience during his early time in the RAF. He was driving a lorry moving fighters in a convoy. They were moving slowly along in one of the often experienced pea-souper, choking, yellow-black, acrid fogs of that time. They kept in convoy by looking for that little slit of red light from the back of the vehicle ahead. Conditions were so bad on that night as to be only able to see a couple of feet. You could easily walk into another person. (It is an eerie experience! ).
After very slow progress for a long time he discovered he had taken the convoy part behind him the wrong way. He had been following a bicycle!
He took General Duties training and the more specialised Barrage Balloon Rigger training involving letting up balloons from the winches used to fly the balloons. This was tiring, cold, wet work, in the dark and in all the nasty conditions winter can bring. Other www.bbrclub.org website accounts talk about the harsh conditions. He had always suffered badly from asthma
Balloon riggers had to take the balloon truck with a gas bottles trailer to a site. Then they had to connect up the several compressed hydrogen bottles and slowly inflate the balloon, letting it rise on the winch cable to the required height which was usually 4,500 feet on the outbreak of war. This was physically demanding. In the early days a balloon crew of around 8-10 were all men. Later women crews also did this function.
On 22nd July 1939 he made up to an Aircraftman 1st Class and was a trained Balloon Rigger having attained 72.5% score in his Trade Test. From 16th September 1939 he was a Balloon Rigger under training as a Balloon Operator. On 31st December 1939 he was an Aircraftman 1st Class, his Character was Very Good and his proficiency "Satisfactory". On 1st January 1940 he is made up to a Leading Aircraftman.
On 10 Feb 1940, he was admitted with a bad case of influenza for a day to Brooke Hospital Woolwich, near to the base. He then was given just 4 days of sick leave to get over it. He was promoted to temporary corporal on 9 April 1940.
On 5th May 1940 he is a Balloon Rigger/Fabric Worker under training as a Balloon Operator.
On 31 December 1940 he was a Corporal. He was recorded as being "Very Good" in character gaining Satisfactory/superior proficiency'. He was then a Balloon Rigger Under Training as Balloon Operator. He was made a Balloon Operator on 4th April 1941. On 31st December 1941 he was a Corporal and his character was "Very Good" and proficiency superior.
For all that had happened Harry, on 26 July 1942 was awarded a Good Conduct Badge. (1st, A.) -3 years good service gave an extra stripe here at 1st Class.
That award did not make asthma go away! He was again admitted to the Kidbrooke Hospital on 10 October 1942 for a bad chest condition… penicillin to fight infections was not yet generally available at that time. This time he stayed in for a week and then had a week of sick leave.
On 25 October, 1942 he was again back in the local Squadron Sick Quarters (S.S.Q.) at Kidbrooke base sick bay, again for asthma. Now he was listed as a B/OP (balloon operator) driver. This time he was declared unfit for balloon operator duties and that it was 'not caused by his own negligence or by service within the Royal Air Force. Signed J Murray Aynsley F/LT. (Flight Lieutenant)'.
This change of duties did not make the asthma go away for on 6 November 1942 he was back in the sick bay. It must have been bad for the medical report of that incident referred him on to a specialist for consideration for discharge from service as it was considered his condition would not improve. He was referred to the Royal Herbert Military Hospital , Shooter's Hill. London. The Specialist was a Major R Kendall Price R.A.M.C., his report concluded that he had held down his job for the previous 4 years as this was due to occasional allergies and that he was a "bright, intelligent fellow' who was re-categorised at Grade III. It did state, however, that he should be given job other than working at night in bad weather to sail (fly!!) balloons. " It is interesting to note how the Major from the army considered that balloons were "sailed" by airmen obviously confusing them with naval tasks!!!
The asthma attack was so severe that he was brought before the Re-categorisation Board at RAF Kidbrooke on 3 December 1942 to set up his new duties as Grade III.
A special medical examination, of 23 September 1943, recommended he be remustered from the trade of BOD (Balloon Operator Driver) "to a trade in which he will be less exposed to the weather. It is certified that the disability is not due to service with the armed forces of the Crown nor to his own misconduct." one with duties more suitable for his condition. "
On 8th November 1943 his trade changed to ACH/GD (Aircrafthand/General Duties). On 31st December 1943 he was a Corporal with a character of Very Good and proficiency superior.
On 28 February 1944 he moved to 1B.C. (A) (No.1 Balloon Centre) 901 Squadron .
He attended an Administration and Discipline Course on 12 March 1944 at 901 Squadron. His new pathway was being developed without so much sickness and hard balloon work. It is interesting that his service record does not record his hospitalisation for the previous bouts of sickness mentioned above.
He then would have felt that things would be a little more reasonable for his condition. He and his team had little inkling on what would happen next.
His unit, at RAF Kidbrooke, was in the barrage balloon ring of defence for inner London. That is, right in the path of incoming bombers and later, the V1 doodlebugs and V2 explosive rockets. They were very much in the firing line.
Hitler started to send his first terror weapon, the V1 flying bombs, (V for Vengeance) or 'doodlebugs', across to England starting on 13 June 1944, a week after the D-Day landings in June 1944. They stopped being sent on October 1944 when their launching sites were overrun and they had become almost totally ineffective due to use of much improved radar directed guns set up on the English beaches and fighters shooting them up on the South Coast. It is recorded that just half of the 9,251 V1s sent arrived. Another history report claims that in October 1944 the newly upgraded, M1 gun directors shot down 4672 out of 4883 V1s coming into England. On the last day only 2 of 91 got through.
This change to flying bombs meant Harry's world was about to take a change for the worse.
901,902 and 903 Squadrons were positioned to the far right of the belt of balloons set up to defend against the V1 doodlebugs in defence phase 1&II. They were flying a total of 106 balloons in Area 3.
At 0410 hours, on 18 June 1944, a V1 bomb made a direct hit on his station hut.
The Operational Records Book for this states:
" 18/06/44 at 04.10
901 Squadron H.Q. demolished by enemy aerial action. 863491 T/Cpl Dodds, P., 840009 T/Cpl Eldridge E., 840084 Leading Aircraftman Gent, E.S.B., were killed whilst on duty.
355294 T/W/O Waterman, E.T., in the performance of his duty was seriously injured.
2 W.A.A.F. Corporals and 1 Leading Aircraftwoman were injured, also 1 R.A.F. Corporal and 1 Aircraftman."
(It is to be presumed that the injured Corporal mentioned above was Henry Sydenham.)
Percy Dodds was age 32, the son of Benjamin and Jessie Dodds, of Portsmouth; husband of Mabel Amy Dodds, of Southsea.
Ernest Robert Eldridge was age 45, the son of Robert and Eliza Eldridge; husband of Adelaide Esther Eldridge, of Welling, Kent.
Ernest Sidney Burrup Gent was age 32, the son of Alfred Ernest and Maude Gent; husband of Leiber Carrie Maude Gent, of Streatham, London.
Frederick Thomas Waterman was age 40 died from wounds two days later and was the son of Thomas Christopher and Louisa Waterman; husband of Marguerite Annie Waterman, of Fareham.
The O.R.B. does not mention it but the death occurred on the same day of 847696 Sergeant John Constantine Peddrazzini, age 37. He had left his home at 70 Fairwater Grove, Cardiff and embarked at Southampton on 27th April 1929 on the S.S. Arabic bound for Halifax, as a 3rd Class passenger giving his occupation as "Salesman" and intending to live permanently in Canada.
He returned to 28 Edwards Terrace, Cardiff, via Liverpool on 1st November 1931, as a 3rd Class passenger on S.S. Athenia, he had previously been in Montreal, Canada, occupation given as "Salesman" but returned to live permanently in Wales where he had been born. He joined the R.A.F. 901 Squadron and was killed presumably in the same raid, he was the son of Constantine and Mary Adelaide Pedrazzini; husband of May Pedrazzini, of Wylde Green, Sutton Coldfield, Warwickshire.
More casualties of 901 Squadron died some days later.
1864430 A.C.2 Graham Christopher Maynard age 47, died on the 20 June 1944 the son of Percy and Annie Maynard; husband of Julia Maynard, of East Ham.
1666327 A.C.1 Frank Alfred Edwin Bartlett age 43,died on the 23 June 1944 he was the husband of Doris Evelyn Bartlett, of Fishponds.
87741 Flight Lieutenant John Phillip Hale Jacobs (JAKES) age 40, also died on the 23 June 1944, he was the son of John Robert Hale Jacobs and Blanche Marianne Jacobs; husband of Stella Jacobs, of Ashurst, Hampshire.
1223474 A.C.1. Walter Clark Robertson age 34 died on 23rd June 1944 he was the husband of Martha Robertson, of Kennington.
One W.A.A.F. 2025361 A.C.W.1 Joy Burton age 21, died on 23 June 1944 she was the daughter of
Thomas Alfred and Clara Burton, of Wokingham.
Henry's right leg was seriously injured by a piece of shrapnel that entered his ankle.
On a rare occasion, in the 1960's, he told me a little what had happened. He had thought he was the only survivor but It seems he was by some miracle one of the very few who survived this attack. If he had stayed in his bunk completely he would have missed injury: he had put out his leg into the path of the shrapnel as he went to get out.
The official record reports that five RAF personnel were killed at the time. Four others succumbed to their wounds shortly after. More details of this incident are requested from any reader that can help.
A further 16 RAF and WAAF were injured. Among the dead were Motor Transport drivers, Motor Transport fitters and other trades. The Barrage Balloon Reunion Club (BBRClub) website (www.bbrc.org) record, plus later additions by Peter Garwood of that site, lists the following persons lost their lives from the team in Harry's hut.
Casualties recorded on day of Harry's admittance to hospital
| | | | | | | | | |
| --- | --- | --- | --- | --- | --- | --- | --- | --- |
| | Initials | Rank | Number | Squadron | Service | Death | Age | |
| DODDS | P. | CPL | 863491 | 901 | RAF AUX | 18/06/44 | 32 | |
| ELDRIDGE | E. R. | CPL | 840009 | 901 | RAF AUX | 18/06/44 | 45 | |
| GENT | E. S. B. | LAC | 840084 | 901 | RAF AUX | 18/06/44 | 32 | |
| PEDRAZZINI | J. C. | SGT | 847696 | 901 | RAF | 18/06/44 | 37 | |
| SMALLEY | R. | F/SGT | 518861 | 901 | RAF | 18/06/44 | | |
| Died later from wounds (?) | | | | | | | | |
| BARTLETT | F. A. E. | AC 1 | 1666327 | 901 | RAF VR | 23/06/44 | 43 | |
| JACOBS | J. P. H. | F/LT | 87741 | 901 | RAF VR | 23/06/44 | 40 | |
| BURTON | J. | A.C.W.1 | 2025361 | 901 | W.A.A.F. | 23/06/44 | 21 | |
| ROBERTSON | W. C. | AC 1 | 1223474 | 901 | RAF VR | 23/06/44 | 34 | |
| WATERMAN | F. T. | W/O | 355294 | 901 | RAF | 25/06/44 | 40 | |
| MAYNARD | G. C. | AC 2 | 1864430 | 901 | RAF VR | 20/09/44 | 47 | |
(Sadly on the same day, at 11 20am, a V1 made a direct hit on the Guard's Chapel, Wellington Barracks, Westminster. Sixty three servicemen were killed and scores more injured in that hit.)
Harry was rapidly admitted to the Squadron Sick Quarters (S. S. Q.) Kidbrooke Hospital, with a "3 inch gash over the right malleolus" (ankle-bone), then being immediately transferred to the nearby Brook Hospital at Shooters Hill, London, set up originally for WW1 casualties. His medical record states him as being a "Flying-bomb casualty" having a wound to the right ankle and a compound fracture of the right tibia in his leg. He was operated on. A 2.5 x 2inch flat piece of shrapnel was removed from his right tibia. Sulphanilamide was used as a form of bacterial disinfectant and the wound was packed with Flavine-paraffin.
On 6 July 1944 he was transferred to convalesce in the civilian Royal West Sussex Hospital, Chichester. They tried using a plaster of Paris (p.o.p.) orthopaedic bandage but it was uncomfortable and was substituted with a windowed version that did not put pressure on the wound.
While there he was re-prescribed spectacles, presumably they had been lost in the blast.
His Branch/Trade was listed as ACM/GD (Aircraftman/ General Duties) and as being in 901 Squadron. The few still remaining parts of this hospital are now incorporated into a housing development. He then had a week's sick leave. A war service pay increment of 2 shillings/day was awarded from 3 September 1944!
After supposedly being fit for duty he was temporarily transferred to RAF Tangmere, near Chichester, on 20 September 1944, being then directed to duty at No. 1 Aircrew Dispatch Centre (A.C.D.) at Blackpool on 4 October 1944. From the 17 October 1944 he underwent many examinations and X-rays and had a special metatarsal bar fitted to his shoe to help support the injured ankle. He was discharged on 10 November 1944 with a recommendation that he be remustered to a sedentary occupation and excused from assault courses, excessive P.T. and marching. He was also to be equipped with two pairs of Service shoes. A further Orthopaedic Specialist was to give an opinion in four months time. He was given 7 days sick leave before returning to his unit.
On 21 November 1944 Harry was examined in the Medical Emergencies Room of 901/5 Squadron at Stockwell, in inner S E London. The recommendation was that he was not considered fit for service in his current trade and he should be remustered for a sedentary occupation and be excused from "assault courses, excessive P.T and marching" was confirmed. As will be seen next he certainly could not have done those things.
On 31st December 1944 he is a Corporal and his character was assessed at Very Good and his proficiency superior. On 21 January 1945 he went to Technical Training Centre, No.1 Radio School, 1 Wing at RAF Cranwell, near Newark–on-Trent. He recounted after the war that he was training (somewhere!) as a teletype operator. On 25th January 1945 he is under training to be a teletype operator.
Harry was admitted to the Station Sick Quarters, R. A. F. Cranwell in Lincolnshire on 4 February 1945. He was having great difficulty in walking as his wounds had not healed. It was thought that his tibia fracture had not all healed. Later the opinion was that traumatic osteo-arthritis had developed in the ankle joints. After 7 days he was put back into duty, being officially excused from duties involving walking. The problem continued with several medical consultations including one on 9 March 1945 at the RAF Hospital at Rauceby, near Lincoln. A recommendation then was that the ankle joint be fused - but there was no capacity to do that on 9 March 1945 so it was not done. Considerable wasting had occurred of the quadriceps and calf.
On 4th April 1945 he is a Teletype Operator and he .
During the first half of 1945, his last months in service, were never at settled locations for it seems he was moved over various positions: to No.1. Radio School (on 25 January), to 901/5 Squadron (20 April) to No. 1 Radio School (23 April) to SQH Northolt in Middlesex (25 April), to Boreham (an airfield in Essex) (9 June) and finally to 100 PDC, (Personnel Despatch Centre), (19 August) for his release.
He was seen on 9 August 1945, now with Transport Command, as a referral from the Station Sick Quarters at R.A.F. Boreham. He was seen by Wing Commander J. R. Armstrong, an Orthopaedic Specialist at Ely Hospital. Surgery to fuse the ankle was a one of the options considered at that time. He was declared to have a 30% disability. On 19 August 1945 he was moved ready for release on 15 October 1945. He was able to walk with difficulty. It took some years before his injury allowed him to become more normal, using a walking stick for much of the 1950 decade.
His two service medals, War and Defence arrived in due course.
Following being demobbed he talked little about the war. Perhaps the trauma of that bomb hit on his hut, with him being the only one to survive, may have made it hard to talk about.
He undertook a post war retraining programme in Structural Steel Drafting. The family soon migrated to Adelaide, Australia to join his sister who had married a WW1 soldier. He performed well in steelwork drafting being involved in several of the new buildings in Adelaide, the British Blue Streak rocket launch pad at Woomera, and the West Gate bridge of Melbourne.
He always suffered very badly from Asthma. Despite this and his leg he designed and built, with my teenage help, our simple house in Adelaide in the early 1950's.
He had kept fit in this work but the damage was done. He died of a heart attack in 1961.
Written in August 2012 by his only child, Peter Henry Sydenham, Adelaide. Sydenham@senet.com.au
I would appreciate knowing if anyone can remember any of Harry's times, especially detail of the 18 June 1944 V1 bomb strike on his crew. If you can help please contact peter.garwood@bbrclub.org or myself.