354025 WO1 Francis Frew DUNLOP MBE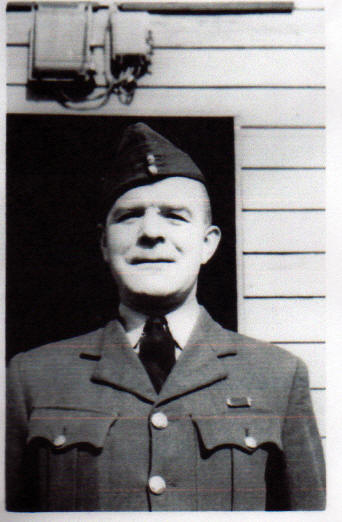 Born in Irvine Ayrshire in 1905. 27 years service in the RAF from 2 May 1923 to April 1950.
Hydrogen worker, then Balloon Operator.
| | |
| --- | --- |
| 1923-1937 | Balloon School Larkhill |
| 1937 | Cardington |
| 1938 | Henlow, Cardington and Kidbrooke |
| 1939 | Chigwell |
| 1941 | Kidbrooke |
| 1943 | East Ham 909/910 Sqn |
| 1944 | Redhill, 24 Balloon Centre |
| 1945 | RAF Friston and Hunsdon |
| 1946 | RAF Hornchurch |
| 1946-1950 | Station Warrant Officer Cardington |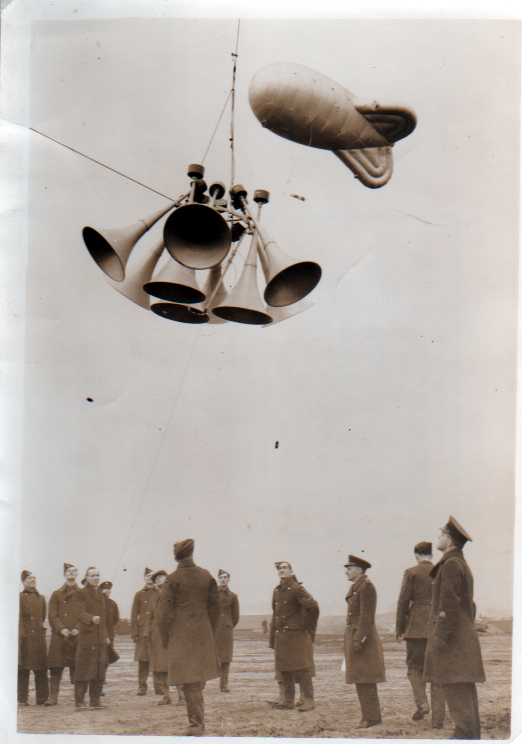 WARRANT OFFICER F F DUNLOP FAR RIGHT OF PICTURE
CITATION FOR MBE
WARRANT OFFICER F F DUNLOP 909/10 SQUADRON
As warrant officer in charge of balloons in June and July 1944 this airman showed great energy and perseverance
in connection with the equipment of crews for the two phases of the 'Diver' operations. He is by no means a young
man but he has set a fine example of energy to all ranks. He is a valued member of the squadron football and hockey
teams, officiates at all sports, and also organises the Unit Gardening Scheme. Warrant Officer Dunlop is a most versatile
airman whose services have been of the utmost value during a trying and strenuous period.
See below for his London Gazette.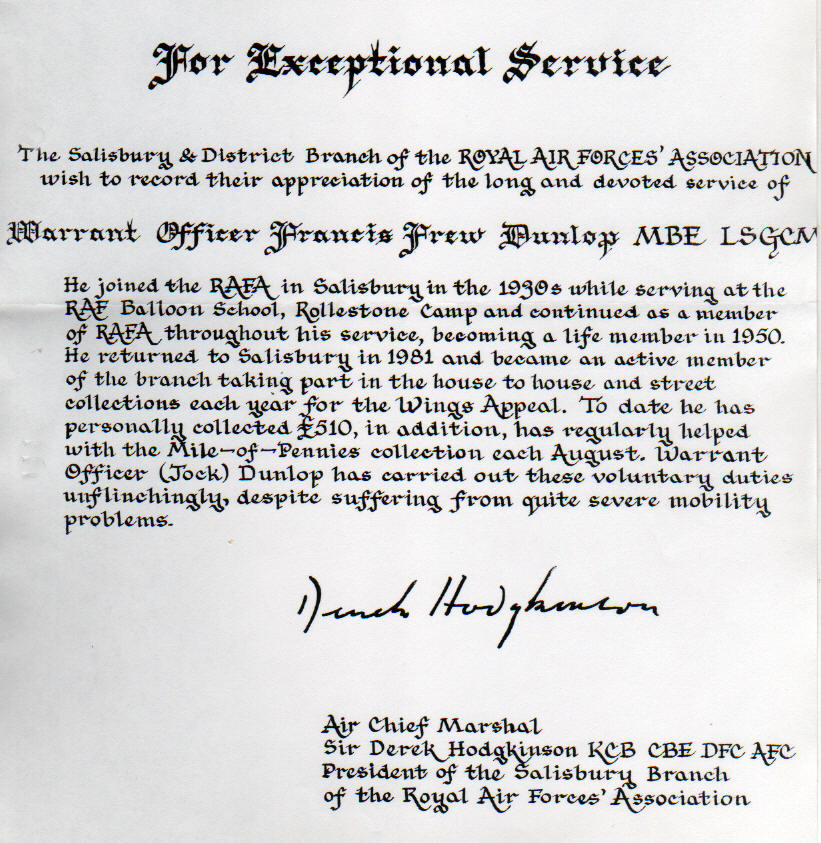 His parchment from the RAFA is for exceptional service and states:
"The Salisbury and District Branch of the ROYAL AIR FORCES ASSOCIATION wish to record their appreciation of the long and
devoted service of
Warrant Officer Francis Frew Dunlop MBE LSGCM
He joined the RAFA in SAlisbury in the 1930's while serving at RAF Balloon School, Rollestone Camp and continued as a
member of RAFA throughout his service. becoming a life member in 1950. He returned to Salisbury in 1981 and became
an active member of the branch taking part in the house to house and street collections each year for the Wings Appeal.
To date he has collected £510, in addition, has regularly helped with the Mile-of-Pennies collection each August.
Warrant Officer (Jock) Dunlop has carried out these voluntary duties unflinchingly, despite suffering from quite
severe mobility problems.
Air Chief Marshall
Sir Derek Hodgkinson KCB CBE DFC AFC
President of the Salisbury Branch
of the Royal Air Force Association"
On leaving the RAF in 1950 'Jock' Dunlop was a gardener in Essex. He was a member of RAFA, and he and his wife Florence
later became members of the Civil Defence and St John's Ambulance.
He was honoured with becoming a Member of the British Empire on January 1st 1945.
Click on this link for his London Gazette: http://www.london-gazette.co.uk/issues/36866/supplements/25
He was also a member of the Pipe Band Major at the School of Balloon Training at Larkhill and Rollestone.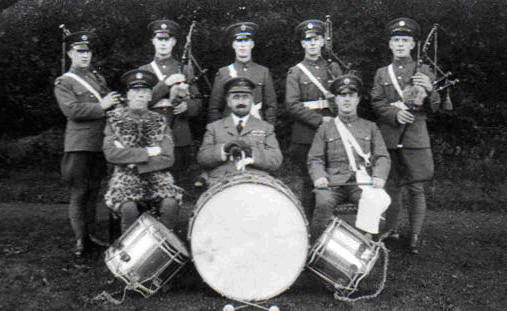 The Band was started by Wing Commander Gaskell-Blackburn (Centre)
Pipe Band at Rollestone. Wing Commander Gaskell-Blackburn (Centre)
If anyone can help with more information on his activities with the Pipe Band we would love to know!
peter.garwood@bbrclub.org