2271 Section Officer Zena Beatrice Taylor
(later Taylor-Holden)

She was born Zena Beatrice Richardson in Winchester on 2nd October 1912.
She was the first of five children born to Charles Harry Richardson (1984-1951) and Beatrice Richardson (Nee Jerram)(1886-1954).

Beatrice Richardson was not in good health and so Pattie was taken under the wing of two maiden aunts. There she was taught how to be

a "Lady", lessons that stayed with her throughout her life.

Pattie had two brothers Charles George Richardson (1914-1990), Wilfred G Richardson (1888–1917), and two sisters Brenda Mabel

Richardson(1917–1999), and Thelma Joyce Richardson (1922–2004)

. She had an uncle

Wilfred G Richardson (1888–1917).

She went to the County High School in Winchester and became fluent in several languages and it was there she showed her great love

of the sport of fencing.

She left school at 18 years of age, missing university and becoming a code and cypher officer. In the summer of 1934, she married David

Taylor who was an officer in the Royal Air Force. As war loomed nearer, she became a member of Winston Churchill's staff. When war was declared, David her husband was posted off to Ceylon.

It was at this stage that Pattie decided that her future lay in joining the Women's Auxiliary Air Force and she joined Balloon Command.

She enlisted in July 1940 at Harrogate and eventually became 424725 Airwoman 2nd Class Zena Beatrice Taylor, and she was granted a

commission for the duration of hostilities as an Assistant Section Officer on probation in the Women's Auxiliary Air Force on 5th July

1941.
On 20th June 1941 it was reported at Bedfordshire newspapers that "Many people will remember the broadcast performance of the
Balloonatics Concert Party, which followed the immediate success of the show when it was first staged at an R.A.F. station a few
months ago. This week a second edition of the production is being presented at the Camp cinema of the Station, and it lacks nothing
of the originality and sparkle of its predecessor. On Monday a representative of the B.B.C. Outside Broadcasts Department watched the
show, with a view to broadcasting it again. Much of the success of the concert party is due to the work of Squadron-Leader H. Bitschine,
who, besides producing and compeering the show and writing most of the script, displays no mean/talent as a singer and elocutionist.
He is, ably assisted by Acting Section Officer Taylor."
The Bedfordshire Times and Independent ran an advert for this on
1st August 1941.

One of the most notable of the events in aid of the Air-Raid Distress Fund is the week's presentation of The Balloonatics Concert Party
in the Bedford Modern School Hall. Packed houses have seen the performances of the show, and there can be no doubt as to the success
of the venture, which is due in large part to the excellent arrangements of Mr. L. W. Bond, the organizing secretary of the Fund for Bedford.
The Balloonatics are all personnel of an R.A.F. Station, and they include several stars of the professional stage. When their show was first
presented, the 8.8.C. were so favourably impressed that they broadcast a performance of it in the Forces programme. The revised edition,
which is being presented this week, is undoubtedly much better than its predecessor. and reaches a remarkably high standard for an amateur
production. For this, much of the credit must go to Squadron-Leader H. Bitschine. who has written much of the dialogue and produced the
show, besides taking a goodly share in the performance. The R.A.F. Station orchestra, which incorporates the R.A.F. Dance Band (the Aero
Rhythm Boys) provide an added attraction, and their number includes several names well-known in the world of music. The Musical Director
is Sergeant. F. Jackson, A.R.A.M. The repertoire of The Balloonatics , who give their final performance tomorrow (Saturday), comprises
tap-dancing, speciality acts, vocal items, comedy sketches, and concerted numbers.
On 5th July 1942 she was appointed to be a Section Officer.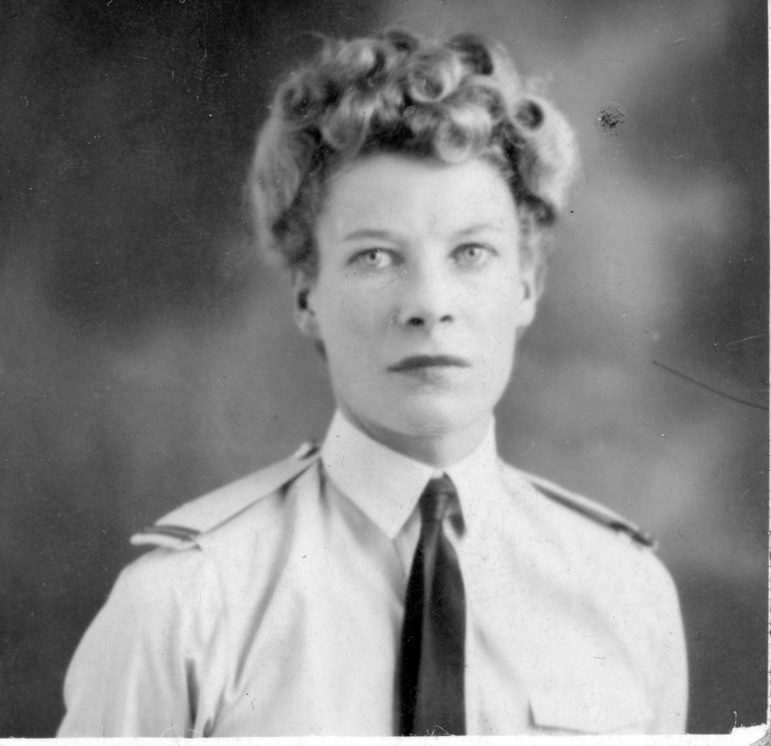 Pattie in May 1944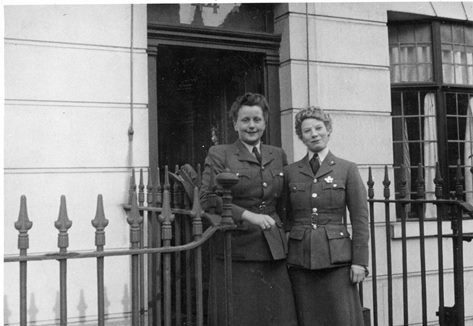 Pattie and friend at unknown location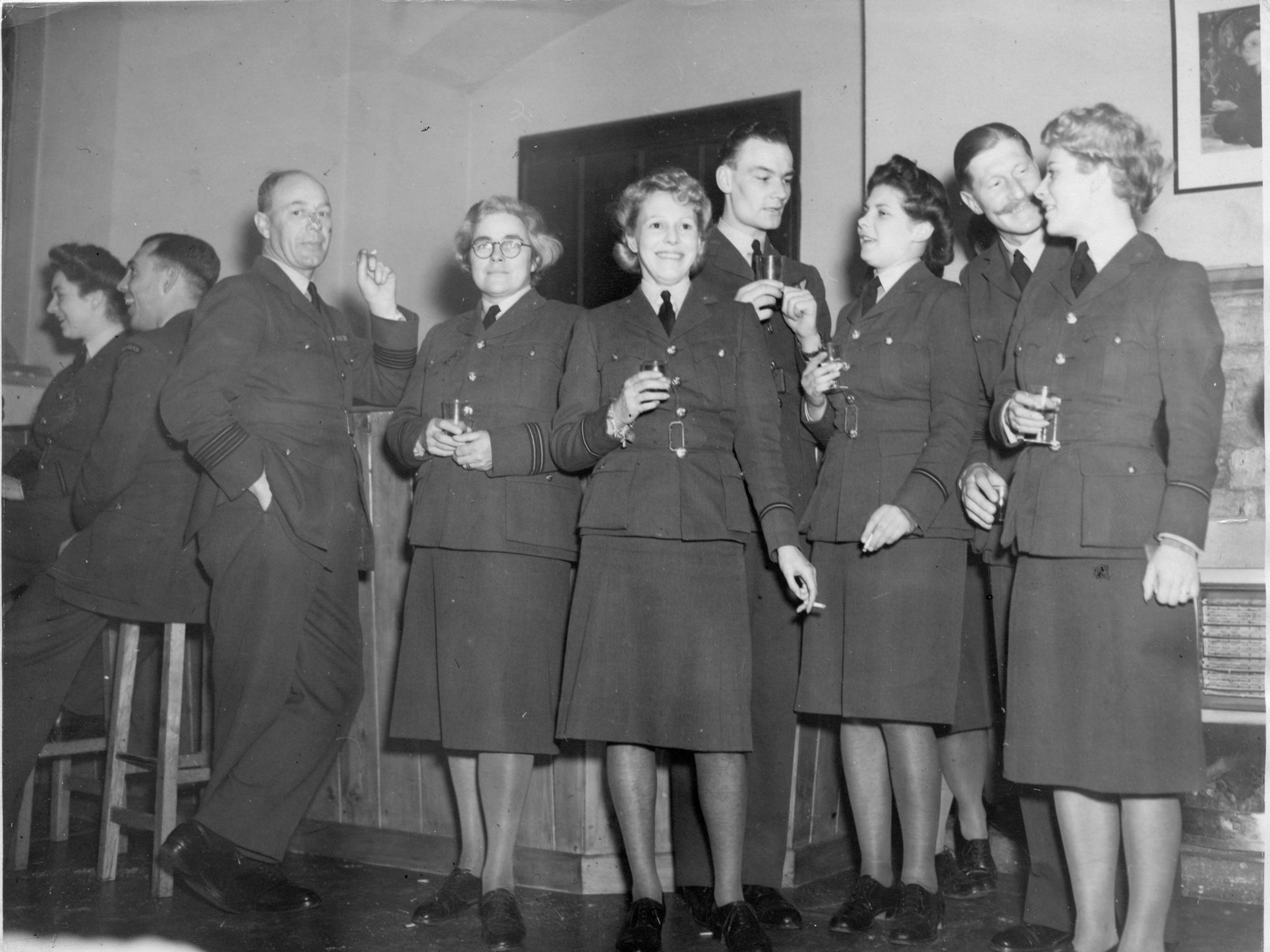 Pattie in the Officer's Mess during WWII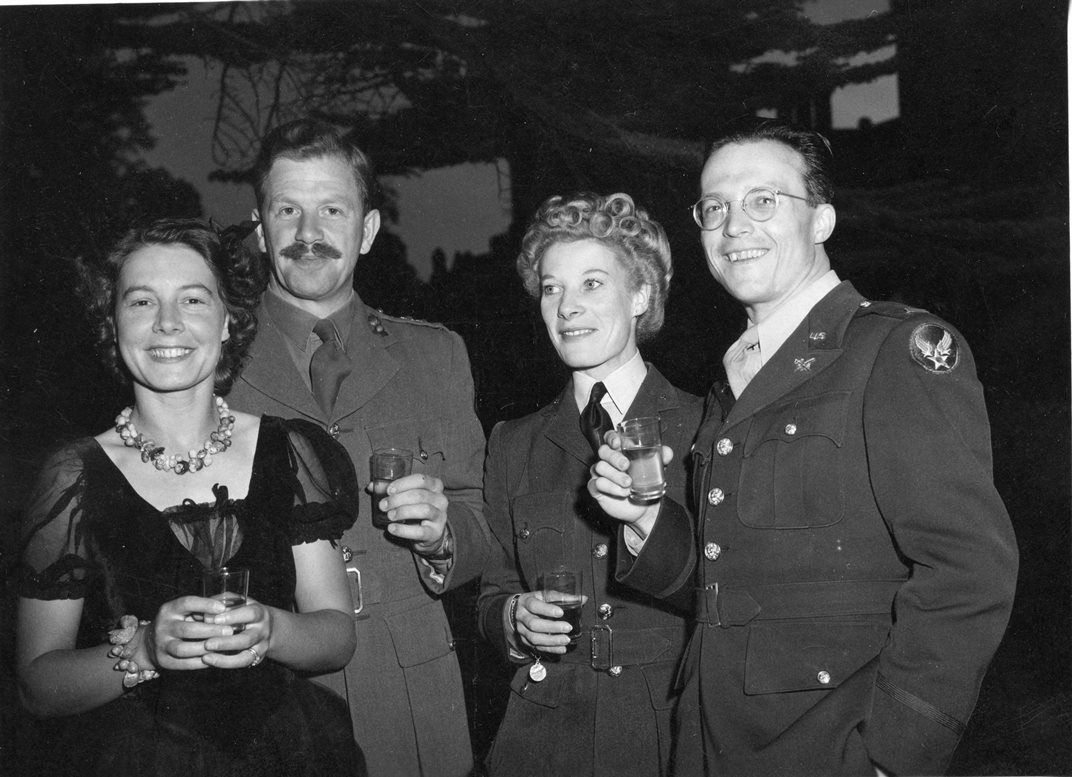 Pattie at Bushey Park 1944 -the American was called "Ajax" of 8th U.S.S.A.F.-others unknown.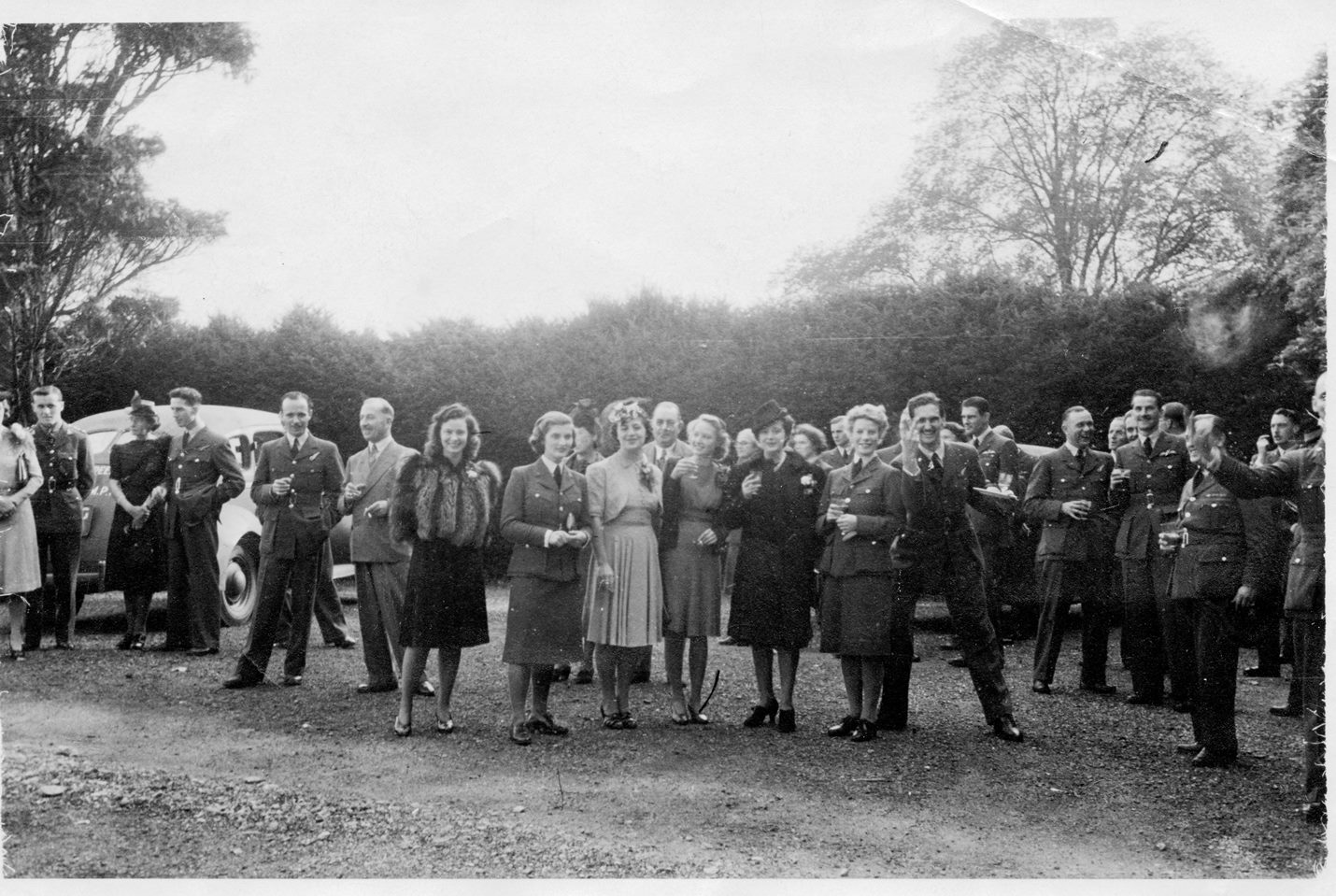 Pattie at a wedding during WWII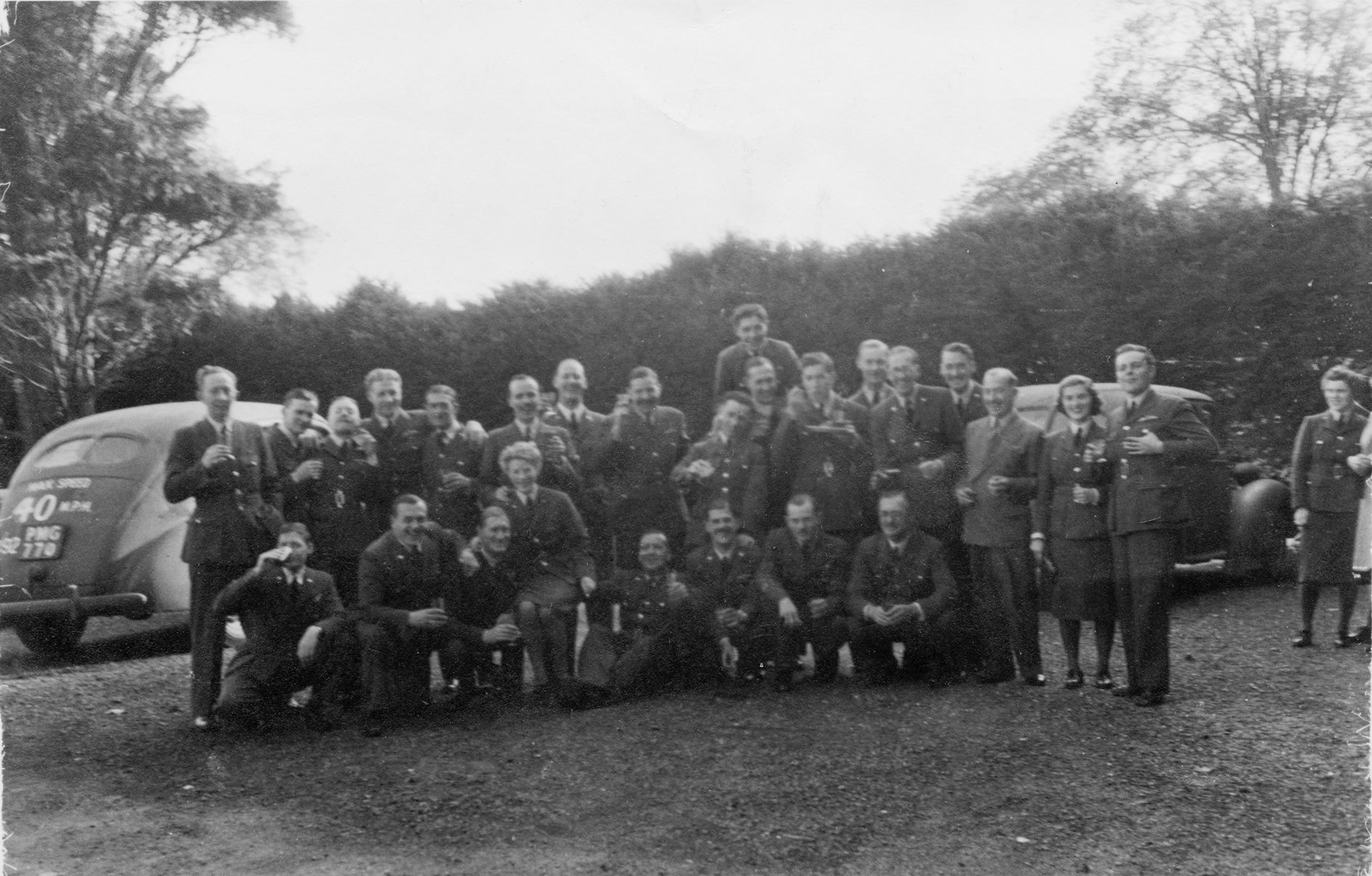 Pattie at a wedding during WWII
David died after the war had ended and Pattie remained in London and became very well known in fencing circles. She was part of the fencing
teams representing England in Commonwealth and Olympic games. She was Fencing Coach for the ladies team and made several television
appearances demonstrating fencing techniques.
On 14th December 1954 she was allowed to relinquish her commission and was granted permission to retain rank from 10th February 1954.
In 1948 she attended a reunion of No. 30 Group (Balloon Barrage) at the Mayfair Hotel.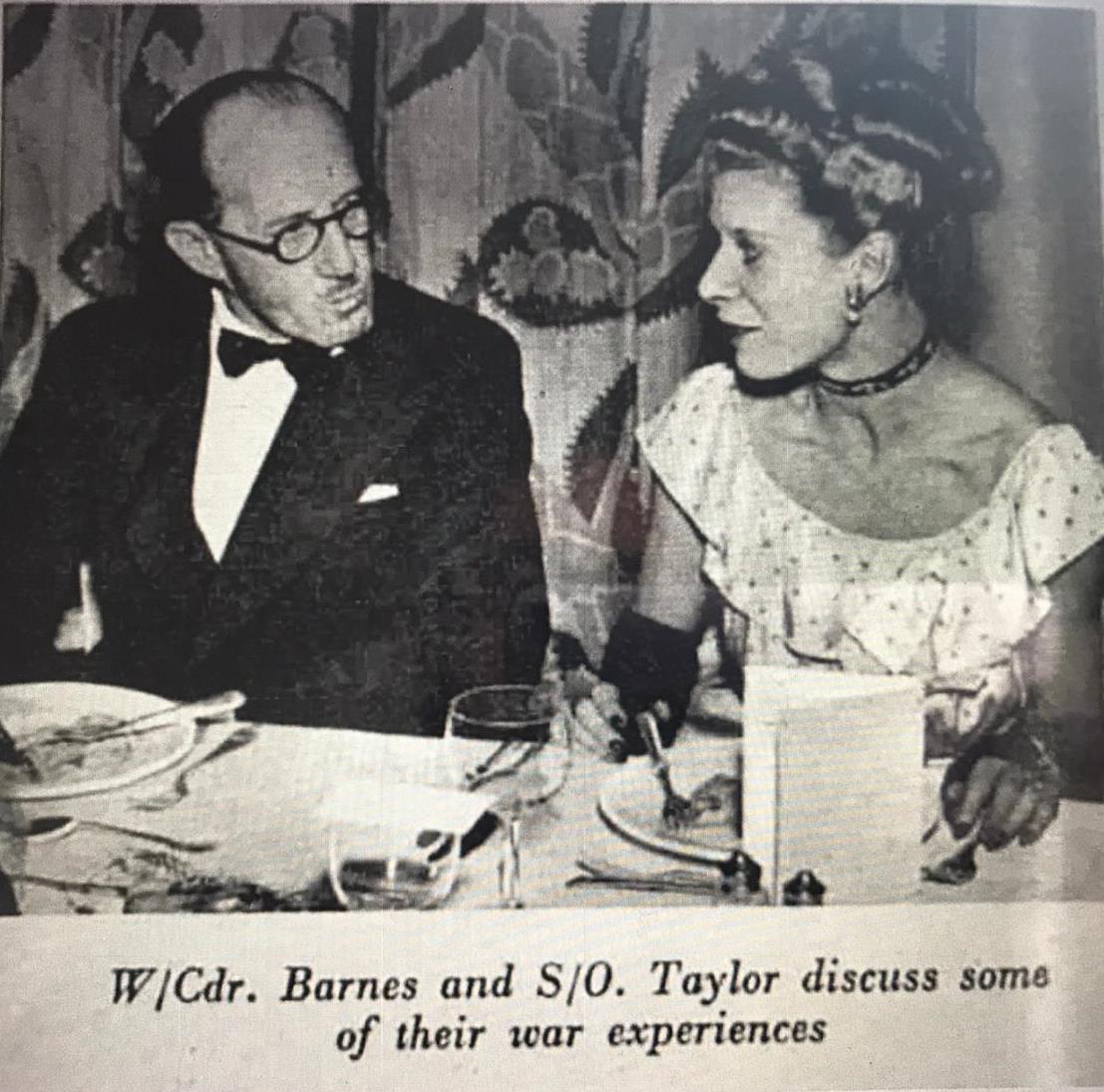 When 30 (Balloon Barrage) Group was formed Flight Lieutenant A. Solomons, Wing Commander Henry F. Tiarks, Squadron Leader E.W. Josephs,

O.B.E., Squadron Leader Edgar Mann and Section Officer Pat Taylor were the original team who were involved in setting it up. It was these

reunions of No.30 (BB) Group that attracted the attention of other officers from other Balloon Barrage Groups who asked if they could attend

future reunions. In 1959 it was decided to form a more all-encompassing group to co-ordinate reunions and the Balloon Barrage Reunion Club was

formed.

The Chairman was Wing Commander Charles-Louis Leopold Alfred Beaumont and it was agreed to extend membership to all officers of Balloon

Command. The Club met every October for an evening dinner in London. Wing Commander Beaumont died in 1972 and the Chair was taken over

by Wing Commander Cyril Gadney, M.B.E.

Wing Commander Cyril Gadney was well known having been an English rugby captain who played 13 times for England and represented the British

Lions. He became President of the R.F.U in 1962. He was on a BBC programme in 1945 "Calling all Sportsmen".

He proposed that the Club should extend membership to all ranks who had served in Balloon Command. In 1981 it was decided to hold the reunion

as a luncheon to benefit those who had travelled some distance and did not want to stay overnight. Wing Commander Cyril Gadney died in March

1981 and that left the Club with no President until October 1982 when the Club met at Kensington and the Chairmanship was accepted by Flight

Lieutenant A. Solomons. Pattie took on the role of Hon. Secretary, with membership number 3, from 1982 and provided valuable assistance in

raising the profile of the Club.

Pattie became President of the Club in and continued until September 1999 until poor health limited her involvement. Ron Holder was elected

new President of the Club.

Pattie remarried at Paddington in the summer of 1968 to James N. Holden, a London osteopath.

She remained there and kept many pets who people remarked were "incredibly well trained" which was probably due to her officer training being applied to animals!

Her sister Brenda lived at Taunton and because of regular visits to see her, Pattie and Jimmie fell in love with the West Country. When Jimmie gave up his osteopathic practice and retired, they moved to French Weir Close, Taunton.

Not long after moving Jimmie became ill and sadly died shortly afterwards.

After his death Pattie continued to support her beloved R.S.P.C.A. and helped in the charity shop that supported the hospice where Jimmie had spent the last few weeks of his life.

Pattie was visiting friends in London when she was involved in an accident and as a result her mobility became a problem.

She moved to Beaumont Court, Launceston where she could be looked after more easily.

She passed away on 1st April 2007 at Launceston, Cornwall.

Pattie 1966 Marleybone

Pattie was a glamorous, intelligent, talented woman, with an amusing sense of humour and she is missed by all who knew her.

Without doubt she was the driving force behind the formation and promotion of the Club from the 1970's onward.