2080759 Leading Aircraftwoman Kathleen Elsie Cooper
Kathleen Elsie Cooper was born in March 1923 in Nottingham, Nottinghamshire, her father, Percy, was 36, (born 3rd October 1887)
and her mother, Frances (Nee Would), was 37, (born 28th November 1885). She had five brothers and one sister. In 1939 she was
recorded as living at 4 Springfield Road, the youngest daughter. Her father was a Master Fish Fryer and acted as a voluntary Air Raid
Precaution Warden. At home was her younger brother Leonard, (born 11th February 1926) who was still at school. She joined the
Women's Auxiliary Air Force Balloon Barrage and was posted to 906 Squadron. This was based in Kensington W8 in 1943. Kathleen
was taken ill and admitted to St. Mary Abbott's Hospital, Kensington. She had previously worked at Messrs James Blount Lewis of Haydn
Road, Nottingham, best known for its underwear and knitwear but also producing, at various times, men's socks and ladies' fine gauge
hosiery. She also worked for a short time at Boots. She died in the the hospital on 16th July 1943, age 20, her cause of death was
Tuberculosis and her obituary was placed in the Nottingham Evening Post on Monday 19 July 1943. She was buried at Hucknall Cemetery,
Hucknall, Ashfield District, Nottinghamshire, England.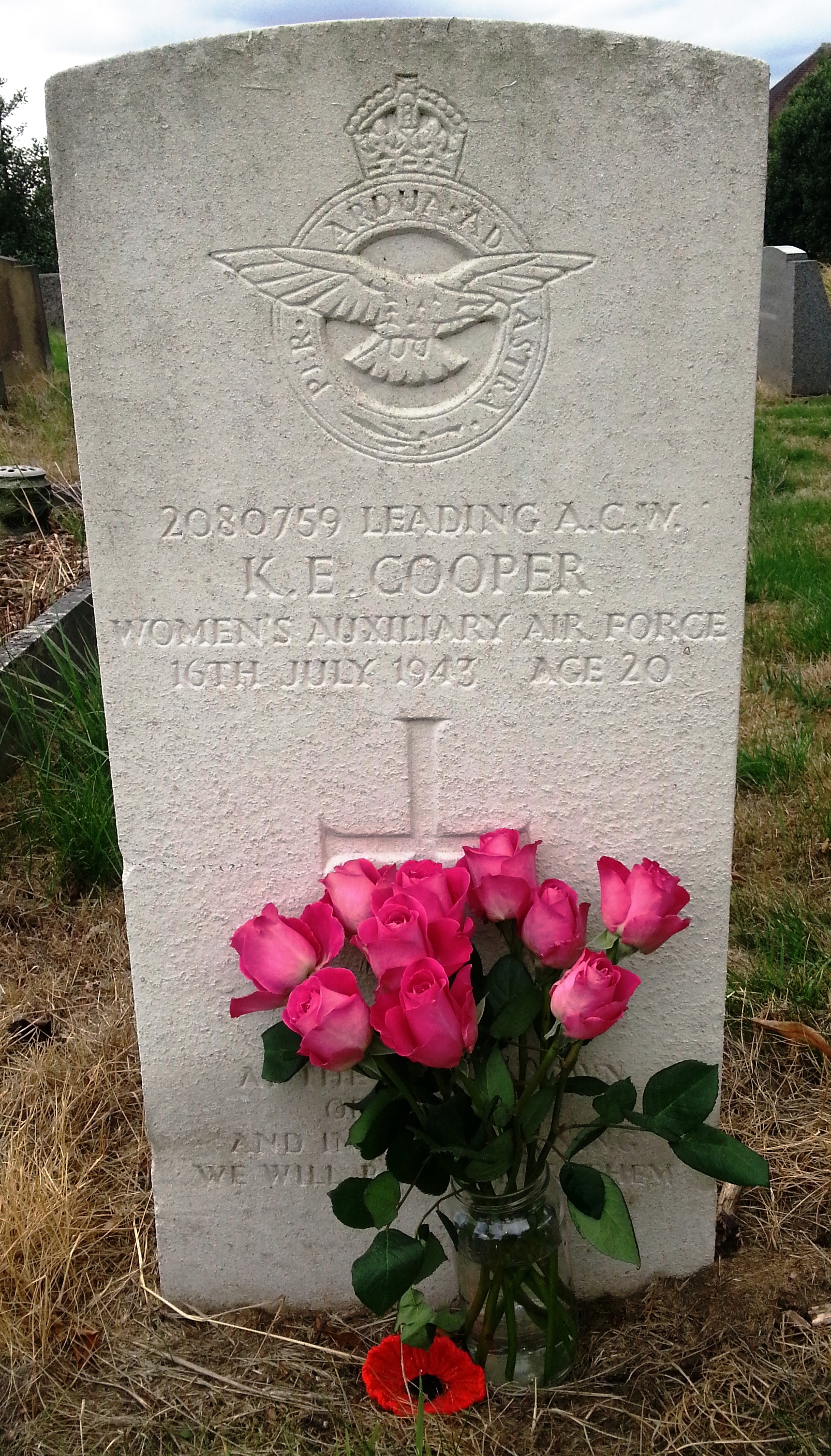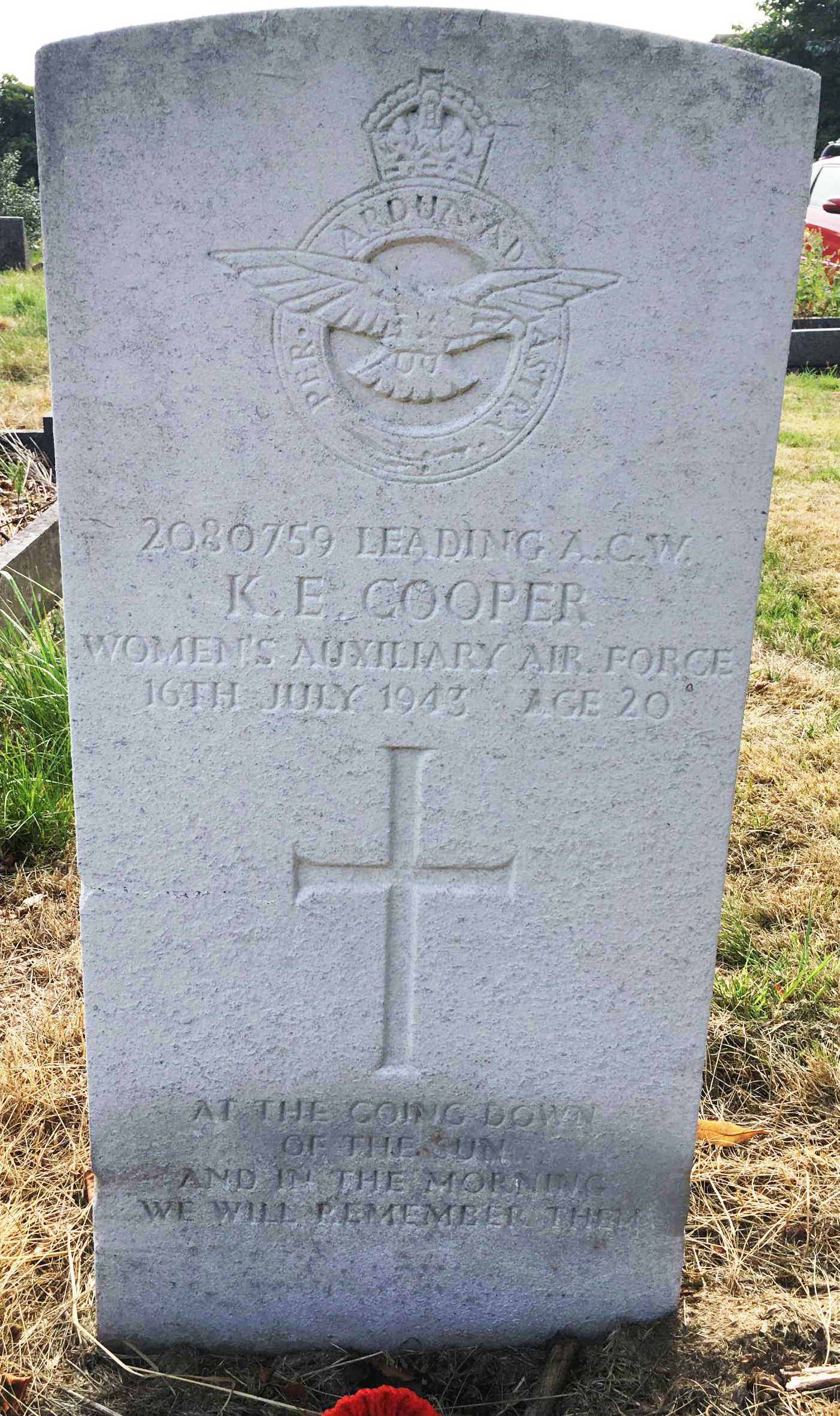 The inscription on the headstone base states:
"At the going down of the sun and in the morning we shall remember them".
She is also commemorated on the Cenotaph to be found opposite the junction with Storth Avenue, Titchfield Park, Park Drive,
Hucknall, Ashfield, Nottinghamshire, NG15 7LU.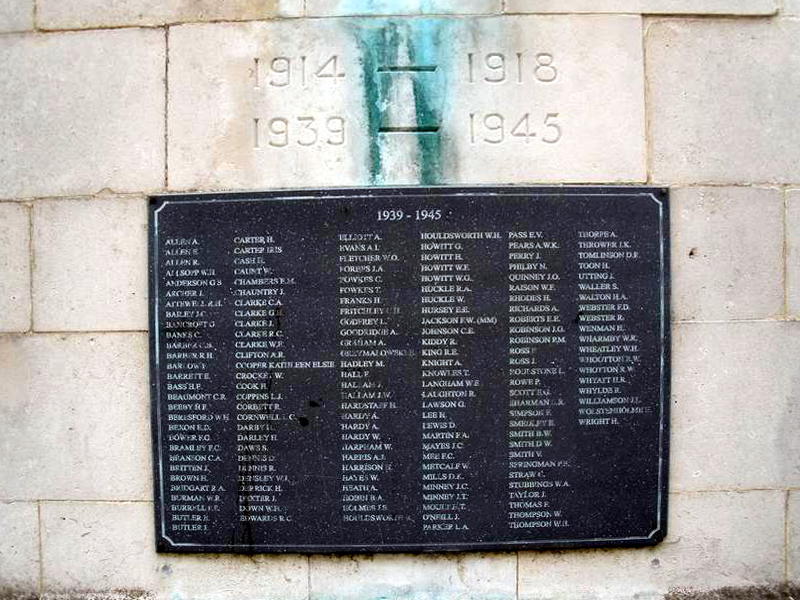 © Rachel Farrand (WMR-58983)
It is described by the Imperial War Museum as: :A Portland stone cenotaph with moulded base and Greek key capital; bronze cross and plaque on 6 o'clock face; bronze plaque on 12 o'clock face; rectangular three-stepped base of ashlar and sandstone paving. Surrounding square paved area has square pillars at each corner with eight bronze plaques containing names, and ten intermediate bollards connected by oval linked chain. Recently a further marble plaque has been added giving details of those who died in the Second World War and in 2010 a further marble plaque showing those who have died in conflicts since 1918." © WMR-58983