2072102 Leading Aircraft Woman Irene Hampson (Nee Barlow)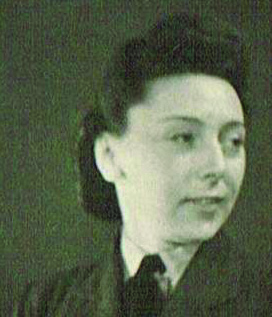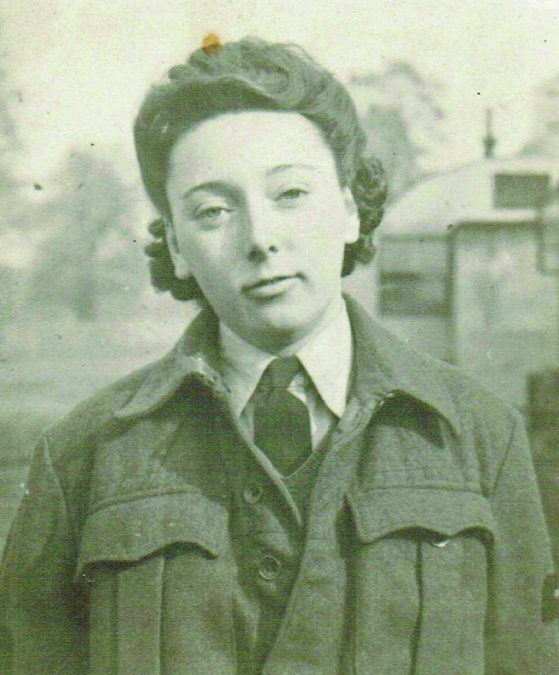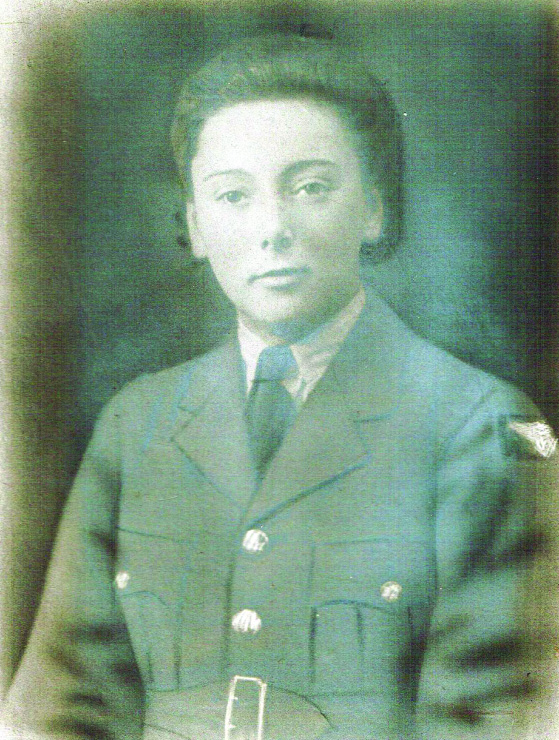 She was born on 4th September 1921 at Rochdale, Lancashire. In civilian life she worked as a Shop Assistant. She had her medical on 8th January 1942
and was classified Grade 1. On entry into the service on 29th April 1942, she was 5 feet 1.5 inches tall, with dark brown hair, grey eyes, with fresh
complexion. Her religion was given as Church of England. She had two scars on her right shin and knee. She enlisted in Bolton and was sent to Innsworth,
Gloucester for initial training as a Balloon Operator with the rank of Acting Chargehand.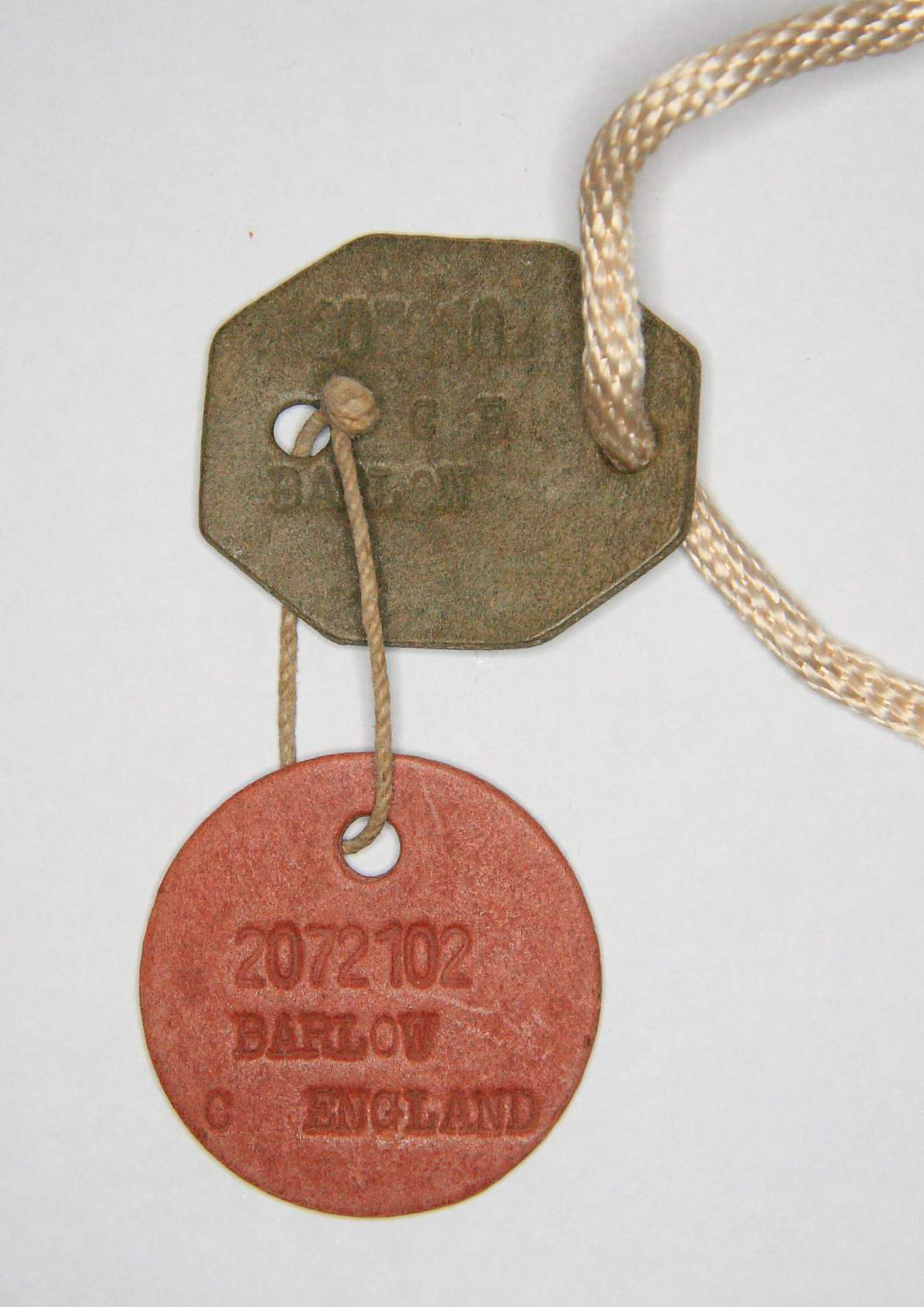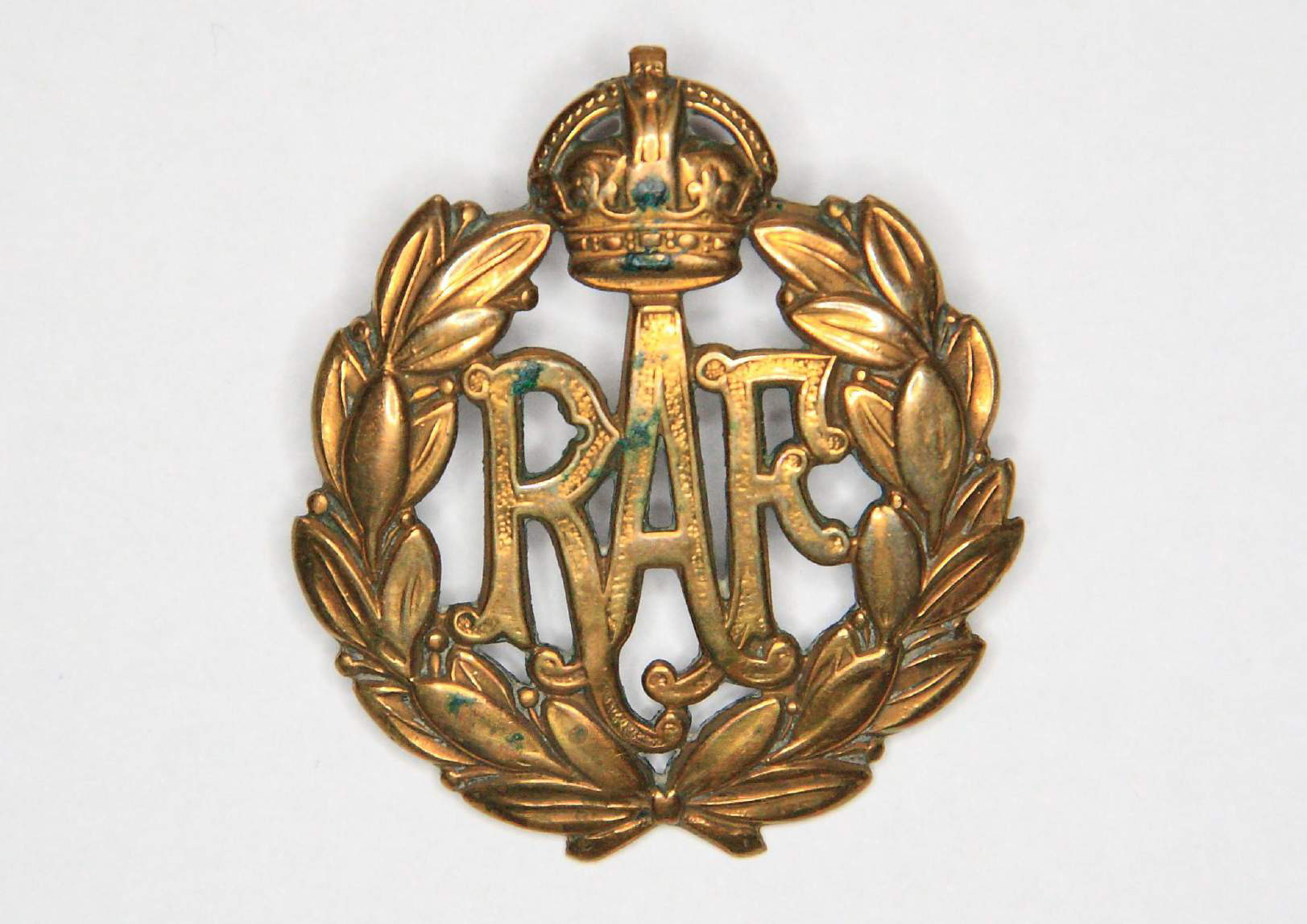 Here are her Dogtags and her cap-badge which she wore with pride.
From there she was sent to Royal Air Force Station Polebrook arriving on 4th June 1942.
She was then sent to No.6. Balloon Centre, RAF Wythall, on 25th June 1942.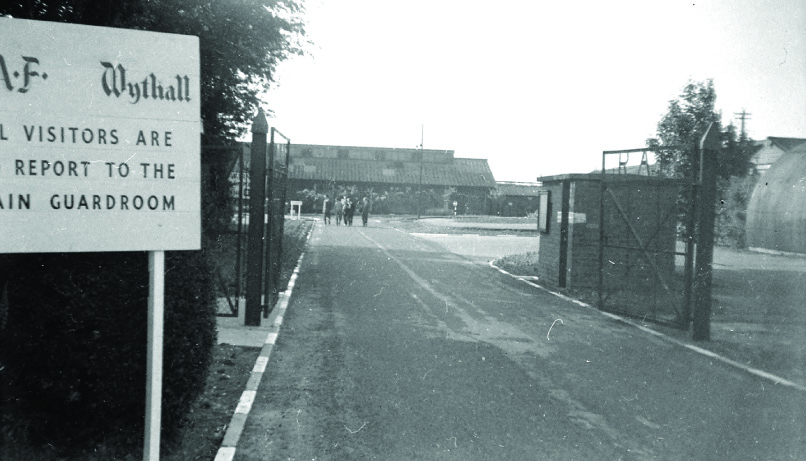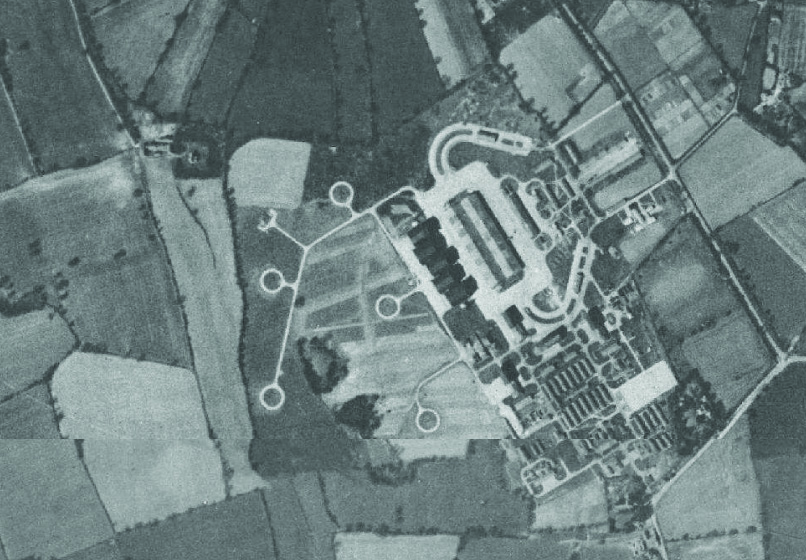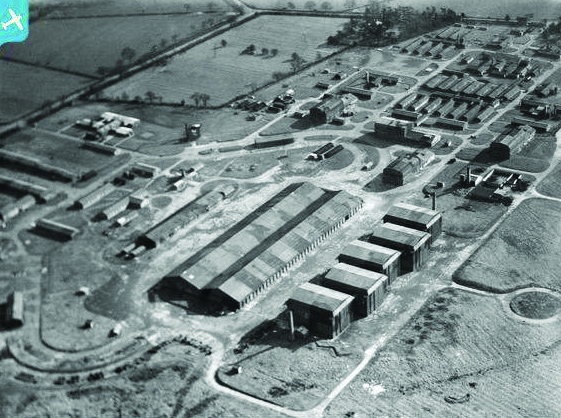 She was 21 years of age on 4th September and her fellow comrades made sure she was not forgotten!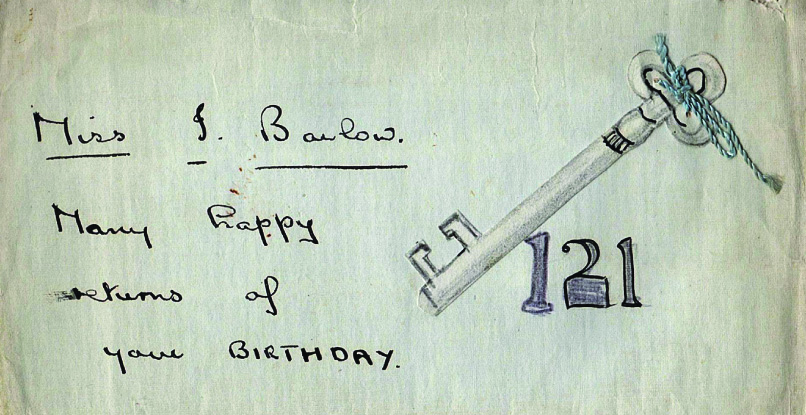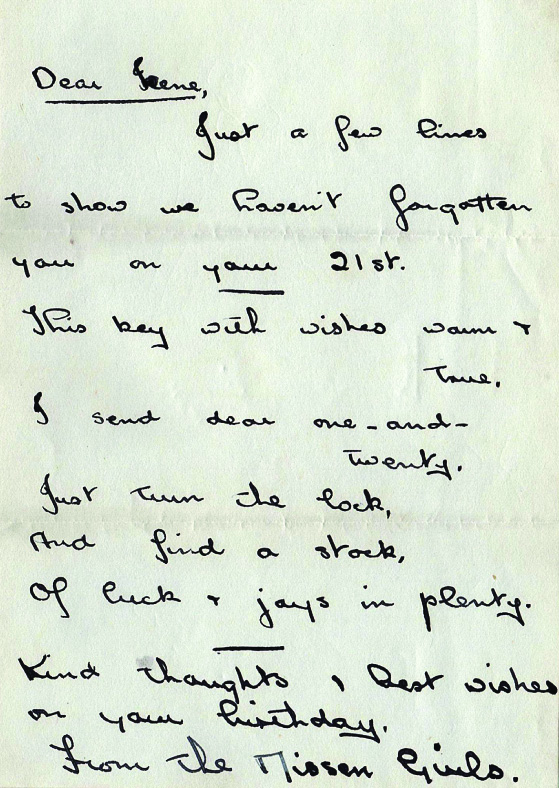 She qualified as Balloon Operator on 5th September 1942 with an exam pass mark of 47.6%.
She was then sent to her first operational squadron, No. 963, on 10th September 1942 at Accrington, Lancashire. The Station Headquarters
were at Oak Street, Accrington. On 11th December 1942, 963 Squadron held a dance at the Majestic Ballroom, Accrington.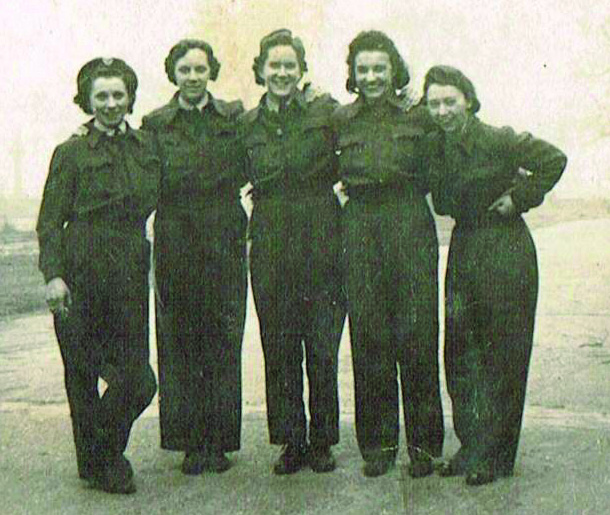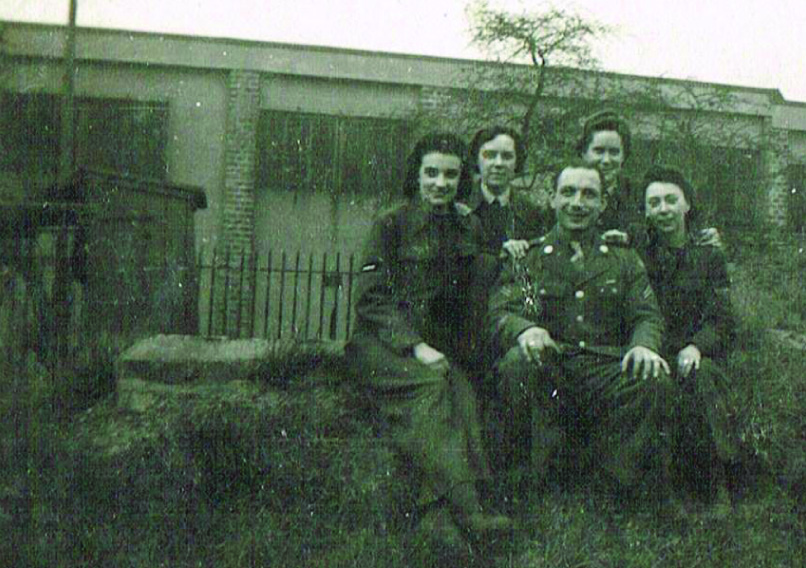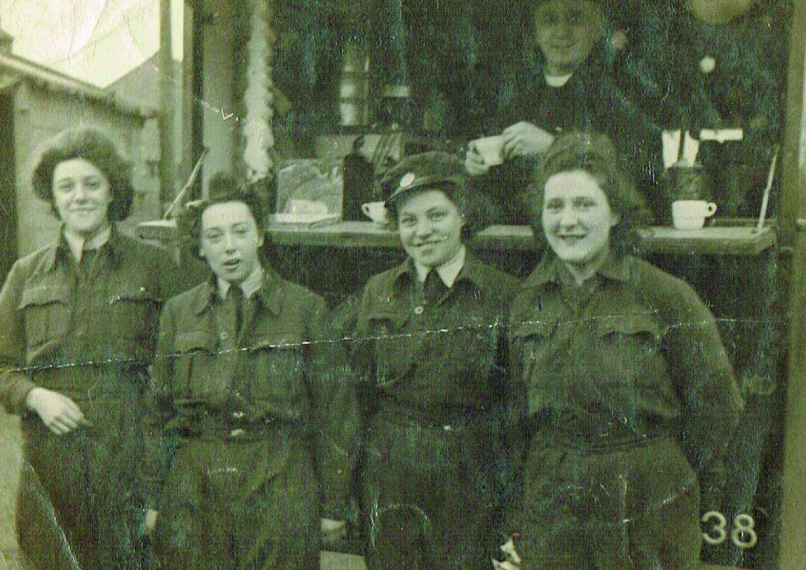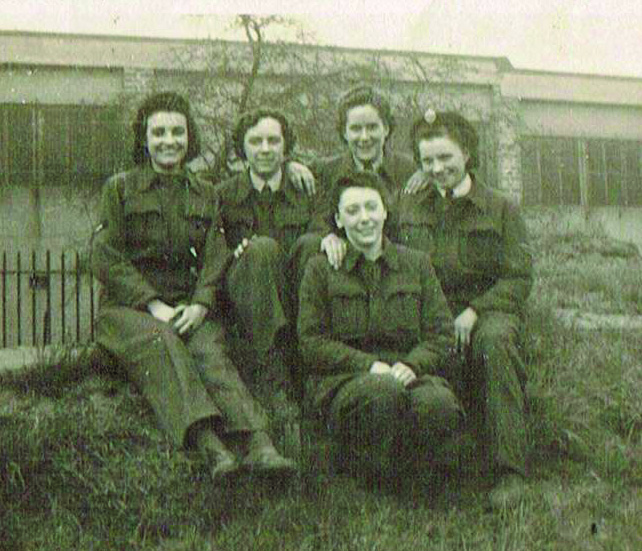 These are great images of Balloon Operators at work and play!
On 31st December 1942 her annual review reveals she has the rank of Aircraft Woman second class,
is a Balloon Operator with "Very Good" character and Proficiency recorded as: "A" Satisfactory.
At the end of January 1943 Irene was one of 400 W.A.A.F.'s in 963 Squadron.
On 8th February 1943 she was admitted to Calderstone Hospital, Mitton Road, Whalley, Lancashire and discharged on 11th February 1943.
This was an asylum, but in World War II the Emergency Medical Services set up as a casualty treatment hospital in a small part of the buildings.
Presumably she had some form of accident. 963 Squadron had begun to thin down the number of W.A.A.F.'s and by the end of March 1943
only 207 were with the Squadron.
On 23rd March 1943 she was posted to 906 Squadron, (County of Middlesex Balloon Squadron). On 1st July 1943 she is given the rank of Aircraft
Woman first class after an exam mark of 76%.
Off-duty W.A.A.F.'s sometimes found time to attend concerts at various venues and Irene was no exception.
Here are the ten best songs that were popular at one point during the war.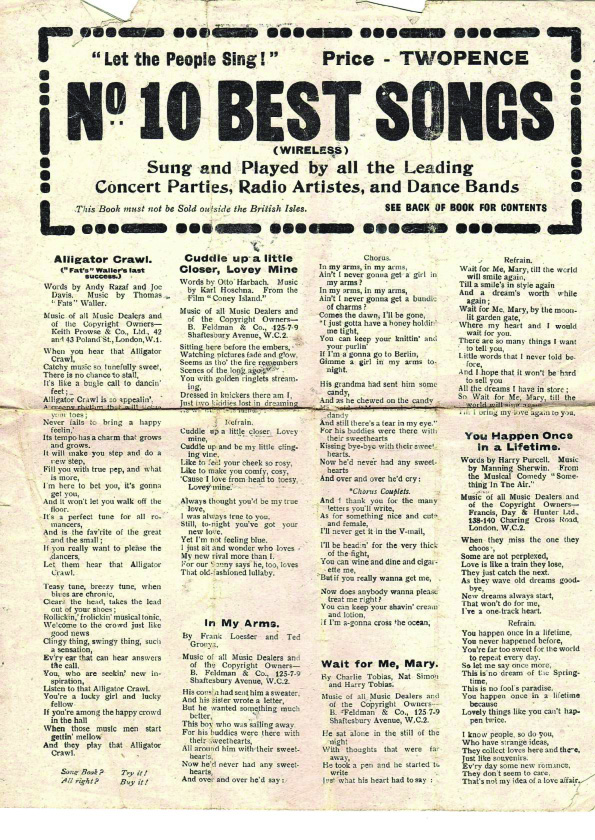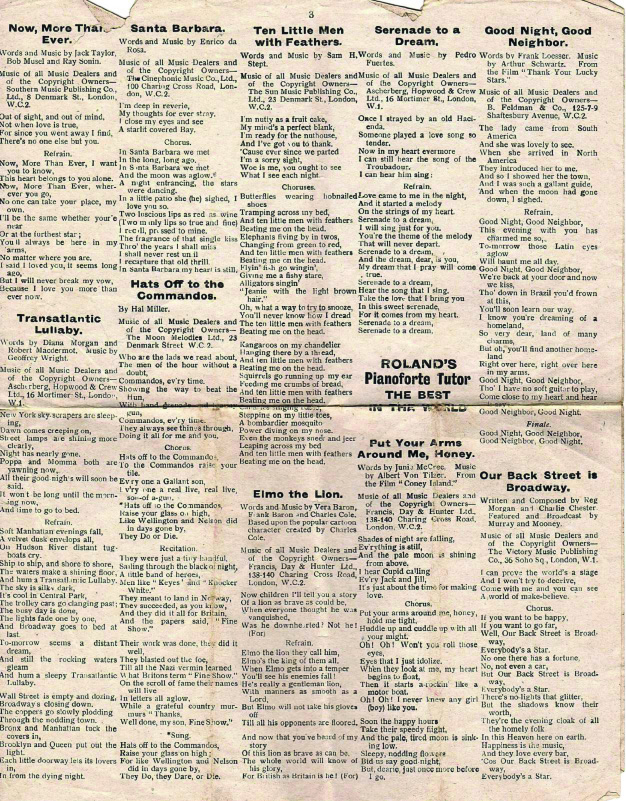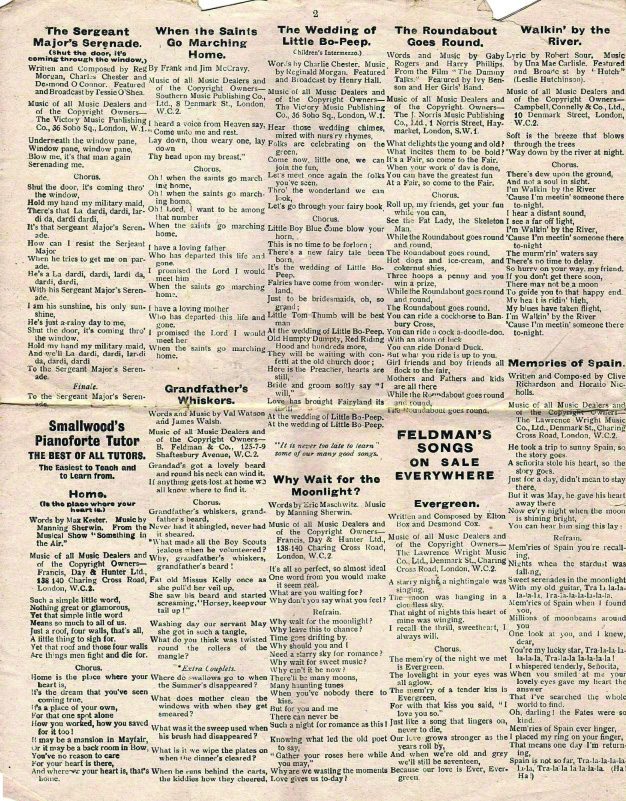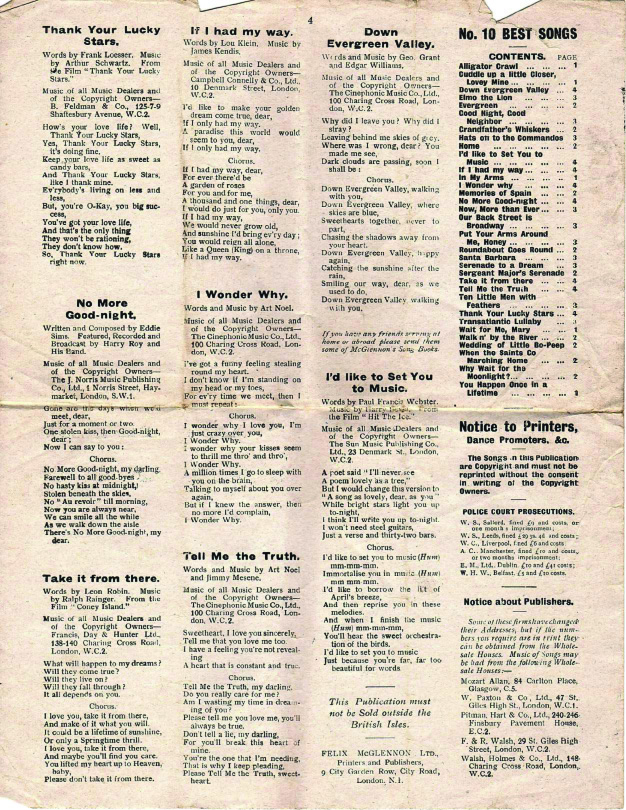 Here are a series of concert programs that she went to throughout the war: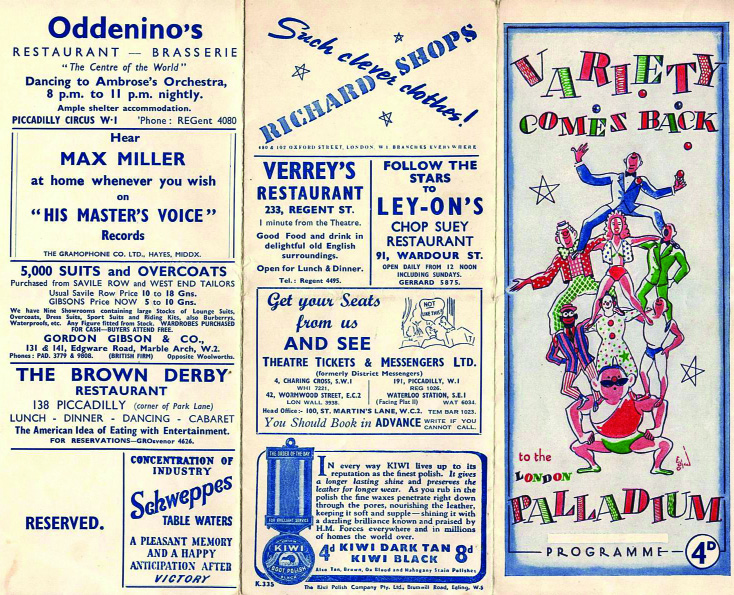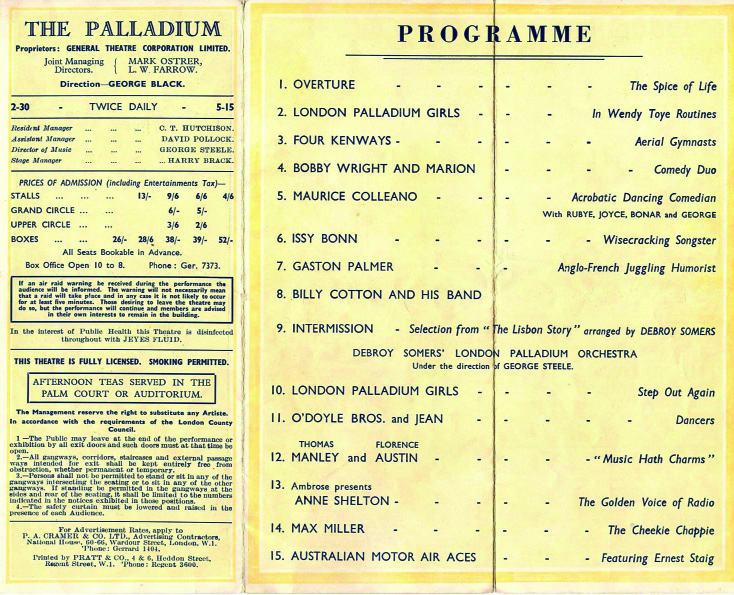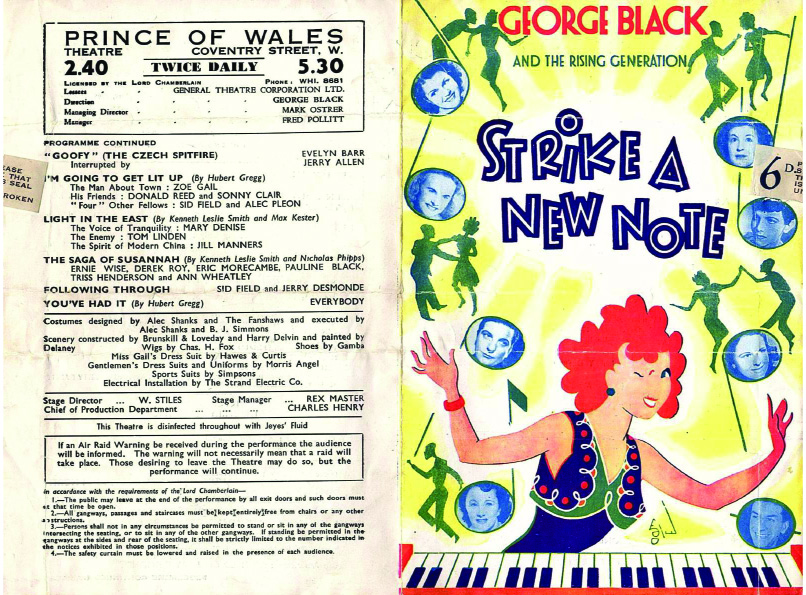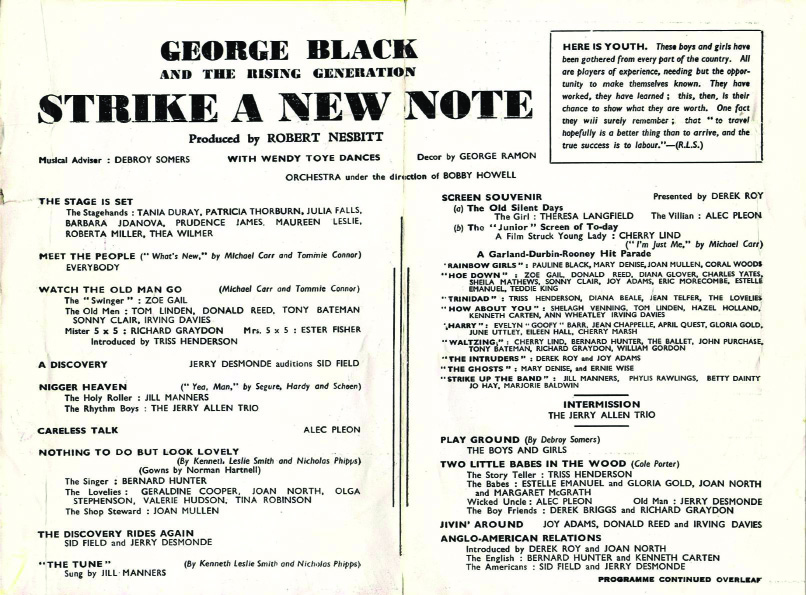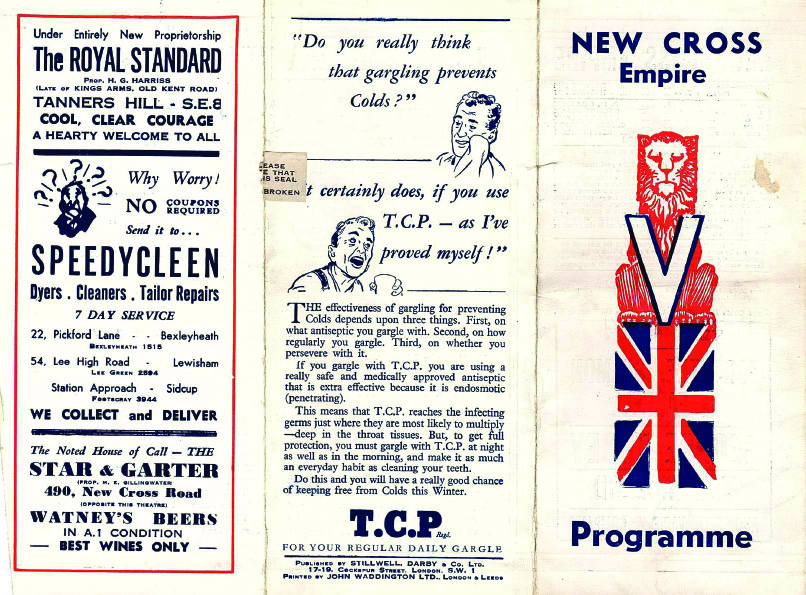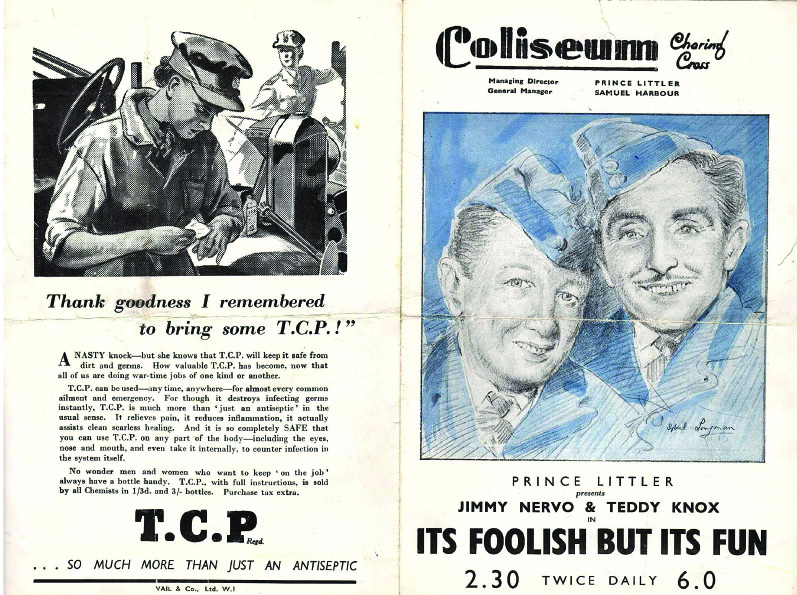 Wartime entertainment was an important part of relaxing and it looks like Irene got around quite a number of theatres during the war.
On 1st September 1943 she was given the rank of Leading Aircraft Woman after an exam mark of 80% and posted to the combined 902/3 Squadron,
(On 12th May 1941 Nos 902 and 903 Squadrons were amalgamated into No. 902/3 Squadron). On 3rd September 1943 she is at a balloon site at St.Mary's Gate,
Greenwich Park, Greenwich, SE10.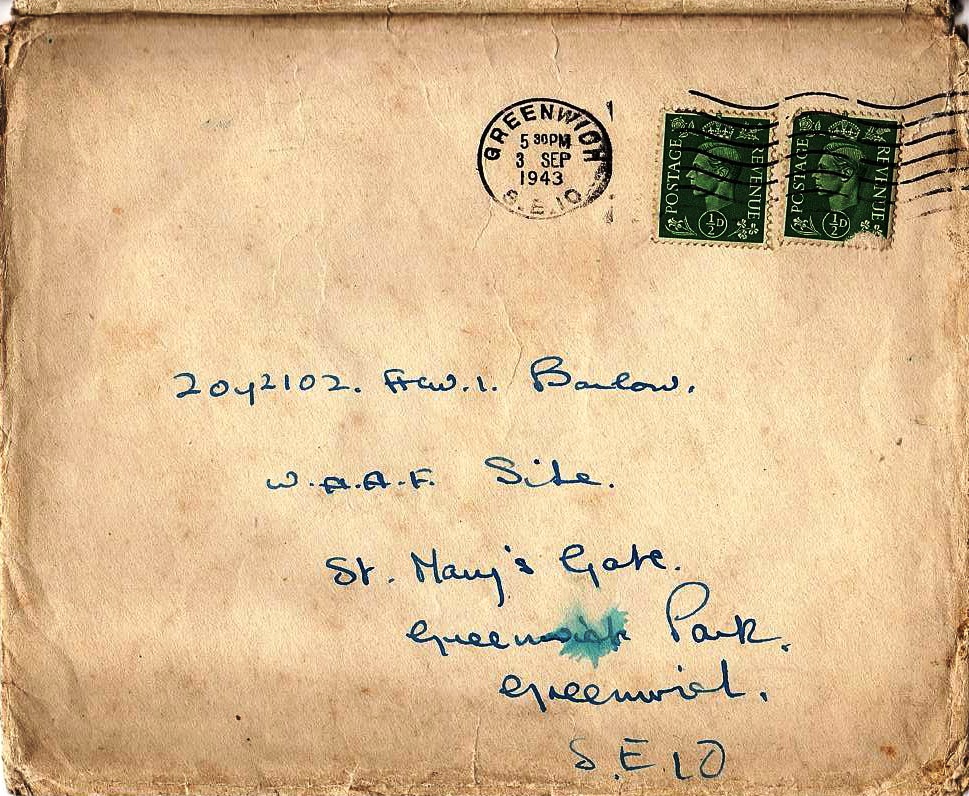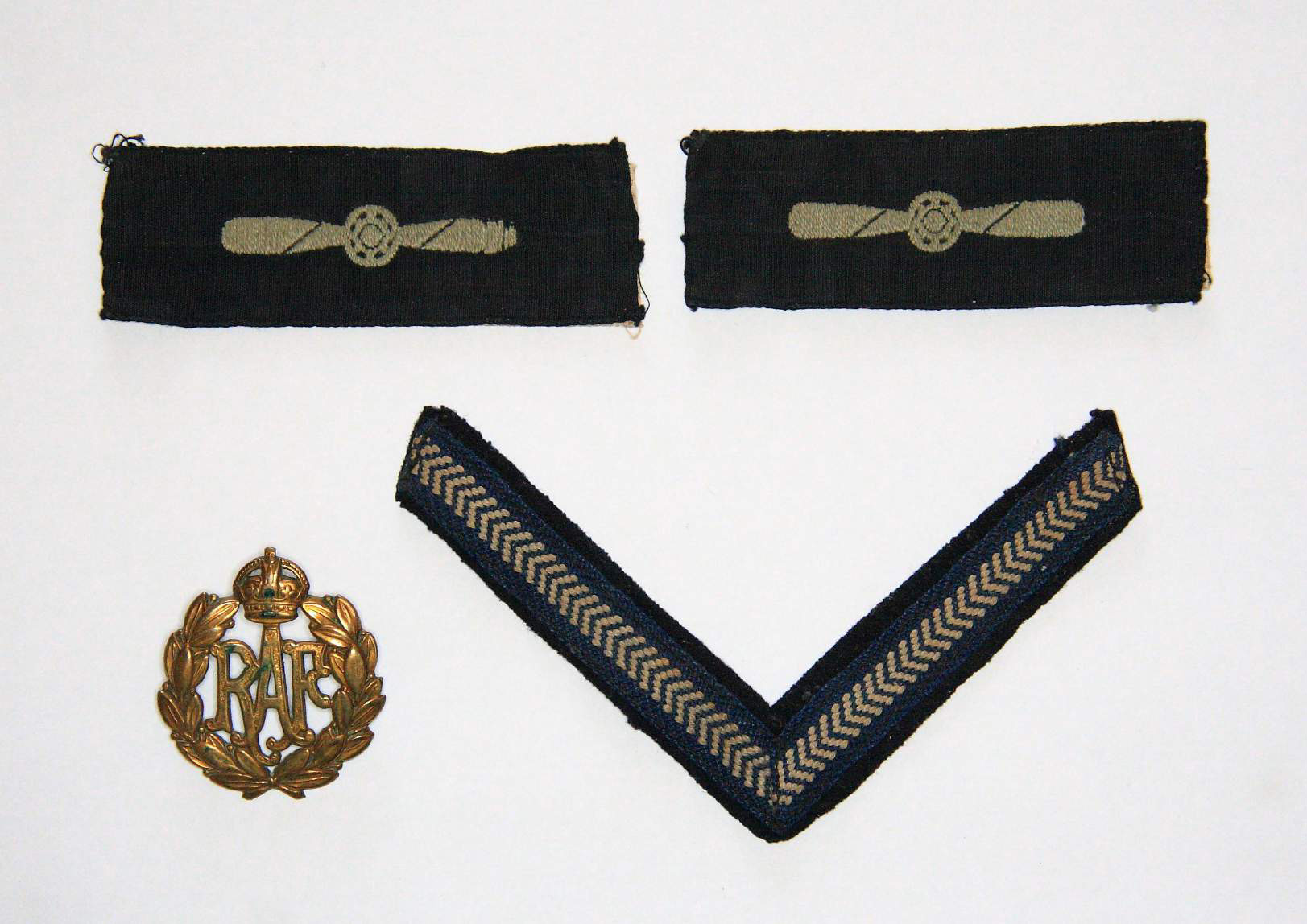 Above is an envelope addressed to her and her rank badges
On 11th September 1943 she was posted back to 906 Squadron and on the same day posted back to 902/3 Squadron, this suggests an administration decision change.
On 31st December 1943 her annual review reveals she has the rank of Leading Aircraft Woman 1st class, is a Balloon Operator with "Very Good" character and
Proficiency recorded as: "A" Satisfactory.
On 27th June 1944 she is posted to No.12 Balloon Centre, Fareham, Hampshire, but still with 902/3 squadron until 8th July 1944.
Once D-day had arrived and was turning the tide of war the majority of women employed in balloon work were redeployed or remustered. This was
because the war was at a stage where enemy air attacks were very unlikely and air defence against aircraft was not needed although many men in
balloons were sent to Kent to use balloons to defend against the V1 attacks. On 9th October 1944 a signal from Balloon Command was sent requiring
all balloon personnel employed, but not remustered to a trade other than that of a Balloon Operator, to exchange their balloon operator clothing for
normal W.A.A.F clothing.
A female Balloon Operator wore: A blouse, trousers, beret, two pairs ankle socks, ankle boots, Southwester, and a blue/grey sweater "W.A.A.F.".
They were then on leaving Balloon duties be given clothing that would transform their appearance into a more feminine version of a W.A.A.F.
This consisted of: Jacket, skirt, lisle stockings, two blue overcoats, blue slacks, W.A.A.F. cap, and black leather shoes.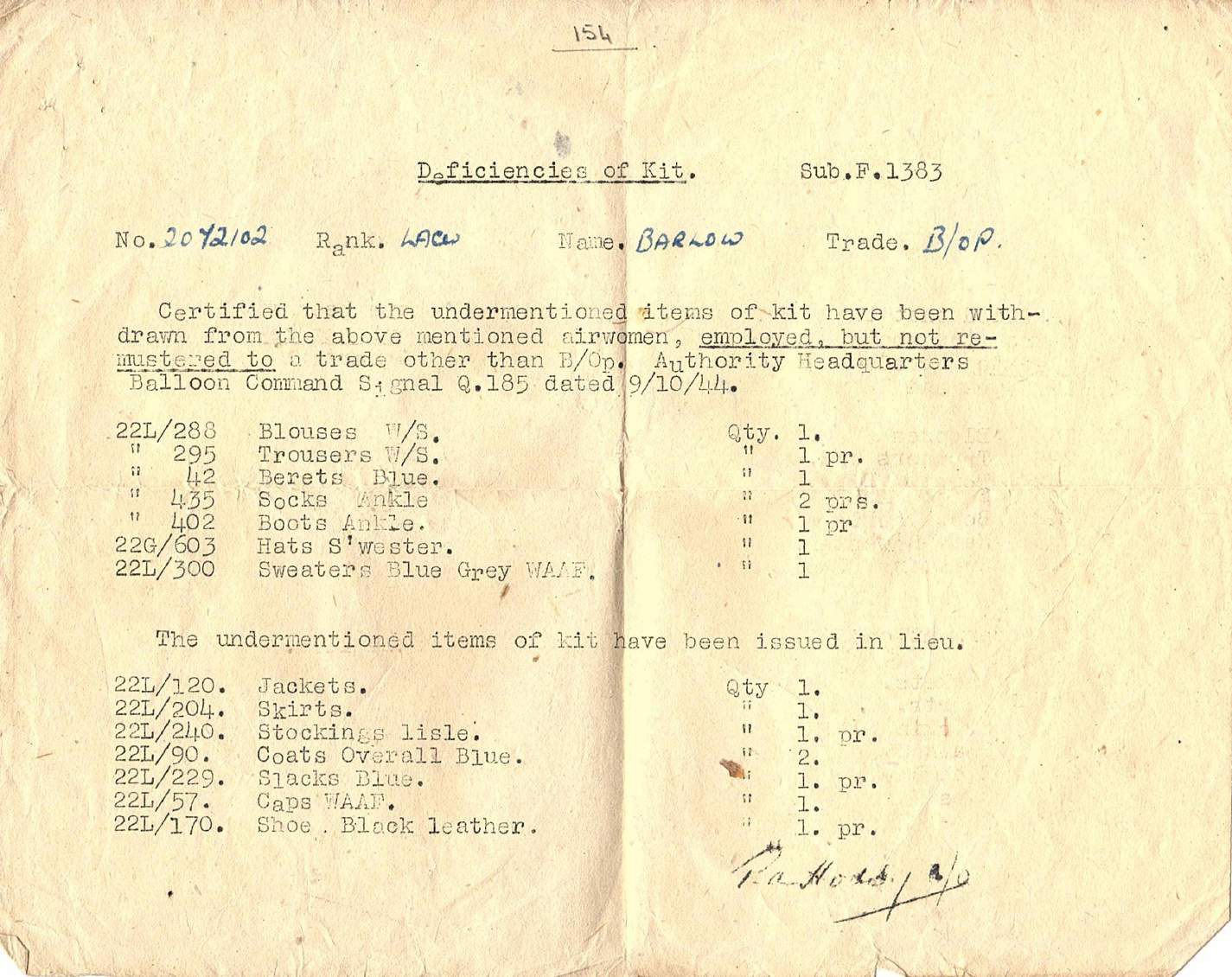 On 13th October 1944 she is sent to Royal Air Force Burtonwood Warrington, Lancashire, two days later she is sent to No. 105 Dispersal Centre,
Royal Air Force, Wythall, Worcestershire. On 31st December 1944 her annual review reveals she has the rank of Leading Aircraft Woman 1st class,
is a Balloon Operator with "Very Good" character and Proficiency recorded as: "A" Satisfactory.
She was allowed a pass to leave the Squadron and here are copies of her pass used between October 1944 and 1945.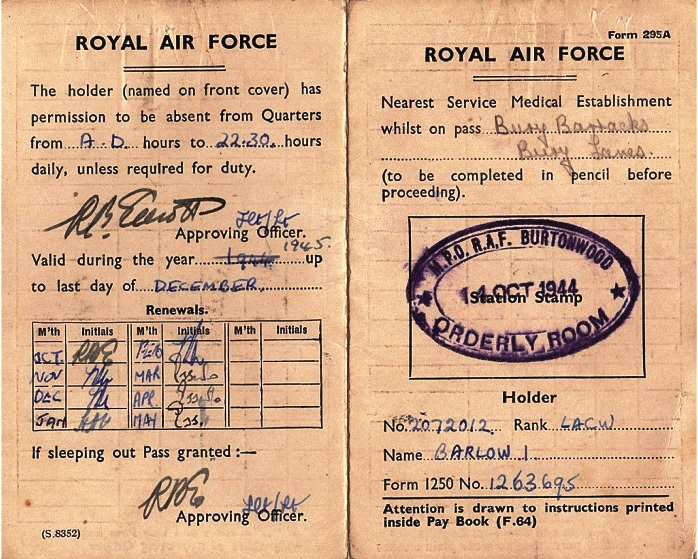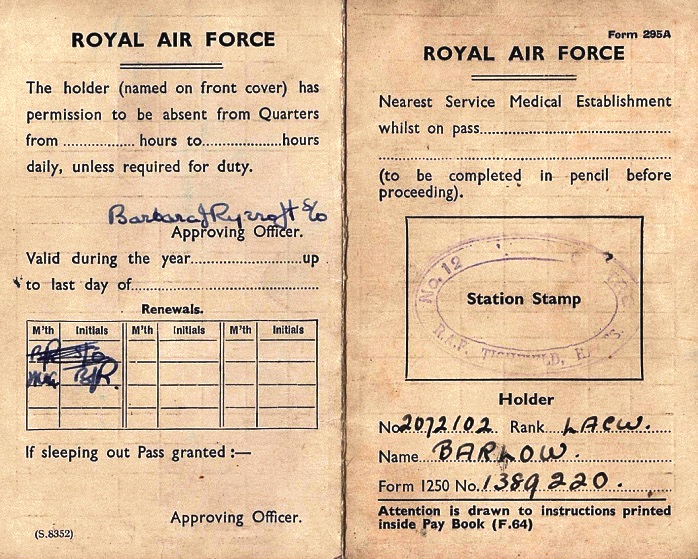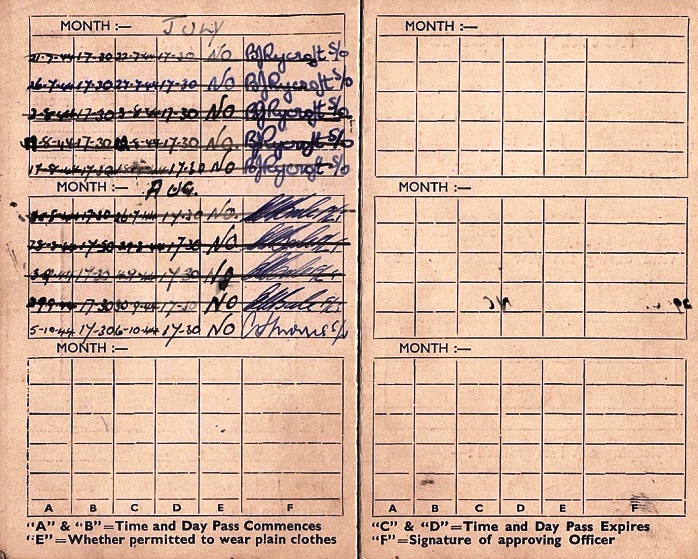 Items were rationed and here is her ration card from November 1944 on: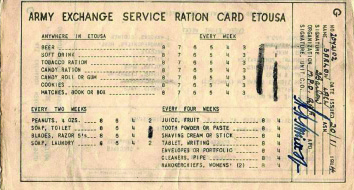 She received her first Good Conduct Badge on 29th April 1945. She married Frank Hampson on 8th September 1945 at Lancaster.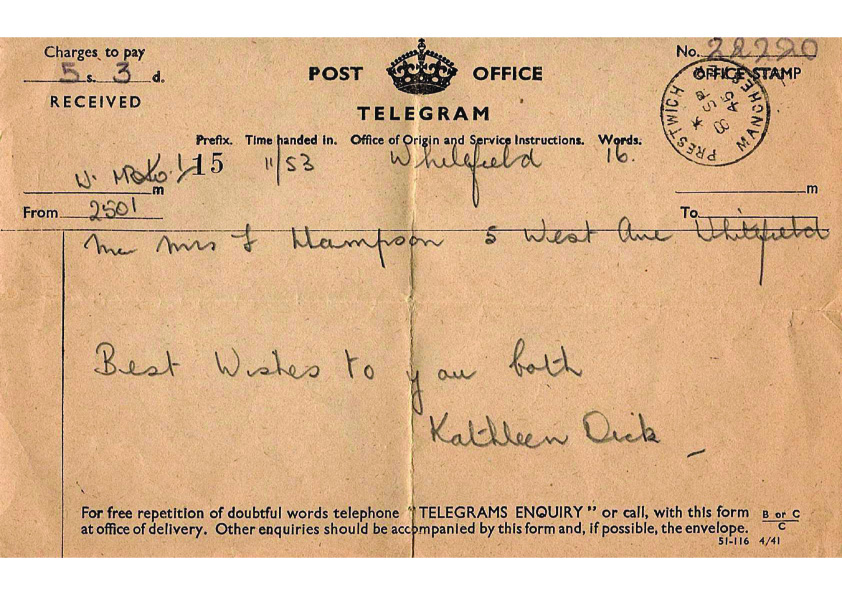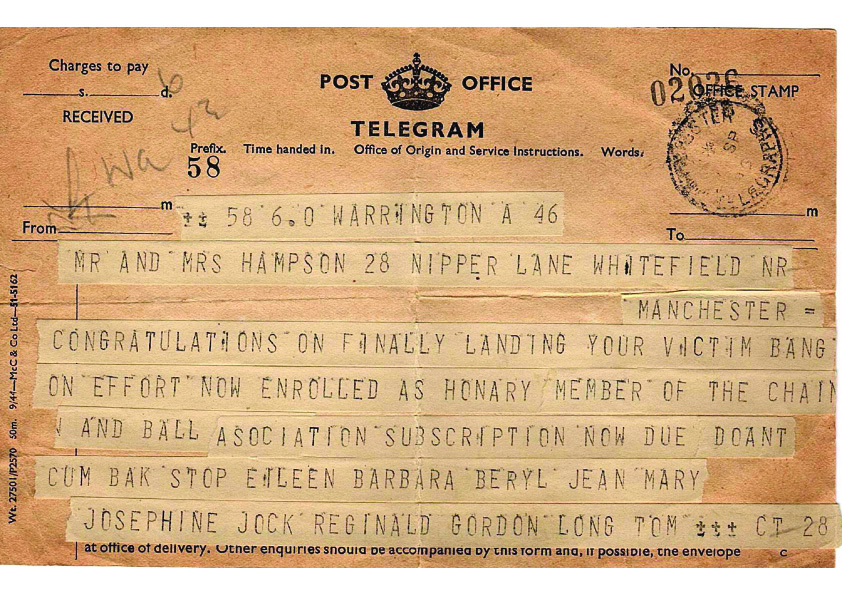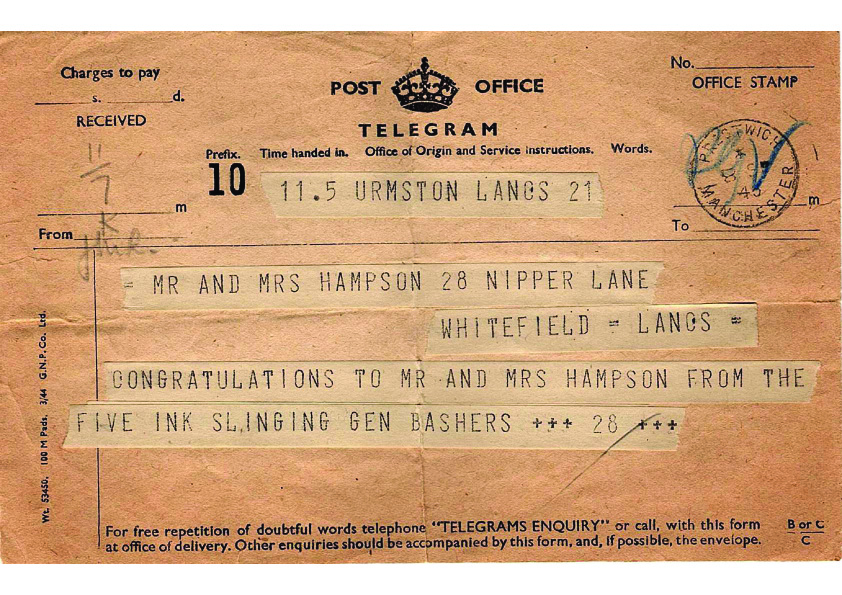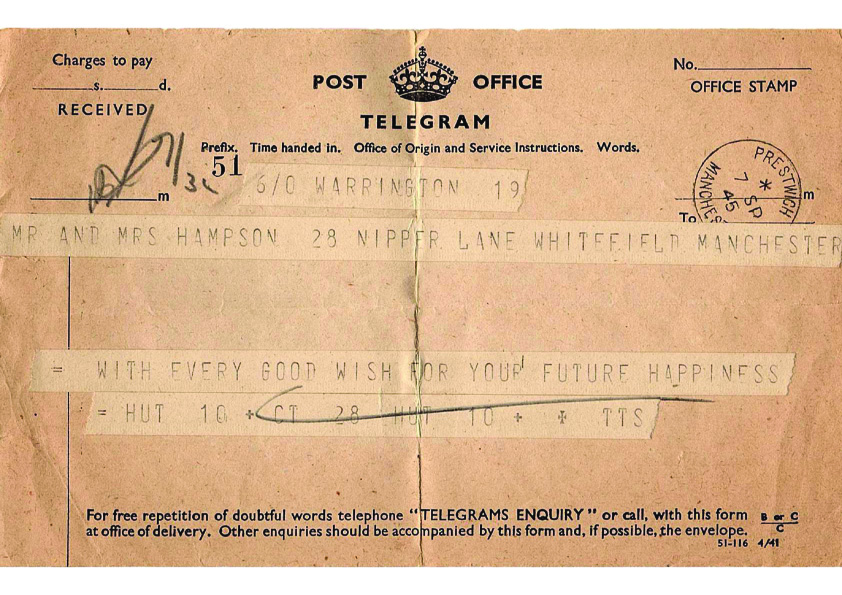 Above are the telegrams that were sent to celebrate her and Frank's wedding.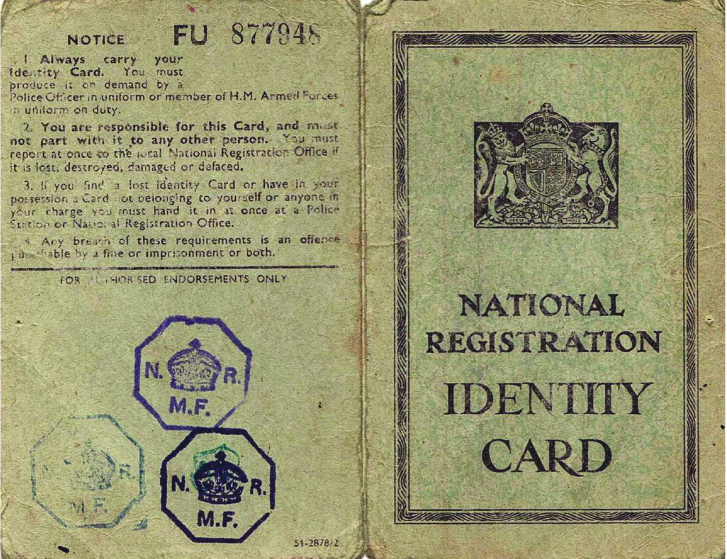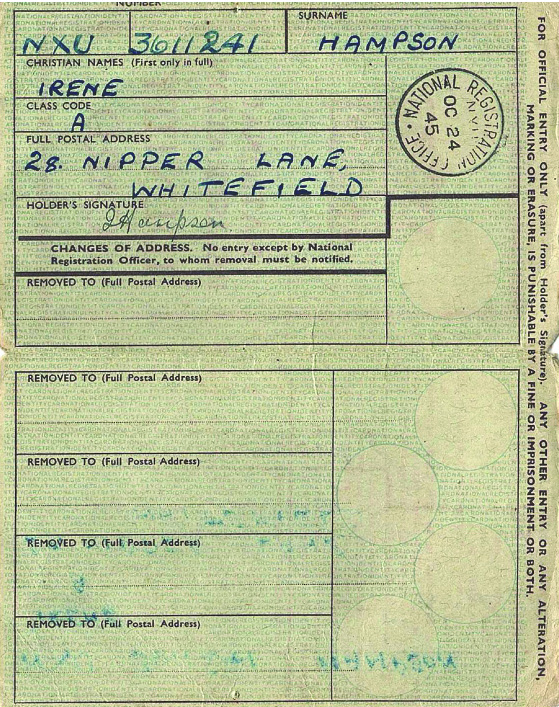 Above is the National Registration Card she was issued with in October 1945
In her release book shown below she is referenced for future employment
by her Wing Commander on 13th October 1945, as:
"This airwoman has carried out her duties as a Clerk provisioning in a keen and conscientious manner".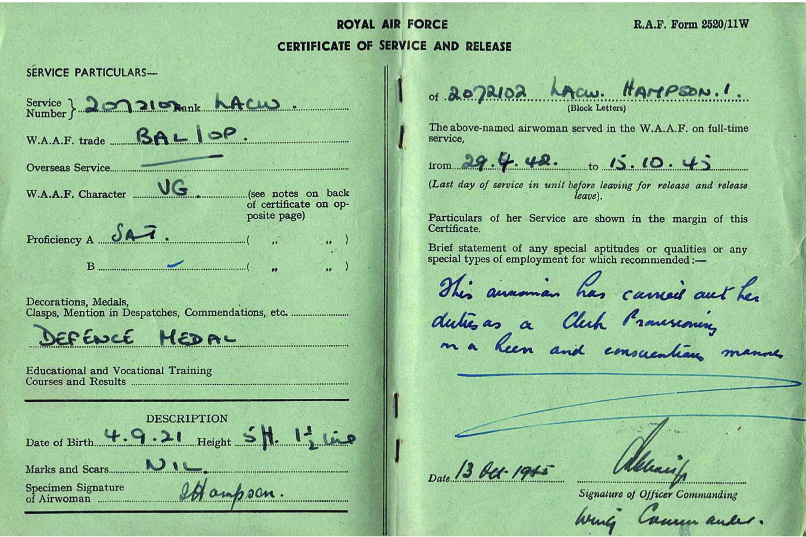 Despite being moved from balloon work she was still classed a Balloon Operator even when doing duties unrelated to balloons.
On 22nd November 1945 she is given her final pay.
She was sent postal drafts to her home at 28 Nipper Lane, Whitefield, Manchester, for £5-4s-4d to cover her final days of service up to 10th
December 1945.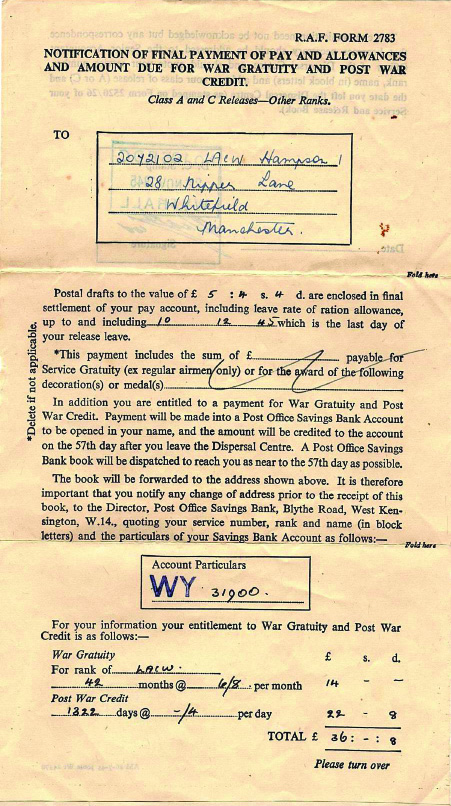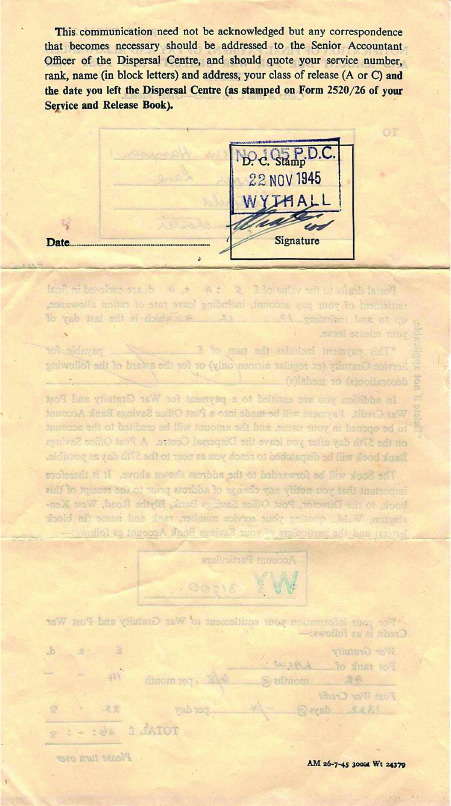 For service she was given a War Gratuity of £14-0s-0d.
In addition, she benefited from Post War Credit. These were certificates were issued during the Second World War as recognition for the
higher taxes paid by the public to support the war effort. Her Post War Credit amounted to £22-0s-8d.


She was released as Class "A" on 10th December 1945.
Irene still has her W.A.A.F handbook.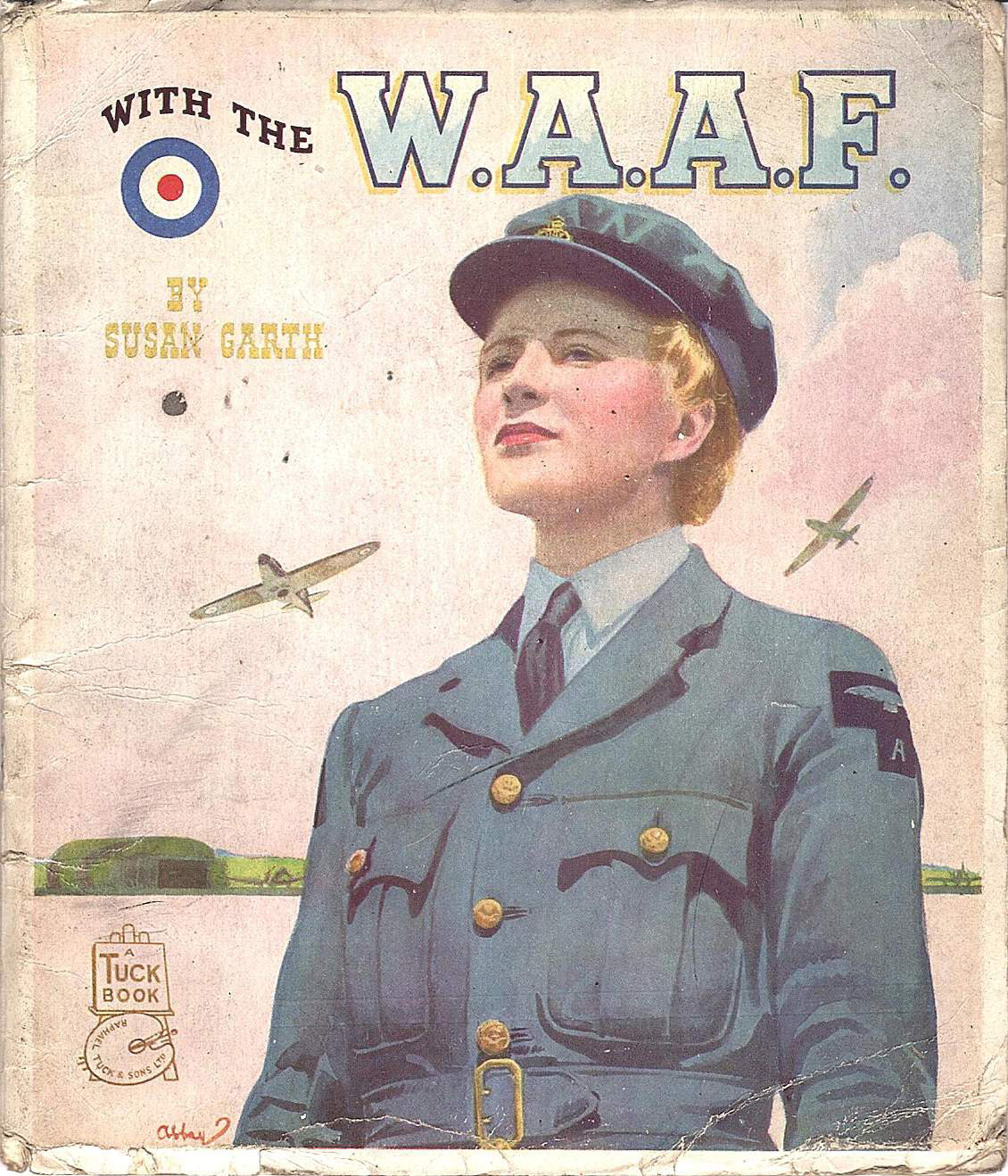 If you are wondering how this story came to my attention it was because Irene now lives in a Nursing Home and her Great Nephew
found she had brought a box with her which contained these items all lovingly saved as memories of her time defending our skies.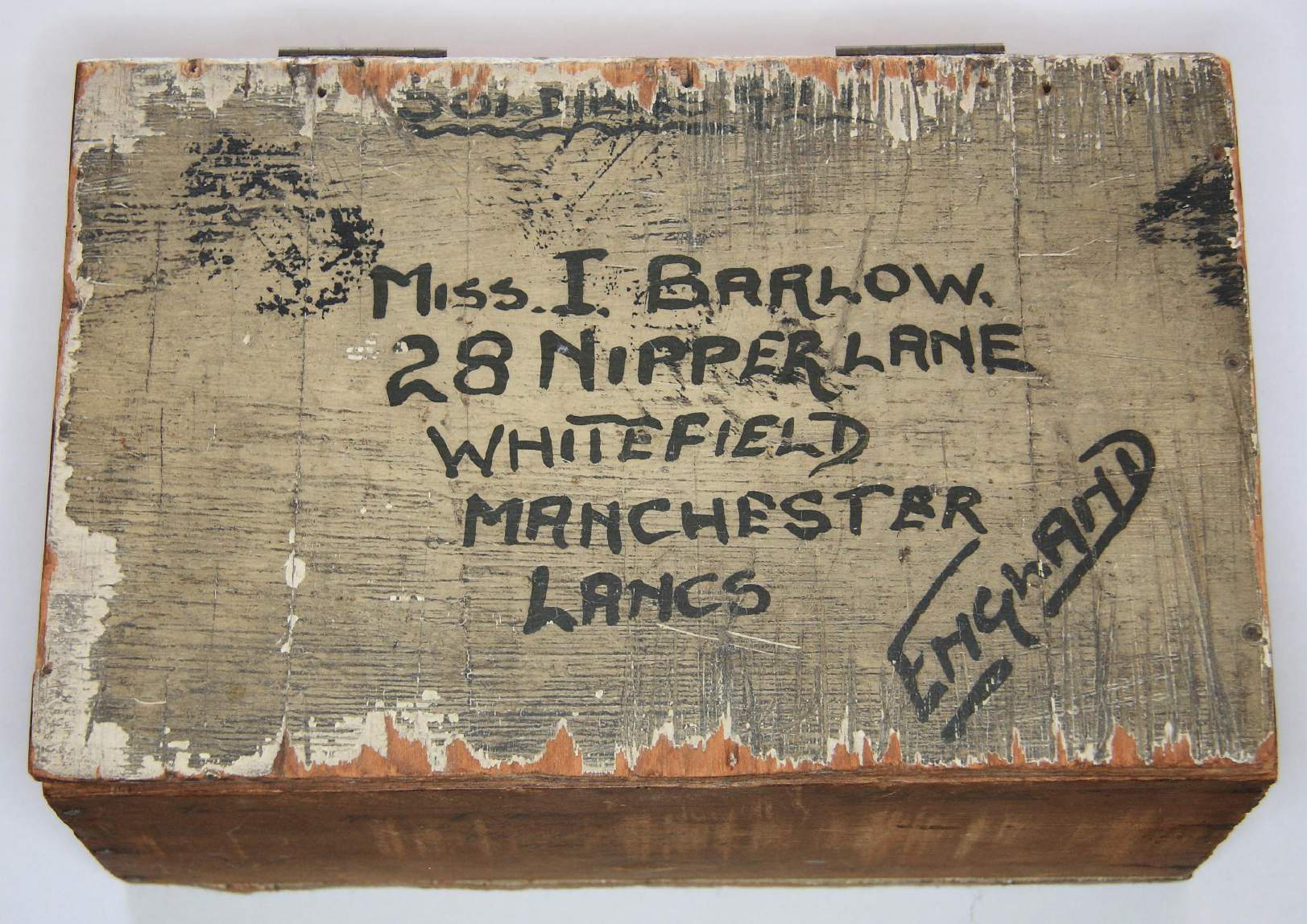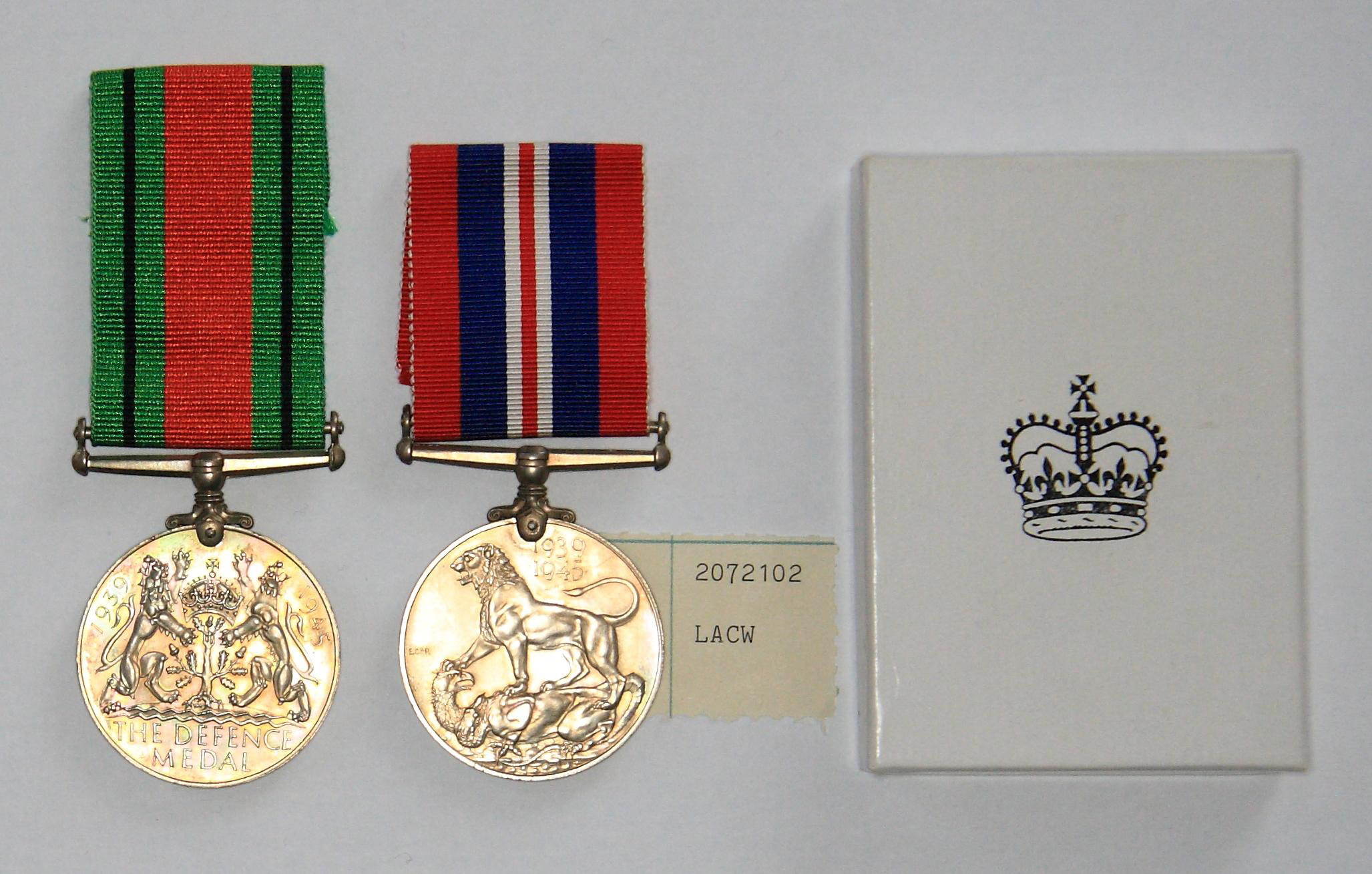 Irene's medals for her service in WWII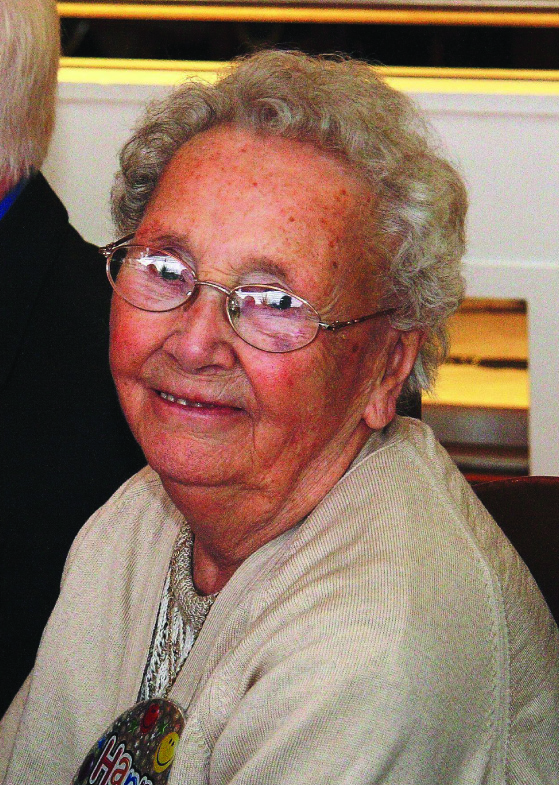 Here is a recent picture of Irene taken on her 90th Birthday.
Thank you Irene for your service during the dark days of WWII and helping to
defend our skies successfully against the Nazi threat.
What would have happened without people like you?