2059399 Kathleen Ellen WOOLLEY DOB 10/12/1920
She was born on 10th December 1920 at Cardington, Church Stretton, Salop. Described on enlistment as 5 feet 6 1/2 inches in height with grey eyes, brown hair and a medium complexion. Chest size was 31 1/2 inches. Four vaccination scars on the left. The right ankle had a reddish-brown mark evident. Her religion was Church of England. Her next of kin was given as her father, Mr G. Woolley, Hampton Bayes, Westbury, Shropshire. The person to be notified in the event of casualties was: an aunt, Mrs T. Woolley, 28, Union Street, Bishops Castle, Shropshire.
Her home address on joining was 28, Union Street, Bishops Castle, Shropshire. Her occupation pre-war was listed as "Domestic".
She was unmarried throughout her career and had no children listed.
She joined the WAAF (Women's Auxiliary Air Force) on 10th September 1941 as date of permanent engagement (D. of P.E.), ( her rank was Acting Charge-Hand / Motor Transport Driver ) via a Receiving Centre based in Shrewsbury, she then was put on the reserve list the following day and was posted to a Receiving Centre at Bridgnorth on 7th November 1941. Two weeks of training later, on the 21st November 1941 she was posting to No 1 Military Transport Company.
WAAF personnel had an annual appraisal at the end of December each year. On the 31st December 1941 ( I believe the date 31/12/40 is an error) she was A.C.W.2 indicating Aircraftwoman 2nd Class, the pay at the time was started at two shillings per day. This meant that she met Medical Grades I and II and her feet were at least Grade II. Her character was described as VG (Very Good) and her trade is listed as a ACH/DMT (Acting Charge-Hand / Motor Transport Driver), her proficiency then was listed as "U/T- Untested".
On the 12th February 1942 she was posted to No. 4 Military Transport Company. 1st March 1942 she is on a course at Blackpool for DMT (No.5) Company she passed with 43.5% score in her test. She is reclassified on 9th May 1942. She gets posted to 919 Squadron on the 11th May 1942. She takes her trade test on 1st August 1942 and gets 65%.
On the 14th September 1942 she is reclassified with a new rank to Leading Aircraft Woman LACW. Her trade test on the 1st December 1942 gives her an excellent score of 80%.
Her annual appraisal shows she had become a Leading Aircraftwoman (LACW) on 31st December 1942. Her character was described as VG (Very Good) and her trade is listed as a DMT ( Motor Transport Driver), her proficiency then was listed as "Satisfactory" (Sat).
21st February 1943 shows her posted to No 8 Balloon Centre where she would have probably not been attached to a specific squadron but probably roving around to fill gaps in personnel of 919 and 921 Squadron
No. 8 Balloon Centre, Fazakerley, Liverpool.
919 52 balloons Birkenhead
(12 waterborne)
921 48 balloons Fazakerley
On the 4th March 1943 she gets posted back to 919 Squadron.
On the 1st may 1943 she is posted to a combined 919/923 Squadron, such combined postings were quite common as it made best use of women at the time. 919/23 Squadron was part of No.33 Group based for a while at on Rake Lane, Wallasey, Birkenhead.
No. 9 Balloon Centre, Warrington.
Squadron Equipment Location
922 32 balloons Cuerdly
923 32 balloons Runcorn
949 32 balloons Crewe
So we can assume that she was moving around quite a bit like many Balloon crews.
She was discharged under Kings Regulations on 12th June 1943 on Compassionate Grounds.
She had served a total of 1 year and 276 days giving her a qualified service time of 1 year and 220 days. She was entitled to 526 days post war credit. On discharge she gave her address as : 50 Ponsonby Street, Liverpool 8.
Her service record does not actually show if she was awarded the British Defence medal and the British War medal.
She was known as "Ginger" and "Kew" by her friends in the service. Her basic service was as a Motor Transport Driver with 919/921/923 Squadrons at Birkenhead and Fazakerley between 1941 and 1943. On her death in 2006 she left behind an autograph book with a number of signatures:
These include Johnnie with a "G", 919 Sqdn, JHG Graham, J? Howard, Buck Ryan, J Houston, A.C. Hughes, E A Taylor, J.P. Geoghegan.
These are some pictures of Kathleen's war time comrades: If you know any of these then please contact me.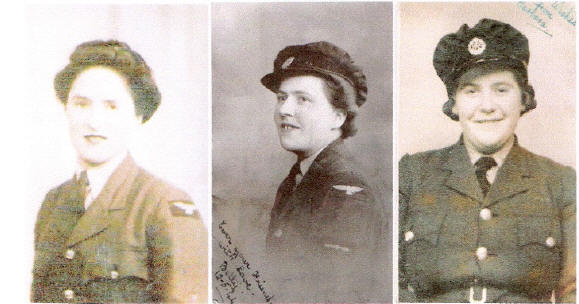 Kathleen Betty Barbara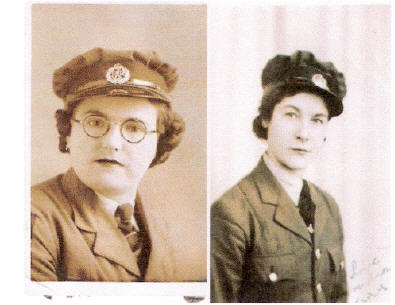 Marion St John's Wood Ann
Please help if you can:
Kathleen had a daughter, a Mrs Marston, who is trying to find out more about her mothers war-time service. So if you or anyone you know served with her please contact me at peter.garwood@bbrclub.org and I will pass the information on. Anyone who can add to this woman's service career is welcome to contact me: peter.garwood@bbrclub.org